Rugby Championship: Five takeaways from South Africa v New Zealand as storm clouds gather over Ian Foster and Sam Cane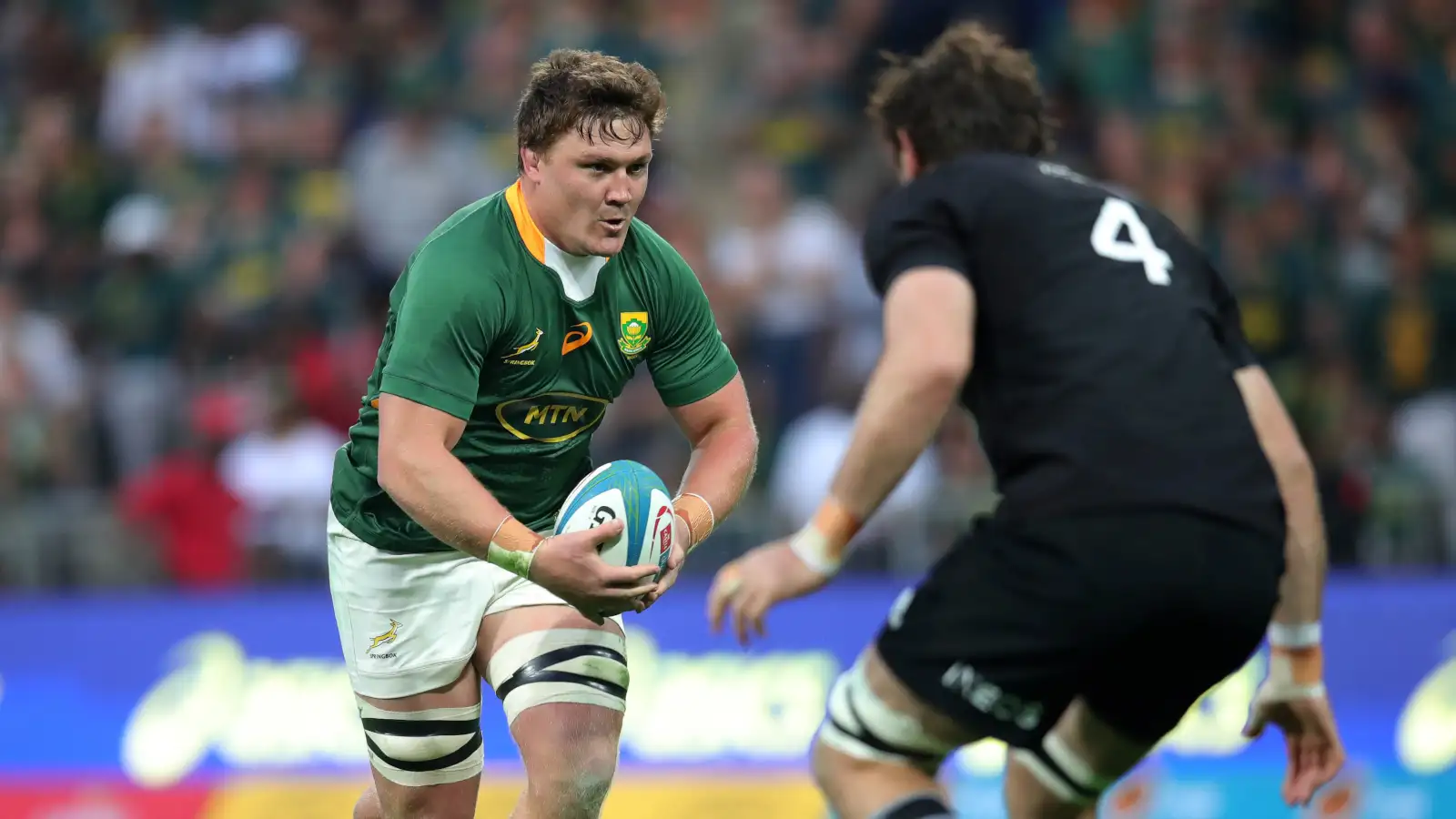 Following a 26-10 victory for South Africa over New Zealand in their Rugby Championship opener, here's our five takeaways from the match in Mbombela.
The top line
Nelspruit provided a wonderful atmosphere and backdrop for the 102nd Test match between South Africa and New Zealand that saw the hosts win convincingly.
The game went almost precisely to script with the Springbok set-piece, defence and aerial dominance proving far too strong for a toothless and tactically appalling New Zealand.
Put simply, the contrast between the shambles of the All Black game plan and the organisation and efficiency of the Boks could not be more stark – it was men against boys.
Malcolm Marx celebrated his 50th Test match with a rumbustious and brilliant player of the match display that saw his 54 minutes on the pitch net four turnovers and 14 tackles, together with five scrum penalties that he and his propping cohorts earned from their power and technical excellence.
With Lukhanyo Am putting in a performance reminiscent of a fourth back-rower and Jaden Hendrikse responding well to the departure of local boy Faf de Klerk in the first play of the match, South Africa will be delighted with their first hit-out of the Rugby Championship and will also take a lot of learning points out of this match as they rebuild in preparation for the 2023 Rugby World Cup.
Caned
Sam Cane remarked after the game that this was 'a loss of small margins'. If that's genuinely what he believes after a performance in which New Zealand were lucky to finish second then you have to wonder if he's simply deflecting criticism or if he's completely deluded.
Rarely has an All Black side looked so lost in the Test arena.
In every area of the set-piece, they lost the confrontation. At the breakdown, they were picked off for fun by Marx and his boets and in the aerial battle, they were completely outplayed, and both in attack and defence, they were soundly overpowered.
Sure, New Zealand fought like the proud nation they are but this was a struggle of individual desperation rather than any cohesive defensive or offensive teamwork. The one plus they can take away is their line defence improved greatly since the third Test against Ireland, and they managed to focus on one system (ball watching) rather than the hybrid mess that we saw last month, but the issues of poor torso binding instead of leg/underbinding at maul time cost them dearly.
To compound matters, the lack of any form of exit or kick strategy, especially in their own half, meant that South Africa owned 72% of the territorial battle in the match, an absolutely staggering statistic.
This was a brave but disorganised team playing for their coach on Saturday – but based on what we saw, you have to question what the coach is doing for the team that scrapped bravely for him.
Solidity
South African rugby does what it says on the tin. It's not pretty, it's not expansive and it's somewhat predictable – however, its orchestration, delivery and effectiveness are absolutely peerless.
The platform provided by the brilliance of their pack in the set-piece, together with the commitment and timing of their kick chase makes them a formidable side to play. Simple things, like the speed across the ground of their line-out, the height that their lifters get, the speed of the rush defence from their centres, the dominance Frans Malherbe achieves on the scrummage hit – these add up to permeate any defensive frailty that the opposition may have.
At ruck time in the first half, the power of the Boks forwards saw them throwing in the bare minimum, sometimes only two defending players, against four and five All Blacks. No attack can survive past the third or fourth ruck when they are losing so many numbers tied in to previous breakdowns, and with jackallers of the quality of Marx, Am and Kwagga Smith in their ranks, picking off the isolated carrier with such a huge numerical advantage is as simple as taking candy from a kid.
A word too, for wing Kurt-Lee Arendse; his day ended in disaster with an absolute shocker of an aerial challenge on Beauden Barrett who landed fully on his head and neck, an incident that should see a long suspension coming his way. But his collision was one down purely to his youthful exuberance and total commitment – qualities that underpinned a really promising display until the red card incident.
Storm clouds
Over New Zealand and head coach Ian Foster, there is a black storm cloud of doom. This proud rugby nation does not tolerate failure of this nature and it's almost certain that his role is now completely untenable. It is almost unthinkable to see a team with the calibre of players they possess look so clueless in how to play simple Test rugby. No exit strategy, no territorial emphasis and absolutely no structure in any single facet of their play.
Sam Cane slipping off that tackle on Wiese is not good enough from the All Blacks captain at the back of that scrum.

— RugbyInsideLine (@RugbyInsideLine) August 6, 2022
On the plus side (and there were a few, despite the overall predicament), George Bower had a great game around the park, hitting 18 tackles and carrying well, despite coming off second best in the scrum. Ardie Savea and Akira Ioane had their moments, with the latter part of some of the better Kiwi moves until he ran out of puff. But the half-back and midfield offered absolutely nothing – no control, no intellect and no plan. There's a serious issue at half-back with nobody taking control of the game or looking to get momentum and territory and in the centres, you have two shades of direct yet blunt running, neither of which bothered South Africa in the slightest.
Make no mistake – these are not ability issues – they are coaching and tactical problems and New Zealand must now accept that as leaders, Cane and Foster's races have finally been run.
Bok work-ons
It's often said that you can tweak more from a win than you can from a loss.
When De Klerk went off so early for South Africa, they lost a little variety from scrum-half – the kicks and snipes that are the hallmarks of his rounded game, despite Hendrikse's committed effort. De Klerk is the X-factor man that makes such a difference to try-scoring opportunities and it's hoped that he'll be back in green and gold as soon as possible.
In attack, again we saw a quite lateral and predictable backline. At no point in the game did the Boks look to switch up and come back on a line to attack the inside shoulder of the defender – everything was run around the corner which allowed New Zealand to defend the width of the pitch. Damian Willemse might be a brilliant defensive full-back (and some of his work at the back in this match was exceptional) but he isn't close to the attacking rapier that Willie le Roux is, especially given Le Roux ability to attack against the grain and to that inside shoulder. Couple this approach with the stodgy handling of the otherwise impressive Damian de Allende and the room for improvement is pretty obvious.
However, when a side is as dominant as the Boks in other areas, then they go into every game knowing their superpowers will deliver. As the Rugby Championship progresses, they'll look to improve their attacking threat, tinker with their personnel and, based on their outstanding showing in this game, they look as if their trajectory to peak form is absolutely right on track.
READ MORE: Rugby Championship: Clinical Springboks draw first blood against All Blacks