WATCH: Sharks prop Ox Nche penalised for trying to 'buy a penalty from the TMO'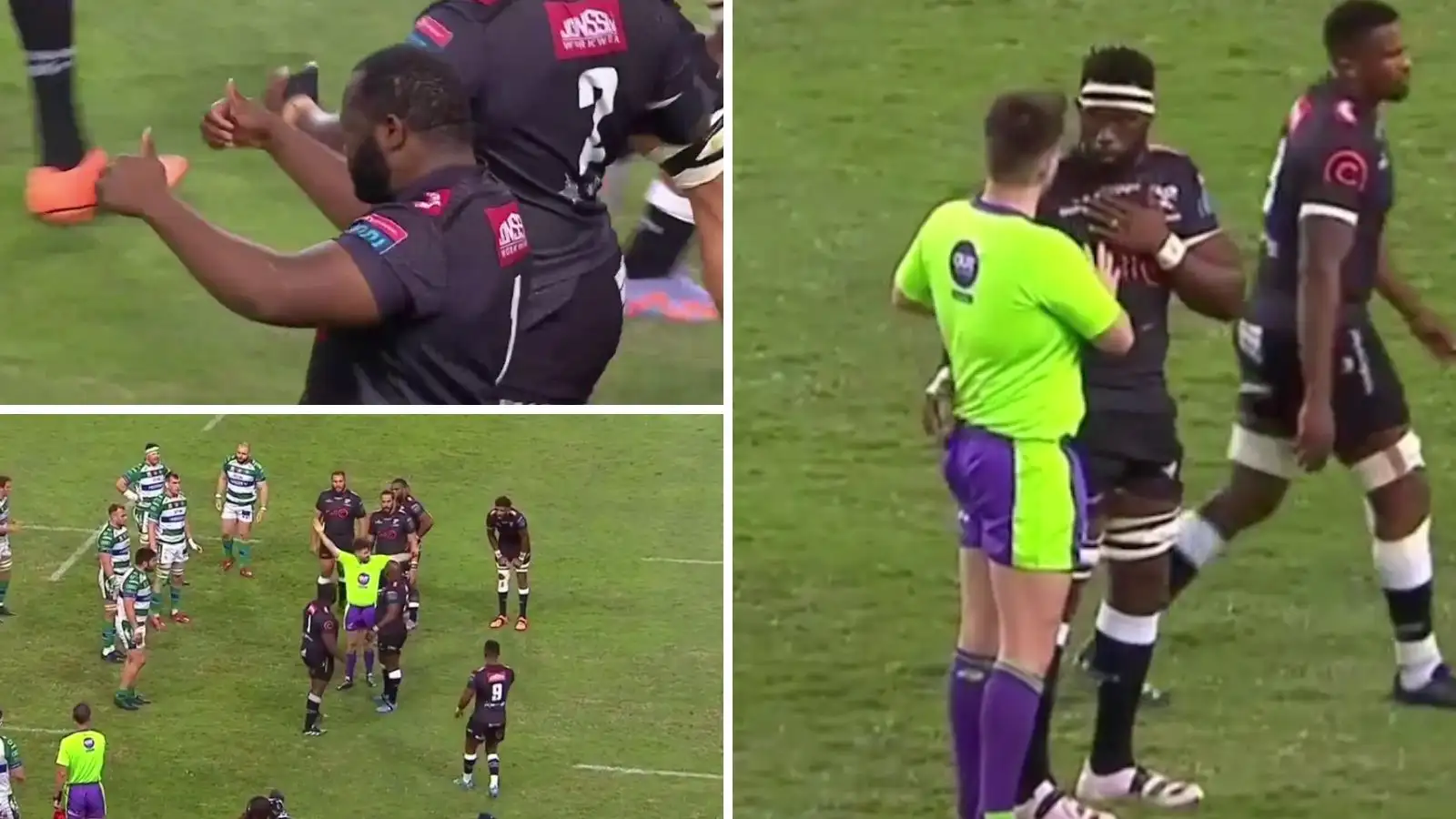 Sharks prop Ox Nche got on the wrong side of Welsh referee Ben Whitehouse during their United Rugby Championship (URC) match against Benetton.
An interaction that you will not see often, Nche was penalised for what Whitehouse described as 'buying a penalty from the TMO'.
"
Hang on a second"
In the latter stages of a rip-roaring first half in Durban, Benetton had a lineout just inside their own half after a big clearance into touch by Sharks fly-half Curwin Bosch.
En route to the lineout, Nche went to ground and was queried by Whitehouse as to whether he was injured or not.
"Injured? Hang on a second, what's the injury?"
"Are you trying to get a penalty?" he added before blasting his whistle and ordering the Sharks to get back.
"Don't try and buy a penalty from the TMO by going down injured, back."
You won't see this often, Ben Whitehouse penalises Ox Nche for trying to 'buy a penalty from the TMO'. #URC pic.twitter.com/XxXXTvtQv4

— Jared Wright (@jaredwright17) April 14, 2023
A mammoth kick from Tomás Albornoz resulted in a Benetton lineout deep inside the 22.
While the players made their way to the lineout, Whitehouse took the opportunity to speak to Sharks captain Siya Kolisi.
"Sometimes, we miss foul play because of positioning, if a player goes down and pretends to be injured…" Whitehouse said while being interrupted by Kolisi apologising to the referee. "You don't need to apologise, but they will go off," he added.
Former Springbok fly-halves Joel Stransky and Butch James lauded the referee for the decision on commentary.
"Well, I like that; we will have none of that nonsense in rugby union," Stransky said.
James agreed, saying: "I love that, so good."
The reaction on Twitter was in agreement with the referee and commentators.
"Ben Whitehouse seems to have just accused Ox Nche of feigning injury to draw attention to a penalty. The referee then re-explained this to captain Kolisi."
A stellar first half of action saw Benetton race into a 14-0 lead thanks to tries from Sebastian Negri and Juan Ignacio Brex.
The Sharks responded with tries from Vincent Tshituka and Grant Williams as the sides went into half-time all square at 14 points apiece.
Neil Powell's men would end up winning the game 43-33 in a bonus-point success that does their URC play-off hopes the power of good.
READ MORE: RANKED: The five most feared back threes in Test rugby