Opinion: Australia leaderless and clueless on and off the field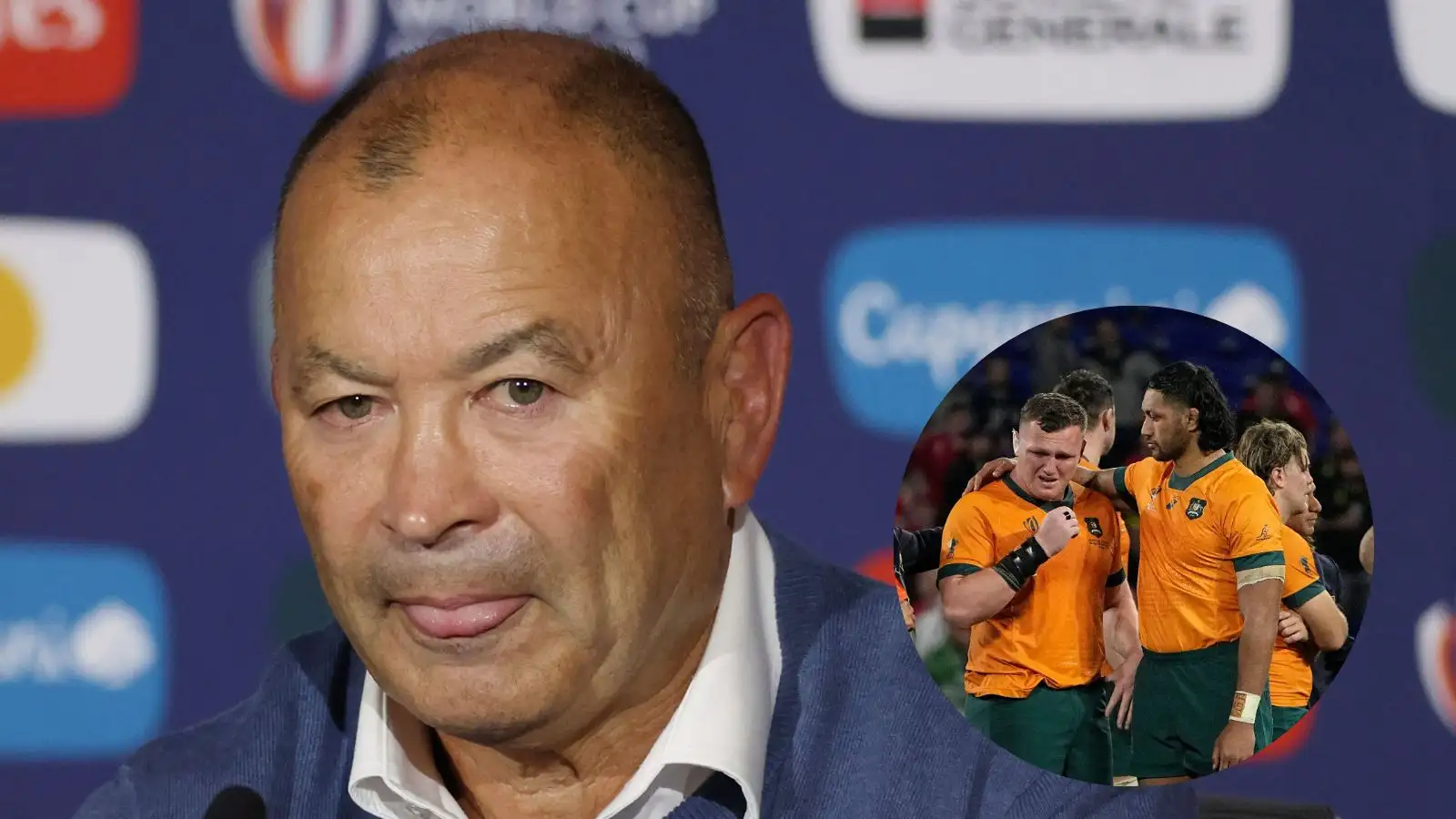 With only a few days remaining of Australia's wretched campaign, this Rugby World Cup looks set to be remembered for its two distinct phases: DE (during Eddie) and AE (after Eddie).
The transition can't come quickly enough.
While there have been some amusing moments – like Irishman Conor Moore's hilarious spoof press conference – rugby fans have also been subjected to what used to be known as body language experts, now called 'human lie detectors', decreeing Eddie Jones' comments at Sunday night's press conference, untruthful.
What next? Paparazzi staking out St Etienne's sushi shops, just in case Jones stops by to provide them with conclusive proof he's bound for Japan?
😂 @ConorSketches nailed this one! 👏 #RWC2023 pic.twitter.com/rad40wekqe

— Planet Rugby (@PlanetRugby) September 25, 2023
Australia's early exit
Yes, Jones is a walking headline. Yes, it is news when a national coach, talking up a youth development program through to 2027, is found to have been interviewing for a new job. And yes, it is news when Australia, winner of two World Cups, is eliminated at the pool stage, for the first time.
But enough is enough. The best thing that can happen to this World Cup is for the focus to switch to the sides who actually have a role to play in it and to leave Australia to conduct its post-mortems back at home.
There was a taste of what's to come in Paris last Saturday night when heavyweights Ireland and South Africa went at it like there was no tomorrow; even though for both winner and loser, there most definitely is a tomorrow.
Contributing to the problem are the long spaces between meaningful pool matches; New Zealand, for example, has barely been sighted since opening night. With such a vacuum, it is no wonder Australia has provided the headlines, albeit for the wrong reasons.
Yes, some pools still have quarter-final slots up for grabs, but Italy, Scotland, Japan and Samoa remain longshots to squeeze their way in.
Mathematically, Australia is still alive as well, although there wouldn't be a single, gold-clad supporter in France at the moment who believes their side is going to Marseilles, such are the permutations.
And such was the agony of the second half in Lyon, where Wales strangled the life out of a leaderless and clueless side, it is difficult to imagine anybody wanting to risk reliving that.
Inexperienced Wallabies
In amongst the post-match chaos, where Jones continued to deflect increasingly strident questioning around his dealings with Japan, I asked him to talk about who the players were that he felt Australian fans could hitch their wagon to in the future.
Headed by Nick Frost and Angus Bell, the names weren't surprising. And it is true that Australia has some world-class players at its disposal – just not enough of them.
We are all Angus Bell fans right?🔥 pic.twitter.com/ZKDOrRH9SH

— Jared Wright (@jaredwright17) August 5, 2023
But it's what Australia doesn't have that is the source of most angst.
As Wales methodically accrued points, the difference in on-field leadership and experience between the two sides, were starkly apparent. That, of course, is a function of what happens when you leave vastly experienced players at home.
Jones was at pains to explain that his young players – and prospective future leaders – will be all the better for this lived experience. That may be so, but for the estimated 20,000 travelling fans, that's unlikely to be enough to quell their anger at having paid a small fortune just to be witness to phase one of a five-year experiment.
England and Australia changed their coach in the shadows of the World Cup; the RFU swapping out Jones for his assistant Steve Borthwick, and Australia, bringing Jones in for Dave Rennie.
Only one team has used this World Cup as a training exercise for the next one.
Australia was also patently underweight in coaching personnel. Once appointed, with everything running in accordance with the four-yearly World Cup cycle, Jones was always fishing in a very shallow pool, trying to assemble a credible team.
It wasn't all down to the cycle either; coaches who had a taste before, or who had been warned off by those who had, politely declined to be involved. As a result, the group who ultimately came to France, all doing their best, lacked both high-level rugby experience and sufficient time to make a positive impact.
Rugby Australia's failings
Another thing Australia doesn't have is money. Money to compete against cashed-up codes attracting the best young playing talent. That's a fundamental problem which will overhang the post-mortem and inform potential solutions.
But the biggest thing Australia doesn't have, is astute leadership. Or, more specifically, trust in its leadership to properly identify and commit to fixing its problems.
Rugby in Australia faces unique challenges around geographic and population imbalances, parochialism, class and culture, and intense competition from successful, cashed-up domestic sports.
Since the 2003 World Cup, Australian rugby has also muddled along in a haze of hubris and entitlement, never self-aware enough to see past a misplaced 'lucky country' self-confidence that things would always take care of themselves.
Clearly, things haven't taken care of themselves. The issues are real and difficult. They deserve – no demand – leadership that is much less about engaging in pissing contests with the NRL and managing media narratives for its own purposes and much more about reconnecting with what is left of rugby's heartland.
I'm not buying into the prevailing view that this experience will permanently scar the Wallabies' young players. There is talent and resilience among their number. They just need an organisation to do them, and Australia's rugby supporters, justice.
It is inconceivable that this can come from within the current set-up. CEO Phil Waugh has only recently been appointed, and the state bodies are said to be optimistic about his vision and authenticity.
But, as Andy Marinos found out before Waugh, chairman Hamish McLennan is not one for allowing his executive management team autonomy and clean air. He is also not, it appears, one for accountability.
Cutting Australia's 2023 World Cup campaign off at the knees, McLennan bet the house on Jones and came up short. He also made public comments last week, in a bid to shore up his own position, that selfishly impinged on the Wallabies' preparation for Wales.
If that is not enough to make his position at the top of Australian rugby untenable, then his advice to fans genuinely upset at the turn of events surely renders him wholly unsuitable to be the person to bring the game together and safeguard its future.
"For all the Wallaby detractors, don't watch the game," said McLennan.
Unless he is prepared to do the right thing and resign, there is every chance that this is exactly what will happen. People will continue to switch off.
It is time for Australian rugby to move on. And it is time, too, for this World Cup to move on.
READ MORE: Law discussion: Did Ben O'Keefe get the final Springboks' maul call correct against Ireland?