Deon Fourie: The oldest Springbok debutant opens up on 'really special' moment and how he's honing hooker skills for Rugby World Cup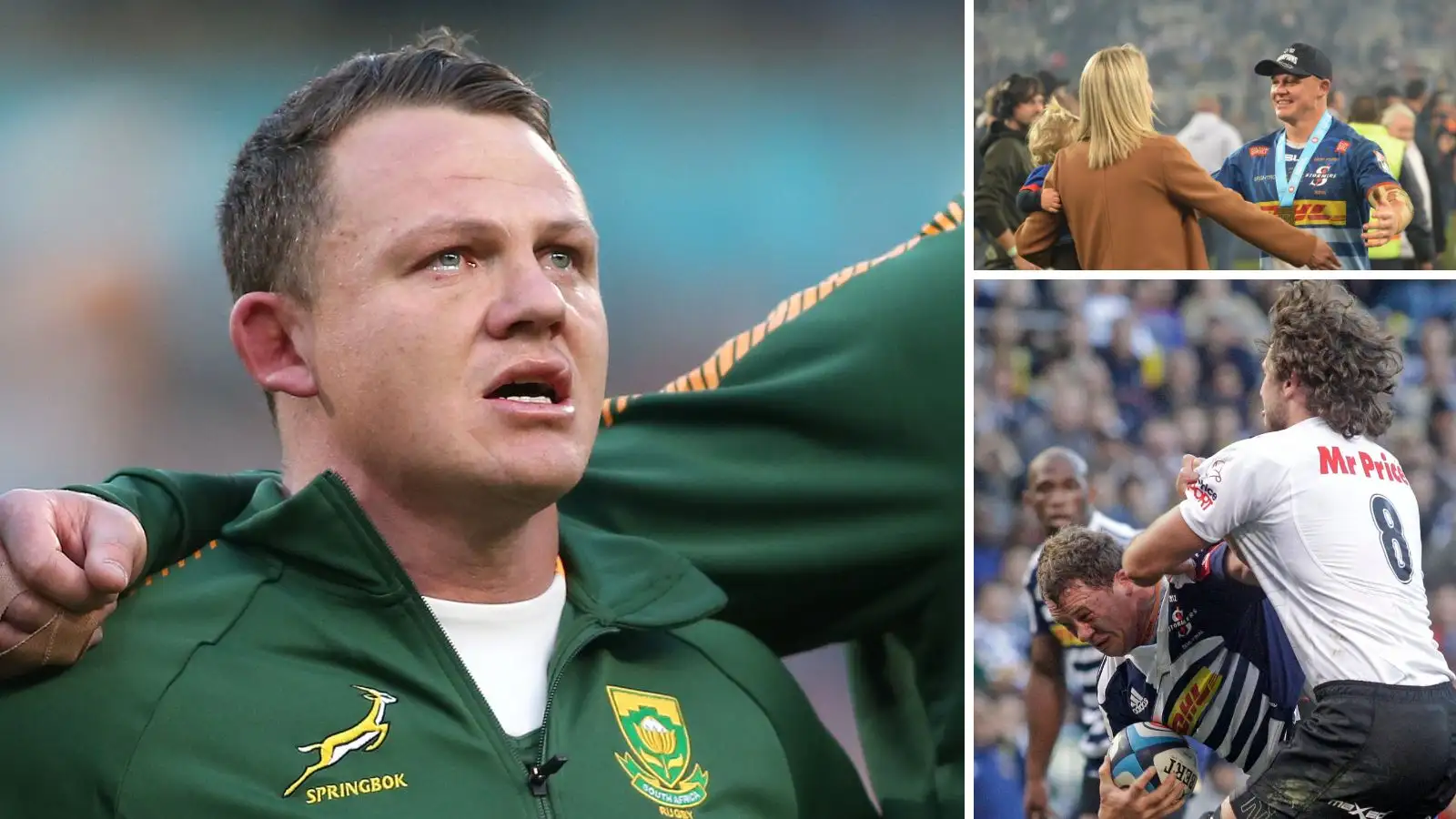 Every journey to a Test debut is unique, but few are as long as Deon Fourie's, who earned his first Springbok cap in July 2022.
The ageless forward spoke exclusively to Planet Rugby about his journey to belting out Nkosi Sikelel' iAfrika in the iconic Green and Gold jersey.
After years of being overlooked by the national selectors, Fourie finally realised his dream of representing his country, becoming the oldest Springbok debutant of all time.
On 9 July 2022, at 35 years, nine months and 14 days young, Fourie rose from the bench at Toyota Stadium in Bloemfontein to become Springbok #926.
He quickly put any doubts about whether he could reproduce his excellent form at Test level to bed with the dynamic back-rower landing a thumping hit and two dynamite carries shortly after trotting on.
Starting out
But how did he get to this point? Well, it all started back in Polokwane, where a livewire teenager was turning out for Hoërskool Pietersburg – the same school the most capped Springbok of all time, Victor Matfield, attended.
The school has now produced four Springboks in their history but also boasts records for the oldest player to represent the Springboks, Matfield, and the oldest Springbok debutant, Fourie.
"I was born in Pretoria, moved to Rustenburg until I was eight years old and moved to Polokwane and stayed there until I matriculated. I grew up there, it's a piece of the country that's very dear to my heart; I love love the bushveld life, love the animals and everything up there on that side of the country," Fourie says.
While he is a beloved player in Cape Town now, Fourie supported Western Province's fiercest rivals growing up, the Bulls. 
"Funnily enough, it was always the Bulls until matric. After Craven Week, I got the opportunity to come down to Cape Town, Stellenbosch, and then got the contract at Western Province," he said.
"I was a big Blue Bulls supporter because my dad was a Bulls Craven Week captain back in his day. Every weekend we would drive down from Polokwane to Loftus because my dad worked for Nedbank, and they always had a box there.
"So we watched almost every game at Loftus, so it's a stadium that's close to me as well because I've spent so much time there. So I wasn't a Western Province boytjie from the start, but I definitely am now."
But even then, the Western Province seed was planted as who inspired him was a Springbok captain, Corne Krige, who like Fourie, was an uncompromising and abrasive forward.
First Western Province and Stormers stint
A Super Rugby debut came for Fourie in 2008, with his first season coinciding with the arrival of Rassie Erasmus and Jacques Nienaber at the Stormers from the Cheetahs.
During this period, he earned the nickname 'Branna' [reference to Brannewyn (brandy) and coke], although he did not disclose the story behind it, insisting that it would remain between him, Erasmus and Nienaber.
Nonetheless, during the latter stages of his first stint with the Stormers and Western Province, he was pressing for Springbok selection.
He led Province to Currie Cup glory in 2012, claiming their first title after an 11-year drought. The Allister Coetzee-coached side defeated the Sharks 25-18 in Durban in the final, with Fourie claiming the Player of the Year award for his efforts.
"To captain a prestigious and big province like WP with all their history is an honour. We didn't have big, big stars back in 2012. I remember when we played the Sharks in the final, they had a lot more Springboks than us, and luckily we managed to pull that game through in Durban, and that was good memories," he said.
"Everyone had written us off, and I think just the way the guys played through the whole season, it was amazing, and for it to end with the Currie Cup back in Cape Town after 11 years, was special."
Currie Cup Champions 2012 #DHLWP pic.twitter.com/MDci2NRj

— Wayne Hector (@waynehec) October 27, 2012
Springbok snub
Despite his form, a Test call-up did not come as then-Springbok coach Heyneke Meyer notoriously favoured the bigger loose forwards. Fourie was left on the outskirts, much like CJ Stander, while there wasn't a shortage of big hookers in the country at the time either.
"That was one of the biggest reasons why I moved overseas because I had a good year in 2012, I was Currie Cup player of the year, but I just couldn't get the breakthrough into the national squad," Fourie explains.
"So that's why I thought now I'm getting to 27/28, so maybe go see what's it like overseas and just experience life a bit more on that side.
"But in fairness, there were such good players in the Boks in Schalk Burger and Flo (Francois Louw) and Duane [Vermeulen]. So to crack through that, to get into the Boks was difficult, but I realise that, I'm a realist. So sometimes, just look at the bigger picture.
"At one camp, I met Heyneke quickly, but he didn't say anything to me [about selection]. So yeah, I don't know what his point of view was. Probably, that I was too small back then for him, compared to those Bulls boys, so he was more looking for that style of play, and I didn't suit that, and I respect that, so yeah, that's why I decided to move overseas.
"It's the prerogative of each coach's style of coaching, and that's what they believe in, and yeah, you have to respect that."
Move to Lyon
Following the 2014 Super Rugby season, Fourie packed his bags for France, joining newly-promoted Lyon.
However, there were other teams interested in his services. Toulon had offered him a deal but it fell through, paving the way for him to join Lyon.
"I actually had a deal with Toulon at the end of 2012, but something went wrong there and it fell through the net, and the opportunity came to go to Lyon because they just got promoted to the Top 14. But it turned out to be a really good experience, so I'm glad we made that decision.
"I think definitely it was a bit slower back then," Fourie said about the quality of the league. "It's faster now compared back then to Super Rugby and stuff, but it's really hard.
"I think back, and the quality of players in the Top 14 was massive; the Matt Giteaus, Drew Mitchells and all those who played for Toulon, the standard of overall players was good. Stars that you saw when you were young, and then you got the opportunity to play against them."
Playing with George Smith
It was at Lyon where Fourie met another player who played deep into his 30s, legendary Wallabies flanker George Smith.
"I played with George Smith for Lyon for one season and I really enjoyed that year," he said.
"What I learned from him was just his work ethic. I think that's why he was the player he was, and that's why he probably played for as long as he did as well.
"I'm not big on training during the week; I'm doing collisions and all that stuff but, with my age, I like to keep the body fresh for Saturday.  But yeah, his work ethic off the ball was amazing, which was something I learned from him."
Fourie's first season in the Top 14 resulted in relegation. Still, the side quickly bounced back from the Pro D2 in a record-breaking campaign, gaining over 100 points to secure automatic promotion.
The side's new coach Pierre Mignoni – now Toulon head honcho – had immediate results and in their second season back in the Top 14, Lyon reached the tournament's semi-finals.
Fourie describes Mignoni as a "brilliant coach" and likens his analysis of the game's attention to detail to Erasmus.
While Lyon had reached the final four, Fourie would leave the club at the end of the season to join Grenoble. Although Lyon were keen to retain his services due to the introduction of the JIFF system – implemented to promote the development of the French academies and for clubs not to be so reliant on overseas talent – they were unable to offer him a contract extension.
Pro D2 and Grenoble
Grenoble were then relegated to the second division in France and, due to having no exit clause in the contract, he would spend another season in the Pro D2.
"It was quite difficult," Fourie said, reflecting on that period. "I spoke to Pierre in January and said I would like to stay at Lyon, and he said that this was difficult to give me an answer because of the JIFF system.
"I played well the next six months, and we got into the semi-finals. Pierre wanted to keep me, and they wanted to buy me out of the contract with Grenoble, and they said 'no'. 
"I went to Grenoble and didn't really want to play in the second division, but it happened, and in that year, COVID struck. So everything came to a halt."
Some quick thinking from Deon Fourie this weekend to set up a try with a nice grubber #SaffasAbroad pic.twitter.com/dg3Xk22JNv

— Jared Wright (@jaredwright17) September 2, 2019
Return to South Africa
In 2021, Fourie secured a move back to South Africa, rejoining his former side, but how did it come about?
"I felt that I still had a few years of good rugby left in me but I was stuck in the second division in France. I wanted to come back home, we had two kids in France and we missed our friends and our family," he said.
"So I started looking around in Cape Town, I emailed a few guys and they were keen to bring me back, and then, the rest is history."
On his return, Fourie sustained an eye socket injury in his first game back for the Stormers but returned in impressive style. He celebrated his 100th Stormers game hoisting the United Rugby Championship title after defeating the Bulls 18-13 in the showpiece event.
Stormers coach John Dobson admitted that he did not expect Fourie to become a regular starter for the side when he linked up with the squad, but Fourie says it is not his style to pitch up and pick up a paycheck.
"I think it's just my personality. I don't want to be labelled as a journeyman or just someone that's here just to pull a paycheck," he said.
"I unfortunately got injured in that first URC game but I luckily came back and played some good rugby."
Currie Cup ton
Having notched up 100 Stormers games, he is just two Currie Cup caps short of claiming his ton for Western Province, and while his injury and potential Test call-ups could curtail that, Fourie is keen to reach the milestone.
"It's always a privilege to play in the blue and white hoops with all the history and tradition. So I would like to have a few more games. It will be nice to get it under my belt as well. We'll see how the year goes, and next year, maybe we can get a few more caps in blue and white."

Fourie has a knack for producing standout performances in the big games. He did so back in the Currie Cup final in 2012 and again in the Stormers' United Rugby Championship final victory, earning the man of the match award.
The back-row scored two tries in a blockbuster performance against Harlequins, and in the Cape-based side's first Champions Cup outing in France, against Clermont, he did so again.
"I think occasions like that only come around once or twice in your career, so you have to take full advantage of that," he explained.
Springbok debut
Before the semi-finals of the URC, Nienaber named his squad for the upcoming three-Test series to face Wales. Fourie was told of his call-up by Dobson while medics were attending to a wound copped after the win over Ulster.
He was named on the bench for the second Test with the Welsh in Bloemfontein and was captured taking in the emotions of a long journey to achieving his dream.
Reflecting on the day, Fourie said: "Someone my age, making your debut at 35… you have been looking forward to it for a long time. To have my whole family, my wife, and my kids there, to share it with everyone, it was really special.

Looking ahead to the World Cup and Fourie is seen as a potential cover at hooker for the Boks and the Stormers.
While he hasn't performed in the role on the pitch for the Stormers recently, Fourie has been practising the front-row responsibilities.
"I still keep my lineout throwing up to scratch. When we do lineouts, I do a few throws as well. Sometimes in a game, it can happen (that it's needed), like with Ireland's game (against Scotland in the Six Nations). They lost two hookers and Josh van der Flier had to throw in at the lineout, so you never know what can happen in those circumstances," Fourie said.
"So I'm still busy refining those skills, but I've played there a long time in my career. I think, if you have to count, maybe more years at hooker than at flank."
Looking ahead
Fourie signed a two-year deal until the end of 2024 with the Stormers, and if he does feature for the Springboks in the final year of his current contract, he will become the oldest player to represent the side, overtaking Matfield's record.
But will he look to play on past his current deal, and is there any kind of retirement date in mind?
"For now, try and keep pushing it as long as possible, but this is probably my last two years… But never say never," he quipped.
"We'll see. I've been involved in this game for 20-odd years now, so I will probably try and stay in the mix with the rugby, and staying involved with Western Province will probably be a wise thing to do."
READ MORE: Who's hot and who's not: Chris Ashton creates history, Munster end Stormers run and the Olly Woodburn decision