David Campese exclusive: Five takeaways as Wallabies a 'painful' watch against 'bloody brilliant' Fiji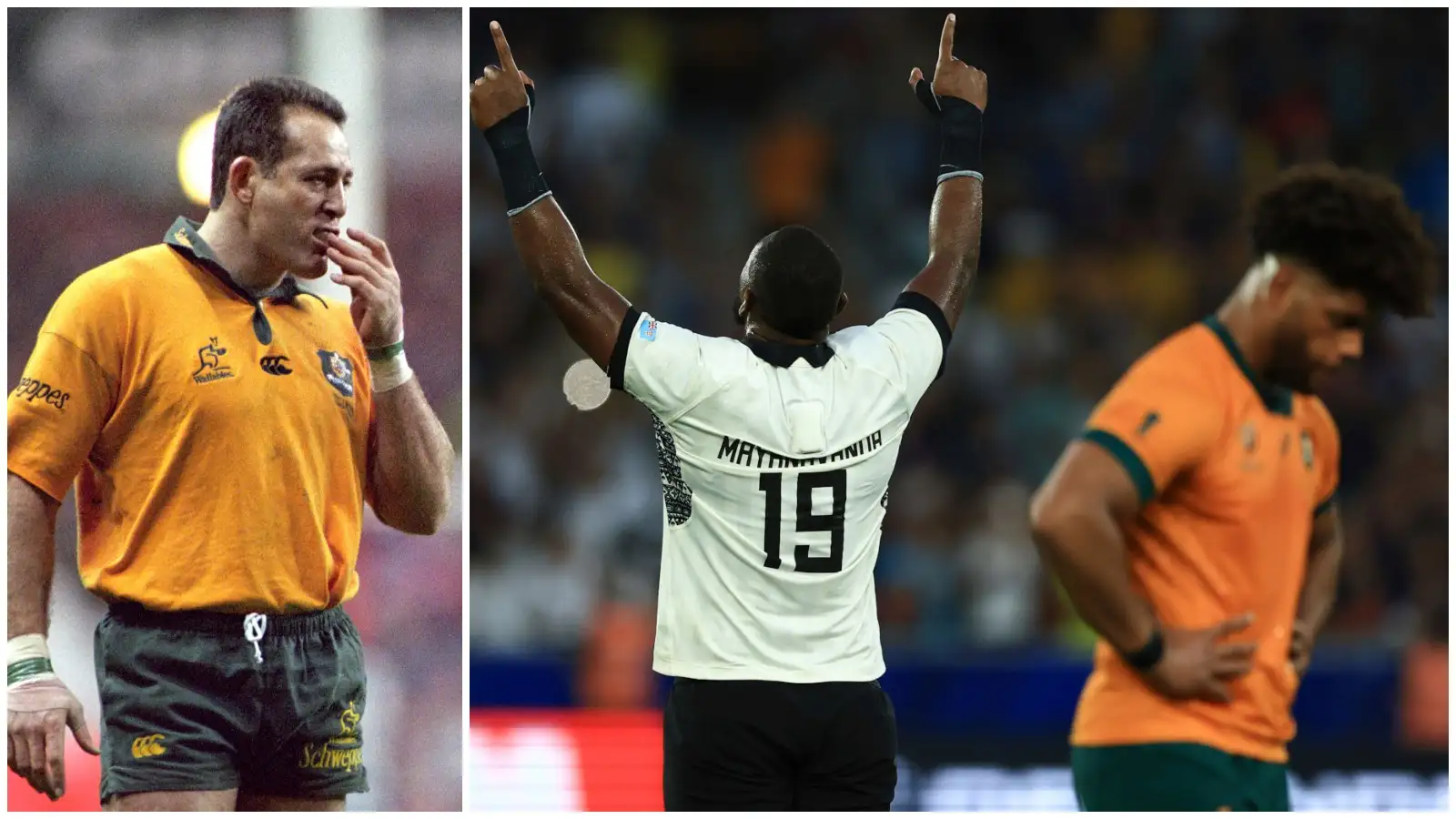 Wallabies great David Campese didn't hold back in his assessment of Australia's showing in defeat to Fiji as Pool C of the Rugby World Cup was blown wide open.
The top line
As a proud Aussie it pains me to watch the Wallabies lose to Fiji without really firing a shot and looking so short of basic rugby skills and IQ.
I cannot fault our opponents – they were bloody brilliant and the power and imagination of their backline is absolutely joyous to watch. Fiji play with intuition, with intellect and are bolting on real control and fine structures to their undoubted natural skillset.
Had our lineout not stolen seven of the Fiji throws the game would have been out of sight by the end, rather than the nailbiter we saw, but I have to applaud the composure of Fiji towards the end. Coach Simon Raiwalui is the coolest of customers – he was even aware enough to order the kick for goal at the end to try and grab that vital bonus point when his team was in emotional turmoil celebrating on the pitch.
Whilst I'm delighted for Fiji I am devastated that Australia are so – well un-Australian. We're a nation that thrives on running rugby, on intuitive attack and to watch the side I once represented getting caught up in a kicking duel in the last three minutes pretty much sums up the ambition and decision making in our rugby right now.
Breakdown
Fiji murdered Australia at the breakdown, both on the floor and in carrying into contact. Seven steals tells you all you need to know about how poorly the Wallabies protected their own ball and, crucially, just how poor and inaccurate our back-row were in terms of their poaching and also their clearing out of the rampant Fijian jackaller. Every time the Aussies got position or a territorial foothold, they got turned over.
It didn't matter who it was – Levani Botia, Josua Tuisova or Semi Radradra, the Fijians were like clamps over the ball, wonderfully legal and absolutely accurate. To win these contests you firstly need anticipation, rugby IQ if you like, to spot where the ball is going to become available and then secondly you need the skill and strength to get into the smallest of gaps between the bodies to nick the ball.
It was absolutely outstanding work from all 15 Fijians, grabbing three times the turnovers of Australia, and whoever they come up against, including France, Ireland and South Africa, they will present massive challenges around that breakdown area as right now, they're pretty much the most effective stealing side around.
Sure, losing players like Will Skelton and Taniela Tupou didn't help our cause but World Cup campaigns are based on squads, not individuals, and it was our squad and leadership that came up short.
🇫🇯 FIJI PASSION!!! #RWC2023 pic.twitter.com/WQZFDy7RYU

— Planet Rugby (@PlanetRugby) September 17, 2023
Aussies drawn in
Watching the Wallabies get drawn in to playing Fiji at their own game annoyed me greatly. Australia seemed intent on matching the same power carry game but without anywhere near the artillery to deliver it.
Given the kicking options of Nic White, Carter Gordon and Ben Donaldson, I was surprised that the Aussies didn't use their footballing skills in exit and open field to get into territorial positions where they'd have the ability to keep the scoreboard ticking in the early. When you've got an edge in the lineout, the kicking game is an obvious weapon as you've a one in five chance of re-stealing the ball in the set-piece.
But then to suddenly switch to a kick strategy in the last five minutes when Australia needed to go the length of the pitch to draw absolutely defied my comprehension. This was a side that have no clue how to attack and do not know each others' games in terms of attack. A friend watched the Wallaby training sessions during the week and noted how much of it was pre-planned and called by the coaches rather than ignited by the players and that's a huge concern.
It's simply not the way the Wallabies play rugby and if we continue to do that we will lose the support of our people who come to watch our traditional Aussie brand – attacking, intelligent and highly skilled, ironically the qualities Fiji exhibited all evening in this match.
Lessons learned
It's safe to say that one of the reasons Fiji lost to Wales in their opening match was their lack of success off the tee and the introduction of scrum-half Simione Kuruvoli certainly made a huge difference to the scoreboard, as he hit 16 points with the boot off the tee.
His clearance work from the Fijian half also assisted his team greatly, giving them precious exit strategies from the boot for the power runners to chase.
With their scrum holding up well, the only mark against them went in the lineout. If I were the Fijian backs I'd be asking questions why the forwards are going for long throws to the back of the lineout when the only important thing was to retain ball before unleashing the power in their back division.
Fiji won virtually every contact moment they created in midfield – waves upon waves of carriers with massive power giving them metres post tackle. It's ridiculously hard to counter power like that – it's a case of holding on and trying to roll with the carrier to allow your back-row a sniff of a poach. But you also have to ask yourself where was the dummy runners or the change up switch? There's absolutely no doubt that Fiji have the best power runners in the game but if they just play with a little more guile, get a few more players running decoys and so on, then they'll fix the drifting defenders to give their brilliant backs more space to run into.
🇦🇺🇫🇯 FIJI HAVE BEATEN THE WALLABIES! #AUSvFIJ #RWC2023 pic.twitter.com/rXsUZsn8tu

— Planet Rugby (@PlanetRugby) September 17, 2023
Forward look
Australia now have a massive task to overcome Wales and it's key they score bonus points in doing so. When Donaldson played at 10 they showed more structure, but we need to see far more leadership coming through on the pitch and, as long as the coaching voices are so loud, those leaders will struggle to find their voice, other than White who tried manfully to get some go forward from his players.
The breakdown concerns me, especially when I consider Michael Hooper, our best breakdown specialist, is cooling his jets back in Australia. Sure, we were up against some top operators but there's no excuse for the number of turnovers we haemorrhaged.
For Fiji, their entry into Super Rugby has transformed the structural side of their team. With a great kicking game, competitive scrum and both the best runners and breakdown in this side of the Rugby World Cup draw, they now need to kick on and score points in their last couple of matches against Georgia and Portugal, neither of whom will be a walkover.
For a proud Aussie like me, this was a painful game to watch in many respects, but I cannot help but adore the way Fiji play with such intuition and freedom; it's a pity a few of the other sides at the tournament, including the Wallabies, aren't quite following their lead, because I enjoyed their win immensely.
READ MORE: Australia player ratings: Woeful Wallabies fall flat in World Cup defeat