Our analyst returns this week to study that crazy Rugby Championship opener in Sydney and what we can take from those 80 minutes.
New Zealand dominated the opening test of the 2017 Rugby Championship against Australia. They were 40-6 up at half time and added another two converted tries to make it 54-6 before the garbage time comeback by Australia.
The end result, a 20 point loss, is not that embarrassing given the current difference between New Zealand and Australia. However, incredibly, despite a horrific 54-6 scoreline, the 34 points that Australia scored were the most that New Zealand have conceded since the Ireland loss in 2016. That might be quite recent, but the previous time was against England in 2012 and Australia in 2008.
So, every four years, New Zealand concede 34 points. So, with this in mind, does the final 30 minutes of Australia's loss tell us anything about either Australia or New Zealand that we didn't know? Is there a weakness in New Zealand's defence that can be exploited by the other two teams in the Championship, or a newly found attacking vim and vigour that might help the Aussies out of the hole they find themselves in?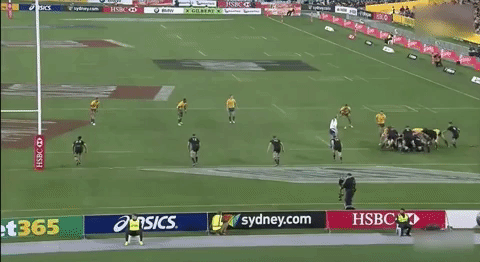 This is the first Australian try and it comes from a five metre scrum. Nick Phipps, the scrum-half, drifts off the scrum and pushes try scorer Curtis Rona a little wider. Ben Smith does his job and marks Phipps, expecting that Beauden Barrett will cover Rona. Phipps plays this perfectly, by running slightly away from the scrum, he makes it so the back-row can't get across and turn a two on one into a two on two. Barrett goes for Tevita Kuridrani when he has to cover Rona and the wing goes over for a try on his debut. It's a nice attacking move and it's a pretty ropey bit of defence, but it is from a five metre scrum, if I were an Aussie, I wouldn't be rubbing my hands with glee.
This is from a ten metre line-out, so that's the caveat, but this is a delightful bit of play. The three key players are Kuridrani, Kurtley Beale and Israel Folau; Beale doesn't touch the ball but he removes the wide defender from play and creates the hole that Kuridrani disappears through. I don't think that anyone can say that this Australian team is the cream of the crop, but individually, they have exceptional players who can create the above tries. As soon as Kuridrani passes the ball on, he loops around, knowing that Folau will likely need two men to be taken down and the offload will probably be on. It's so frustrating to see this, because there's nothing that special about it, it's just three talented players taking the ball to the line and distributing from there. It will leave you shouting at the TV and asking them why it took 54 minutes. Nothing overly concerning for New Zealand here, offloads are very hard to defend and you would probably expect the best players in the world to breakthrough every now and then.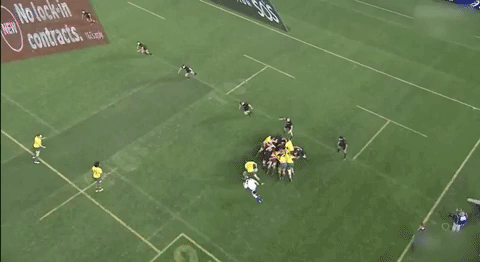 The following clip comes from turnover ball, but we're not looking at the best ball handling midfielders here, this is just passing and straight line running from two props; Scott Sio and Sekope Kepu. It takes a lot for Kepu to pass the ball instead of just sticking is head down and running at the glimmer of space, but Luke Romano is struggling to get across to the outside and Sio has the best chance of exploiting this. As soon as Sio gets the ball, he glides into the gap and leaves Romano and Wyatt Crockett grasping at nothing. Again, it's an example of what just running at a defence can do for you. Not much concern for the Kiwis here, turnover ball is always going to be rough to defend and, although they conceded ground, they didn't concede points in this situation.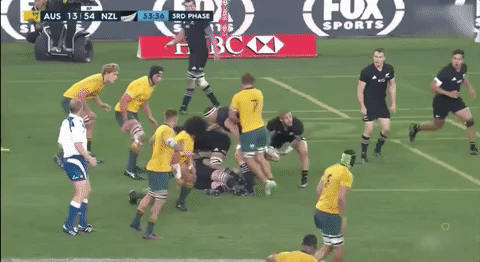 When the shackles came off for Australia, they also came off for New Zealand. Saturday's winners began hurling the ball around and making uncharacteristic mistakes, including the one above. This was punished with the second try, but it was pretty clear that this was an All Blacks team who had been given the green light to play like kids, but they were also slightly rusty and the mistakes added up.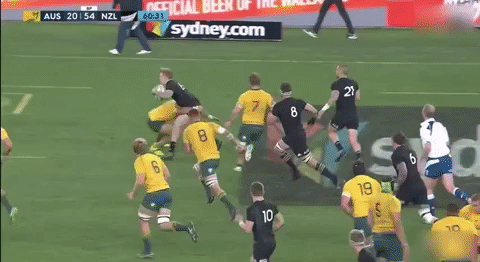 These errors mount and Damian McKenzie is guilty of chucking the ball away for an easy Beale try. This is the kind of performance you expect when the game has already been won, it's very very unlikely to be the case when 0-0 at the start of the next game against Australia at home. One thing to note here is the speed of Barrett, he goes around 60m in just a touch over seven seconds, from a standing start, after 60 minutes of rugby. I mean come on now!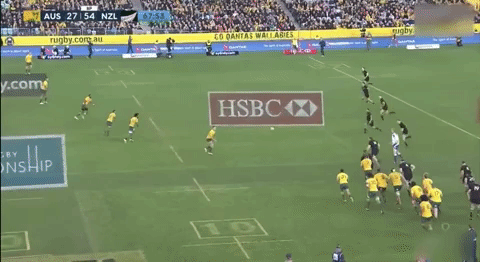 The final try is very unusual, it's a horrific pass from Bernard Foley which somehow avoids everyone and ends up in the hands of Folau for a canter to the line. This clearly isn't planned to end up like this, but it's another example of what can happen when you run straight at a defence. This is absolutely crucial for Australia, they started strongly but their attack collapsed as the New Zealand attack soared. As you can see in the below example: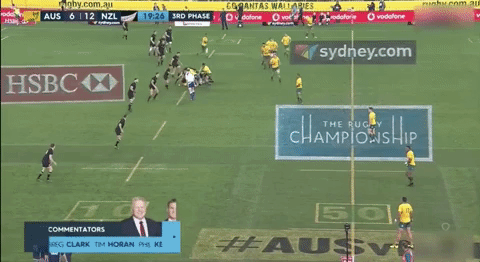 Compare this clip; deep, individual runners with no support lines – with the clips above. When Australia found out again how to attack, they punched a hole through the world champion's defence and must surely take some confidence into the next game.
Conclusion
You don't fall 54-6 behind just because of a bad attack, and, if I had more than my thousand words we could look at everything that went wrong defensively. The All Blacks ran 123 times and just over one in every five ended up in a clean break. Just imagine that, every five phases a player breaks through and storms up the pitch, that is embarrassing.
But, defence aside, we were looking at whether there's anything Australia can take from their performance in the final 30 minutes and whether the Kiwis have anything to fear because of this. Well, let's start with that final point, honestly the All Blacks will look at the tries they conceded and learn very little. They flung the ball around and got burnt a few times, there was a fluke try, and a couple of bits of great handling. Their own high standards say that they should never concede four tries, but I don't think there will be much cause for concern.
For Australia, there's more that they can learn. As we've mentioned, their defence is a real weakness, but if you're regularly scoring 34 points, you don't need a first class defence. But, it's not as simple as that, when they looked at their best and the midfield were linking up to run through the All Blacks, they were great, but the game was already done. When they were close to the line, they were very capable and looked to be a good team, and they took advantage of mistakes well. If they attack like they did in the last 30 for the next 80, they have a shot in a high scoring slug fest. If they don't, expect to see another humiliation and another nail in the Australian Rugby Union coffin.
---