Our analyst Sam Larner returns to Planet Rugby with a look at Wales' defence against Scotland and how their back-row performed in Cardiff.
The Welsh defence has been forged in the fires of Wigan since 2008. It has been world renowned, Shaun Edwards' coaching career has been decorated and highly regarded and he already has a job lined up for 2020, back in league with Wigan. Despite all this, the last time Wales conceded the fewest tries in a Six Nations tournament was 2013 – that was a year when no single team conceded more than nine tries in the tournament. Wales might have been consistently near the top of the rankings but they haven't been the kind of lights out defensive unit that many people perhaps remember.
One element that has impacted the Welsh defensive effort has been the back-row. If you think of the Welsh back-row for the past 10 years, the entirety of the Warren Gatland era, you might think of Sam Warburton, Dan Lydiate, and Taulupe Faletau. In that set-up Faletau was the big ball carrier, Lydiate was the defensive wall and Warburton was the one who turned the ball over. Due to injuries that was far from a constant set-up and at points the balance flitted towards a more jackal heavy approach as Justin Tipuric replaced Lydiate or, at points recently, a better ball carrying back-row as Ross Moriarty and Ellis Jenkins have been brought into the mix.
The back-row on Saturday was a revamp of the Warburton, Faletau, Lydiate set-up just with Moriarty and Tipuric playing the roles of Faletau and Warburton. The result was a back-row who made 36% of all tackles (61), beat four defenders and ran for 53 metres. All this meant that despite 60% possession Scotland were largely failing to trouble Wales in attack.
Attack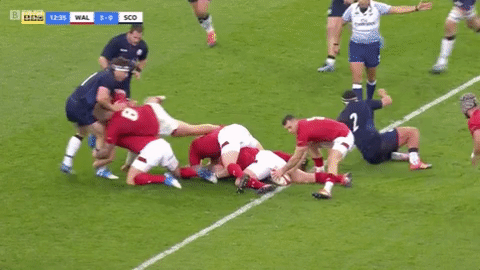 We know the attacking ability of Moriarty and Tipuric but Lydiate has always been the odd one out. He's never been prolific in attack and that has been one of the reasons why there were increasing calls for a flanker pairing of Tipuric and Warburton, pre-retirement. However, all Lydiate needs to do is be capable in attack and he certainly was that on Saturday. This carry led to the near-George North try inside the first 15 minutes, Lydiate just gets past the gainline and presents the ball for the quick next phase. It's not flashy but Lydiate averaged two metres per carry on Saturday, the worst of the back-row but better than anyone else in the forwards.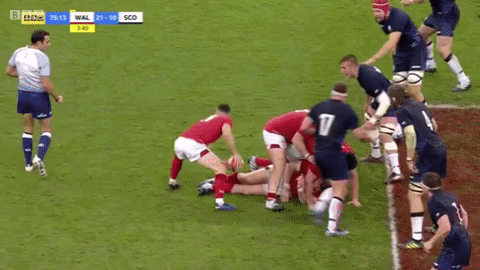 Tipuric's skill-set is such that he took the latter half of the 2017/18 season off to prepare for the Commonwealth Games Sevens tournament. He is supremely talented with ball in hand and he's not a battering ram but he consistently makes yardage. In this example he finds himself on the wing. He could cut back inside and run to his support but he backs himself and gets over the gainline but most impressively he works really hard on the ground to get the ball back quickly.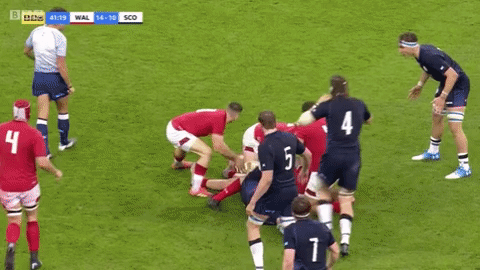 He does the same thing here, he drifts to get on the outside shoulder of Adam Hastings and although he doesn't blast through for a clean break he again works hard on the floor to get the ball back for Gareth Davies for a quick next phase.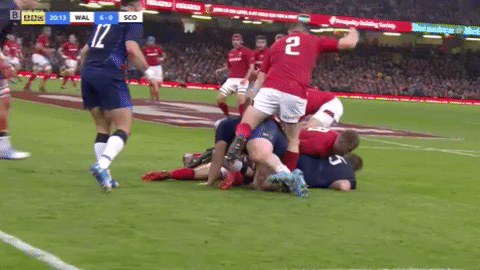 WP Nel makes a good tackle here otherwise Tipuric would still be running but he does really well to get on the outside shoulder and, again, he does such a fine job on the floor to put the ball on a plate for Davies. It seems hard to believe that Tipuric's Sevens experience hasn't helped improve his presentation ability.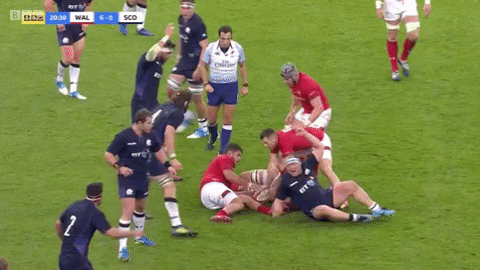 Finally, Moriarty gives away 4kg to Faletau and 24kg to Billy Vunipola but that affords him a little more speed and finesse to his game. That is crucial as he shows an impressive turn of pace to get through the half gap and ultimately Scotland give away a penalty that Leigh Halfpenny converts to stretch their first-half lead. Against Scotland the Welsh back-row didn't do anything unprecedented in attack but they were able to continuously get over the gainline when they were carrying and they cleared out hard to get on the front foot. That was a big part of the reason why Wales were able to do a lot without much possession.
Defence
The key to playing good defence is that you shouldn't be doing it. A perfect defensive team wouldn't be one who defended 30 or 40 phases in their own 22, it would be one who defended one phase and then turned the ball over.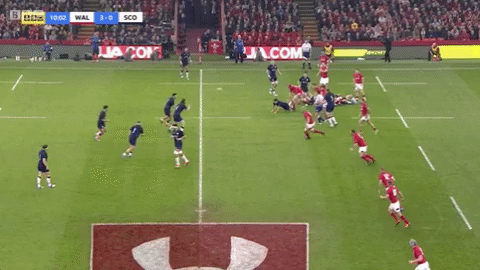 Firstly Lydiate gets off the line to close down the options, even if he didn't get the turnover he would have got a tackle for a loss along with Ken Owens. As soon as Nel gets on the ground Lydiate just floats back behind the gate and latches onto the ball. Despite Stuart McInally clearing him out from somewhere, which is clearly 'the side', Lydiate can't be moved.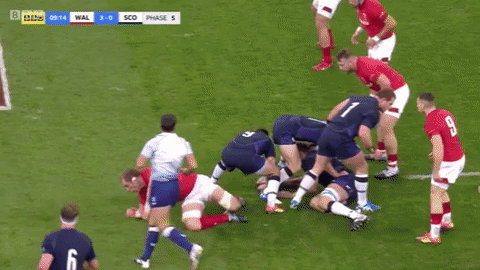 If you can't get turnover ball, and most international teams aren't just giving it away, the next best thing is to slow it down. If you still play and part of your training session is touch, try changing the rules so that you have to wait five seconds before playing the ball after each touch – you'll find it almost impossible to consistently score tries. In this example Lydiate and Tipuric both slow the ball down enough to prevent what would otherwise be a certain overlap.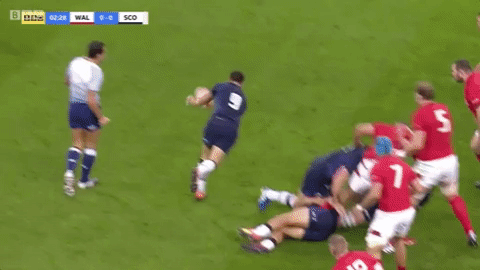 Again, the focus is on trying to turn over the ball but also not giving away penalties. Look how Lydiate looks to go for the ball with Dillon Lewis but when the referee calls for hands off, the flanker backs off knowing that he might not have turned the ball over but he has slowed it down again.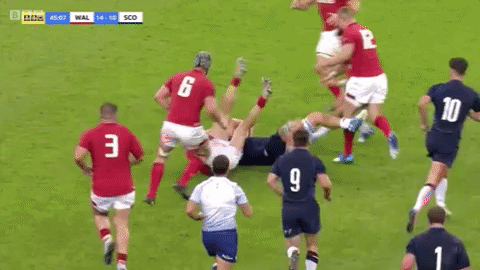 As all back-rows know, you don't need to get your hands off until you're told. Lydiate might be on his feet initially but he then has his hands on in a ruck and at the end he's completely off his feet and still clutching the ball but he does get his hands off in time and again he's slowed down the Scottish attack and fallen only just short of getting a turnover.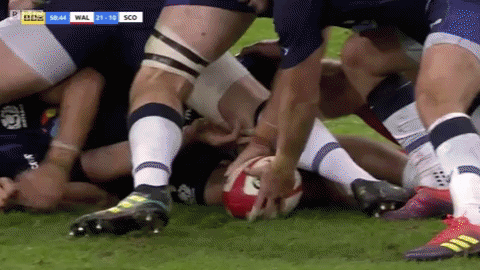 Moriarty doesn't make the tackle here but he does make a complete nuisance of himself at the ensuing ruck and he messes it up enough that he allows two more players to get across to the blindside and the overlap isn't there anymore.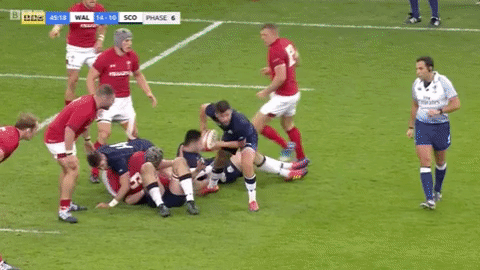 We've seen how Moriarty and Lydiate excelled defensively and their stats were better than the blue-capped Tipuric but the Osprey put in a good shift and was still the tackler with the third most tackles. In this clip he puts a huge, and legal, hit on Nel which stops Scotland in their tracks just as they were beginning to gain some confidence at the start of the second-half.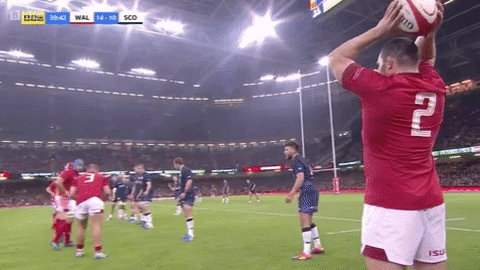 Finally, Tipuric might not have contributed as much defensively as his other two back-row colleagues but I rank him as one of the best line-out jumpers in all of world rugby – not just amongst flankers. It's another vital string to an already burgeoning bow.
Conclusion
The Welsh defence, ignoring one maul, was exceptional. They chopped down attackers and consistently slowed the ball down when Scotland were building their attacks. They will need to repeat that performance and add a little more to it again to overcome Australia. In my opinion, this is the pack and especially the back-row who should start against the Antipodeans.
However, although I haven't spoken about the backs I do think there is room for improvement in two areas: inside centre and out on the wing. I don't think that Luke Morgan did anything wrong on Saturday, he was useful defensively, but the best wingers need to force their way into games rather than just wait for the game to come to them. When Liam Williams becomes available he would walk straight back into the Wales team with Steff Evans keeping his place on the bench.
The other player on the edge, from my perspective, is Hadleigh Parkes. He hasn't had the best start to the season for Scarlets and he was responsible for Scotland's only real open play chance when he missed a simple tackle in midfield, he also wasn't offering what we have come to expect in attack. The thing that may save him is the lack of alternative options, Owen Watkins hasn't had a great season and Tyler Morgan has started just four games this season; the best opposition he has faced has been Northampton Saints in a Challenge Cup game. Unless there is a plan to move Gareth Anscombe to centre, with Dan Biggar returning at fly-half, I don't see Gatland making any non-injury enforced changes other than Williams. Certainly this back-row seems set for the November internationals and possibly beyond.
---