Our analyst Sam Larner returns to Planet Rugby and is at a loss to explain France's selection and performance against England at Twickenham.
Rugby has a chequered past with playing people out of position. Mauro Bergamasco was asked to slip into the number nine shirt when Italy faced England in 2009 and he performed exactly as well as you would expect a flanker to perform. He lasted 40 minutes, his mistakes directly contributed to three England tries, and that was the last we heard of the Bergamasco to nine experiment.
Sam Burgess was brought over from rugby league with the expectation that his physicality and athleticism would be a huge addition to England. A lot of that ability was unfulfilled because he was shifted between blindside flanker and inside centre seemingly at random. England thought he was a centre but he spent his club weeks with the forwards. Although Burgess cops more than his fair share of blame for England's Rugby World Cup exit he wasn't helped by the constant position shifting and he was back to league after a year.
Not all players asked to play out of position do badly though. Maro Itoje and Courtney Lawes have both performed admirably when asked to fill in at blindside flanker, typically and especially in the case of Itoje, when England are looking for more line-out options. George North has enjoyed some good days with 13 on his back, although the clamour to make that his starting position has died down as the Welsh midfield has acquired depth. Rhys Priestland was the full-back for the Scarlets before injuries led him into the fly-half position for Wales during the 2011 World Cup.
All of the above examples represent a fairly small change in position however. Modern day locks and flankers do a fairly similar thing, most full-backs can double up at fly-half and vice versa, wings and centres are different beasts but when North was playing at 13 the goal was to get him the ball earlier and hopefully in more space. Essentially it was to use him as they used him on the wing but one person further in.
There is a reason why players generally play in the positions that they usually play in. Centres might switch between 12 and 13 but they won't usually play at fly-half or full-back, scrum-halves might be forced into duty on the wing but unless something apocalyptic has happened they won't start anywhere other than at nine. Ken Owens might have been forced into a few starts at number eight but he is going to spend the rest of his career as a hooker.
This is because, at the highest level, rugby is just as much about extreme game intelligence as it is about physical ability. The thousands of hours Danny Cipriani has spent at fly-half means that he knows where the space will be and what tricks he can use to exploit that space. His intelligence plus some reps he's had in the centre or at full-back will get him through if he's asked to cover those positions but, as Jonny May showed, he's probably going to look very ordinary if he's asked to play on the flank.
Unfortunately, France decided to go for a backline featuring four centres against England and it led to one of the most extraordinarily tactically inept first halves I may ever have seen.
My point here is that players should play in the positions that they have developed a specification for at the elite level. However, young players should be encouraged to play as many different positions as possible. The more your tighthead plays fly-half the better their hands will be and the better they will be able to read space. If your fly-half plays in the back-row their tackling will improve and they will see the game differently.
If you only let your players play in the positions that you think their skill set matches you will find that in a few years they only have the skill set of that position and they probably lack the rugby brain to make the most out of their physical talent. It's no surprise that in the NFL a lot of players have experience playing quarterback, linebacker, or defensive back, which are considered the main decision making positions, even if that's not where they have ended up at the elite level.
This is broken play so this is taxing for the back three players. When the attack is static or the defence is set the back three can just work as a pendulum, covering the entire pitch by moving as the attack moves the ball. When it's a turnover it's not quite that simple. When the ball is lost Yoann Huget and Morgan Parra identify that somebody needs to cover the ocean of space in behind. That frees up Damian Penaud, the far side wing, to stay in the line. However, when Elliot Daly breaks through Penaud has to stay ahead of May but when the centre-cum-winger fails to do that May has an unopposed run into the corner.
Huget is also at fault here, Parra gets drawn up the pitch when Daly breaks free, as he should, but that means that he can't turn and catch May when the kick comes through. Huget needs to be making more effort to get across the pitch in this example. If he runs across to cover the kick through and Daly finds a way to swing a 60 metre cross-field kick to the grass Huget has just departed for a try then fair enough but it's much more likely that Huget gets across to cover the kick through. It's only as May begins his slide to score the try that Huget gets into the far half of the pitch.
This is a kick to nothing but it's aimed at Parra who England clearly think they will be able to beat in the air. Parra and Huget allow themselves to both get drawn in and so nobody is in the backfield when Chris Ashton's kick goes through. When Parra knocks on he is out of the game but Huget continues advancing to try and close down the space England have. Penaud is also blitzing here to stop the ball going round him on the wing and is completely oblivious to the fact that May is just running around him to chase the kick. Huget spots the issue but way too late and his chase is, to be kind, less than flat out.
This was a feature of the French first-half, Penaud especially didn't know where he was meant to be and Huget, the person who should have been most at home, also looked lost. That meant that Parra was asked to win high balls way too regularly and that's not a skill, understandably, he has.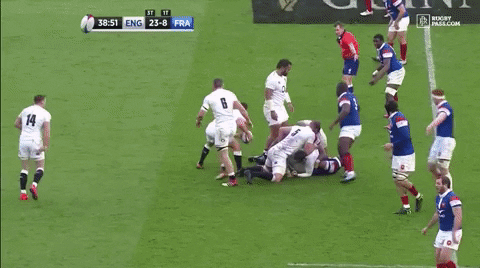 This was perhaps the worst example of the entire half. England put the kick through and France have three people back, all good so far. However, two of those people are Louis Picamoles and Parra and Huget has plonked himself on the near side wing, away from where the kick is going to go. It's a very good kick and Picamoles has to come a really long way and ends up knocking it on. Picamoles is a great rugby player but this is not his skill set, I can't work out how France managed to end up in this situation where their back three were consistently not the players receiving the kicks.
That leads to this on the very next phase. Picamoles is obviously now in the defensive line after the kick and Parra has joined him, he's there at the breakdown. So if you had three people and two of them get taken away you're left with Huget, but he's still glued to the nearside line. The amount of space is breathtaking. So breathtaking that I worked it out, England are about 35 metres from the line and Huget is hidden but I reckon he's no more than five metres from the sideline. That means that England have 2,275m2 to kick into, that's more than half an acre. That much land in the Twickenham area, if you wanted to stick a house on it, would cost £6.44m. Gael Fickou somehow makes the try-saving tackle but Huget is nowhere to be seen and nobody else in the French team noticed the chasm of space behind them.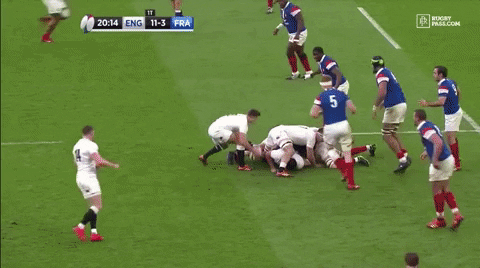 Earlier in the game Huget was again nowhere to be seen when needed. Penaud realises in time that he is needed in the backfield and actually gets a nice return on this kick but there is no need for France to only have one person in the backfield when England are still in their own half.
Conclusion
This French performance was historically bad and I truly don't remember watching a back three ever work together so poorly. I would pay a lot of money to have been in the room when Jacques Brunel were devising their game-plan and decided to stick four centres on the same pitch. There was clearly some kind of plan and something they wanted to achieve but I couldn't even hazard a guess at what that was. They didn't seem to do anything unique in attack and instead just willfully weakened their defence. After that shambles, what odds on a French wooden spoon?
---