Our analyst Sam Larner is back this week to examine how England were bested by South Africa and whether they hauled off the wrong lock.
What a game that was at Ellis Park, or Emirates Airline Park as nobody is calling it. After 20 minutes it looked like there wasn't much point carrying on, with England already 24-3 up. An hour later and South Africa had capped off a stunning comeback to win by three points with 81 scored in the whole game. I doubt anyone saw England running out to such a huge early lead but the collapse of the English dominance was truly sensational.
Nick Isiekwe was given the hook before half-time and Brad Shields was put on for his debut. Whilst the game was going on, my initial feelings were that it should've been Maro Itoje who gave way after some ineffectual defence and damaging penalties. But, one of the main purposes of these articles is to question the commonly held beliefs and see if they are actually right.
It's difficult to measure the impact that locks make though because they contribute so much at the line-out and scrum we wouldn't expect them to put up particularly impressive carry numbers and work-rate can be hard to measure with defence. There is of course another way to measure impact, but one that prior to a chance discussion on Twitter I wasn't that familiar with, the breakdown.
During this article we will be including something called ruck marks. This was originally invented over at the excellent Demented Mole blog and it aims to give a score to each person involved at each ruck. There's a lot more detail that could be added here but basically if you score five then you won a turnover, four and you made a decisive impact (clearing out a jackalling player or slowing the ball down in defence), three and you have made a hit, not a decisive impact but still you did something in the ruck, two and you have guarded the ball against a possible counter ruck or just got over the ball to protect it, and finally one and you were at a ruck but that's it, classic ruck inspector.
Before we look at that in more detail though, let's have a quick look at some of the tactics the South Africans were using.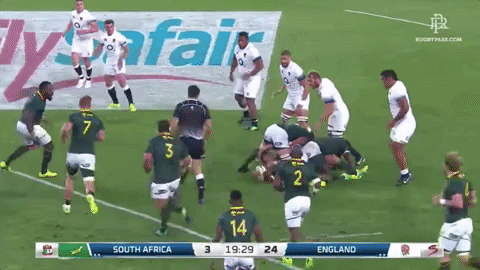 This attack looks very straightforward but it benefits from the speed of ball. This section starts from a line-out and South Africa are just hitting the ball up and crabbing across the pitch away from the camera. The goal is to 'filter' the defenders so as you move across the pitch you leave behind a trail of larger defenders who you can then attack with your quicker backs.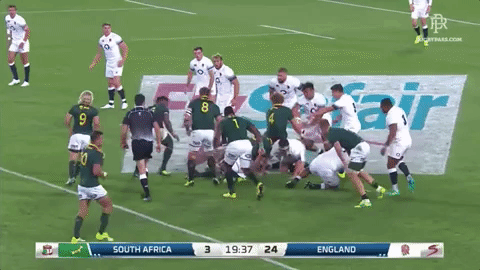 England are looking very unbalanced here and George Ford notices this and rushes back across the field to try and cover the overlap, he actually ends up making the last ditch tackle. Unfortunately for England, it's a little too late to fix the problem.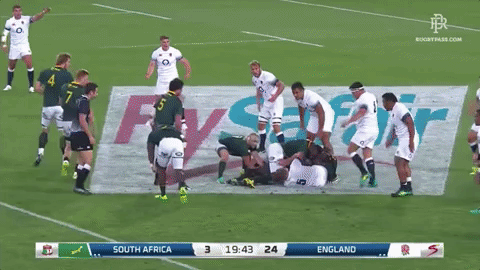 South Africa have laid the trap and now they strike. You can see as the ball comes out that the first English defenders are; Jamie George, Mako Vunipola, Kyle Sinckler, Tom Curry and Itoje with Mike Brown on the wing. Connection in defence is key and if the forwards spread out then Willie le Roux will have an easy run in. Because they stay compacted, Brown is drawn in and S'busiso Nkosi has an easy run around the outside. Itoje then makes a complete mess of his guard duties and Faf de Klerk finishes the try off well.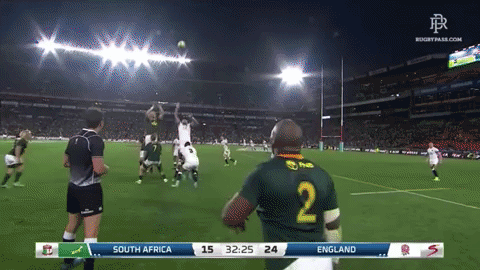 If you like your gratification a little quicker than those four phases, how about this one? South Africa do everything we've just spoken about in a single phase. They set up a pod in midfield and the English defenders hare off following the ball. When Siya Kolisi sends it back the other way you have De Klerk in support and you're running at the English defenders who were left behind and only a single back, scrum-half Ben Youngs. It's easy pickings, especially with De Klerk's pace.
This in the build-up to the third South African try. Both locks miss a tackle here and although Isiekwe is able to get to the next breakdown, Itoje isn't even in the picture at the second phase.
Everything is linked and with Itoje out of the game and Sinckler on the floor as well, the English forwards don't react quickly enough to where the upcoming danger is and when the next phase comes Billy Vunipola and George are both caught up in the tackle, none of the forwards apart from Curry move around the ruck and there's a huge overlap for South Africa to have a go at.
That brings us on to the ruck marks, an average score of two is around par for the course, Isiekwe scores 1.8 per attacking ruck attended and Itoje is a little higher on 1.82, they're the lowest of any starter apart from Mako Vunipola on 1.63 or Billy on 1.76. If you want to factor work-rate in, then Isiekwe has a team low ruck marks per minute of 0.4 and Itoje has a starting forwards high of 0.73. They both pale into comparison with Brad Shields who has a ruck marks per minute of 1.07, behind only Harry Williams, and a average ruck mark of 2.31, again second behind Sinckler.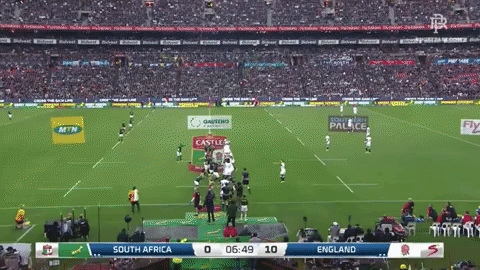 To convert that into something visual here, this clip is from a ruck where both Itoje and Isiekwe were present, and there's a turnover. Itoje does his job and clears out Duane Vermeulen but then Kolisi goes after the ball and Isiekwe makes virtually no impact on the Springbok captain. What is most worrying is that this is at a line-out, the entire English pack is there and yet only two people try and secure the ball.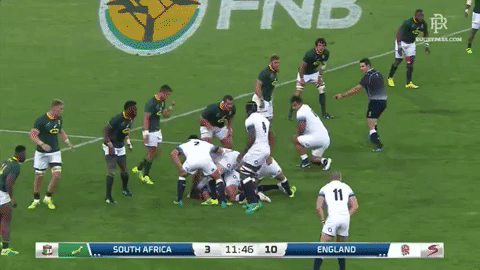 At the very next ruck that Isiekwe hits, there's a similar issue. Vermeulen is the first man in but the clear-out from the Sarries lock is ineffectual and it's only when Sinckler and Itoje come in that the ball is secured – that's three people committed.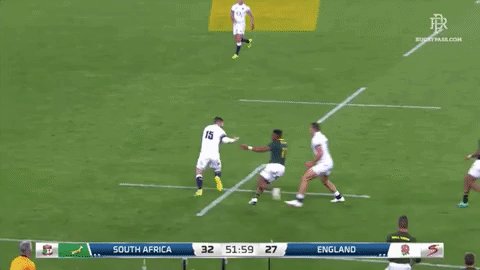 One of the first attacking rucks that Shields is involved in is this one where Elliot Daly is caught after a fantastic kick from De Klerk. It's a bizarre play because all the English forwards are rushing back seemingly oblivious to the fact that they might well end up losing the ruck. Shields, and later Chris Robshaw, are the only ones to head towards the ruck and actually ensure the ball is kept in England's possession.
Conclusion
I'm still not convinced that Isiekwe was the right person to haul off that early in the game but I think it is clear that neither of the locks covered themselves in glory on Saturday. This issue was magnified by the fact that Eddie Jones chose not to include a single lock in his subs. This seems to be a huge oversight, especially when teams like the Scarlets are able to fill their eight-man bench with six forwards. Shields filled in admirably but I can't see this becoming his role in the English squad.
The issue though is a broader one, England were dominant for 20 minutes, out of the game for 20 minutes and had parity for the other half. They are absolutely not out of this three-match series but they can't afford to keep making the same mistakes. They don't need to over commit at the defensive breakdown, but they can't not commit numbers and also be driven backwards in the tackle. That's too easy for De Klerk to exploit.
The ruck mark scores were provided by Karl who can be found on twitter at @rugbydantasman
---