Our analyst Sam Larner is back this week and studies how France got the better of England with a simple gameplan in their Six Nations clash.
One-out carries are derided in rugby. They're boring, they're not the type of rugby that you would like to play or to watch, you'd much prefer to see teams flinging the ball from one side of the pitch to the other. However, there's more than one way to win a rugby match, and in the case of France's victory over England on Saturday, their best chance of success was one out runners.
In fact, one-out runners and pick and goes accounted for 46% of all their carries. Every French forward apart from lock Paul Gabrillagues had six or more carries – Yacouba Camara had 13 and number eight Marco Tauleigne had 10. The French reduced their attacking gameplan to a very simple one and were able to over power the English.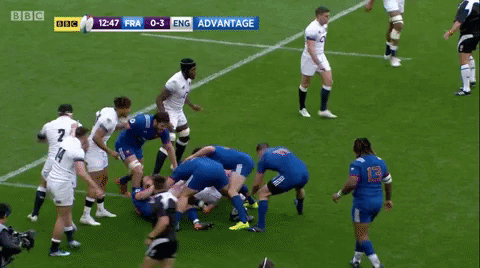 This is a good example of what France were doing. This is a one-out runner, taking the ball from a standstill and trusting his feet and power to charge over the gainline. Because the attack is so static and restricted, they can afford to throw midfield players into the breakdown to secure the ball.
Two weeks ago I looked at how England suffered against Scotland because they had to put their backs into the attacking rucks and this then had a negative impact on their attacking structure. This isn't the case for France, their structure didn't depend on having a well organised backline.
France did employ this tactic at the end of the game when they were trying to run out the clock, but it was a constant throughout the match. This clip is one of the first carries of the match and it's Camara taking the ball from a virtual standstill, cutting back towards the ruck and still inching over the gainline. No coach would recommend this attack, there are four defenders against three attackers and the defenders are a lock, flanker, hooker and centre – but it's successful. It's successful in the same way that buying every lottery ticket would be successful, if you are constantly running and the risks are very low – because it's just one out runners – you will have success.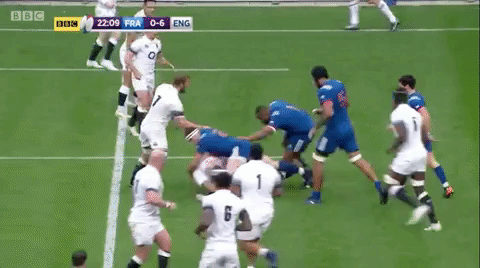 You can improve the success of the strategy by adding some dynamism to the carry and attacking a weakness. Camara charges around the corner and runs straight into George Ford, the fly-half makes a passive tackle which allows an offload and France have gained five metres with ease. If anything, the 'expansive' offload causes France problems because it removes the one supporting player and we end up with slow ball.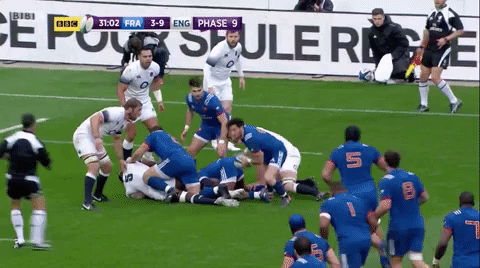 A simpler way to impart a little dynamism into the carries is to just attack the line. Sébastien Vahaamahina was excellent at this all game, as Maxime Machenaud was searching for somebody to carry forward, the lock was charging on out to in lines and powering through the defence.
The lock gets past the gainline and that's vital when you're trying to hold onto the ball, it's exceptionally hard to turn a ball over when the attack gets past you, especially now that you have to go through the gate.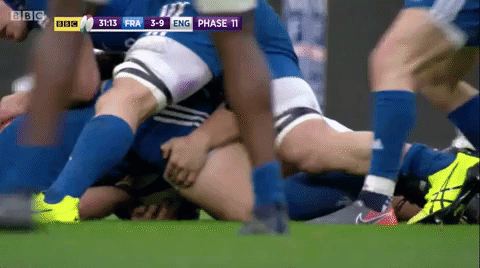 It wasn't all dynamic running though, this type of attack relies on runners constantly offering themselves so the scrum-half just needs to look up and flick the ball to them. That's not the case here, Machenaud has zero options due to a disorganised attack, he ends up just standing still with the ball and promptly gets clattered by Dan Cole.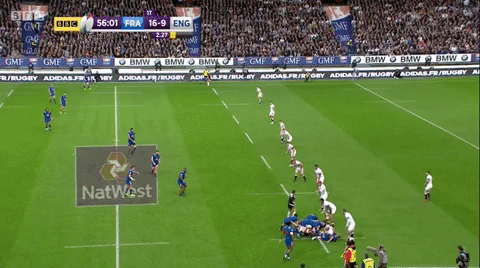 It's the same here, Rabah Slimani is part of a fairly spread three man pod. He gets a long floated pass and is then sacked well behind the line. Nobody claimed that one-out runners always work…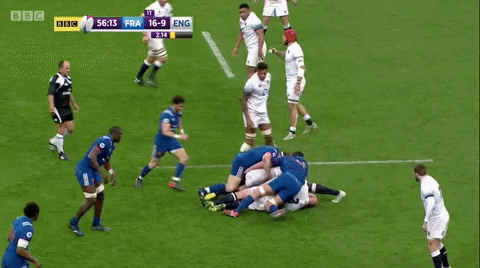 This clip, possibly more than any other sums up what France were doing. This should really go anywhere but Camara makes the most of the little space he has and gains a couple of metres. The flanker was asked to run down a lot of dead ends but yet he averaged two metres a carry.
Part of what 46% means is that the majority of the time, France were running in other ways; collecting kicks, running after a series of passes or after an offload. What's unusual about this phase is that after François Trinh-Duc and before Gaël Fickou, all the players in this attack are forwards. Mathieu Bastareaud and Geoffrey Doumayrou are all on the far side of the pitch. This is the skill level that the forwards have and shows that this reduced style of play is a gameplan and not something done because it's the only option.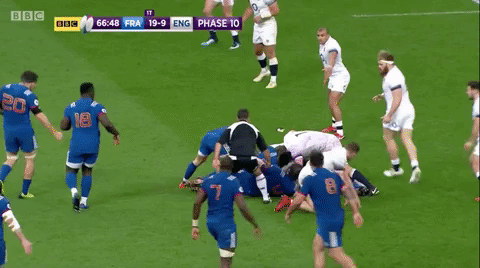 In these final examples we see something that Bastareaud was asked to do throughout the game. The centre is a fantastic player, and far more than just a crash ball option in the midfield but that was what his job largely consisted of on Saturday. He is often unstoppable and despite telegraphing his runs, he was able to break the gainline virtually every time.
Conclusion
Recently, whilst attempting to get my girlfriend interested in rugby, she asked why the attacking team ever kick it when they get to just place the ball back on their side. It's that question which really underpins everything that France were trying to do on Saturday. If you knew you could run the ball in and never lose it, you would do it all game and you wouldn't care if this style of rugby was seen as boring.
France turned the ball over just five times, and that includes turnovers due to knock-ons or handling errors. They kept the ball at will and put the English under pressure through their continuous attack and they kicked the penalties and it started all over again.
Thierry Henry recently said that the perfect goal in football is one where the goalkeeper kicks it and the striker gets it and scores. On Saturday, France beat the team that many would peg as the best in the northern hemisphere, and they didn't even have to cross the try-line. That's efficiency.
---