Our analyst follows up his exclusive with a look at Danny Care and Ali Price's impact on proceedings over last weekend's Test action.
Two scrum-halves made a significant impression on two games last weekend. One played 10 minutes in a winning effort and one played all but five minutes in a loss. The two number nines we're talking about are Care and Price, of England and Scotland respectively. Yes, their distribution was excellent and their decision making was very strong, but it's their kicking game that we will be looking at today.
If you weren't already aware, kicking in rugby is here to stay. Rugby is all about territory and teams want to do anything other than allow a turnover in their own red zone. Defences are also getting much better, it's getting harder and harder to beat teams if you just attack them in a two dimensional way i.e. run at them. By kicking, not only can you kick the ball in behind the defence and add an extra dimension to your attack, but you will also create confusion as kick chases lead to broken field and slow forwards in key defensive positions who can be attacked. Just think, next time you're bemoaning some kick tennis, it's probably leading towards some exciting open field attacking.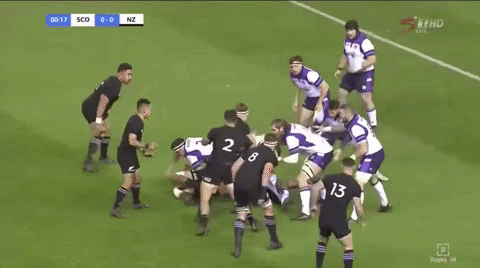 One thing you absolutely cannot do against the All Blacks is kick loosely. There is too much counter attacking threat and all around handling ability to give them a broken field with little pressure. Price is outside of the 22, but just, so he's looking for distance but he wants to create some competition as well. He perfectly places the ball on the halfway line, Lee Jones is sent up to compete and the rest of the kick chase just set the perimeter so the All Blacks can't escape. It's a really good kick, made even better by the nudge that Waisake Naholo gives Jones which results in a penalty.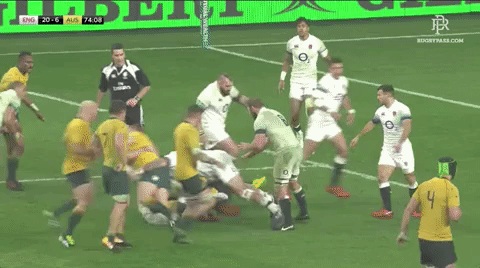 These kicks are the bread and butter of the game for scrum-halves. Fly-halves don't want to punt out of their in-goal area with the back-row charging at them so the nines stick up some 'blockers' and box kick it away. They don't normally get it this far though; seven yards from the line and just a few more than 15 metres from the touchline, Australia would be expecting to get possession back around the 22, instead they're sent almost all the way back to the halfway mark. It's a huge pressure reliever.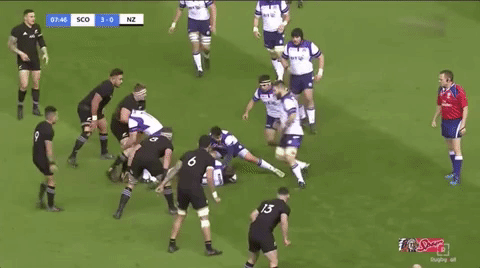 We're going back to Scotland, this is not quite as impressive as the first example, but again, Price is just outside the 22 and he's landing the ball on a spot where wing Jones can go and get it. If Jones gets it, then great, if he doesn't, then the rest of the chasers have set up a boundary that the All Blacks can't escape from.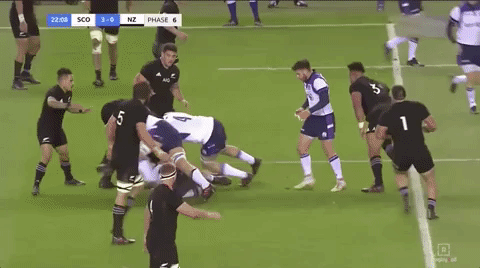 This is excellent by the Glasgow Warrior. Scotland have rushed through on the far side of the pitch, that has drawn up the wing and there's now some green space that Price can land the ball on and keep moving the pack forward. There's nobody blocking and Price just chips it left footed into touch. These are the kind of kicks that allow a forward pack to look up and smile and pat their scrum-half on the back, whilst the opposite hooker waits for a nervy throw.
We've taken a look at how Price and Care did their jobs well and kicked significantly better than you would expect. They took the pressure off their defences with their strong kicking game and managed to turn the field position around consistently. As good as Price was, Care was absolutely instrumental in the England win. Care has a habit this season of getting try assists with his boot and in the last 10 minutes, he managed two.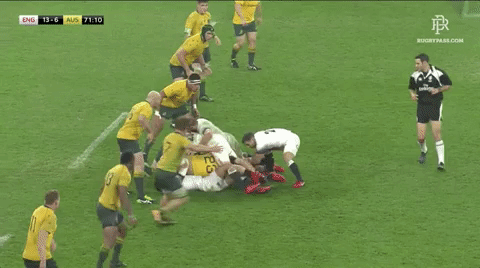 Look at the build-up to the first of the two assists. The Australian in the bright yellow boots, about 10 metres behind the gainline, is Nick Phipps, the replacement scrum-half. He's in the perfect position to neutralise Care's kicking game.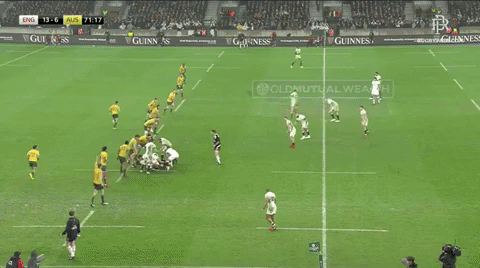 In the very next play, Karmichael Hunt, number 23, drifts away to the far side of the pitch and this is what creates the try. You can imagine a piece of string attaching Hunt and Phipps together, if Phipps needs to rush into the line then Hunt can drop back to cover the kick. When Hunt breaks that string he basically gifts Care, and England, the try.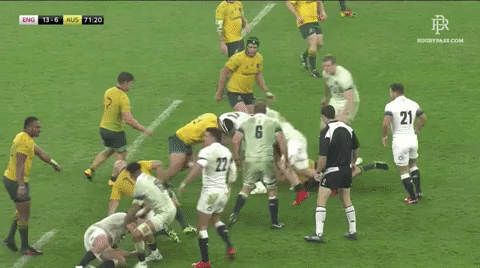 Jonathan Joseph drifts to the wing and Phipps has to come with him, Care now has loads of space to put the kick into and Joseph is running forward whilst the Australian defence has to turn around. It's then a foot race and Joseph wins it easily and takes advantage of the wet surface to slide over.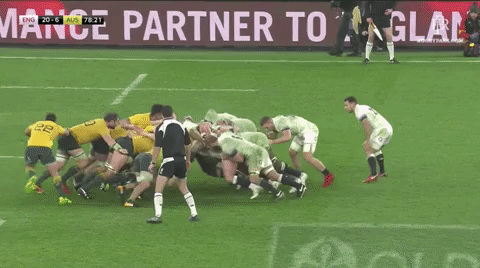 In this final clip, the scrum wheels and Sam Simmonds picks up at the back to go to the blind side. Phipps does what he needs to do and covers Care but that still leaves Jonny May unaccounted for on the wing. Reece Hodge rushes up and leaves a hole in behind that Care exploits. The key advantage to Care's kicking game, is that it creates options; if Phipps does stay behind the line then England can just go to the wing, if Hodge doesn't rush up then May has a free run to the line.
Conclusion
Every position in rugby is developing more and more skills; props are developing silky hands, hookers are scoring tries in the corner, locks are getting quicker, back-rows can offload etc. Scrum-halves can now take a load of pressure of their half-back partners by being an integral cog in the kicking game. Both Price and Care, during their game time, added significant value with their kicking game and, in the case of Care, contributed directly to two tries. When defences start finding a way of cutting down the value that scrum-halves provide with their kicks, that will open up more opportunities for the attack. Rugby is going to enter a fascinating period of tactical chess.
---