Our analyst Sam Larner returns to Planet Rugby and this week reflects on the impact of three game-breakers at this year's World Rugby U20 Championship in Argentina.
If you are a follower of British and Irish rugby we are in the down season – although shockingly some clubs are back up and running with their pre-seasons already.
The lack of rugby might be cause for consternation but it's actually a great opportunity to watch rugby from elsewhere. Major League Rugby in the United States is reaching its dénouement; the semi-finals were on the weekend and San Diego will play Seattle next week. There is also the World Rugby U20 Championship, taking place in Argentina. Games from both tournaments are free on YouTube and Facebook and both offer the chance to see players that you have never seen before.
I was sat watching the World Rugby U20 Championship on Saturday and began clicking through some of the stats and three players caught my eye; Ignacio Mendy (Argentina), Isaac Lucas (Australia) and Epeli Momo (Fiji).
Mendy is the darling of the tournament, a hot-footed Argentinian full-back who draws clear comparisons to Santiago Cordero.
Lucas is one of many Lucas' who have become professional rugby players. Brothers Matt and Ben played in Super Rugby and Tom turned out for the Wallabies' Sevens team.
Momo is the hipster choice. There is very little out there about him but he is not a standard Fijian winger. He is a beanpole, 6ft but just 72kg and uses guile and pace rather than stone cracking power to beat the defence.
I often think that the advances in rugby tactics can be most keenly seen in the back three. When rugby fetishizes power we end up with guys like Alex Cuthbert and George North. When fleet footed wingers like Shane Williams do well, rugby responds by bringing through guys like Christian Wade. With that in mind, what can we learn about the future by looking at these three wing and full-back talents?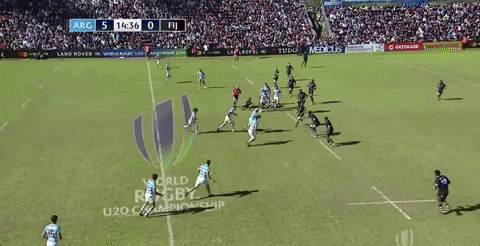 Let's start with Mendy. There is something about the way that Mendy runs that brings to mind North. When the ball comes back towards him, the full-back is caught in two minds; does he offer the soft option out the back or does he stay in the line? He ends up doing neither. He holds his depth a little bit, but not enough to be an option out the back, then emerges off the shoulder of his outside centre, Juan Pablo Castro. Then it's a simple case of speed and footwork to finish the try off.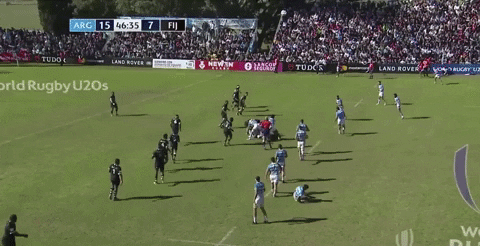 If you thought Mendy was just in the right place at the right time for the first clip here is an example of his balanced running. I make it that he beats five defenders in this one run. There are players who go through periods where they make things happen every time they get the ball. It will be fascinating to see how long Mendy can keep this going for but he is a huge talent.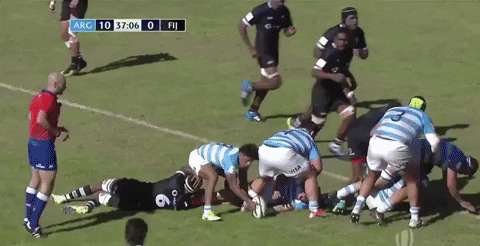 I like this because it's just so simple. He doesn't beat five defenders as in the previous clip but he shows just how good his feet are. Most players would duck a shoulder when presented with a wall of defenders but Mendy tries to force a gap. He is tackled well but his footwork has allowed the support to get there and secure the ball quickly. Mendy appears to be an absolute shoo-in for future success but what about the other two?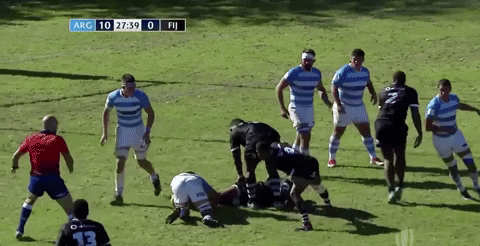 Watch Momo and it's hard to work out how he's conjuring up the magic. He's not particularly big nor does he have obscene video game footwork. He is fast though and that speed accentuates his footwork. In this example he drives infield, beats one man then draws two into the tackle and stills frees up his hands to offload to his team-mate Isaac Ratumaitavuki.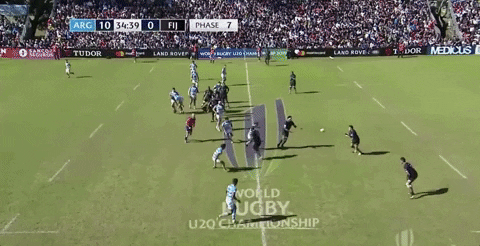 This is classic wing play, stand on your wing and be really quick. Momo puts in a nice offload and then doesn't try to do too much. He has centre Veresa Tuqovu on the inside so he just draws the last defender and pops it on the inside. Again, that speed mixed with just enough power and handling, leads to the opening Fijian try.
What Momo is doing is akin to alchemy. He is taking fairly standard ingredients and doing something amazing with them. Whereas Mendy is outrageous with his footwork, Momo is slippery. He glides past people in a ghostly way and it is unsurprising that he leads the World Rugby U20 Championship with seven defenders beaten.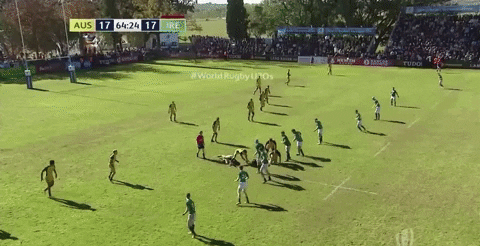 There is a trend in modern rugby for teams to have a back-up fly-half somewhere on the field to step in and lead the way when the fly-half is otherwise indisposed. That can be anyone but it typically ends up being the full-back because they can view the whole pitch and step in when needed. Lucas has made appearances at fly-half and you can see it with this pass. It's not just that he makes a beautiful flat pass, it's the fact that he brings the defence onto him before he does it which prevents anyone from getting out to the wing to make the tackle. His subsequent support angle and speed is straight from the Damian McKenzie hymn sheet.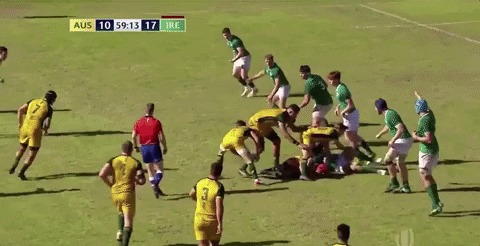 This isn't anything ground breaking but when you gain speed you would expect to lose tackle breaking power but Lucas glides through one tackle and then puts his shoulder into another to get over the gain line. It's this skill which would convince a team that he can fit as a multi purpose full-back and fly-half rather than just an out and out open space full-back.
This is just great, the initial pass is fantastic then Lucas' speed to get through the Irish defenders to get up in support and present a clear passing lane is wonderful. We've heard it all before but you might be able to stop a very powerful runner by doubling up on them or a fast stepping one by forcing him into a corner but if you have speed and you're given any space it can't be defended. Lucas has that and he tops it up with bags of skill as well so if he's not put in space he's putting someone else into it.
Conclusion
The current way of playing rugby is probably unsustainable. Defences have got better and when 120kg men crash into one another for phase after phase after phase it leads to injuries and early retirements. The problem is that at the moment keeping hold of the ball for extended periods of time is the best method of attacking we have. Defences are not big concrete walls though, they are large individual bricks and when those bricks move they leave gaps. At that point you don't want a massive lump carrying the ball, you want one of the three above to slide through the hole. I fully expect that we will see a new era of rugby where we still have the big ball carriers but they are supplemented by even more of the smaller players, who can slip through the undefended gate rather than sledgehammer through the wall.
Photo credit: Official World Rugby website