Our analyst Sam Larner returns to Planet Rugby to preview the fascinating Six Nations duel set for Cardiff this weekend between rivals Wales and England.
When England played Ireland in Dublin that was seen as one of the games of the year; a resurgent England versus an Ireland team who already had one hand on the Rugby World Cup according to a lot of people. That result, and the fact that England completely obliterated Ireland meant that England were lifted to the heights of World Cup stardom in the press hyperbole machine and Ireland were dropped out of the limelight.
While all this has been happening Wales have calmly been putting together a winning run of 11 games and now their game against England has been raised to almost biblical proportions. The thinking goes that if England win they will have the Grand Slam sewn up, ignoring the Scots has proven to be a foolish move before however.
Wales have unconvincingly beaten the two weakest teams in the tournament but their winning streak is no fluke and somehow Warren Gatland is creating the alchemy required to turn pretty ordinary performances into wins.
With that in mind, what can the Welsh attack expect from the English defence and what can England's defence do to continue leading the pack? England rank first in points for and least in points against, Wales come second in both, is it England's to lose?
This is the first attacking phase from the Ireland game. Peter O'Mahony is in at scrum-half after Conor Murray got dragged into the maul. O'Mahony decides to throw a really long pass and that gives England time to get off the line and also means that CJ Stander receives the ball stood still. This makes it easy for England, and especially Tom Curry to bolt out of the line and make the hit. Interestingly, had Ireland chosen to move the ball wide they may have fared better, there was an overlap here.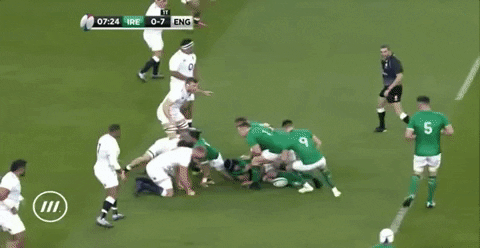 This is the second phase, another five metre loss. Again, England get up quick and force Ireland out but equally continue blitzing on the outside to force Ireland to play in a very small space.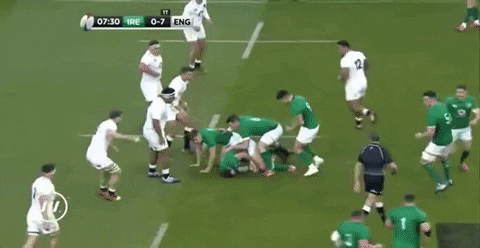 The final phase before Ireland kick it away. Notice here how we don't see the English defenders going up in a block, instead they allow a dog leg to form confident that Ireland can't move the ball out wide. We hear constantly that you shouldn't create dog legs in defence, but in this situation there is no alternative for the Irish attack so England can rush two men up and give the rest of their defence a breather.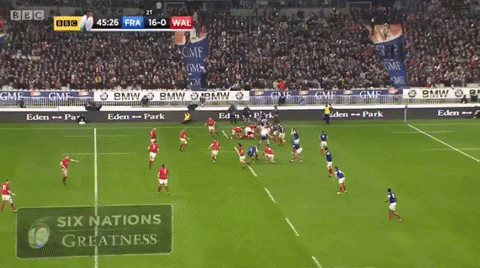 So what can Wales do to challenge this English defence? At first it seems impenetrable, constant pressure on all your techniques results in mistakes and tackle after tackle sends you closer to your own line. But teams that play with lots of line speed do have their own issues. The first one we will look at is that they focus their defence typically on one point, and that inevitably leads to some exploitable dog legs. In this example France target Rob Evans, the ball carrier, but a little tip pass inside to Justin Tipuric is enough to allow Wales to get over the line.
The same is true here, although exploited in a slightly different way. Only the French defenders on the near side of the ruck get off the line and that leaves a dog leg on the far side of the ruck. Josh Adams simply runs away from the blitzing defenders and towards the hole they have left.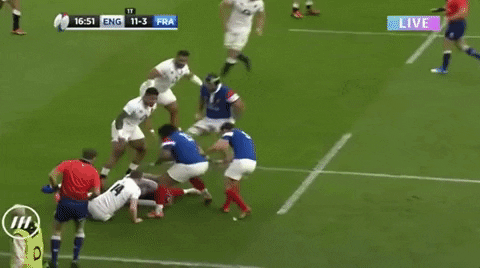 What bodes less well for Wales is that when England played France the French used a lot of quick tip passes to try and break through the English rush defence. In this example it simply doesn't work because there is no footwork and no English defenders get drawn in. If Wales want to get on the front foot with their forwards they can't simply ship that ball on, that just means that someone else other than the original ball carrier gets hit behind the gainline, they need to use some footwork.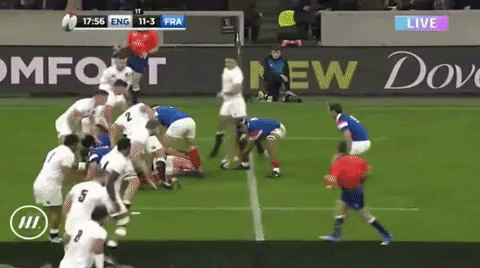 The other weakness of a rush defence is that you need lots of your defenders in one place and the idea is that even if the attack has men out wide they can't use them because there is either no time or the defence rushes up on the outside to contain the attack. Of course using a defence with loads of line speed might feel like you have more than 15 players but you don't you still leave vast chunks of field unoccupied, as France identified here. I expect Wales to start the game with Dan Biggar in the 10 shirt and for his flaws he does have a great kicking game and kick receiving game. You can almost completely ignore a blitz defence if you just kick over the top and the chase is good. Doing that slows down the blitz and should free up opportunities with ball in hand later in the game.
The easiest way to beat a blitz defence is also the most obvious, beat it once. Get beyond the gainline just once and then generate quick ball and the defence won't be able to get off the line. If you have just one or two people trying to get into the face of the attack it is really easy to pick them off. Beat the defence once and you'll get them on the back foot and remove their weapon.
Conclusion
England's defence has meant that they have only conceded three tries in the tournament so far. They dismantled a quality Irish side and then broke apart a very naïve French defence. What the Welsh will have on their side is familiarity. Ireland could claim to be surprised by the English defence but Wales won't have that problem. Expect some new tricks by John Mitchell but broadly, England have already shown their cards.
The next question is how you break this defence down? The reason why blitz defences work is because they start by putting an attack on the back foot and then when they have done that they keep squeezing until the attack kick the ball away or they get turned over. They fail though because you have 15 people all trying to do the same thing and that rarely works 100 percent of the time even with very well drilled people. Finally, the trade off is that you leave vast quantities of the pitch with no cover. This is going to be a fascinating duel.