Our analyst Sam Larner returns to Planet Rugby with something different this time around as he studies how rugby has changed over the years.
If you were alive in 2003 for the Rugby World Cup final and you are reading this now, the chances are that you've watched a huge amount of rugby in the interim 15 years. Try and remember how rugby was played in 2003 and you might remember that drop goal but it's unlikely that you can recall anything more specific, at least I couldn't. The game has changed almost beyond recognition since that time though and if we know how it's progressed, we can have a crack at predicting what it will look like 15 years from now.
In this article we're looking at four games; the 2003 Rugby World Cup, England versus Wales in 2008 and 2013, and Australia versus Ireland in 2018. A caveat, it's true that a single game doesn't tell us specifically about how rugby was played at that point but it does give us a pretty good steer. Ready for a history lesson?
Let's start with a still from the 2003 World Cup, the below is from an Australian scrum. The first thing you might notice is that the English defensive line is at the back foot of the scrum – this was when the law allowed that – and the second thing is just how deep England are lined up, Jonny Wilkinson is 11 metres back and the outside centre, Mike Tindall, a further 10 metres further back. This is way deeper than you would see currently.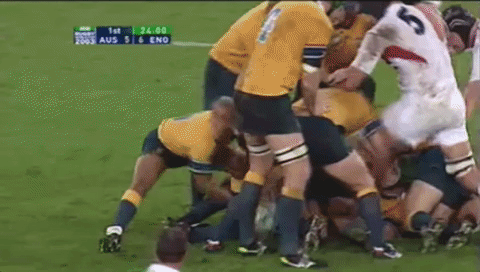 This depth allows moves with the extra space but it also puts huge pressure on individual players to make things happen. In this example, Australia just can't get over the gainline, which is unsurprising given how far behind the line the ball was moved.
The same thing happens with England later in the game, Wilkinson is a good 12-15 metres deep and although Will Greenwood comes onto the ball at pace it would require a super human effort to get over the gainline. England have to settle for keeping the ball.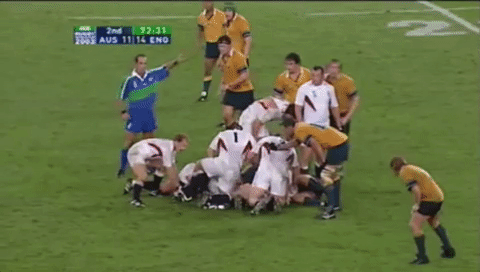 This ends with a forward pass but, at the risk of labouring a point, look at just how far back the England midfield is. What is unusual is that although the backs are so deep, there are very few fancy moves, the typical play is just a crash ball.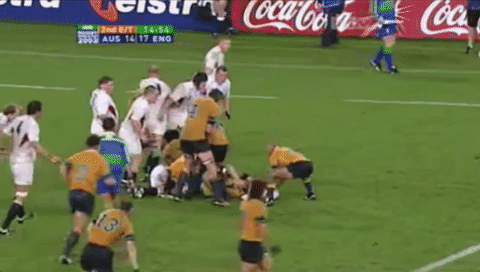 In 2003, if you were a forward, your job was clear; you scrum, you take part in the line-out, you ruck and you stand about five metres away from the breakdown and wait for the opportunity to run, by yourself, into the defence lined up in front of you. A whole host of forward carries are just one out runners and, unlike in the modern era, the forwards hadn't really been integrated into the backs.
Less than five years later and you have James Hook stood barely five metres from the opposition and attacking the line as well. The multitude of attacking options mean that there isn't really a significant reduction in time for the attackers, the defence just can't rush up as quickly for fear of leaving exploitable gaps in behind.
Again, this is so flat and the forwards are beginning to become a part of the grander attacking plan. We haven't got a 'pod structure' yet but the forwards aren't rushing back to the ball to offer themselves as one out runners, they're content to hang around wider and wait for the ball to get back to them.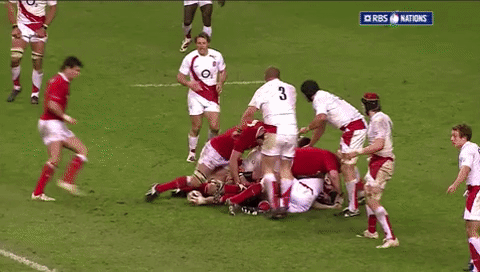 That same point can be seen here, only backs touch the ball but Alun Wyn Jones and Alix Popham are both waiting out wide either to be used as ball carriers or at the breakdown. If this is evolution, this is the era when the monkey started to use rudimentary tools, rugby started realising that forwards did have more to offer around the pitch and the forwards responded by getting fitter and improving their skills.
To put some objectivity on these subjective bones; the 1995 Rugby World Cup had 35% ball in play time, 201 passes a game, 94 rucks/mauls a game and 59 kicks. With the exception of the 2007 World Cup, which was an anomaly for passes and kicks, every World Cup has had more ball in play time, more passes, more rucks/mauls and less kicking. There were 23 scrums a game in 1995 and 13 in 2015 and each tournament saw a decrease on the previous one, the pattern isn't quite as neat for line-outs but the drop is from 37 to 26. Rugby is far more active now than it was in 1995, but interestingly the ball in play time in 2003 was 42% and it's only 44% now, the passes and rucks/mauls have increased significantly from 15 years ago but we're still seeing the same amount as rugby as more time is used up with re-set scrums and line-outs.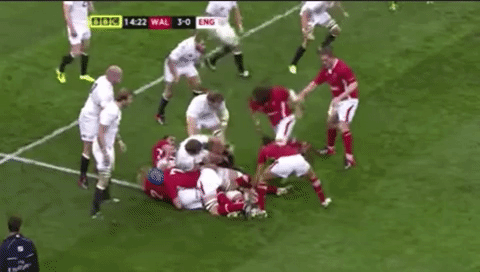 We're another five years further on and we're back with Wales. This might look like England back in 2003 but Jamie Roberts is taking the ball on the gainline and at speed. Whether you liked this tactic or not, it was planned to hold the defence in one place and then allow the attack to pivot around the corner where there should be space. This period was rugby starting to build layered strategy which remains until today.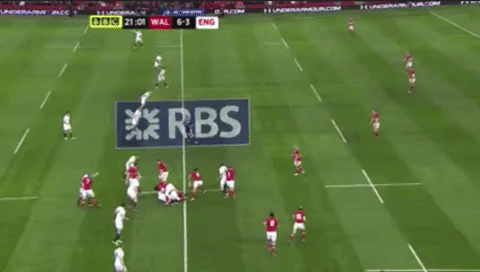 There's also a focus on kicking to compete rather than just kicking the ball away to try and gain yardage. People may deride 'kick tennis' but teams are kicking less and the kicks can result in exciting counter attacking so I personally think it's been a positive progression.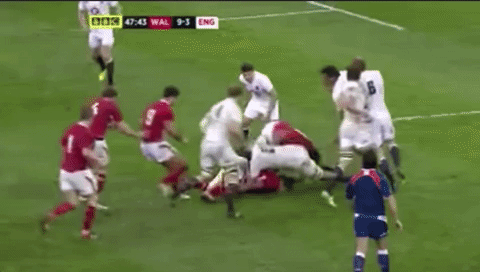 In 2013 you could no longer be a forward without having good skills. You were going to be called upon to help finish off try scoring chances as forwards spread across the pitch to support a wider game plan. The transition in just 15 years of forwards going from one dimensional lumps to athletes who wouldn't look out of place in a rugby league game is really the legacy of rugby going pro.
Finally, in 2013, fed by the All Blacks tearing apart World Rugby with their quick playing of the ball, the goal was to commit as few attacks to the breakdown as possible to speed up the ball and overload the defence.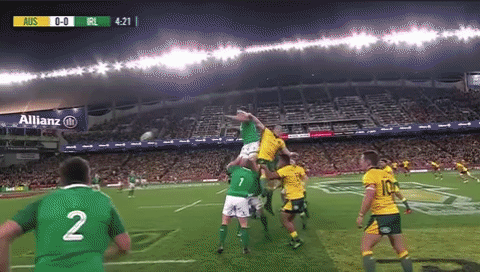 It's 2018, defences are drilled to perfection, they are fit enough to constantly make tackles despite defending for 15 or 20 phases at a time. The only way you're getting past a modern day defence is to use all the tricks available and in the above example that includes throwing in wingers at any point to try and force an overlap.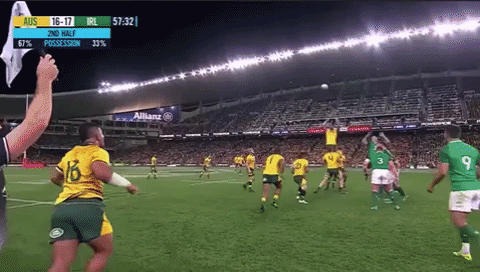 Attacking coaches and analysts are constantly trying to problem solve and find ways to break defences and that includes things like putting a skillful back-row in the scrum-half position at the line-out so you can put your scrum-half at first receiver and your fly-half even further out to put pressure on the defensive fringes. The idea that certain positions do certain things is looking pretty out of date.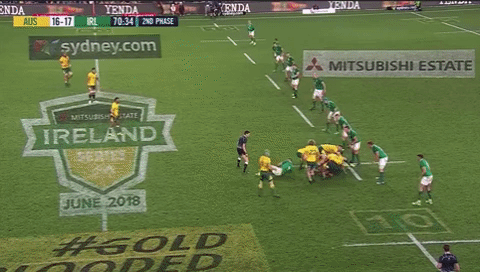 This is a constant now; two lines of attack with the second line playing deep to allow them to move the ball quickly to the wing. This has come from rugby league where each ball carrier should have at least two options. Rugby union has evolved and typically you will see a pod of forwards holding the defensive line with the option of the ball going out the back to the deeper attacking backline.
It's easy to forget that rugby has changed so drastically in just 15 years. The game is significantly better than it was; the skill level is higher, the fitness is better, it's quicker, there's less kicking and when we do see kicking the game doesn't tend to stop for a line-out, and we're able to watch more rugby because of the ball in play time. The game is now much more of a chess match and it's only going to become more technical as the defences continue to improve. Unfortunately, if you're not a fan of how rugby has progressed, I fear it's only going to become more chess like.
The future
It's the 2033 Six Nations, Wales and England walk out for the anthems. With the exception of the locks and props, who are a little taller and shorter respectively, the players' physiques are basically the same – all 6'3 and 110kg. After the anthems the players get ready for the game, taking off their jackets to reveal jerseys with a line around sternum height to indicate the high tackle mark. They kick off, the ball lands anywhere across the width of the pitch but constantly between 10-13 metres from the middle, it's a coin toss as to who will win the ball. The clock now stops when a scrum and line-out is called and restarts only when the ball is put/thrown in, because of this the ball in play time is 75% of the match. Even during play, the ball never hits the deck, rucks and mauls have been replaced by offloads off the ground. The attack is completely disorganised to try and beat the very structured defences. Defences constantly blitz but drop random defenders each time to stop the kicks over the top. Fitness has continued to improve, aided by unlimited rolling substitutions, and teams no longer ever kick to touch, instead they kick to compete from anywhere on the pitch and trust their chase. The number of passes have risen sharply as the game has turned into a mix of sevens and fifteens; people still remember the Wilkinson drop-goal 30 years ago.
x
You're in extra time …
Archived stories on Planet Rugby are only available to registered users. You have 1 article left before you need to join up to read more. Registering is free, faster than Jonny May, and also gets you access to commenting, personalisation, and competitions.
---