Analysis: Germany's national team
As you may have seen, if you're a Northern Hemisphere reader, there's not all that much rugby going on up here at the moment. Given that slight problem, this week's article will be focused on something a little different. We'll be looking at the German national rugby team.
Qualifying for a Rugby World Cup is an exceptionally hard business. It's also exceptionally hard to understand, but let's have a go at explaining it here. The teams who finish first, second or third in their group in the previous World Cup will automatically go back into the draw for the next one.
The big positive for Germany, is that Georgia fulfilled that requirement and so the eastern European giants are no longer an obstacle for qualification. That frees up two European spaces, rather than just Georgia and one other as have been the case before. That leaves the likes of Romania, who have qualified for every RWC, Spain, who played in 1999, Russia, who played in 2011, plus Germany and Belgium, neither of which have played in the major tournament before.
The team who finishes at the top of the European Nations Cup, contested by those teams above, will automatically qualify for the World Cup. The runner up will play whoever finishes last out of Tonga, Fiji or Samoa. If they lose, and they probably will, they will go into a four-country repechage with teams from Asia, Africa, the Americas and Oceania.
I spoke to current German coach Kobus Potgieter for this article, so I will be dropping his wisdom in throughout. However, the first thing to look at is the quality of rugby in Germany.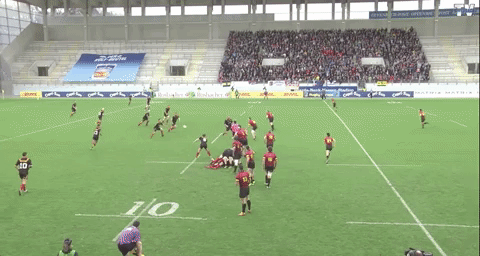 This is Germany leading up to a try against Belgium in their qualifiers. The link play and support is as good as anything you would see in your normal rugby watching. This is not an area that they struggle in, they scored just 15 points fewer than Georgia and were the third highest try scorers in this year's European Nations Cup. Not bad for a team who were the second worst ranked side in the competition when it began.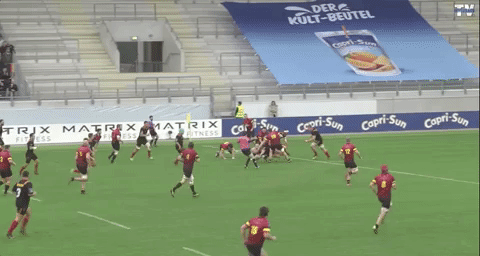 This is the finishing piece of the move as scrum-half and captain for the game, Sean Armstrong, went over. As we mentioned, scoring tries wasn't a problem, but they didn't score enough to bag points in the table. Germany failed to get any bonus points in their two wins or three losses, as a side – the bonus points work like in Super Rugby where you need to score three clear tries. If they had secured just one of these, they would be within a win of the second qualifying spot.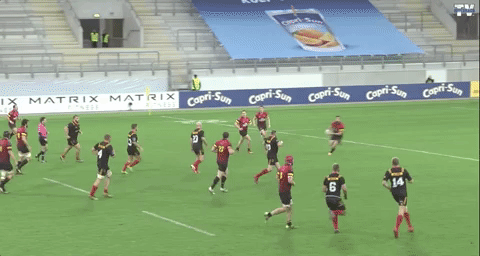 One of the biggest work-ons that Potgieter identified was Germany's one on one tackling. As you can see from the above clip and the one to come, this is an issue. Germany conceded more tries and more points than any team in the Nations Cup. They allowed 48 more points than Belgium and nine more tries than the bottom ranked team. Top of the table Romania scored just a solitary point more than Germany, but the eastern Europeans conceded 123 fewer points.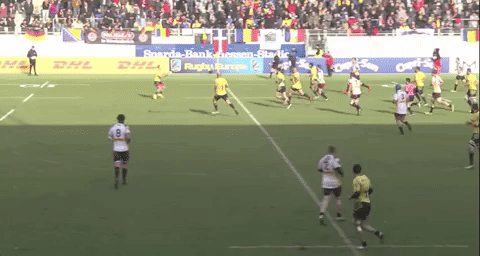 The above clip ends with a positive outcome for Germany, but there's three and a half missed tackles there. Considering how well Germany have done with such a leaky defence, it's tempting to think that even a small improvement will bring massive returns. Those bonus points might be hugely important by the end of the championship.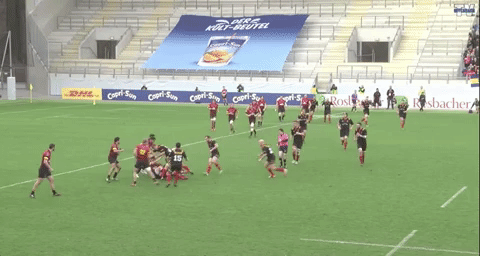 One of the big positives that Potgieter identified was the forward pack, but specifically the loose forwards. In the above clip, Sebastian Ferreira, who some English readers may remember from his brief time at the Saracens and Newcastle, as well as Darlington Mowden Park, and Jarrid Els combine for a wonderful try. With the size and pace of the pair, they are going to stretch opposition defences and free up space for their backs.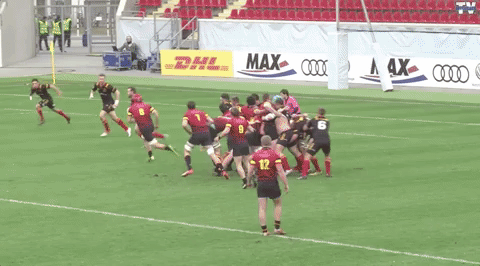 Ferreira again turns up in this clip, Germany struggle at the moment against the really high powered packs of Romania, although they beat them, and Georgia, but this is an improving area. As you would expect from a forward pack largely consisting of South Africans, the ball carrying is superb. Ferreira just runs straight over the Belgian defence here, there are issues with the German attack, but not from the loose forwards.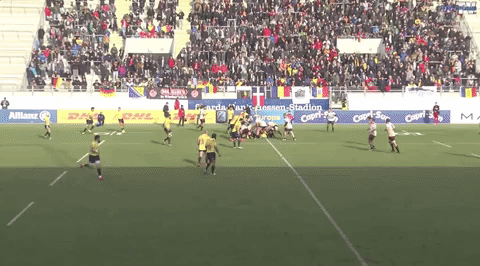 Although not loose forwards, both veteran Michael Poppmeier and hooker Mika Tyumenev, are very good dynamic ball carriers. Dash Barber, the replacement hooker, is a strong carrier, but also a very good ball player who can capably step in at scrum-half.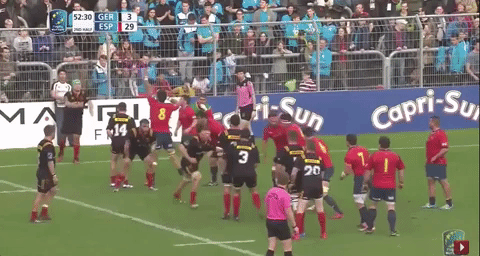 Although individually strong, the German pack is very impressive and consistently improving. As Fiji and Tonga can attest, the technical aspects of rugby are often the things which take longest for teams to acquire. Basic rugby skills can be acquired without top coaches or facilities, but that's significantly harder to do with things like scrums and lineouts. The fact that Germany are already so proficient so early on, is testament to the work that has been done and their natural skill sets.
I spoke to Potgieter about how German rugby go about getting their players. The majority of the current squad are actually German based – 24 of the 34 man team play in Germany. 12 of those 24 players play for Heidelberger RK who won the Bundesliga six times in a row between 2009 and 2015 before being unseated by TV Pforzheim, who lost in the two previous finals. Heidelberger RK are funded by Dr Hans Peter Wild, owner of Capri Sun, who many people will associate with the drink in their pack lunches. Wild also funds the German national program and has been responsible for a host of new facilities including a heated pitch and a covered training facilities. The Capri Sun money has also funded some full time staff and players, which is a big driving force behind their growth. Despite the number of players who turn out for German teams, the coaches draw a lot of players from the South African and French leagues. As the standing of German rugby increases, so do the applications to play. One of Potgieter's jobs is to filter out the chaff.
There's a lot to like about German rugby, but one of the biggest things to work on is their general attack.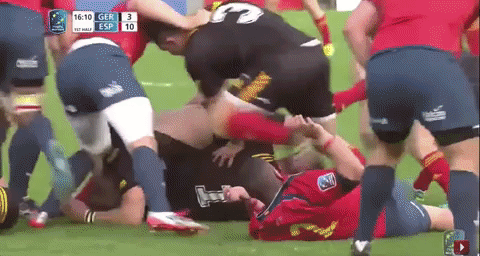 When the German's counter attack they look strong, but there is a tendency to drift across the pitch without threatening the defence. As in the above example.

That means that they kick the ball more than they should, because the attack isn't quite working. As they kick the ball away more, that gives the opposition more time in possession and therefore it puts more pressure on the German defence. It's a vicious circle.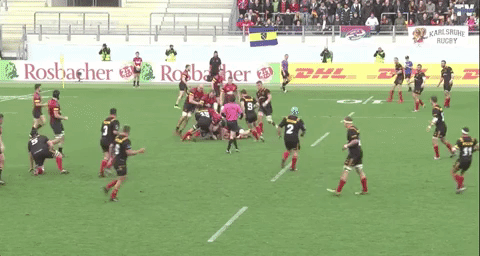 A big reason for this is the slow presentation of the ball. Potgieter identified that as another area to work on as Germany strive for a World Cup appearance. Without that quicker ball, they will struggle to break down defences and get on the front foot. That will shine a light on the weaker areas of the German's game and continue to ramp up the pressure.
Conclusion
Hopefully you now know more about German rugby and their search for a spot in Japan 2019. They will have five games to qualify for the World Cup, in those five games they will probably need three wins and a couple of bonus points. That is hugely exciting, not just for German rugby, but for international rugby as well. The more countries we can have with a chance of making it to the World Cup, the stronger rugby as a whole will be. Even if Germany don't make it into the World Cup this time, they are surging up the world rankings and surely it won't be long before they reach the pinnacle of the sport.