Our analyst Sam Larner returns to Planet Rugby and this week studies Georgia's game-plan and how opposing teams can capitalise in Japan.
The 2007 Rugby World Cup was the first one where teams could qualify for the next World Cup by finishing third in their pool. 2015 was the first year where Georgia qualified for the next tournament before they had played any qualifying games. That gave them four years where they could blood young players without too much concern for how they performed.
In 2016 they won eight, lost two, and drew one; in 2017 Georgia won eight games and lost three, in 2018 it was eight wins and three losses, and in 2019 so far they have won five with a single loss. That's 29 wins, nine losses, and a draw since 2016. That is all looking positive but there is something which may stand in their way of repeating another third place. Fiji.
Georgia have played Fiji three times and beaten them just once. As an aggregate Georgia are 16 points down across those three games. These aren't big margins but Fiji do have the advantage. What Georgia's performance against Scotland in Tbilisi did unearth was some fairly glaring weaknesses in their play. So for the benefits of Wales, Uruguay, Fiji and Australia, how do you beat Georgia?
Kicking
There are some teams who you would never want to kick a long ball to without competition. Someone like New Zealand for example or Scarlets, if you're looking domestically, live off the broken field attacking opportunities that those kind of kicks create. Against Georgia those long kicks were an attacking opportunity.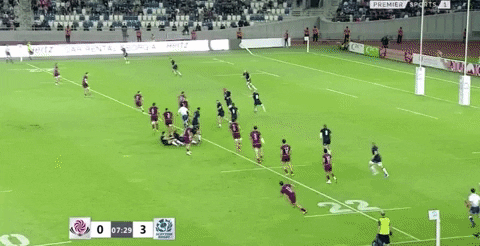 Early in the game Scotland's attack falters and Finn Russell sends a long kick deep into the Georgian half. The chase is pretty good, although the ball is caught without competition. What Scotland do is beat the retreating Georgians to the ball. When the tackle is made there aren't enough Georgians around to secure it and Scotland win the penalty.
It's another long kick without a competed catch and again it's in the hands of full-back Soso Matiashvili. This one isn't turned over but Matiashvili loses the collision and Georgia begin another possession on the back foot. Georgia cannot afford to begin a long way from the opposition try line with their style of play.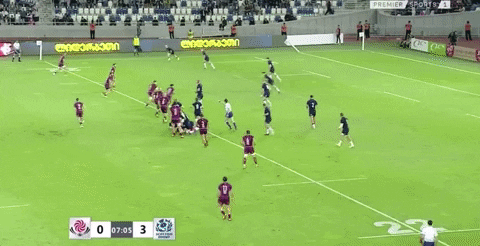 If Georgia suffered with long unopposed kicks they also suffered when the kicks were contested. The second kick of the game saw Russell go across the field towards Darcy Graham. Graham beat Matiashvili in the air to win the ball back and give Scotland an attacking opportunity.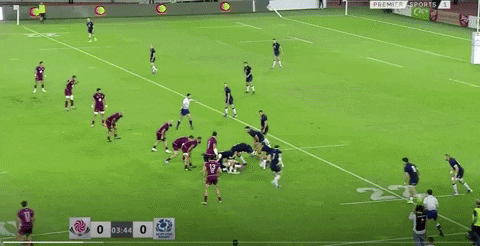 Greig Laidlaw also got in on the act, lofting up a perfectly placed box kick for Sean Maitland to chase. The Scottish wing gets there just in time to hammer Matiashvili. Georgia win the ball back but they then conceded a penalty on the very next phase.
We know that with Dan Biggar at the helm Wales are likely to employ these exact tactics which caused Georgia so many problems. It may not be Fiji's game-plan but they can also send the ball skywards. Seeing how Fiji decide to play against Georgia will be fascinating. Alongside Australia versus Wales I think Fiji versus Georgia will be game of Pool D.
Discipline
Georgian discipline is frequently brought up. The idea is that they are an ill disciplined side. That stereotype isn't as clear cut when you look at the facts. Since the beginning of 2016 they have played 43 matches and they have conceded 23 yellow cards – one every 1.9 games. In that same time span England have played 48 games conceding 18 yellows – one every 2.6 games, Australia concede one per two games. Georgian discipline could be better, but it's about as good as Australia and only a little bit worse than England.
What they cannot afford to do is give up stupid penalties when the pressure is on.
Georgia are on the back foot. There is an argument in favour of giving up a penalty here to take the three points rather than the try. However, this is just a terrible bit of ill discipline. Scotland marched down the field thanks to Georgia going off their feet. Earlier in the game they did the same thing after two penalties; firstly for Georgia going off their feet and then for a challenge in the air at the ensuing lineout.
Scotland did some very good things early in the game but they were helped massively by Georgian ill discipline.
How do you take advantage of an opponents ill discipline? In some ways it goes counter to the point about kicking. Keep hold of the ball. Even when it feels like you're going nowhere just keep building the phases. There's a good chance that Georgia will make a mistake and give you free metres with a penalty.
Realigning defensively
One of the big challenges for defences once the attack gets over the gainline is realigning. When the attack are going forward they can start picking the holes they want to run through. If defences are slow to realign once the break is made they will get picked apart by any half decent attack.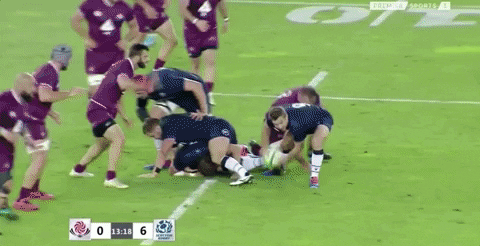 The build up to this try saw Scotland break through and stretch play all the way to the far side of the pitch. When it comes back towards the near side Russell looks up and sees that two front-row forwards have been left together. It's way too simple for a player of Russell's caliber. He straightens up and goes straight through the hole left by the immobile forwards.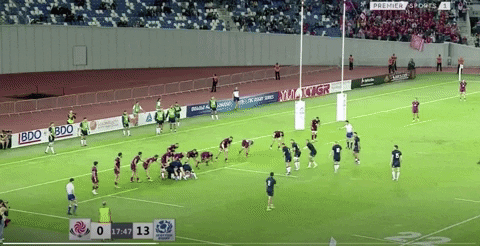 The second Scotland try comes courtesy of Graham. Scotland are where they are because of Georgian penalties. The aim here is to tighten up the Georgian defence and then fire it wide to their backs. Look how John Barclay gives up yardage in favour of positioning his body to generate quick ball.
When the ball goes wide Georgia have to realign very quickly to get into position to defend the wide ball. Unfortunately they over pursue and Graham has a relatively easy finish as he cuts back through the hole left by the defenders heading to the sideline.
Conclusion
We know that Georgia are a talented team and they will beat Uruguay, could beat Fiji, and might even pose problems for both Wales and Australia. Their strength is the forwards and the set-piece. They are the match of any team in their pool if the game resorts to a multi-scrum slog through the mud. It will be the challenge of the coaches of the four other teams in the pool to prevent that happening.
What should the game plans centre around?
– Move the ball away from the forwards: Whether you kick it or you pass it, move the ball away from the Georgian strength
– Take advantage of Georgian ill discipline: Go through one more phase to draw a Georgian penalty and some easy metres
– Don't expect Georgia to tire: Scotland beat Georgia 23-3 in the first half and 21-7 in the second. Italy beat Georgia 18-7 in the first half and drew 10-10 in the second. Samoa led Georgia 19-10 in the first half but lost 27-19. Georgia led Tonga 7-6 at half time and won 20-9 in the second half. We expect Tier two nations to tire, Georgia aren't like that.
– Pick holes: Once you have broken through you need to immediately try to capitalise. Georgia are slow to reorganise and the best chance to score is straight after the break. Look for two tight forwards stood together.