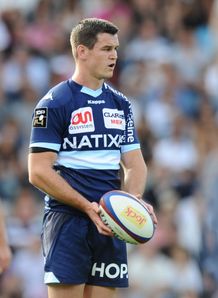 Related links
Also see
It's only been two weeks but the Top 14 table already has an ominously familiar look to it.
Toulon, Toulouse and Clermont lead the way, with Bordeaux-Bègles and Stade Français the other teams with two wins from two.
Meanwhile at the bottom Oyonnax and Lyon have just one point despite valiant efforts away at Toulouse and Stade respectively, while La Rochelle are dead last after hammerings at Brive and Toulon.
This weekend will see a huge clash between Racing-Métro and Toulon while Castres and Grenoble have to win on home soil after struggling in the opening fortnight.
Fixtures
Clermont v Montpellier
La Rochelle v Toulouse
Castres v Bayonne
Grenoble v Bordeaux
Lyon v Brive
Oyonnax v Stade Français
Racing-Métro v Toulon
---
La Rochelle v Toulouse
Last week Toulouse were under huge pressure after an unconvincing win over Oyonnax and two disappointing seasons.
They responded in style with a comprehensive dismantling of Castres to move level at the top of the table.
It's not enough to say the great Toulouse are back, after all they had a number of impressive performances at home last campaign as well, but it was dominant display, both up front and in the three-quarters.
They travel to La Rochelle for their first away game of the campaign, and they will be eager to improve on last year's away form, when they managed just one domestic win all season.
Up against them La Rochelle need a win to get their season off the mark, and if they are to do so they will need to improve their discipline.
Against Toulon last week they made a quick start but crumbled when they were reduced to 13 men for the second week running.
They are currently pointless, and they will surely have to build a platform through their home form if they are to beat the drop.
La Rochelle's set-piece has been a concern so far and that will also need to improve if they are to get a first win of the campaign.
La Rochelle: 15 Arthur Cestaro, 14 Alofa Alofa, 13 Jean-Pascal Barraque, 12 Levani Botia, 11 Sereli Bobo, 10 Peter Grant, 9 Julien Audy, 8 Loann Goujon, 7 Kevin Gourdon, 6 Nicolas Djebaili, 5 Jacobus Grobler, 4 Jason Eaton, 3 Uini Atonio (c), 2 Hika Forbes, 1 Thomas Synaeghel
Replacements: 16 Benjamin Geledan, 17 Vincent Pelo, 18 Romain Sazy, 19 Benoit Guyot, 20 Julien Berger, 21 Albert Vulivuli, 22 Hamish Gard, 23 Lekso Kaulashvili
Toulouse: 15 Maxime Medard, 14 Vincent Clerc, 13 Yann David, 12 Florian Fritz, 11 Timoci Matanavou, 10 Luke McAlister, 9 Sebastien Bezy, 8 Gillian Galan, 7 Thierry Dusautoir (c), 6 Gregory Lamboley, 5 Joe Tekori, 4 Yoann Maestri, 3 Census Johnston, 2 Corey Flynn, 1 Kisi Pulu
Replacements: 16 Christopher Tolofua, 17 Cyril Baille, 18 Patricio Albacete, 19 Imanol Harinordoquy, 20 Jean-Marc Doussain, 21 Gael Fickou, 22 Alexis Palisson, 23 Neemia Tialata
Date: Saturday, August 30
Venue: Stade Marcel Deflandre
Kick-off: 14.45 local (13.45 GMT)
Referee: Cyril Lafon
Assistant referees: Julien Castaignède, Laurent Sclafer
---
Castres v Bayonne
Things certainly haven't gone to plan for Castres so far this season with a shock opening day defeat at home to Stade Français followed by a hammering away to Toulouse last Friday.
If the Stade loss could be seen as a blip, conceding a last-minute try to lose the game, the Toulouse game was a lot more worrying.
Last year's Top 14 runners-up were very much second-best, although with Ramiro Herrera and Karena Wihongi both missing, that is not a huge surprise.
But when Toulouse increased the pace of the game, Castres were not able to live with them, and that is something they will have to change quickly.
They have the perfect opportunity on Saturday against Bayonne, although the Basque side come into the game brimming with confidence after a cracking win over Oyonnax.
The back three of Scott Spedding, Joe Rokocoko and Marvin O'Connor wreaked havoc and will again look to pounce on any poor kicks, while Bayonne also sorted out their set-piece issues which had been a major reason for their opening loss to Toulon.
While Castres' defeat to Stade was officially on home soil, the game was actually played in Béziers, and they will welcome a return to Pierre Antoine, where they went unbeaten in the Top 14 last season.
Bayonne on the other hand, have a terrible record away from home, managing a lone win at Biarritz last season on their travels.
Castres: 15 Julien Dumora, 14 Max Evans, 13 Remi Lamerat, 12 Thomas Combezou, 11 Marcel Garvey, 10 Remi Tales (c), 9 Rory Kockott, 8 John Beattie, 7 Yannick Caballero, 6 Piula Fa'aselele, 5 Rodrigo Capo Ortega, 4 Richie Gray, 3 Yohan Montes, 2 Brice Mach, 1 Saimone Taumoepeau
Replacements: 16 Marc-Antoine Rallier, 17 Mihaita Lazar, 18 Christophe Samson, 19 Ibrahim Diarra, 20 Cedric Garcia, 21 Daniel Kirkpatrick, 22 Geoffrey Palis, 23 Paea Fa'anunu
Bayonne: 15 Scott Spedding, 14 Joe Rokocoko, 13 Matthieu Ugalde, 12 Santiago Fernandez, 11 Marvin O'Connor, 10 Blair Stewart, 9 Guillaume Rouet, 8 Charles Ollivon, 7 Dwayne Haare, 6 Pierre Gayraud, 5 Mark Chisholm, 4 Lisiate Fa'aoso, 3 Gert Muller, 2 Gregory Arganese, 1 Aretz Iguiniz
Replacements: 16 Anthony Etrillard, 17 Janse van Rensburg, 18 Dewald Senekal, 19 Jean Jo Marmouyet, 20 Christophe Loustalot, 21 Jon Elissalde, 22 Gillen Larrart, 23 Giorgi Jgenti
Date: Saturday, August 30
Venue: Stade Pierre Antoine
Kick-off: 18.30 local (17.30 GMT)
Referee: Maxime Chalon
Assistant referees: Alexandre Ruiz, Laurent Amic
---
Grenoble v Bordeaux-Bègles
Two sides at different ends of the table face off at the Stade des Alpes, but that doesn't mean an away win is likely here.
Bordeaux have won two out of two on home soil, and were much improved against Racing last week when they picked up a deserved 30-21 win.
However they are planning to rotate their squad for this trip to Grenoble, with a number of new faces involved, including new signing from Toulouse Lionel Beauxis.
The former France international will step in for Pierre Bernard, who is rested, while Yann Lesgourgues will make his debut for his new side after a move from Biarritz.
There is also a welcome return for Metuisela Talebula, the top try-scorer in last season's Top 14, who had not yet featured this campaign.
They will have it all to do against Grenoble though, who were incredibly strong on home soil last season, and will feel like they are owed some luck after two narrow losses to open their campaign.
Trips to Clermont and Montpellier are about as tough as it gets to start the season, yet Grenoble impressed in both games, particularly last week's 20-17 reverse in Montpellier.
They should have won that game, only to fade a little in the final quarter, but they have shown a new-found ambition with ball in hand.
Alipate Ratini has started the season in flying form, and it will exciting to see who has more of an impact between him and Talebula.
For Grenoble, though, the most important thing is a win, because despite the quality of their performances in their opening two fixtures, a third straight loss would already leave them with a mountain to climb to reach the play-offs.
Grenoble: 15 Gio Aplon, 14 Alipate Ratini, 13 Jackson Willison, 12 Nigel Hunt, 11 Julien Caminati, 10 Jonathan Wisniewski, 9 Charl McLeod, 8 Rory Grice, 7 Fabien Alexandre, 6 Henry Vanderglas, 5 Hendrik Roodt, 4 Benjamin Hand, 3 Dayna Edwards, 2 Arnaud Heguy, 1 Albertus Buckle
Replacements: 16 Anthony Hegarty, 17 Alexandre Dardet, 18 Thibaud Rey, 19 Florian Faure, 20 Valentin Courrent, 21 Clement Gelin, 22 Fabien Gegenbacher, 23 Jono Owen
Bordeaux: 15 Romain Lonca, 14 Sofiane Guitoune, 13 Charles Brousse, 12 Thibault Lacroix, 11 Metuisela Talebula, 10 Lionel Beauxis, 9 Baptiste Serin, 8 Taisana Tuifua, 7 Matthew Clarkin (c), 6 Bertrand Guiry, 5 Adam Jaulhac, 4 Jandre Marais, 3 Patrick Toetu, 2 Ole Avei, 1 Laurent Delboulbes
Replacements: 16 Benat Auzqui, 17 Jean-Baptiste Poux, 18 Julien Ledevedec, 19 Louis-Benoit Madaule, 20 Hugh Chalmers, 21 Yann Lesgourgues, 22 Blair Connor, 23 Sebastien Taofifenua
Date: Saturday, August 30
Venue: Stade des Alpes
Kick-off: 18.30 local (17.30 GMT)
Referee: Salim Attalah
Assistant referees: Jonathan Gasnier, Eric Soulan
---
Lyon v Brive
Lyon finally head home after starting with two road games, and they will have pegged the visit of Brive as a must-win match.
After a slow start they were much improved last week, earning a well-deserved losing bonus point as they gave Stade Français a huge scare.
It was a much improved performance from the insipid loss at Bordeaux, and hinted at a brighter future for the Top 14 newcomers.
A home game against Brive will be a good test for them, and the visitors will be eager to bounce back after getting dominated up front by Clermont last week.
With their big pack and aggressive style, Brive are a real old-school outfit, and if Lyon are to be anything more than relegation battlers, this is the sort of game they simply have to win.
Brive went into last weekend top of the table after their bonus-point win over La Rochelle, but they were comfortably second-best against Clermont, despite trying to get turn the game into a scrap.
Their struggles in the set-piece, a real strength last year, were a concern, although the ten-minute cameo from Fijian Benito Masilevu will have given reason for optimism.
This game will not be make-or-break for them in terms of survival, but a win on the road would give them a real boost as they try to avoid a relegation battle.
Lyon: 15 Vincent Martin, 14 Toby Arnold, 13 Kendrick Lynn, 12 Waisele Sukanaveita, 11 Mosese Ratuvou, 10 Lachie Munro, 9 Ricky Januarie, 8 Masi Matadigo, 7 George Smith, 6 Julien Puricelli, 5 Lionel Nallet (c), 4 Coenie Basson, 3 Anthony Roux, 2 Jean-Philippe Bonrepaux, 1 Bogdan Balan
Replacements: 16 Deon Fourie, 17 Emmanuel Felsina, 18 Karim Ghezal, 19 Francois Viljoen, 20 Stephen Brett, 21 Fabrice Estebanez, 22 Paul Bonnefond, 23 Jeremy Castex
Brive: 15 Gaetan Germain, 14 Alfie Mafi, 13 Arnaud Mignardi, 12 Thomas Laranjeira, 11 Benito Masilevu, 10 Riaan Swanepoel, 9 Damien Neveu, 8 Sisa Koyamaibole, 7 Dominiko Waqaniburotu, 6 Petrus Hauman, 5 Arnaud Mela (c), 4 Peet Marais, 3 Damien Jourdain, 2 Guillaume Ribes, 1 Karlen Asieshvili
Replacements: 16 Louis Acosta, 17 Damien Lavergne, 18 Simon Pinet, 19 Said Hireche, 20 Jean-Baptiste Pejoine, 21 Andrew Malilei, 22 Elia Radikedike, 23 Kevin Buys
Date: Saturday, August 30
Venue: Matmut Stadium
Kick-off: 18.30 local (17.30 GMT)
Referee: Laurent Cardona
Assistant referees: Christophe Mallet, Patrick Beuriot
---
Oyonnax v Stade Français
Both these teams disappointed last week after impressive opening day performances, but while Stade have two wins from two, Oyonnax are still searching for their first success.
Oyonnax return home for the first time this season, and there will be a sense of revenge in the air as they take on one of the only two teams to beat them at Charles Mathon last season.
Oyonnax had begun the season impressively away at Toulouse, going down narrowly in controversial fashion. But last weekend they were embarrassed at Bayonne.
That humbling loss will have left them hungry to turn things around, and Stade look like they are still finding their best form.
Gonzalo Quesada's men came into the season full of doubt after a nightmare pre-season, but a win at Castres eased a lot of the tension.
A home clash with Lyon a week later should have been the perfect opportunity to build up the confidence, but instead Stade stepped off the gas in the second half and eventually escaped with a three-point win.
They will need to improve this weekend at Oyonnax, because an impressive opening half-hour won't be enough for a second straight away win of the season.
Oyonnax: Oyonnax: 15 Florian Denos (c), 14 Dug Codjo, 13 Guillaume Bousses, 12 Roimata Hansell-Pune, 11 Yves Donguy, 10 Benjamin Urdapilleta, 9 Agustin Figuerola, 8 Viliami Ma'afu, 7 Olivier Missoup, 6 Pedrie Wannenburg, 5 Damian Browne, 4 Thibault Lassalle, 3 Marc Clerc, 2 Jody Jenneker, 1 Antoine Tichit
Replacements: 16 Clement Julien, 17 Clement Baiocco, 18 Miroslav Nemecek, 19 Maurie Fa'asavalu, 20 Fabien Cibray, 21 Riaan Smit, 22 Pierre Aguillon, 23 Soane Tonga'uiha
Stade Français: 15 Krinan Inu, 14 Monti Ioane, 13 Jeremy Sinzelle, 12 Meyer Bosman, 11 Digby Ioane, 10 Vincent Mallet, 9 Jerome Fillol, 8 Raphael Lakafia, 7 Sylvain Nicolas, 6 Matthieu Ugena, 5 Gerhard Mostert, 4 Hugh Pyle, 3 Davit Kubriashvili, 2 Laurent Sempere, 1 Zak Taulafo
Replacements: 16 Remi Bonfils, 17 Romain Frou, 18 Sergio Parisse, 19 Pascal Pape, 20 Julien Tomas, 21 Jonathan Danty, 22 Jules Plisson, 23 Sofiane Chellat
Date: Saturday, August 30
Venue: Stade Charles Mathon
Kick-off: 18.30 local (17.30 GMT)
Referee: Christophe Berdos
Assistant referees: Sebastien Hebert, Flavien Hourquet
---
Racing-Métro v Toulon
Mourad Boudjellal opened hostilities early with Racing counterpart Jacky Lorenzetti, likening him to famous French cyclist Raymond Poulidor.
The people's champion, Poulidor's nickname is the 'Eternal Second' having eight times finished on the podium of the Tour de France without ever winning.
It's hardly the first time the Toulon president has had a pop at Lorenzetti, who replied in kind last season when accusing Toulon of breaking the salary cap.
This weekend will be an intriguing battle, although one Racing have to win if they are to be considered serious contenders for the Bouclier de Brennus.
Bernard Laporte has decided to rotate his squad, with Matt Giteau and Delon Armitage among those being rested. Leigh Halfpenny and Mamuka Gorgodze are still not fit to make their competitive debuts but Frederic Michalak is due to feature for the first time this season.
After last week's hammering of La Rochelle, Toulon are already top of the table, and can afford to take this game a little easier.
That is not the case for Racing, although one win from two away games is not a bad way to start the campaign.
Last week they went down at Bordeaux in an entertaining game, although they will rue the bonus point thrown away with a last-minute interception.
Juandre Kruger is back fit again and in the squad which will boost the tight five, while Teddy Thomas looks to be in flying form, scoring twice last time out.
Racing: 15 Brice Dulin, 14 Adrien Plante, 13 Casey Laulala, 12 Jamie Roberts, 11 Teddy Thomas, 10 Jonathan Sexton, 9 Maxime Machenaud, 8 Antonie Claassen, 7 Bernard Le Roux, 6 Wenceslas Lauret, 5 Francois van der Merwe, 4 Thibault Dubarry, 3 Luc Ducalcon, 2 Dimitri Szarzewski (c), 1 Eddy Ben Arous
Replacements: 16 Jeremie Maurouard, 17 Davit Khinchagishvili, 18 Fabrice Metz, 19 Juandre Kruger, 20 Mike Phillips, 21 Dan Lydiate, 22 Johan Goosen, 23 Brian Mujati
Toulon: 15 James O'Connor, 14 Josua Tuisova, 13 Rudi Wulf, 12 Maxime Mermoz, 11 David Smith, 10 Frederic Michalak, 9 Eric Escande, 8 Chris Masoe, 7 Virgile Bruni, 6 Gerhard Vosloo, 5 Romain Taofifenua, 4 Konstantin Mikautadze, 3 Levan Chilachava, 2 Craig Burden, 1 Fabien Barcella
Replacements: 16 Jean-Charles Orioli, 17 Xavier Chiocci, 18 Jocelino Suta, 19 Juan Smith, 20 Mathieu Bastareaud, 21 Drew Mitchell, 22 Sebastien Tillous-Borde, 23 Carl Hayman
Date: Saturday, August 30
Venue: Stade Yves Du Manoir
Kick-off: 20.45 local (19.45 GMT)
Referee: Sébastien Minery
Assistant referees: Mathieu Raynal, Jacques de Lemos