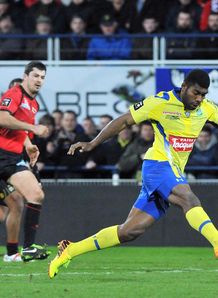 Related links
Also see
Clermont Auvergne made history by stretching their remarkable home run to 70 straight wins against Oyonnax on Sunday.
Stade Français kicked off a bumper day of Top 14 action with a seven-point win over Catalan visitors Perpignan in Paris.
Montpellier thumped Biarritz and Bordeaux-Bègles did enough to see off Brive, whilst Grenoble were winners over Castres.
Stephen Brett's late penalty ensured that Toulouse left Bayonne with nothing in a 21-13 win, while Racing Métro condemned Toulon to another away loss.
Fixtures:
Stade Français 19-12 Perpignan
Grenoble 20-16 Castres
Union Bordeaux-Bègles 27-23 Brive
Clermont 33-19 Oyonnax
Montpellier 48-22 Biarritz
Bayonne 21-13 Toulouse
Racing Métro 14-3 Toulon
---
Stade Français 19-12 Perpignan
Stade Jean-Bouin
Stade Français continued their winning run despite losing three players to the sin bin against Perpignan.
The hosts scored the only try of the match through a Penalty Try in the 31st minute to open up a 10-3 lead.
Jerome Fillol and James Hook continued their kicking battle before Fillol's 58th-minute success put Stade ten points out in front.
However Hook's key penalty in the 74th minute, after Pascal Pape was penalised for a high tackle, brought USAP back within losing bonus point territory to make sure the visitors left Paris with something to show for their efforts.
The scorers:
For Stade:
Try: Penalty
Con: Fillol
Pens: Fillol 4
Yellow Cards: Arias, Pape, Attoub
For Perpignan:
Pens: Hook 4
Yellow Card: Taumalolo
Stade Français: 15 Hugo Bonneval, 14 Julien Arias, 13 Paul Williams, 12 Jonathan Danty, 11 Digby Ioane, 10 Jules Plisson, 9 Jerome Fillol, 8 Sergio Parisse (c), 7 Pierre Rabadan, 6 Antoine Burban, 5 Pascal Pape, 4 Alexandre Flanquart, 3 Rabah Slimani, 2 Laurent Sempere, 1 Heinke van der Merwe.
Replacements: 16 Michael van Vuuren, 17 David Attoub, 18 Gerhard Mostert, 19 Scott Lavalla, 20 Julien Dupuy, 21 Morné Steyn, 22 Jerome Porical, 23 Sakaria Taulafo.
Perpignan: 15 Joffrey Michel, 14 Sofiane Guitoune, 13 Tommaso Benvenuti, 12 Watisoni Votu, 11 Wandile Mjekevu, 10 James Hook, 9 Dewaldt Duvenage, 8 Luke Narraway, 7 Daniel Leo, 6 Alasdair Strokosch, 5 Luke Charteris, 4 Romain Taofifénua, 3 Paulica Ion, 2 Guilhem Guirado, 1 Sona Taumalolo,
Replacements: 16 Romain Terrain, 17 Sebastien Taofifenua, 18 Guillaume Vilaceca, 19 Jean-Pierre Pérez, 20 Nicolas Durand, 21 David Marty, 22 Lifeimi Mafi, 23 Kisi Pulu.
---
Grenoble 20-16 Castres
Stade Lesdiguières
Alipati Raitini's late try handed Grenoble a narrow victory over a weakened Castres side.
The Top 14 champions rested stars including Brice Dulin and Rory Kockott as they slipped to a four-point loss.
Full-back Geoffrey Palis kicked 11 points for the visitors but it was the boot of Irishman James Hart along with Valentin Courrent that secured victory for Grenoble.
Prop Albertus Buckle grabbed the first try for Grenoble after half an hour to set them on their way.
The scorers:
For Grenoble:
Tries: Buckle, Raitini
Cons: Hart, Courrent
Pens: Hart 2
Yellow Card: Hunt
For Castres:
Try: Bai
Con: Palis
Pens: Palis 3
Grenoble: 15 Fabien Gengenbacher, 14 Alipati Raitini, 13 Geoffroy Messina, 12 Nigel Hunt, 11 Benjamin Thiery, 10 Blair Stewart, 9 James Hart, 8 Peter Kimlin, 7 Fabien Alexandre, 6 Jonathan Best, 5 Andrew Farley (c), 4 Hendrik Roodt, 3 Dayna Edwards, 2 Vincent Campo, 1 Albertus Buckle.
Replacements: 16 Kenan Mutapcic, 17 Laurent Bouchet, 18 Ben Hand, 19 Henry Vanderglas, 20 Florian Faure, 21 Julien Caminati, 22 Valentin Courrent, 23 Richard Choirat.
Castres: 15 Geoffrey Palis, 14 Marcel Garvey, 13 Romain Cabannes, 12 Seremaia Bai, 11 Maxwell Evans, 10 Remi Tales, 9 Cedric Garcia, 8 Janni Bornman, 7 Yannick Cabellero, 6 Piula Faasalele, 5 Rodrigo Capo Ortega, 4 Richie Gray, 3 Karena Wihongi, 2 Marc Antoine Rallier, 1 Saimone Taumoepeau.
Replacements: 16 Mihaita Lazar, 17 Yannick Forestier, 18 Benjamin Desroche, 19 Pedrie Wannenburg, 20 Julien Tomas, 21 Daniel Kirkpatrick, 22 Remy Grosso, 23 Anton Peikrishvili.
---
Union Bordeaux-Bègles 27-23 Brive
Stade Jacques-Chaban-Delmas
Gaeten Germain's converted try secured a losing bonus point for Brive but Bordeaux-Bègles took the win between these two on Sunday.
A brace for the hosts from Jandre Marais and one try from Metuisela Talebula were enough to see the home, with Pierre Bernard converting all three scores and adding two penalties.
Former Western Force star Alfi Mafi scored Brive's first try with Germain's boot keeping them in the match until the end.
The scorers:
For Union Bordeaux-Bègles:
Tries: Marais, Talebula
Cons: Bernard 2
Pens: Bernard 2
Yellow Card: Delboulbès
For Brive:
Tries: Mafi, Germain
Cons: Germain 2
Pens: Germain 3
Yellow Cards: Mailei, Coetzee
Bordeaux-Bègles: 15 Darly Domvo, 14 Metuisela Talebula, 13 Felix le Bourhis, 12 Julien Rey, 11 Blair Connor, 10 Pierre Bernard, 9 Heini Adams, 8 Taiasina Tuifua, 7 Matthew Clarkin, 6 Louis Madaule, 5 Adam Jaulhac, 4 Jandre Marais, 3 Silviu Florea, 2 Wayne Avei, 1 Jean-Baptiste Poux,
Replacements: 16 Clement Maynadier, 17 Laurent Delboulbes, 18 Aliki Fakate, 19 Hugh Chalmers, 20 Thibault Lacroix, 21 Emmanuel Saubusse, 22 Nicolas Sanchez, 23 Albert Toetu.
Brive: 15 Gaetan Germain, 14 Guillaume Namy, 13 Thomas Laranjeira, 12 Andrew Mailei, 11 Alfi Mafi, 10 Roman Sola, 9 Jean Baptiste Pejoine, 8 Sisi Koyamaibole, 7 Dominiko Waqaniburotu, 6 Petrus Hauman, 5 Arnaud Mela, 4 Simon Pinet, 3 Kevin Buys, 2 Francois da Ros, 1 Goderzi Shvelidze.
Replacements: 16 Guillaume Ribes, 17 Karlen Asieshvili, 18 Julien Ledevedec, 19 Hugues Briatte, 20 Damien Neveu, 21 Riaan Swanepoel, 22 Elia Radikedike, 23 Johannes Coetzee.
---
Clermont 33-19 Oyonnax
Stade Charles Mathon
Clermont Auvergne made history after defeating Oyonnax 33-19 to stretch their remarkable run at the Stade Marcel-Michelin to 70 matches in a row.
Noa Nakaitaci, Fritz Lee and Benjamin Kayser all crossed the whitewash, as the home side settled the score with Oyonnax who defeated Clermont on their home ground earlier this season.
Mike Delany added ten points with the boot with Brock James contributing eight of his own after coming off the bench.
Oyonnax snatched two tries of their own from Pierre Aguillon and Jody Jenneker, but remain around the bottom of the table.
The scorers:
For Clermont:
Tries: Nakaitaci, Lee, Kayser
Cons: Delany 2, James
Pens: Delany 2, James 2
Yellow Card: Bardy
For Oyonnax:
Tries: Aguillon, Jenneker
Pens: Lespinas 3
Clermont: 15 Jean Marcellin Buttin, 14 Sitiveni Sivivatu, 13 Regan King, 12 Noa Nakaitaci, 11 Julien Malzieu, 10 Michael Delany, 9 Thierry Lacrampe, 8 Damien Chouly, 7 Julien Bardy, 6 Fritz Lee, 5 Nathan Hines, 4 Jamie Cudmore, 3 Davit Zirakashvili, 2 Benjamin Kayser, 1 Thomas Domingo.
Replacements: 16 Benoit Cabello, 17 Vincent Debaty, 18 Julien Pierre, 19 Gerhard Vosloo, 20 Ludovic Radosavljevic, 21 Brock James, 22 Benson Stanley, 23 Clement Ric.
Oyonnax: 15 Lucas Gonzalez Amorosino, 14 Silvere Tian, 13 Guillaume Bousses, 12 Pierre Aguillon, 11 Samuela Wara, 10 Regis Lespinas, 9 Agustin Figuerola, 8 Nemia Soqeta, 7 Scott Newlands, 6 Joseph El Abd (c), 5 Damien Lagrange, 4 Thibault Lassalle, 3 Clement Baiocco, 2 Neil Clark, 1 Antoine Tichit.
Replacements: 16 Jody Jenneker, 17 Marc Clerc, 18 Damian Browne, 19 Laurent Ursache, 20 Fabien Cibray, 21 Benjamin Urdapilleta, 22 Hemani Paea, 23 Lukas Rapant.
---
Montpellier 48-22 Biarritz
Stade Yves du Manoir
Montpellier unsympathetically thrashed struggling Biarritz by running in six tries at home.
Alex Tulou and Mamuka Gorgodze both scored two tries in the rout.
Biarritz did manage three tries of their own but fell short of a try bonus point, remaining rock bottom of the Top 14.
The scorers:
For Montpellier:
Tries: Nagusa, Tulou 2, Gorgodze 2, Ivaldi
Cons: Paillaugue 5, Trinh-Duc
Pens: Paillaugue 2
Yellow Card: Trinh-Duc
For Biarritz:
Tries: Lund, Ngewnya, Pietersen
Cons: Yachvili 2
Pen: Yachvili
Yellow Cards: Ngewnya, Van Staden
Montpellier: 15 Pierre Berard, 14 Timoci Nagusa, 13 Rene Ranger, 12 Wynand Olivier, 11 Yoan Audrin, 10 Franois Trinh-Duc, 9 Benoit Paillaugue, 8 Alex Tulou, 7 Mamuka Gorgodze, 6 Kelian Galletier, 5 Thibaut Privat, 4 Jim Hamilton, 3 Nicolas Mas, 2 Mickael Ivaldi, 1 Yvan Watremez.
Replacements: 16 Charles Geli, 17 Maximiliano Bustos, 18 Mickael De Marco, 19 Paul Grant, 20 Eric Escande, 21 Thomas Combezou, 22 Anthony Floch, 23 Naama Leleimalefaga.
Biarritz: 15 Joe Pietersen, 14 Takudzwa Ngwenya, 13 Benoit Baby, 12 Damien Traille, 11 Teddy Thomas, 10 Dimitri Yachvili, 9 Yann Lesgourgues, 8 Imanol Harinordoquy (c), 7 Ueleni Fono, 6 Benoit Guyot, 5 Eric dos Santos, 4 Erik Lund, 3 Eugene Van Staden, 2 Arnaud Heguy, 1 Fabien Barcella.
Replacements: 16 Jean-Philippe Genevois, 17 Thomas Synaeghel, 18 Joshua Furno, 19 Raphael Lakafia, 20 Julien Peyrelongue, 21 Aled Brew, 22 Geoffrey Sella, 23 Ben Broster.
---
Bayonne 21-13 Toulouse
Stade Jean Dauger
Bayonne produced a 13-point turnaround to defeat Toulouse at home after trailing 8-13 at half-time.
The home side scored the early try from Marvin O'Connor but a Louis Picamoles score along with a penalty and drop goal from Lionel Beauxis had Toulouse in front going into the break.
Joe Rokocoko's second-half try and the introduction of Stephen Brett from the bench though turned things around for Bayonne, with the Kiwi kicking two penalties and converting Rokocoko's try.
His 80th-minute penalty also prevented Toulouse from coming away with a losing bonus point.
The scorers:
For Bayonne:
Tries: O'Connor, Rokocoko
Con: Brett
Pens: Bustos Moyano, Brett 2
For Toulouse:
Try: Picamoles
Con: Beauxis
Pen: Beauxis
Drop Goal: Beauxis
Yellow Card: Albacete
Bayonne: 15 Scott Spedding, 14 Martin Bustos Moyano, 13 Joe Rokocoko, 12 Gabiriele Lovobalavu, 11 Marvin O'Connor, 10 Santiago Fernandez, 9 Mathieu Belie, 8 Charles Ollivon, 7 Dwayne Haare, 6 Mark Chisholm, 5 Lisiate Faaoso, 4 Dewald Senekal, 3 Neemia Tialata, 2 David Roumieu, 1 Aretz Iguiniz.
Replacements: tbc
Toulouse: 15 Clement Poitrenaud, 14 Maxime Medard, 13 Yann David, 12 Gael Fickou, 11 Hosea Gear, 10 Lionel Beauxis, 9 Jean Marc Doussain, 8 Louis Picamoles, 7 Thierry Dusautoir (c), 6 Yannick Nyanga, 5 Patricio Albacete, 4 Yoann Maestri, 3 Yohan Montes, 2 Chiliboy Ralepelle, 1 Gurthro Steenkamp,
Replacements: 16 Christopher Tolofua, 17 Schalk Ferreira, 18 Romain Millo Chlusky, 19 Joe Tekori, 20 Jano Vermaak, 21 Yoann Huget, 22 Jean Pascal Barraque, 23 Antoine Guillamon.
---
Racing Métro 14-3 Toulon
Stade Jean Dauger
Toulon slumped to yet another away loss in the league, only producing a single penalty from Jonny Wilkinson in their defeat against Racing Métro.
Ireland fly-half Jonathan Sexton landed three penalties for Racing in the battle between the two British and Irish Lions number tens.
France wing Marc Andreu grabbed the only try of the game in the second half as Racing picked up an eighth win of the season.
The scorers:
For Racing Métro:
Try: Andreu
Pens: Sexton 3
Yellow Card: Planté
For Toulon:
Pen: Wilkinson
Yellow Card: Botha
Racing-Métro: 15 Benjamin Lapeyre, 14 Adrien Plante, 13 Fabrice Estebanez, 12 Jamie Roberts, 11 Marc Andreu, 10 Jonathan Sexton, 9 Maxime Machenaud, 8 Masi Matadigo, 7 Bernard Le Roux, 6 Antoine Battut, 5 Fabrice Metz, 4 Juandre Kruger, 3 Luc Ducalcon, 2 Dimitri Szarzewski, 1 Davit Khinchagishvili,
Replacements: 16 Virgile Lacombe, 17 Eddy Ben Arous, 18 Karim Ghezal, 19 Camille Gérnodeau, 20 Mike Phillips, 21 Juan Martin Hernandez, 22 Henry Chavancy, 23 Brian Mujati.
Toulon: 15 Delon Armitage, 14 Drew Mitchell, 13 Maxime Mermoz, 12 Matt Giteau, 11 Rudi Wulf, 10 Jonny Wilkinson (c), 9 Michael Claassens, 8 Steffon Armitage, 7 Pierrick Gunther, 6 Juan Smith, 5 Jocelino Suta, 4 Bakkies Botha, 3 Carl Hayman, 2 Benjamin Noirot, 1 Emanuel Felsina.
Replacements: 16 Jean-Charles Orioli, 17 Xavier Chiocci, 18 Xavier Chiocci, 19 Joe Van Niekerk, 20 David Smith, 21 Josua Tuisova, 22 Konstantin Mikautadze, 23 Levan Chilachava.