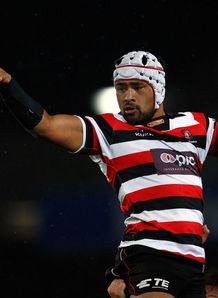 Counties Manukau coach Tana Umaga has named his team for Friday's Ranfurly Shield match against Southland in Pukekohe.
Umaga's side cannot be moved from fourth position in the table and will face Wellington in next week's ITM Cup semi-final at Westpac Stadium.
However, that does not mean the match will not be important, as Umaga explained.
"This is the most important game of the season so far for us, as whoever wins this game gets to keep the Shield for the summer," he said.
"The team has worked really hard to get here and know Southland have won the Shield several times in the last few years so they also know what it takes to win.
"We are really looking forward to the support from a strong, vocal and passionate home crowd. They have lifted us the last two times in our Ranfurly Shield matches and we need them to provide that support again on Friday night."
Meanwhile, veteran Southland lock Josh Bekhuis has defied the odds to recover from a knee injury which looked at the time like it might rule him out of contention.
Nick Barrett who had missed the last few games with the hamstring injury has also passed a fitness test and made it through training on Wednesday night meaning he will make the trip to Pukekohe.
Talented winger Gareth Williams-Spiers is still out with a groin injury and was not considered for selection
The teams:
Counties Manukau: 15 Ahsee Tuala, 14 Frank Halai, 13 Rey Lee-Lo, 12 Bundee Aki, 11 Toni Pulu, 10 Baden Kerr, 9 Kane Hancy, 8 Fritz Lee (c), 7 Maama Vaipulu, 6 Adam Cathcart, 5 Jimmy Tupou, 4 Ronald Raaymakers, 3 Jarrod Firth, 2 Hika Elliot, 1 Sam Aiono.
Replacements: 16 Suliasi Taufalele, 17 Matt Talaese, 18 Sikeli Nabou, 19 Mark Selwyn, 20 Lucky Palamo, 21 Ki Anufe, 22 Sam Vaka.
Southland: 15 Robbie Robinson, 14 Bryan Milne, 13 Cardiff Vaega, 12 Willis Halaholo, 11 Tim Cornforth, 10 Marty McKenzie, 9 Scott Eade, 8 Elliot Dixon, 7 Tim Boys, 6 John Hardie, 5 Michael Fatialofa, 4 Josh Bekhuis, 3 JP Koen, 2 David Hall, 1 Jamie Mackintosh (c).
Replacements: 16 Talemaitoga Tuapati, 17 Nick Barrett, 18 Hale T-Pole, 19 Naulia Dawai, 20 Tayler Adams, 21 Calvary Fonoti, 22 Keanu Kahukura.
Date: Friday, October 11
Kick-off: 19:35 local (08:35 BST, 07:35 GMT)
Venue: ECOLight Stadium, Pukekohe
Referee: Mike Fraser