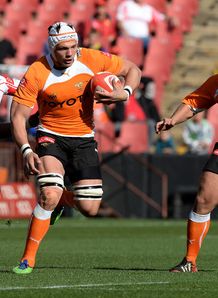 Related links
Also see
The tournament has reached its halfway stage and the race for the play-offs is sure to intensify over the next few weeks.
With just five rounds of matches of the league phase of the competition left, all the sides know the importance of their remaining matches as only eight points separate Western Province at the top of the standings and Griquas who are at the foot.
This week sees a repeat of the first round's fixtures and some of the teams will be out for revenge after being on the wrong end of some surprising results. None more so than the Sharks who take on Griquas in Kimberley in Saturday's early game. Griquas caused a huge upset when a converted try, in injury time, secured them victory in Durban earlier this year.
Champions WP also have a point to prove on Saturday in Pretoria against the Blue Bulls, who clawed their way back from a large deficit before claiming a draw in Cape Town in Round One.
The weekend's action starts on Friday in Bloemfontein where the Cheetahs will be trying to repeat their triumph in the opening round against the Lions.
Fixtures:
Friday, September 13
Free State Cheetahs v Golden Lions
Saturday, September 14
Griquas v Sharks
Western Province v Blue Bulls
Standings:
1. Western Province 16
2. Sharks 15
3. Golden Lions 14
4. Cheetahs 12
5. Blue Bulls 10
6. Griquas 8
---
Previews:
Free State Cheetahs v Golden Lions
Free State Stadium, Bloemfontein
The Cheetahs have blown hot and cold this season and will be keen to return to the victory trail after suffering a 26-10 loss to the Blue Bulls in Pretoria last weekend.
The home side will have to be at their best against the Johannesburg-based outfit who, along with the Blue Bulls, are the tournament's leading try-scorers after crossing 17 times.
The Cheetahs have won only two of their five previous matches and their coach Naka Drotske knows that his side can ill afford further slip-ups.
"This game is really important for us," he said.
"This year's competition is a tightly-contested affair, and just one victory can boost a side by three places on the log."
After beating Griquas in Kimberley last weekend, the Lions headed straight for Bloemfontein.
"The Lions have been in our backyard for the whole week," Drotske said.
"That can be a positive or a negative thing from their perspective.
"The fact that they have been gone from home for a while could count in our favour. We hope it does, but we still expect a very tight battle."
Despite a slow start to the competition, the Lions have caught up with the frontrunners after going on a three-match unbeaten run.
Their coach Johan Ackermann is wary of the Cheetahs and expects a backlash from the hosts after their recent defeat to the Blue Bulls.
"It seems we always get teams that have lost their previous games and then they are over-motivated when they run out against us," Ackermann said.
"That will be the same with the Cheetahs. They lost to the Blue Bulls and will be a tough nut to crack."
Prediction: Matches between these sides are always exciting affairs and don't expect this clash to be any different. The Lions are on a high and will win a high-scoring game by by four points!
The teams:
Free State Cheetahs: 15 Hennie Daniller, 14 Riaan Smit, 13 Johann Sadie, 12 Robert Ebersohn, 11 Raymond Rhule, 10 Elgar Watts, 9 Sarel Pretorius, 8 Boom Prinsloo (capt), 7 Davon Raubenheimer, 6 Lappies Labuschagne, 5 Waltie Vermeulen, 4 Teboho Mohoje, 3 Rossouw de Klerk, 2 Hercu Liebenberg, 1 Trevor Nyakane.
Replacements: 16 Ethienne Reynecke, 17 Wian du Preez, 18 Freddie Ngoza, 19 Tertius Daniller, 20 Kevin Luiters, 21 Willie du Plessis, 22 Piet Lindeque.
Golden Lions: 15 Marnitz Boshoff, 14 Andries Coetzee, 13 Robert de Bruyn, 12 Dylan des Fountain, 11 Anthony Volmink, 10 Elton Jantjies, 9 Tian Meyer, 8 Willie Britz, 7 Derick Minnie (captain), 6 Warwick Tecklenburg, 5 Franco van der Merwe, 4 Ruan Venter, 3 Bees Roux, 2 Willie Wepener, 1 CJ van der Linde.
Replacements: 16 Robbie Coetzee, 17 Jacques van Rooyen, 18 Hugo Kloppers, 19 Jaco Kriel, 20 Ross Cronje, 21 Deon Helberg, 22 Ruhan Nel.
Referee: Marius van der Westhuizen
---
Griquas v Sharks
GWK Park, Kimberley
The Sharks were on the wrong end of arguably the most surprising result of the season when a late Nico Scheepers conversion sealed a 32-30 win for Griquas in Durban earlier this year.
The visitors' coach Brad Macleod-Henderson believes Griquas caught his side on an off day in that encounter and said his charges are determined to turn the tables.
"The first game against Griquas we were maybe just a bit underdone, they played well and physically dominated us a bit," Macleod-Henderson said.
"We want to make sure we are physically up for the challenge, it's always tough going to Kimberley, but we are looking forward to the game."
Griquas are languishing at the bottom of the table but have been unlucky to be on the losing side in several of their matches this season.
Three of their four defeats - against the Bulls, Western Province and the Golden Lions - have been by less than seven points.
They are particularly dangerous at their home ground and play with an attacking mindset. Coach Pote Human is a shrewd tactician and don't be surprised if he has a few tricks up his sleeves for the men from Durban. The hosts have been boosted after lock Rory Arnold's suspension from a ban for biting an opponent was overturned.
Sharks backline coach Sean Everitt expects another tough clash for his troops.
"Griquas are a team that never lie down, we saw that against the Lions on the weekend, they had their backs to the wall at one stage but they just kept going," he said.
"And that's what we've seen from them in all their games. They came from behind against Province, against us too. They are a team that keep coming at you, they have big hearts and they're very brave. We are going to have to really defend well and concentrate on staying within our systems, that is going to be crucial."
Prediction: The home side will keep up their competitive record but the Sharks' experience will secure them a narrow three-point victory!
The teams:
Griquas: 15 PJ Vermeulen, 14 Nico Scheepers, 13 JP Nel, 12 Howard Mnisi, 11 Rocco Jansen, 10 Francois Brummer, 9 Marnus Hugo, 8 Carel Greeff, 7 Burger Schoeman, 6 Marnus Schoeman, 5 Victor Kruger, 4 Rory Arnold, 3 Nick Schonert, 2 Ryno Barnes (capt), 1 Steph Roberts.
Replacements: 16 Matt Dobson, 17 Brummer Badenhorst, 18 Patrick O'Brien, 19 RJ Liebenberg, 20 Jacques Coetzee, 21 Du Randt Gerber, 22 Gouws Prinsloo.
Sharks: 15 SP Marais, 14 Sizo Maseko, 13 Louis Ludik, 12 Tim Whitehead, 11 Lwazi Mvovo, 10 Butch James, 9 Charl McLeod, 8 Jacques Botes (capt), 7 Jean Deysel, 6 Keegan Daniel, 5 Pieter-Steph du Toit, 4 Edwin Hewitt, 3 Wiehahn Herbst, 2 Kyle Cooper, 1 Danie Mienie.
Replacements: 16 Monde Hadebe, 17 Dale Chadwick, 18 Peet Marais, 19 Justin Downey, 20 Cobus Reinach, 21 Fred Zeilinga, 22 Jaco van Tonder.
Referee: Jaco Peyper
---
Blue Bulls v Western Province
Loftus Versfeld Stadium, Pretoria
Western Province head into this match brimming with confidence as the only unbeaten side left in the competition. The champions will have to be at their best, however, as the Bulls returned to their winning ways - after beating the Cheetahs in the previous round - after a mini slump earlier this season.
The men from the Cape are preparing for a physical onslaught and have added considerable bulk to their pack, in the shape of 1.97 metre and 116 kilogram lock Taz Fuzani, who makes his Currie Cup debut for the table-toppers.
WP coach Allister Coetzee believes the rookie will make a big impact.
"With the Bulls match coming up, it was a good time to look at him, especially because he brings a lot of physicality to the team," said Coetzee.
"He is a good rugby player and he's been working hard in the squad. It will be a big challenge for him and he knows what role he has to play."
WP's trumpcard is their backline, however, and if their forwards can provide quality ball to the likes of Gio Aplon, Juan de Jongh and new sensation Cheslin Kolbe, then the Bulls can forget about handing them their first defeat of the season.
Bulls coach Pine Pienaar knows his side face a daunting task and after returning to the victory trail against the Cheetahs last weekend, he wants a top-class performance from his troops.
"We know that we have to be at our very best to stand a chance of beating Western Province," he said.
"There were certain areas of our game that we weren't happy with against the Free State, so hopefully we can put up a better performance.
"They are the in-form team at the moment, they are unbeaten, and so it will be a massive challenge to possibly win at Loftus Versfeld."
Prediction: There's plenty at stake for the champions but although they haven't hit their peak yet, they still seem to be getting the right results. WP to win by eight points!
The teams:
Blue Bulls: 15 Jürgen Visser, 14 Sampie Mastriet, 13 Ulrich Beyers, 12 Francois Venter, 11 Akona Ndungane, 10 Handré Pollard, 9 Rudy Paige, 8 Jono Ross (c), 7 Jacques du Plessis, 6 Wiaan Liebenberg, 5 Grant Hattingh, 4 Paul Willemse, 3 Frik Kirsten, 2 Mbongeni Mbonambi, 1 Marcel van der Merwe.
Replacements: 16 Bandise Maku, 17 Dean Greyling, 18 David Bullbring, 19 Jacques Engelbrecht, 20 Lohan Jacobs, 21 Waylon Murray, 22 Clayton Blommetjies.
Western Province: 15 Gio Aplon, 14 Gerhard van den Heever, 13 Juan de Jongh, 12 Damian de Allende, 11 Cheslin Kolbe, 10 Kurt Coleman, 9 Louis Schreuder, 8 Nizaam Carr, 7 Michael Rhodes, 6 Rynhardt Elstadt, 5 De Kock Steenkamp (c), 4 Taz Fuzani, 3 Pat Cilliers, 2 Scarra Ntubeni, 1 Steven Kitshoff.
Replacements: 16 Michael Willemse, 17 Brok Harris, 18 Gerbrandt Grobler, 19 Rohan Kitshoff, 20 Nic Groom, 21 Gary van Aswegen, 22 Michael van der Spuy.
Referee: Marius Jonker