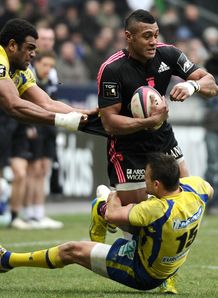 Squad depth is set to be a deciding factor this weekend as French clubs face their third round of fixtures in eight days on Sunday.
If the Ligue Nationale de Rugby's own recommendation that no player should be involved in thee consecutive games were to be followed to the letter, then around 120 player be sidelined for Sunday's action. Its a ridiculous situation.
The early log-jam is not something new, Top 14 organiser having to squeeze in 29 rounds (including the play-offs), nine European Cup weekends and 11 international Tests in their calendar year.
The LNR has to organise those playing weekends in tandem with respect for players' holidays and a pre-season window.
To make matters worse for clubs, any player having been on the paddock for more than 80 minutes in the first two matches, last weekend and Wednesday, "should not play in the third game" on Sunday, the LNR has advised.
"It's a recommendation which we started to mull over in February," said Bernard Dusfour, head of the LNR's medical committee.
"It's the fruit of long discussions betweeen experts, that's to say, doctors and trainers but also coaches."
Dusfour said that proper "biological rehabilitation" started 72 hours after a match, and a string of games close together risked increased levels of fatigue and with that injury.
Needless to say, coaches have not been left overly impressed.
Racing-Metro coach Laurent Travers said it was "impossible" to play three games in so little time, stressing that rugby was a traumatic contact sport which also demanded a "mental freshness".
"If you don't pay for it immediately, it will come back later to haunt you," added Stade Francais backs coach Jean-Frederic Dubois.
Players' union president Serge Simon promised "more radical" action should there be an overwhlemingly negative outcome to playing games so close together.
"But I firstly see the positive side: it's the first time that we're trying to fix a rule and there's a real debate about the health of players," Simon said.
With a maximum of 35 players contracted to each club in the Top 14, there are some outfits that will undoubtedly suffer more than, say, Toulouse, Clermont or Toulon, big-spending clubs with large budgets.
Toulouse's trip to Montpellier headlines Round Five while two games in the capital will also gather attention as Racing Metro host Perpignan while Clermont visit Stade Français.
The top four clubs are all on the road as Toulon visit Biarritz.
Fixtures:
Sunday, September 8 Kick-offs at 18.00 (16.00 GMT) unless otherwise stated
Toulouse v Montpellier 15.30 (13.30 GMT)
Brive v Bayonne
Biarritz v Toulon
Grenoble v Bordeaux-Begles
Oyonnax v Castres
Racing Metro v Perpignan
Stade Français v Clermont 21.00 (19.00 GMT)
---
Previews:
CA Brive-Corrèze v Aviron Bayonnais
Stade Amédée-Domenech, Brive-la-Gaillarde
Brive - who were thrashed in Toulon on Wednesday - have had a difficult start to the season losing all three of their away games so far, but they were solid winners at home to Bordeaux in Round Two.
Likewise, Bayonne were humiliated in Clermont midweek but sit in midtable by virtue of two home wins.
Boths side rested their bet players last time out and will see Sunday as a chance to pick up points.
Brive: 15 Laurent Ferreres, 14 Guillaume Namy, 13 Arnaud Mignardi, 12 Riaan Swanepoel, 11 Gaetan Germain, 10 Romain Sola, 9 Jean baptiste Pejoine, 8 Sisaro Koyamaibole, 7 Dominiko Waqaniburotu, 6 Petrus Hauman, 5 Arnaud Mela, 4 Julien Ledevedec, 3 Patrick Barnard, 2 Guillaume Ribes, 1 Goderzi Shvelidze,
Replacements: 16 Francois Da ros, 17 Karlen Asieshvili, 18 Olivier Caisso, 19 Hugues Briatte, 20 Thomas Sanchou, 21 Thomas Laranjeira, 22 Elia Radikedike, 23 Kevin Buys,
Bayonne: 15 Scott Spedding, 14 Martin Bustos moyano, 13 Joe Rokocoko, 12 Gabiriele Lovobalavu, 11 Marvin O'Connor, 10 Stephen Brett, 9 Mike Phillips, 8 Opeti Fonua, 7 Julien Puricelli, 6 Jean Monribot, 5 Lisiate Faaoso, 4 Dewald Senekal, 3 Nemiah Tialata, 2 David Roumieu, 1 Aretz Iguiniz,
Replacements: 16 Gregory Arganese, 17 JC Janse van Rensburg, 18 Abdellatif Boutaty, 19 Dwayne Haare, 20 Guillaume Rouet, 21 Manu Ahotaeiloa, 22 Matthieu Ugalde, 23 Gert Muller.
Previous result: Brive 30-10 Bayonne (2011)
Prediction: Home win. Brive by six
Kick-off: 18.00 (16.00 GMT)
Referee: Patrick Pechambert
---
Biarritz Olympique v RC Toulonnais
Parc des Sports d'Aguilera, Biarritz
The European champions travel visit a Biarritz languishing in the relegation zone.
Despite crushing Brive on Wednesday, Toulon boos Bernard Laporte was not happy with his said, accusing his players being more interested in "amusing themselves instead of hurting themselves." Harsh words.
There is always pain to be felt in Biarritz, were route one rugby is par for the course.
Toulon are without suspended scrum-half Sébastien Tillous Borde but Mathieu Bastareaud will start despite carrying shoulder injury.
Former Stormers kicker Joe Pietersen starts at full-back for Biarritz.
Biarritz: 15 Joe Pietersen, 14 Takudzwa Ngwenya, 13 Benoit Baby, 12 Damien Traille, 11 Teddy Thomas, 10 Daniel Waenga, 9 Dimitri Yachvili, 8 Raphael Lakafia, 7 Ueleni Fono, 6 Benoit Guyot, 5 Pelu ian Taele, 4 Erik Lund, 3 Francisco Gomez Kodela, 2 Jean Philippe Genevois, 1 Alexandre Menini,
Replacements: 16 Romain Ruffenach, 17 Eugene Van staden, 18 Addison Lockley, 19 Tanguy Molcard, 20 Luix Roussarie, 21 Julien Peyrelongue, 22 Paul Couet lannes, 23 Benedict Broster,
Toulon: 15 Delon Armitage, 14 David Smith, 13 Mathieu Bastareaud, 12 Maxime Mermoz, 11 Rudi Wulf, 10 Jonny Wilkinson, 9 Michael Claassens, 8 Steffon Armitage, 7 Pierrick Gunther, 6 Virgile Bruni, 5 Jocelino Suta, 4 Bakkies Botha, 3 Carl Hayman, 2 Sebastien Bruno, 1 Andrew Sheridan,
Replacements: 16 Benjamin Noirot, 17 Xavier Chiocci, 18 Danie Rossouw, 19 Facundo Isa, 20 Alexis Palisson, 21 Josua Tuisova, 22 Matt Giteau, 23 Martin Castrogiovanni.
Results last season: Toulon won both: 36-9 away; 50-15 at home
Prediction: Biarritz could struggle. Toulon by seven points
Kick-off: 18.00 local (16.00 GMT)
Referee: Sébastien Minery
---
FC Grenoble v Union Bordeaux-Bègles
Stade Lesdiguières, Grenoble
After beating Toulon with their "A" team before being thrashed by Perpignan with their "B" team, Grenoble have changed their entire starting XV to line-up the strongest side available.
Bordeaux-Bègles have rested fly-half Pierre Bernard along with a number of first-choice players.
Grenoble: 15 Benjamin Thiery, 14 Matthieu Nicolas, 13 Rudolf Coetzee, 12 Geoffroy Messina, 11 Julien Caminati, 10 Blair Stewart, 9 Valentin Courrent, 8 Florian Faure, 7 Jonathan Best, 6 Roland Bernard, 5 Benjamin Hand, 4 Naude Beukes, 3 Dayna Edwards, 2 Vincent Campo Castillo, 1 Albertus Buckle,
Replacements: 16 Kenan Mutapcic, 17 Anthony Hegarty, 18 Andrew Farley, 19 Cedric Beal, 20 Flavien Nouhaillaguet, 21 Olly Barkley, 22 James Hart, 23 Richard Choirat,
Bordeaux-Bègles: 15 Darly Domvo, 14 Rafael Carballo, 13 Charles Brousse, 12 Jean Baptiste Lamotte, 11 Robert Lilomaiava, 10 Romain Lonca, 9 Emmanuel Saubusse, 8 Poutasi Luafutu, 7 Jean Lespinasse, 6 Gautier Gibouin, 5 Adam Jaulhac, 4 Cameron Treloar, 3 Salemane Sa, 2 Clement Maynadier, 1 Jefferson Poirot,
Replacements: 16 Benat Auzqui, 17 Jean Batiste Poux, 18 Alikisio Fakate, 19 Matt Graham, 20 Marco Tauleigne, 21 Gilen Queheille, 22 Jean baptiste Peyras loustalet, 23 Albert Toetu.
Results last season: Grenoble won both: 19-9 at home; 29-28 away
Prediction: Grenoble are near-unbeatable at home. Grenoble by ten points
Kick-off: 18.00 local (16.00 GMT)
Referee: Cedric Marchat
---
Racing-Métro 92 v USA Perpignan
Stade Yves Du Manoir - Colombes (Paris)
Racing-Metro yet to find their feet after signing a raft of big-name players in the off-season and face another tough assignment against a confident Perpignan side.
Racing fly-half Jonathan Sexton returns to the starting line up having appeared off the bench against Toulouse
Perpignan have sent a youthful-looking team, making nine changes with Tommaso Allan pulling the strings at 10.
Racing-Métro: 15 Benjamin Fall, 14 Adrien Plante, 13 Fabrice Estebanez, 12 Jamie Roberts, 11 Marc Andreu, 10 Jonathan Sexton, 9 Maxime Machenaud, 8 Chris Matadigo, 7 Bernard Le Roux, 6 Wenceslas Lauret, 5 Francois van der Merwe, 4 Karim Ghezal, 3 Brian Mujati, 2 Dimitri Szarzewski, 1 Soane Tonga'uiha,
Replacements: 16 Virgile Lacombe, 17 Eddy Ben Arous, 18 Fabrice Metz, 19 Camille Gerondeau, 20 Laurent Magnaval, 21 Jonathan Wisniewski, 22 Henry Chavancy, 23 Julien Brugnaut,
Perpignan: 15 Joffrey Michel, 14 Wandile Mjekevu, 13 Tommaso Benvenuti, 12 David Marty, 11 Richard Haughton, 10 Tommaso Allan, 9 Nicolas Durand, 8 Karl Chateau, 7 Luke Narraway, 6 Nicolas Rabat, 5 Romain Taofifenua, 4 Daniel Leo, 3 Paulica Ion, 2 Guilhem Guirado, 1 Kisi Pulu,
Replacements: 16 Maxime Delonca, 17 Sebastien Taofifenua, 18 Alasdair Strokosch, 19 Jean pierre Perez, 20 Tom Ecochard, 21 James Hook, 22 Jens Torfs, 23 Giorge Jgenti.
Results last season: Racing won 23-19 at home; Perpignan won 17-13 at home
Prediction: Home win. Racing by ten points
Kick-off: 18.00 local (16.00 GMT)
Referee: Pascal Lafon
---
SU Oyonnax v Castres Olympique
Stade Charles-Mathon, Oyonnax
The newboys host the champions as Oyonnax look to add another big scalp to their haul having already beaten Clermont and Biarritz.
Oyonnax: 15 Florian Denos, 14 Silvere Tian, 13 Guillaume Bousses, 12 Pierre Aguillon, 11 Tikiko Koroivoutu, 10 Benjamin Urdapilleta, 9 Agustin Figuerola, 8 Viliami suaesi Maafu, 7 Valentin Ursache, 6 Mahamadou Diaby, 5 Thibault Lassalle, 4 Miroslav Nemecek, 3 Clement Baiocco, 2 Neil graham Clark, 1 Lukas Rapant,
Replacements: 16 Jody Jenneker, 17 Marc Clerc, 18 Damien Lagrange, 19 Christophe Andre, 20 Fabien Cibray, 21 Conrad Barnard, 22 Roimata Hansell pune, 23 Antoine Tichit,
Castres: 15 Brice Dulin, 14 Romain Martial, 13 Romain Cabannes, 12 Seremaia Bai, 11 Marcel Garvey, 10 Daniel Kirkpatrick, 9 Rory Kockott, 8 Pedrie Wannenburg , 7 Ibrahim Diarra, 6 Jan de bruin Bornman, 5 Rodrigo Capo Ortega, 4 Benjamin Desroche, 3 Mihaita Lazar, 2 Brice Mach, 1 Yannick Forestier,
Replacements: 16 Marc Rallier, 17 Michael Coetzee, 18 Christophe Samson, 19 Antonie Claassen, 20 Remi Tales, 21 Julien Tomas, 22 Paul Bonnefond, 23 Karena Wihongi,
Previous results: n/a
Prediction: Away win. Castres by 8 points
Kick-off: 18.00
local (16.00 GMT)
Referee: Alexandre Ruiz
---
Stade Français Paris v ASM Clermont Auvergne
Stade Jean Bouin, Paris
As Pascal Papé said earlier this week, if Stade Français has ambitions to do anything this season, they need to start winning games like this.
Clermont travel to Stade Francais with key players Julien Pierre, Damien Chouly, Brock James, Wesley Fofana, Sitiveni Sivivatu and Jean-Marcelin Buttin all having played more than two hours of rugby since Saturday.
Stade sent out a weakened side to play champions Castres on Wednesday and came out second-best to a 38-10 thumping, but only Julien Dupuy, Gerhard Mostert, Pascal Pape and Meyer Bosman have played more than 80 minutes.
Stade Français: 15 Hugo Bonneval, 14 Waisea Vuidravuwalu, 13 Paul Williams, 12 Jonathan Danty, 11Julien Arias, 10 Jules Plisson, 9 Jerome Fillol, 8 Sergio Parisse, 7 Pierre Rabadan, 6 Antoine Burban, 5 Pascal Pape, 4 Alexandre Flanquart, 3 Rabah Slimani, 2 Laurent Sempere, 1 Heinke van der Merwe,
Replacements: 16 Remi Bonfils, 17 Sakaria Taulafo, 18 Gerhard Mostert, 19 Scott Lavalla, 20 Julien Dupuy, 21 Meyer Bosman, 22 Jerome Porical, 23 Davit Kubriashvili,
Clermont: 15 Lee Byrne, 14 Sitiveni Sivivatu, 13 Benson Stanley, 12 Wesley Fofana, 11 Uwanakaro Tawalo, 10 Brock James 9 Ludovic Radosavljevic, 8 Julien Bonnaire, 7 Alexandre Lapandry, 6 Julien Bardy, 5 Nathan Hines, 4 Julien Pierre, 3 Daniel Kotze, 2 Benjamin Kayser, 1 Thomas Domingo,
Replacements: 16 Ti'i Paulo, 17 Raphael Chaume, 18 Loic Jacquet, 19 Damien Chouly, 20 Thierry Lacrampe, 21 Regan King, 22 Jean Marcellin Buttin, 23 Clement Ric.
Results last season: Clermont won both: 37-10 in Paris; 28-15 at home
Prediction: Home win. Stade Français by five
Kick-off: 21.00 local (19.00 GMT)
Referee: Christophe Berdos