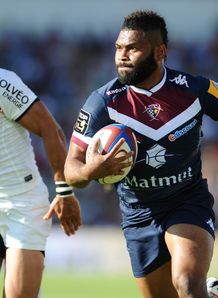 Related links
Also see
Round One of the Top 14 continued on Saturday and there was a shock result at Stade Jacques Chaban-Delmas as Bordeaux beat Toulouse.
Champions Castres lost out at Perpignan in the late game while Grenoble overcame Stade Francais in an intriguing opening weekend.
Friday's opener saw Heineken Cup holders Toulon held to a 22-22 draw as Montpellier showed they are challengers for silverware.
Round 1 results:
Friday:
Saturday:
Biarritz 18-22 Clermont
Bayonne 39-11 Oyannax
Bordeaux 31-25 Toulouse
Grenoble 19-16 Stade Francais
Racing Metro 19-14 Brive
Perpignan 26-23 Castres
---
Bayonne 39-11 Oyannax
Bayonne boasted the biggest winning margin of the opening weekend as they eased past the Top 14 new-boys at Stade Jean-Dauger.
Four tries were scored in all with Joe Rokocoko's first-half effort backed up by Gabiriele Lovobalavu, Opeti Fonua and Guillaume Rouet after the break.
Bayonne, who had former Crusaders and Blues fly-half Stephen Brett in their team, sealed the bonus-point late on via Rouet's effort as they got off to the perfect possible start.
Bayonne: 15 Scott Spedding, 14 Martin Bustos Moyano, 13 Joe Rokocoko, 12 Gabiriele Lovobalavu, 11 Marvin O'Connor, 10 Stephen Brett, 9 Mathieu Belie, 8 Opeti Fonua, 7 Julien Puricelli, 6 Jean Joseph Marmouyet, 5 Lisiate Faaoso, 4 Dewald Senekal, 3 Nemiah Tialata, 2 David Roumieu, 1 Aretz Iguiniz.
Replacements: 16 Anthony Etrillard, 17 JC Janse van rensburg, 18 Gert Muller, 19 Abdellatif Boutaty, 20 Dwayne Haare, 21 Manu Ahotaeiloa, 22 Guillaume Rouet, 23 Matthieu Ugalde.
Oyannax: 15 Florian Denos, 14 Tikiko Koroivoutu, 13 Guillaume Bousses, 12 Roimata Hansell Pune, 11 Jean Francois Coux, 10 Benjamin Urdapilleta, 9 Fabien Cibray, 8 Fred Slade, 7 Valentin Ursache, 6 Scott Newlands, 5 Damien Lagrange, 4 Thibault Lassalle, 3 Clement Baiocco, 2 Jody Jenneker, 1 Lukas Rapant.
Replacements: 16 Salim Tebani, 17 Marc Clerc, 18 Miroslav Nemecek, 19 Viliami Suaesi Maafu, 20 Agustin Figuerola, 21 Conrad Barnard, 22 Silvere Tian, 23 Antoine Tichit.
Referee: A. Ruiz
---
Bordeaux 31-25 Toulouse
The game of the day came from Stade Jacques Chaban-Delmas as Bordeaux upset French heavyweights Toulouse, who had named a strong team for their opening game.
Maxime Medard, Florian Fritz, Luke McAlister, Thierry Dusautoir, Louis Picamoles and Census Johnston were amongst the stars on show as the visitors took an early 0-9 lead thanks to the boot of Lionel Beauxis.
However, back came Bordeaux through two shots from Pierre Bernard before Metuisela Talebula's converted try led to the hosts going in at the break 16-12 up.
Further kicks at goal were traded in the second-half before replacement and marquee signing Hosea Gear crossed for Toulouse to push them in front with thirteen minutes remaining.
But Bernard was not done there as he landed three late penalties to help his side claim a fantastic win.
Bordeaux: 15 Bruce Reihana, 14 Metuisela Talebulamaijaina, 13 Charles Brousse, 12 Thibault Lacroix, 11 Blair Connor, 10 Pierre Bernard 9 Heini Adams, 8 Matthew Clarkin, 7 Hugh Chalmers, 6 Louis Benoit Madaule, 5 Adam Jaulhac, 4 Cameron Treloar, 3 Salemane Sa, 2 Wayne Avei, 1 Laurent Delboulbes.
Replacements: 16 Clement Maynadier, 17 Jean Batiste Poux, 18 Jandre Marais, 19 Taiasina Tuifua, 20 Emmanuel Saubusse, 21 Rafael Carballo, 22 Darly Domvo, 23 Albert Toetu.
Toulouse: 15 Clement Poitrenaud, 14 Maxime Medard, 13 Florian Fritz, 12 Luke McAlister, 11 Yoann Huget, 10 Lionel Beauxis, 9 Jean Marc Doussain, 8 Iosefa Tekori, 7 Thierry Dusautoir, 6 Louis Picamoles, 5 Yoann Maestri, 4 Romain Millo Chlusky, 3 Census Johnston, 2 Christopher Tolofua, 1 Vasil Kakovin.
Replacements: 16 Jaba Bregvadze, 17 Cyril Baille, 18 Gregory Lamboley, 19 Yannick Nyanga, 20 Sebastien Bezy, 21 Hosea Gear, 22 Yacouba Camara, 23 Antoine Guillamon.
Referee: L. Cardona
---
Grenoble 19-16 Stade Francais
Grenoble got their season up and running with a memorable victory as Anthony Hegarty's try and the boot of Valentin Courrent saw them defeat the now not so mighty Stade Francais.
Wing and stalwart Julian Arias replied on the hour mark for the visitors but Courrent out-kicked fellow scrum-half Julien Dupuy, with the former's 68th minute penalty goal ultimately being the last act of a tight fixture.
Grenoble: 15 Julien Caminati, 14 Benjamin Thiery, 13 Rudolf Coetzee, 12 Nigel Hunt, 11 Florian Ninard, 10 Blair Stewart, 9 Valentin Courrent, 8 Florian Faure, 7 Fabien Alexandre, 6 Jonathan Best, 5 Andrew Farley, 4 Naude Beukes, 3 Dayna Edwards, 2 Laurent Bouchet, 1 Albertus Buckle.
Replacements: 16 Kenan Mutapcic, 17 Anthony Hegarty, 18 Benjamin Hand, 19 Roland Bernard, 20 Geoffroy Messina, 21 Olly Barkley, 22 James Hart, 23 Kevin Goze.
Stade Francais: 15 Hugo Bonneval, 14 Julien Arias, 13 Jeremy Sinzelle, 12 Jonathan Danty, 11 Djibril Camara, 10 Jules Plisson, 9 Julien Dupuy, 8 David Lyons, 7 Sylvain Nicolas, 6 Olivier Missoup, 5 Pascal Pape, 4 Gerhard Mostert, 3 Davit Kubriashvili, 2 Aled De Malmanche, 1 Hendrik Van der Merwe.
Replacements: 16 Laurent Sempere, 17 Rabah Slimani, 18 Alexandre Flanquart, 19 Sergio Parisse, 20 Jerome Fillol, 21 Meyer Bosman, 22 Jerome Porical, 23 Romain Frou.
Referee: P. Pechambert
---
Racing 19-14 Brive
Dan Lydiate, Jonathan Sexton and Soane Tonga'uiha got off to a winning start at Racing Metro as the Paris side edged past Brive at Stade Marcel Deflandre.
Ireland and Lions fly-half Sexton kicked eight points as the team's only try came from full-back Benjamin Lapeyre, with Jonathan Wisniewski adding two vital penalties in the final quarter.
Brive's points came via a first-half try from wing Malakai Bakaniceva before Gaetan Germain kicked two penalties after the break to go with Laurent Ferreres' drop-goal.
Racing-Metro: 15 Benjamin Lapeyre, 14 Benjamin Fall, 13 Henry Chavancy, 12 Fabrice Estebanez, 11 Virimi Vakatawa, 10 Jonathan Sexton, 9 Maxime Machenaud, 8 Jacques Cronje, 7 Antoine Battut, 6 Dan Lydiate, 5 Francois Van der Merwe, 4 Karim Ghezal, 3 Luc Ducalcon, 2 Dimitri Szarzewski, 1 Soane Tonga'uiha.
Replacements: 16 Virgile Lacombe, 17 Julien Brugnaut, 18 Fabrice Metz, 19 Bernard Le Roux, 20 Laurent Magnaval, 21 Jonathan Wisniewski, 22 Alexandre Dumoulin, 23 Brian Mujati.
Brive: 15 Gaetan Germain, 14 Guillaume Namy, 13 Arnaud Mignardi, 12 Andrew Mailei, 11 Malakai Bakaniceva, 10 Romain Sola, 9 Jean Baptiste Pejoine, 8 Sisaro Koyamaibole, 7 Dominiko Waqaniburotu, 6 Petrus Hauman, 5 Arnaud Mela, 4 Julien Ledevedec, 3 Patrick Barnard, 2 Guillaume Ribes, 1 Goderzi Shvelidze.
Replacements: 16 Francois Da Ros, 17 Johannes Coetzee, 18 Simon Pinet, 19 Hugues Briatte, 20 Damien Neveu, 21 Riaan Swanepoel, 22 Laurent Ferreres, 23 Tamato Leupolu.
Referee: S. Attalah
---
Perpignan 26-23 Castres
The champions were brought back down to earth with a thud at Stade Aimé Giral as USAP's 77th minute try from Camille Lopez sank the visitors at the death.
Castres thought they had opened their 2013/14 campaign with a win but fly-half Lopez spoiled the party with a try Wales international James Hook converted.
The Top 14 champions had come out of the block strongly with Marcel Garvey crossing inside four minutes before Sofiane Guitoune's response on 27 minutes.
Piula Faasalele pushed Castres 19-23 in front but Lopez would steal the show late on to give Perpignan a huge lift going into Round Two.
Perpignan: 15 James Hook, 14 Sofiane Guitoune, 13 David Marty, 12 Sione Piukala, 11 Joffrey Michel, 10 Camille Lopez, 9 Dewaldt Duvenage, 8 Justin Purll, 7 Bertrand Guiry, 6 Alasdair Strokosch, 5 Romain Taofifenua, 4 Sebastien Vahaamahina, 3 Paulica Ion, 2 Romain Terrain, 1 Sona Taumalolo.
Replacements: 16 Maxime Delonca, 17 Sebastien Taofifenua, 18 Daniel Leo, 19 Luke Narraway, 20 Tom Ecochard, 21 Lifeimi Mafi, 22 Tommaso Benvenuti, 23 Kisi Pulu.
Castres: 15 Romain Martial, 14 Marcel Garvey, 13 Romain Cabannes, 12 Remi Lamerat, 11 Max Evans, 10 Daniel Kirkpatrick, 9 Rory Kockott, 8 Antonie Claassen, 7 Jan de Bruin Bornman, 6 Yannick Caballero, 5 Rodrigo Capo Ortega, 4 Richie Gray, 3 Karena Wihongi, 2 Brice Mach, 1 Yannick Forestier.
Replacements: 16 Marc Antoine Rallier, 17 Mihaita Lazar, 18 Piula Faasalele, 19 Pedrie Wannenburg, 20 Julien Tomas, 21 Seremaia Baikeinuku, 22 Paul Bonnefond, 23 Michael Coetzee.