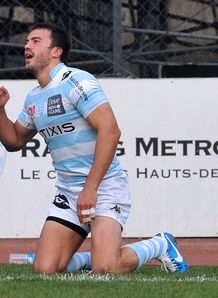 Racing Métro racked up their ninth consecutive Top 14 victory on Saturday with a 23-19 win over Perpignan at Stade Yves Du Manoir on the outskirts of Paris.
The crucial victory in the race for the play-offs sees Racing provisionally climb to fourth in the standings while a losing bonus point means Perpignan are still in the hunt for top-six place.
Racing led 17-6 at half time thanks to a try from Pumas full-back Juan Martin Hernandez but were forced to fight hard to resist a strong Catalan fight back.
USAP replacement wing Farid Sid brought the visitors back into contention with a 66th minute try after a cross-field kick from Wales international pivot James Hook.
Racing fly-half Jonathan Wisniewski's sixth penalty gave the hosts some breathing room before David Mélé's late drop secured a losing bonus point for Perpignan.
"I am really satisfied, it's huge what this group of players has achieved. I am happy for them," said Racing coach Gonzalo Quesada, who is rumoured to have signed with Stade Français.
The scorers:
For Racing Métro:
Try: Hernandez
Pens: Wisniewski 6
For Perpignan:
Try: Sid
Cons: Hook
Pens: Hook 3
Drop: Mélé
Yellow card: Mafi
Racing Métro:15 Juan Martin Hernandez, 14 Julien Jane, 13 Henry Chavancy, 12 Fabrice Estebanez, 11 Sereli Bobo, 10 Jonathan Wisniewski, 9 Maxime Machenaud, 8 Jacques Cronje, 7 Alvaro Galindo, 6 Antoine Battut, 5 Francois Van der merwe, 4 Manuel Carizza, 3 Luc Ducalcon, 2 Dimitri Szarzewski, 1 Julien Brugnaut,
Replacements: 16 Thomas Bianchin, 17 Eddy Ben arous, 18 Fabrice Metz, 19 Masinivanua Matadigo, 20 Sebastien Descons, 21 Alexandre Dumoulin, 22 Gaetan Germain, 23 Salemane Sa
Perpignan:15 Gavin Hume, 14 Joffrey Michel, 13 Lifeimi Mafi, 12 Sione Piukala, 11 Adrien Plante, 10 James Hook, 9 Florian Cazenave, 8 Luke Narraway, 7 Bertrand Guiry, 6 Alasdair Strokosch, 5 Romain Taofifenua, 4 Sebastien Vahaamahina, 3 Nicolas Mas, 2 Guilhem Guirado, 1 Sona Taumalolo,
Replacements: 16 Romain Terrain, 17 Sebastien Taofifenua, 18 Daniel Leo, 19 Henri Tuilagi, 20 David Mele, 21 David Marty, 22 Farid Sid, 23 Kisi Pulu.