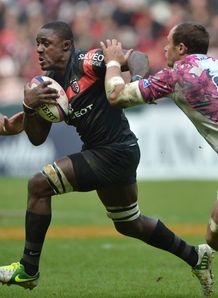 Related links
Also see
Toulouse host Stade Français in their traditional gala clash at the end of a Top 14 weekend that could go a long way in deciding who makes the play-offs.
League leaders Toulon and Clermont both visit the Basque country, where Toulon kick the action off in Spain against Bayonne before Clermont take on Biarritz, as they prepare for their respective Heineken Cup quarter-finals in a fortnight.
The weekend's big fixture is in Paris however as fifth-placed Racing Métro host sixth placed Perpignan. Montpellier could leapfrog the losers of that battle but will need to pick up a rare win in Grenoble.
At the other end of the table, Bordeaux-Bègles have a golden opportunity to relieve their relegation worries at home to Mont-de-Marsan but Agen have no suck luck as they must travel to fortress Pierre Antoine in Castres.
Fixtures:
Saturday, March 23
Bayonne v Toulon
Racing Métro v Perpignan
Bordeaux-Bègles v Mont-de-Marsan
Castres v Agen
Grenoble v Montpellier
Biarritz v Clermont
Sunday, March 24
Toulouse v Stade Français
Standings:
1 Toulon 76
2 Clermont 74
---------------------
3 Toulouse 64
4 Castres 58
5 Racing Métro 58
6 Perpignan 55
----------------------
7 Montpellier 55
8 Grenoble 48
9 Stade Français 46
10 Biarritz 43
11 Bayonne 41
12 Bordeaux-Begles 31
------------------------
13 Agen 27
14 Mont-de-Marsan 15
Previews:
Aviron Bayonnais v Rugby Club Toulonnais
Estadio de Anoeta, Saint Sebastian (Spain)
After smashing Bayonne 59-0 on home soil, Toulon will arrive in Spain full of confidence for the return leg. With five rounds left to play, RCT know another full house of points will leave them in pole position for automatic semi-final qualification.
Toulon have the league's best attack with 51 tries in 21 games and owe their two-point lead over Clermont to their bonus points. By contrast, Bayonne have scored just 18 tries this season, the second-worst record in the championship.
Toulon's French internationals Mathieu Bastareaud and Frédéric Michalak will not travel west while Rudi Wulf, Jonny Wilkinson, Matt Giteau and Bakkie Botha have been rested.
Delon Armitage makes his return from an eight-week suspension while ex-Springbok Danie Rossouw is set to make his Top 14 debut.
Bayonne welcome back Six Nations-winning scrum-half Mike Phillips but are without Gaby Lovobalavu, Cedric Garcia Neemia Tialata (suspension) and Cédric Heymans.
Previous result Toulon won 59-0
Prediction: Bayonne are a different animal on home soil but they don't have much to play for. Toulon by ten points
Kick-off: 15.00 (14.00 GMT)
Referee: Jérôme Garcès
---
Racing Métro 92 v USA Perpignan
Stade Yves Du Manoir - Colombes (Paris)
Racing Métro are enjoying an amazing run of form as they make a charge for the play-offs with an eight-game winning streak. Last week's win in Montpellier meant they are unbeaten in France in 2013.
Just three points ahead of Perpignan and five clear of Montpellier, Racing need to keep their foot on the gas to secure a place in Europe and the play-offs.
The Catalan visitors to the capital are in decent form themselves, having won their last four games and eight of their least ten. USAP also have a solid record on their visits to Colombes.
"We've been playing knock-out games every weekend for the last two months," Perpignan full-back Joffrey Michel half-joked ahead of his side's match against their direct play-off rivals.
"There's only five games left before the real play-offs. But it's exciting. Better that than finding ourselves out of the running."
Racing welcome back French internationals Luc Ducalcon and Maxime Machenaud as well as full-back Gaëtan Germain. Wing Benjamin Fall and Juan Imhoff, loose forward Bernard Le Roux and prop Andrea Lo Cicero are injured.
Perpignan have included their Bleus Nicolas Mas, Sébastien Vahaamahina and Romain Taofifenua.
Previous result: Perpignan won 17-13
Prediction: USAP are in great form but it's tough to bet against racing at the moment. Racing Métro by less than seven points
Kick-off: 18:45 (17.45 GMT)
Referee: Patrick Gaüzere
---
Union Bordeaux-Bègles v Stade Montois
Stade Jacques Chaban-Delmas, Bordeaux
Just four points clear of the relegation zone, Bordeaux-Bègles cannot afford to slip up at home against a side that will surely get the chop.
Never have both promoted clubs managed to retain their places in the Top 14 and, in contrast to Grenoble, Mont-de-Marsan look set to confirm that trend.
Les Montois won the last two games between these sides, but those were in the Challenge Cup. In domestic action, UBB have won the last six clashes between these teams.
Previous result: Bordeaux-Bègles won 17-12
Prediction: UBB look like a solid bet, but it won't be pretty. Bordeaux-Bègles by six points
Kick-off: 18:45 (17.45 GMT)
Referee: Christophe Berdos
---
Castres Olympique v SU Agen
Stade Pierre Antoine, Castres
Agen travel to one of the most difficult places to visit in France in desperate need of a result. Stuck in the drop zone, Les Agenais have a very tough end-of-season schedule including games against Clermont, Perpignan and Toulon.
The bad news for Saturday's visitors to Stade Pierre Antoine is that they have lost on their last three visits to the Tarn and Castres have lost just once at home this season (to Toulouse).
Castres were beaten in Clermont last week but are in good form having toppled Toulon and Montpellier in their two previous games.
The hosts will be without flank Ibrahim Diarra and fly-half Dan Kirkpatrick but welcome back Romain Teulet.
Agen are missing fly-half Raphael Lagarde and wing Nafi Tuitavake but have been bolstered by the return of full-back Silvere Tian.
Previous result: Castres won 22-14
Prediction: The hosts should win comfortably. Casttes by fifteen points
Kick-off: 18:45 (17.45 GMT)
Referee: Salem Attalah
---
FC Grenoble v Montpellier Hérault Rugby
Stade Lesdiguières, Grenoble
Montpellier have slipped out of the play-offs places after consecutive defeats (to Castres and Racing) and are in danger of missing out on the knock-out stages for the first time in three years.
Grenoble, for so long untouchable at home and the surprise package of the season, have gone off the boil, losing their last three games and five of their last six.
The hosts have lost just once in 11 home matches this season though - to Clermont - so will fancy their chances of getting back to winning ways.
Montpellier fly-half François Trinh-Duc will be seeking to shine after a Six Nations where he inexplicably played second fiddle to a poor Frederic Michalak.
"It was complicated for me," the fly-half said of his time with the France team, for whom he started only once in the Six Nations, against England, finally playing only 111 minutes during the five games.
"Now I'm available for my club and I have only one desire: to think about Montpellier and the end of this championships which will be exciting.
"I'm always happy to come back here. It's always pleasing to return to my family cocoon, my mates."
With one eye of their upcoming Heineken Cup quarter-final, Montpellier have decided to rest Scotland loose forward Johnnie Beattie and Georgian hardman Mamuka Gorgodze, who has been in action in the Six Nations B tournament.
Previous result: Montpellier won 23-6
Prediction: Tough one to call but Grenoble do have a strong record at home. Grenoble to win by less than seven points
Kick-off: 18:45 (17.45 GMT)
Referee: Laurent Cardona
---
Biarritz Olympique v ASM Clermont Auvergne
Parc des Sports d'Aguilera, Biarritz
Once again Biarritz look set to miss out of the play-offs and will have to hope on claiming a place in the Heineken Cup via a retention of their Challenge Cup title.
BOPB have failed to fire on all cylinders this season and with little to play for they face another tough weekend against a Clermont side eyeing the top of the standings.
Clermont have won their last three games and with a ten-point cushion on third-place Toulouse are looking to secure automatic qualification for the semi-finals.
Before entertaining thoughts of the French/European double, Clermont must win in Biarritz, where they have lost on their last two visits, 15-14 last year and 16-13 in 2011.
Clermont are resting their French international front rowers (Debaty, Domingo and Kayser) while Morgan Parra has an ankle injury. Wesley Fofana and Napolioni Nalaga have also been given the weekend off. Julien Bardy and Loic Jacquet are injured.
Prop Davit Zirakashvili returns however. Lee Bryne is set to give up his starting berth to Jean-Marcel Buttin while David Skrela should wear the ten jersey.
Previous result: Clermont won 19-12
Prediction: Biarritz are almost a handful at home but Clermont are looking ominously good. Clermont to edge it
Kick-off: 20:50 (19.50 GMT)
Referee: Patrick Pechambert
---
Stade Toulousain v Stade Français Paris
Stade Ernest Wallon, Toulouse
Once the highlight of the season, the clash between France's most decorated clubs has lost some of it's shine, mainly due to Stade Français's inability to win outside of the capital.
Defending champions Toulouse have lost contact with the leading duo and direct qualification for the semi-finals seems unlikely but with their European campaign over prematurely, it's safe to say they'll be in the running for the title at the sharp end of the season, even if they have a difficult run-in.
Stade Français have a budget deficit of six million Euros yet president and benefactor Thomas Savare has announced they will have 'more ambitious' recruitment next season, admitting that he is likely to have to dig into his own pockets, again.
There has been some contract movement in Toulouse, where Luke Burgess has confirmed he is heading back to Australia a year before the end of his contract but Yohan Huget has inked a three-year extension.
On the injury front, Romain Millo-Chlusky, Gary Botha, Florian Fritz and Yann David are absent and Maxime Medard is doubtful.
Guy Novés said it felt "somewhat like the start of the season" given the number of players returning from international duty.
"We feel like we're finally living a normal season since we have our players available until their departure to New Zealand (on tour with France in June)," said Novés, who saw eight of his players appear in France's Six Nations-ending 23-16 victory over Scotland last week.
"We're taking pleasure in seeing everyone again," said Novés.
"We've gone through such tough moments over the last few weeks that the simple pleasure of seeing everyone again is doing us all a lot of good."
Previous result: Stade Français won 28-24
Prediction: Toulouse at seldom beaten at home. Toulouse by ten points
Kick-off: 20.45 (19.45 GMT)
Referee: Sébastien Clouté