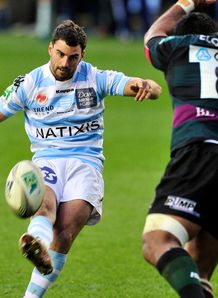 Four penalties from the boot of Racing Métro fly-half Jonathan Wisniewski clinched a narrow 12-6 win over Clermont Auvergne.
The defences of both sides proved too powerful as both attacks failed to find a breakthrough, with Clermont fly-half Brock James levelling the scores at 6-6 after 61 minutes.
Wisniewski however struck with penalties in the 68th and 80th minutes to seal the win and move Racing up to 7th in the Top 14 table.
Clermont, who saw loosehead prop Raphael Chaume handed a yellow card in the first half, move into second place in the league after claiming an important losing bonus point to move about Toulouse, who face Agen this weekend.
The scorers:
For Racing Métro:
Pens: Wisniewski 4
For Clermont:
Pens: James 2
Racing Métro 92: 15 Juan Martin Hernandez, 14 Julien Jane, 13 Henry Chavancy, 12 Olly Barkley, 11 Juan Imhoff, 10 Jonathan Wisniewski, 9 Sebastien Descons, 8 Jacques Cronje, 7 Bernard Le Roux, 6 Antoine Battut, 5 Manuel Carizza, 4 Fabrice Metz , 3 Juan Pablo Orlandi, 2 Benjamin Noirot, 1 Julien Brugnaut.
Replacements: 16 Thomas Bianchin, 17 Eddy Ben Arous, 18 Francois Van der Merwe, 19 Jone Qovu, 20 Mathieu Belie, 21 Guillaume Bousses, 22 Masinivanua Matadigo, 23 Mikaele Tuugahala.
ASM Clermont Auvergne: 15 Anthony Floch, 14 Naipolioni Nalaga, 13 Aurelien Rougerie, 12 Regan King, 11 Sitiveni Sivivatu, 10 Brock James, 9 Ludovic Radosavljevic, 8 Julien Bonnaire, 7 Alexandre Lapandry, 6 Gerhard Vosloo, 5 Nathan Hines, 4 Jamie Cudmore, 3 Daniel Kotze, 2 Ti'i Paulo, 1 Raphael Chaume.
Replacements: 16 Benoit Cabello, 17 Thomas Domingo, 18 Julien Pierre, 19 Elvis Vermeulen, 20 Kevin Senio, 21 Benson Stanley, 22 Jean Marcellin Buttin, 23 Adrien Oleon.