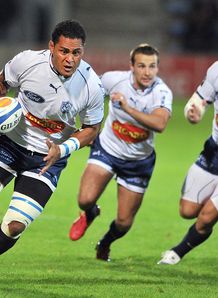 Agen will be out for their third tournament win of the season when they welcome Cammi Rugby Calvisano to Stade Alfred Armandie.
Bath Rugby are out on their own as Pool winners with 24 points banked with a game to go and Agen and Calvisano have only pride to play for.
Calvisano did beat Bucharest Wolves in Round 5 to ensure they would not finish winless but went down 36-31 to Agen in Round 1.
Lock Jaco Erasmus crossed for two tries but the Italians were edged out 5-4 in the try count althoughs both clubs picked up try bonus points.
Agen have lost just once in 15 Amlin Challenge Cup encounters with Italian clubs, a 22-17 defeat to Viadana in 2004.
Calvisano have lost all eight of their away games in this competition, conceding an average of 40 points in these games.
Agen: 15 Louis Bataille, 14 Belisario Agulla, 13 Vincent Roux, 12 Benjamin Petre, 11 Romain Edmond-Samuel, 10 Raphael Lagarde, 9 Alexi Bales, 8 Uelenitoni Fono, 7 Pierre Julien, 6 Antoine Erbani, 5 Damien Lagrange, 4 William Demotte, 3 Gert Muller, 2 Semisi Telefoni, 1 John Schwalger.
Replacements: 16 Julien Janaudy, 17 Yannick Pitton, 18 Viliamu Afatia, 19 Léo Bastien, 20 Remi Vaquin, 21 Sylvain Dupuy, 22 Silvere Tian, 23 Leka Tagotago.
Calvisano: 15 Shaun Berne, 14 Pablo Canavosio, 13 Andy Vilk, 12 Tommy Castello, 11 Ben De Jager, 10 Paul Griffen, 9 Gullo Palazzani, 8 Samu Vunisa, 7 Stefano Scanferla, 6 Giacomo Brancoli, 5 Filippo Gerosa, 4 Jaco Erasmus, 3 Salvatore Costanzo, 2 Gabriele Morelli, 1 Andrea Lovotti.
Replacements: 16 Andrea Gavazzi, 17 Marco Coletti, 18 Elia Violi, 19 Paino Hehea, 20 Michele Andreotti, 21 Gabriele Cicchinelli, 22 Simon Picone, 23 Giovanni Frapporti.
Date: Friday, January 18
Kick-off: 20:00 (19:00 GMT)
Venue: Stade Armandie
Referee: Ian Tempest (England)
Assistant referees: David Rose (England), Nigel Carrick (England)
Assessor: Bertie Smith (Ireland)