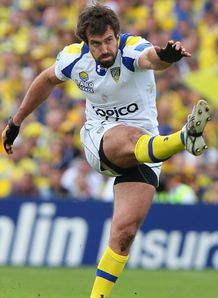 Two late Brock James penalties saw Clermont Auvergne come from behind to win 28-24 against Bordeaux-Begles in the Top 14.
Bordeaux took the lead late in the second half thanks to tries from flanker Louis Benoit Madaule and hooker Wayne Avei to put the hosts into a surprise lead, before James struck with two penalties in the final seven minutes.
Regan King's try on the 50th minute edged Clermont ahead after a narrow first half saw Camille Lopez and David Skrela trade penalties, with Clermont scrum-half Ludovic Radosavljevic adding a drop goal.
The hosts however were unable to hang on to a 22-24 lead before James struck, giving Clermont's much-changed side a narrow win.
The scorers:
For Bordeaux-Begles:
Try: Maduale, Avei
Pens: Lopez 4
Con: Lopez
Yellow Card: Le Bourhis

For Clermont:
Try: King
Pens: Skrela 3, James 2
Con: Skrela
Drop Goals: Radosavljevic, Skrela
Bordeaux-Bègles: 15 Bruce Reihana, 14 Meutisela Talebula, 13 Felix Le Bourhis, 12 Andrew Mailei, 11 Blair Connor, 10 Camille Lopez, 9 Heinie Adams, 8 Hugo Chalmers, 7 Justin Purll, 6 Louis Benoit Madaule, 5 Adam Jaulhac, 4 Francois Tisseau, 3 Silviu Florea, 2 Wayne Avei, 1 Laurent Delboulbes
Replacements: 16 Hikairo Forbes, 17 Franck Labbe, 18 Cameron Treloar, 19 Matthew Clarkin, 20 Gautier Gibouin, 21 Baptise Serin, 22 Federico Nicolas Sanchez,  23 Tamato Leupolu.
Clermont: 15 Jean Marcellin Buttin, 14 Noa seru Nakaitaci, 13 Benson Stanley, 12 Regan King, 11 Julien Malzieu; 10 David Skrela, 9 Ludovic Radosavljevic, 8 Julien Bardy, 7 Elvis Vermeulen (coffee), 6 Alexandre Lapandry, 5 Julien Pierre, 4 Loic Jacquet, 3 Daniel Kotze, 2 Ti'i Paulo, 1 Vincent Debaty
Replacements: 16 Benoit Cabello, 17 Thatch, 18 Nathan Hines, 19 Kolelishvili, 20 Kevin Senio, 21 Brock James, 22 Anthony Floch, 23 Oleon.