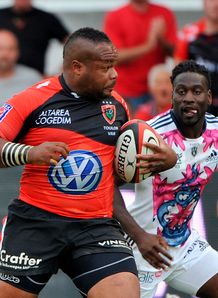 Related links
Also see
Thursday sees a full round of Top 14 fixtures on a public holiday that does not bode well for Stade Français, who head to Toulon.
November 1 is All Saints' Day in France which is followed by La fête des morts (Day of the Dead) when people bring flowers to the graves of dead relatives.
Stade Français's season was looking rather dead until last weekend's victory over Toulouse in Paris revived their fortunes but they must now head to Toulon, were many dreams have already been killed this season.
Toulon lead 2010 champions Clermont - who are away to struggling Agen - by five points after nine games while champions Toulouse are third, eight points adrift of the leaders.
Toulouse can sympathise with Stade over their problems away from home as their defeat last Saturday was their third of the season, so they will be looking to at least stay in touch with the leading duo when they entertain an inconsistent Racing-Metro outfit.
Elsewhere, Biarritz travel to giant-slayers Grenoble while Perpignan face a mid-table clash in Castres.
Mont-de-Marsan are already dead and buried. A trip to Montpellier is unlikely to help their cause.
Fixtures:
Thursday, November 1
Grenoble v Biarritz Olympique
Agen v Clermont
Bayonnais v Bordeaux-Bègles
Castres v Perpignan
Montpellier v Mont-de-Marsan
Toulon v Stade Français
Stade Toulouse v Racing Métro
Standings:
1 Toulon 37
2 Clermont 32
3 Toulouse 29
4 Montpellier 27
5 Castres 24
6 Grenoble 22
7 Biarritz 20
8 Racing-Metro 20
9 Perpignan 20
10 Stade Français 19
11 Bordeaux 15
12 Bayonne 15
13 Agen 14
14 Mont-de-Marsan 2
Previews:
FC Grenoble v Biarritz Olympique
Stade Lesdiguières, Grenoble
Incredibly, Grenoble are undefeated at Stade Lesdiguières as they continue to upset the predictions by lying in sixth place.
After defeat in Montpellier last week, les Grenoblois will be hoping to profit from the return of loose forward Shaun Sowerby to maintain their perfect home record.
For Biarritz, the situation is vastly different as they hit the road on the back of five consecutive losses. The Basques' strong start to the season and their last victory in early September are now distant memories.
Previous result Biarritz won 39-7 in 2005
Prediction: Grenoble have earned their stripes on home soil. Grenoble by eight points
Kick-off: 14.15 (13.15 GMT)
Referee: Mathieu Raynal
---
SU Agen v ASM Clermont Auvergne
Stade Armandie, Agen
Agen are in a spot of bother having dropped back into the relegation zone following last week's loss at home to Castres.
Clermont will thus travel west with the aim of picking up five points and with hopes of keeping up with Toulon at the top of the standings.
With a bunch of players set to head off on international duty over the next month, les Jaunards will want to make hay while the sun shines.
Clermont's attacking prowess has been well documented but they also currently have the best defensive record in France.
Results last season: Clermont won both games: 29-10 away; 29-13 at home
Prediction: The visitors should have too much firepower. Clermont by ten points
Kick-off: 14:30 (13.30 GMT)
Referee: Christophe Berdos
---
Aviron Bayonnais v Union Bordeaux-Bègles
Stade Jean Dauger, Bayonne
A true battle of the basement with the losers set to be in trouble. Level on points, just one clear of the relegation zone, neither side can afford a slip up.
It will be interesting to note how Bayonne react to their humiliating drubbing in Toulon last weekend.
These teams have met four times over the past year as they were pooled together in last season's Amlin Challenge Cup. Bayonne won both European games but UBB won both clashes in the Top 14.
Indeed, Thursday's visitors will take confidence from their success last term at Jean Dauger, where the hosts have lost three times this season already.
Results last season: Bordeaux won both games: 27-20 away and 18-6 at home
Prediction: Bayonne have shown enough to merit backing in this one. Bayonne by six points
Kick-off: 14:30 (13.30 GMT)
Referee: Jean-Pierre Matheu
---
Castres Olympique v USA Perpignan
Stade Pierre Antoine, Castres
This could be the game of Round Ten as Perpignan look to become the first team to win at Stade Pierre Antoine this season, in any competition.
The hosts will start as favourites considering that USAP have no more than two losing points to shown for their four road trips this term.
But the Catalans will take confidence from their solid win over Racing Metro last week, a result which left them just two points short of the play-off places.
Perpignan welcome back French international centre David Marty from a long injury layoff.
Results last season: Castres won 33-6 at home; Perpignan won 25-6 at home
Prediction: Castres have an impressive home record but Perpignan are in good form. Castres by less than seven
Kick-off: 14:30 (13.30 GMT)
Referee: Jérôme Garcès
---
Montpellier HR v Stade Montois
Stade Yves Du Manoir, Montpellier
Mont-de-Marsan seem completely out of their depth in France's top division. Without a win in nine games, a trip to fourth-placed Montpellier is unlikely to revive their fortunes.
Montpellier have been looking to give the ball plenty of air and have named a strong squad, so a big score is on the cards.
Previous result: Montpellier won 33-6 in 2009
Prediction: No mystery here. Montpellier to win with a bonus point
Kick-off: 14:30 (13.30 GMT)
Referee: Patrick Pechambert
---
RC Toulonnais v Stade Français Paris
Stade Felix Mayol, Toulon
Toulon won the last of their three French titles in 1993 but the way they have been playing suggests they could end the drought this season.
Stade Français have an excellent home record but on their travels it has been another matter as they come into this game with four defeats and a narrow win over struggling Mont-de-Marsan in their away games so far.
Whilst the impressive home win over Toulouse last Saturday will stand them in good stead, a trip to Toulon is not the easiest way to remedy their away woes.
Stade have not beaten Toulon away since 2008 - the year after their 13th and last French title - and with the hosts having thrashed Bayonne 59-0 in their previous home game last Saturday the signs are ominous for Stade.
Toulon's head coach Bernard Laporte is not one for hyperbole but even he was swept up with the rugby played in the demolition of Bayonne and will be looking for more of the same against the club where he made his name as a coach.
"It is the first time that I have felt like kissing the players on the mouth after that performance," said the former France coach.
"Even my mother who is 72 years old appreciated the way we played. Now it is important for us to keep our feet on the ground and focus on the Stade match, who themselves are full of confidence after their defeat of Toulouse."
Volatile centre Mathieu Bastareaud, like Laporte another former Stade employee, is hoping he will start for the third successive match but is wary of his former side.
"They are a very strong side with plenty of young talent as has always been the case and they showed their spirit against Toulouse," said the 24-year-old centre, who added he did not take Laporte up on his offer of a kiss on the lips.
"It will be a difficult match for us, but I am looking forward to it as it is a special one always for me as they are the team that gave me my break and I still have several friends there," added Bastareaud, who played for Stade from 2007-2011 and made his international debut in 2009.
Stade captain Pascal Pape acknowledges it will be a stern test of the team's resolve but believes that the Toulouse result showed what they were capable of.
"The mental strength and spirit we showed as well as our good performance is just the thing we needed ahead of this trip," said the 32-year-old lock, who is set to captain France in the November Tests.
Results last season: 19-19 draw in Paris; Toulon won 34-8 at home
Prediction: Bet against RCT at home at your peril. Toulon by fifteen points
Kick-off: 14:30 (13.30 GMT)
Referee: Salem Attalah
---
Stade Toulousain v Racing Métro 92
Stade Ernest Wallon, Toulouse
Toulouse will be rueing a missed opportunity after letting victory slip from their hands in the dying moments at the Stade de France last week.
Like Clermont, Toulouse will want to get as many points in the bank before losing their international players for next weekend's clash against Montpellier. Toulouse have the best attack in the league but have been punished for a few defensive lapses this season.
Head coach Guy Novès looks set to restore former All Black Luke McAlister and Jean-Marc Doussain as the half-back partnership while French number eight Louis Picamoles could return from injury.
Novès does not seem unduly concerned by his team's inconsistent away form and indeed took some succour from the defeat by Stade.
"There were some very interesting things that came out of that match and which we will continue to build on," he said.
"The players are not always at their best level but their spirit is not in question and that will serve us well for what is to come."
Racing-Métro welcome back Julien Brugnaut and Mikaele Tuugahala while Pumas lock Manuel Carizza, who just arrived as a medical joker has also been included in the squad.
Results last season:Toulouse won both games: 41-36 at home and 19-13 in Paris
Prediction: Who can bet against the hosts in the Ville Rose? Toulouse by seven points
Kick-off: 16.15 (15.15 GMT)
Referee: Pascal Gaüzere