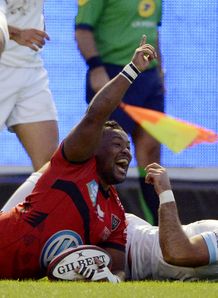 Toulon cemented their place at the summit of the Top 14 standings for another week with a eight-try demolition of Bayonne on Saturday.
At the other end of the table Mont-de-Marsan, have yet to win a game in nine starts after losing to Bordeaux-Bègles
Elsewhere, Castres won on the road in Agen while Montpellier were easy victors at home to Grenoble.
In the late game, James Hook kicked Perpignan to a narrow won over Racing Metro.
Earlier in the day, Sergio Parisse scored two tries to help Stade Français to victory over defendinf champions Toulouse.
Results:
Clermont v Biarritz - Report here
Stade Français 28-24 Toulouse - Report here
Agen 14-22 Castres Olympique
Mont-de-Marsan 12-17 Bordeaux-Bègles
Montpellier 23-6 Grenoble
Toulon 59-0 Bayonne
Perpignan 17-13 Racing Métro
---
RC Toulon 59-0 Aviron Bayonnais
Stade Felix Mayol, Toulon
The scoreline speaks for itself.
In the first half, into a headwind, Toulon kept ball in hand and ran riot, with Steffon Armitage scoring two of RCT's three tries to lead 24-0 at the break. Bayonme were unable to break into the hosts' 22m area.
It was more of the same in the second half as the hosts touched down five more time.
Jonny Wilkinson converted seven of the eight tries and kicked a penalty for a 17-point haul with Australian star Matt Giteau, who put pen to paper on a new two-year deal on Thursday, converting David Smith's last-minute try.
The scorers:
For Toulon:
Tries: S. Armitage 2, Botha, Martin, Orioli, D. Armitage, van Niekerk, Smith
Cons: Wilkinson 7, Giteau
Pens: Wilkinson
Toulon: 15 Delon Armitage, 14 Vincent Martin, 13 Mathieu Bastareaud, 12 Maxime Mermoz, 11 David Smith, 10 Jonny Wilkinson, 9 Frederic Michalak, 8 Juan martin Fernandez lobbe, 7 Steffon Armitage, 6 Joe van Niekerk, 5 Jocelino Suta, 4 Bakkies Botha, 3 Carl Hayman, 2 Jean charles Orioli, 1 Andrew Sheridan.
Replacements:16 Mickael Ivaldi, 17 Gethin Jenkins , 18 Nicholas Kennedy, 19 Chris Masoe, 20 Matt Giteau, 21 Benjamin Lapeyre, 22 Sebastien Tillous borde, 23 Davit Kubriashvili,
Bayonne: 15 Cedric Heymans , 14 Bastien Fuster, 13 Gabiriele Lovobalavu, 12 Matthieu Ugalde, 11 Loe Rokocoko, 10 Jacques-Louis Potgeiter, 9 Mike Phillips, 8 Marc Baget rabarou, 7 Julien Puricelli, 6 Guillaume Bernad, 5 Matt Graham, 4 Abdellatif Boutaty, 3 Vitolio Manukula, 2 Gregory Arganese, 1 Pierre Lafond
Replacements:16 David Roumieu, 17 Aretz Iguiniz, 18 Mark Chisholm, 19 Dwayne Haare, 20 Cedric Garcia, 21 Thibault Lacroix, 22 Scott Spedding, 23 Walter Desmaison.
---
Montpellier HR 23-6 FC Grenoble
Stade Yves Du Manoir, Montpellier
An impressive win for Montpellier, who are fourth in the standings.
Things started perfectly for the home side as Alex Tulou scored in the first minute. Montpellier led 13-6 at half time before their pack hit home their advantage in the second period with a penalty try on the hour mark.
The scorers:
For Montpellier:
Tries: Tulou, Penalty try
Cons: Bustos Moyano 2
Pens: Bustos Moyano 3
Yellow card: Figallo
For Grenoble:
Pens: Laharrague 2
Yellow cards: Jahouer, David
Montpellier:15 Lucas Gonzales amorosino, 14 Timoci Nagusa, 13 Thomas Combezou, 12 Shontayne Hape, 11 Martin Bustos Moyano, 10 Francois Trinh duc, 9 Benoit Paillaugue, 8 Alex Tulou, 7 Alexandre Bias, 6 Fulgence Ouedraogo, 5 Mamuka Gorgodze, 4 Thibaut Privat, 3 Giorge Jgenti, 2 Erasmus Jansen van vuuren, 1 Juan guillermo Figallo.
Replacements:16 Agustin Creevy, 17 Mikheil Nariashvili, 18 Alikisio Fakate, 19 Remy Martin, 20 Julien Tomas, 21 Santiago Fernandez, 22 Yoan Audrin, 23 Maximiliano Bustos,
Grenoble:15 Fabien Gengenbacher, 14 Lucas Dupont , 13 Rida Jaouher, 12 Aloisio Butonidualevu, 11 Matthieu Nicolas, 10 Nicolas Laharrague, 9 Jonathan Pelissie, 8 Fabien Alexandre, 7 Jonathan Best, 6 Roland Bernard, 5 Andrew Farley, 4 Benjamin Hand, 3 Feliuaki Taukeiaho, 2 Anthony Hegarty, 1 Romain David.
Replacements:16 Kenan Mutapcic, 17 Vincent Campo castillo, 18 Naude Beukes, 19 Henry Vanderglas, 20 Nigel Hunt, 21 Blair Stewart, 22 Valentin Courrent, 23 Dayna Edwards.
---
Stade Montois 12-17 Union Bordeaux-Bègles
Stade Guy Boniface, Mont-de-Marsan
A huge win for Bordeaux as they climb out of the relegation zone and up to 11th, above Bayonne and Agent.
The result also almost assures Mont-de-Marsan will drop out of the Top 14 next season with only two losing bonus points to show from their nine games.
The scorers:
For Mont-de-Marsan:
Pens: Vignau tuquet 4
For Bordeaux-Bègles:
Tries: Chalmers, Clarkin
Cons: Lopez 2
Pens: Lopez
Yellow card: Toetu
Mont-de-Marsan15 Jean marc Mazzonetto, 14 Martin Jagr, 13 Baptiste Chedal, 12 Daniele Baleinadogo, 11 Jean baptiste Dubie, 10 Antoine Vignau tuquet, 9 Laurent Magnaval, 8 Alexandre Ricaud, 7 Vassili Bost, 6 Julien Tastet, 5 Berend Botha, 4 Scott Murray, 3 Sebastien Ormaechea, 2 Ephraim Taukafa, 1 Alexandre Menini,
Replacements:16 Joan Caudullo, 17 Pierre Correia, 18 Wame Lewaravu, 19 Philipus Liebenberg, 20 Arnaud Pic, 21 Thibault Duvallet, 22 Yohann Durquet, 23 Tevita Mailau,
Bordeaux-Bègles15 Bruce Reihana, 14 Metuisela Talebulamaijaina, 13 Julien Rey , 12 Andrew Mailei , 11 Felix Le bourhis, 10 Camille Lopez, 9 Heini Adam,s 8 Matthew Clarkin, 7 Hugh Chalmers , 6 Louis benoit Madaule , 5 Adam Jaulhac, 4 Justin Purll, 3 Albert Toetu, 2 Wayne Avei, 1 Laurent Delboulbes.
Replacements:16 Fabien Rofes, 17 Franck Labbe, 18 Cameron Treloar, 19 Gautier Gibouin, 20 Julien Seron , 21 Frederico nicolas Sanchez, 22 Darly Domvo, 23 Jefferson Poirot,
---
SU Agen 14-22 Castres Olympique
Stade Armandie, Agen
Agen stumble to their third defeat on home soild this season and slip back into the relegation zone as a result.
Castres were the better side in every phase of the game as they claimed an important away victory in the race for the play-offs.
It was 9-all at half time but Castres took the game by the scruff of the neck in the second half with Yannick Caballero's try just before the hour mark putting the result beyond doubt.
The scorers:
For Agen:
Try: Petre
Pens: Barnard 3
For Castres:
Try: Caballero
Cons: Kockott
Pens: Kockott 5
Agen :15 Gregory Goosen, 14 Belisario Agulla, 13 Senio junior Pelesasa, 12 Jamie peter Robinson, 11 Jean francois Coux, 10 Conrad Barnard, 9 Alexi Bales, 8 Opeti Fonua, 7 Ueleni Fono, 6 Remi Vaquin, 5 Ross Skeate, 4 Esteban Lozada, 3 Euan Murray, 2 Jalil Narjissi, 1 Bernard N nomo,
Replacements:16 Julien Janaudy, 17 Laurent Cabarry, 18 Leo Bastien, 19 Marc Giraud, 20 Mathieu Loree, 21 Raphael Lagarde, 22 Benjamin Petre, 23 Viliamu Afatia,
Castres: 15 Brice Dulin, 14 Romain Martial, 13 Paul Bonnefond, 12 Seremaia Bai, 11 Marc Andreu, 10 Remi Tales , 9 Rory Kockott, 8 Antonie Claassen, 7 Yannick Caballero, 6 Jan de bruin Bornman, 5 Iosefa Tekori, 4 Matthias Rolland, 3 Anton Peikrishvili , 2 Brice Mach, 1 Mihaita Lazar,
Replacements:16 Mathieu Bonello, 17 Saimone Taumoepeau, 18 Rodrigo Capo ortega , 19 Piula Faasalele, 20 Romain Teulet, 21 Daniel Kirkpatrick, 22 Romain Cabannes, 23 Michael Coetzee.
---
USA Perpignan 17-13 Racing-Métro 92
Stade Aimé Giral, Perpignan
USAP claim a crucial victory to keep their hopes of place in Europe next season alive. The result leaves the Catalans level with Racing and Biarritz just outside the top six.
James Hook was the hero for Perpignan once again as he landed a late penalty and then a drop goal to snatch victory for the hosts.
Perpignan led 11-6 at the interval thanks to their dominant scrum which forced Racing prop Eddy Ben Arous to cough up a yellow card and the numerical advantage led to Sona Taumalolo's try for the home side.
Racing regained the lead in the second half when loose forward Masinivanua Matadigo scored soon after the break but Hook would have the last laugh.
The scorers:
For Perignan:
Try: Taumalolo
Pens: Hook 3
Drop: Hook
For Racing-Métro:
Try: Matadigo
Con: Machenaud
Pens: Hernandez 2
Yellow card: Ben arous
Perpignan:15 Gavin Hume, 14 Farid Sid, 13 Lifeimi Mafi, 12 Sione Piukala, 11 Adrien Plante, 10 James Hook, 9 Florian Cazenave, 8 Luke Narraway, 7 Bertrand Guiry, 6 Alasdair Strokosch, 5 Sebastien Taofifenua, 4 Luke Charteris, 3 Nicolas Mas, 2 Guilhem Guirado, 1 Sona Taumalolo.
Replacements:16 Romain Terrain, 17 Jeremy Castex, 18 Sebastien Vahaamahina, 19 Daniel Leo, 20 Joffrey Michel, 21 Armand Batlle, 22 Richard Haughton, 23 Jerome Schuster.
Racing-Métro: 15 Benjamin Fall, 14 Julien Jane, 13 Henry Chavancy, 12 Fabrice Estebanez, 11 Juan Imhoff , 10 Juan martin Hernandez, 9 Maxime Machenaud, 8 Masinivanua Matadigo, 7 Alvaro Galindo , 6 Camille Gerondeau, 5 Jone Qovu, 4 Fabrice Metz, 3 Luc Ducalcon, 2 Dimitri Szarzewski, 1 Eddy Ben arous.
Replacements:16 Benjamin Noirot, 17 Andrea Lo cicero, 18 Jacques Cronje, 19 Antoine Battut, 20 Sebastien Descons, 21 Olly Barkley , 22 Mirco Bergamasco, 23 Salemane Sa.