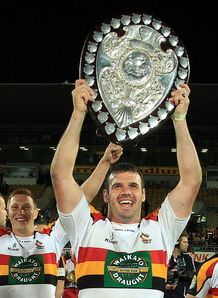 Waikato coach Chris Gibbes has made just one change to his starting XV for Saturday's Ranfurly Shield clash with Hawke's Bay.
Tim Mikkelson is on Sevens duty so Joe Webber comes onto the wing in his place with uncapped winger Navi Sikivou retaining his spot on the bench from the Counties Manukau match.
Gibbes has rewarded the players who did the job so well in New Plymouth but he said their work is certainly not finished yet.
"We are happy with our current form but the job isn't done. Our focus is on winning the shield again [against Hawke's Bay] and to make sure we lock it away for the summer," Gibbes said.
"Hawke's Bay will be up for the challenge and we know we will need to be at our best."
The Ranfurly Shield has seen a revival of sorts among Waikato supporters and Gibbes hopes that will translate into a good-sized crowd on Saturday.
"Hopefully having the shield will generate some interest with our fans and these boys can get the support they deserve for the last game of the season."
Waikato: 15 Trent Renata, 14 Declan O'Donnell, 13 Save Tokula, 12 Jackson Willison, 11 Joe Webber, 10 Sam Christie, 9 Tawera Kerr-Barlow, 8 Alex Bradley (c), 7 Zak Hohneck, 6 Matt Vant Leven, 5 Sam Kilgour, 4 Romana Graham, 3 Ben May, 2 Marcel Cummings-Toone, 1 Toby Smith.
Replacements: 16 Vance Elliott, 17 Latu Talakai/Ted Tauroa, 18 Anthony Wise, 19 Rory Grice, 20 Brendon Leonard, 21 Piers Francis, 22 Navi Sikivou.
Hawke's Bay: tbc