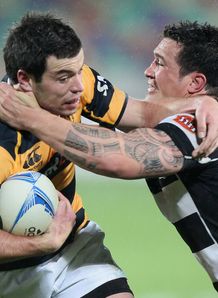 Taranaki beat Hawke's Bay 22-6 in wet and windy conditions to retain the Ranfurly Shield for a second successive week.
The teams were scoreless at half-time in New Plymouth, but Taranaki turned it on after the break as the hosts outscored their visitors three tries to nill with Kurt Baker, Jayden Hayward and Scott Waldrom all touching down.
Hawke's Bay fly-half Daniel Waenga could only manage six points from the tee, but it could have been more had he not missed three of his five penalty attempts.
In contrast, Taranaki's replacement pivot Jack Cameron was flawless with the boot thanks to his two conversions and a penalty after replacing James Marshall with just over 20 minutes to go.
The win stretches the Amber and Blacks' Ranfurly Shield reign to five matches, whilst at the same time bagging another four ITM Cup points - three games, three wins, 14 competition points.
The scorers:
For Taranaki:
Tries: Baker, Hayward, Waldrom
Cons: Cameron 2
Pen: Cameron
For Hawke's Bay:
Pens: Waenga 2
Taranaki: 15 Kurt Baker, 14 Waisake Naholo, 13 Willie Rickards, 12 Jayden Hayward, 11 Jackson Ormond, 10 James Marshall, 9 Chris Smylie, 8 Blade Thomson, 7 Scott Waldrom, 6 Kane Barrett, 5 Jason Eaton, 4 Craig Clarke (c), 3 Michael Bent, 2 Laurence Corlett, 1 Chris King.
Replacements: 16 Timo Tutavaha, 17 Sione Lea, 18 James Broadhurst, 19 Jarrad Hoeata, 20 Chris Walker, 21 Brett Goodin, 22 Jack Cameron.
Hawke's Bay: 15 Gillies Kaka, 14 Tino Nemani, 13 Tua Saseve, 12 Andrew Horrell, 11 Nick McLennan, 10 Daniel Waenga, 9 Chris Eaton, 8 Mike Coman (c), 7 Karl Lowe, 6 Adam Bradey, 5 Johan Schoonbee, 4 Ross Kennedy, 3 Ben Tameifuna, 2 Hika Elliot, 1 Adrian Barone.
Replacements: 16 Ash Dixon, 17 Brendon Edmonds, 18 Maselino Paulino, 19 Trent Boswell-Wakefield, 20 Isaac Paewai, 21 Ihaia West, 22 Marvin Karawana.