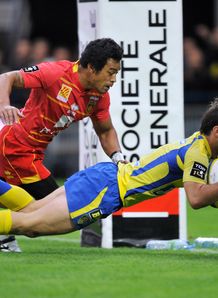 Perpignan slumped to their third consecutive defeat on Saturday despite providing four of the eleven tries scored in Clermont!
Toulon scored their third straight win on the road in Mont-de-Marsan where they also collected a bonus point to move level at the top of the standings with Biarritz.
Montpellier ran four tries past Agen to secure a bonus point while Castres scored three tries in their second consecutive win at home over Bayonne.
Racing couldn't get over the whitewash but were nevertheless too strong for Bordeaux-Bègles in Paris.
Earlier in the day, Biarritz stayed top of the table thanks to victory over Toulouse.
Results:
Grenoble v Stade Français - Match report here
Biarritz 22-17 Toulouse - Match report here
Castres 31-10 Bayonne
Clermont 53-31 Perpignan
Montpellier 32-15 Agen
Racing Métro 18-7 Bordeaux-Bègles
Mont-de-Marsan 15-29 Toulon
---
ASM Clermont Auvergne 53-31 USA Perpignan
Parc des Sports Marcel Michelin, Clermont Ferrand
A crazy game as Clermont outscored USAP seven tries to four to climb.
Perpignan's evening got off to the worst possible start when veteran prop Nicolas Mas was forced off after just five minutes with a torn hamstring. He is expected to be out for six to eight weeks
The result never looked in doubt when Clermont headed to the changing rooms with a 27-10 lead. But when Luke Narraway and Lifeimi Maf touched down in the space of four minutes, it looked like the hosts might miss out on the bonus despite their six tries.
But Julien Bonnaire's second try of the afternoon ensured that Clermont would get all five points and climb into the leading trio.
The scorers:
For Clermont:
Tries: Bonnaire 2, Parra, Nakaitaci, Jacquet, Vermeulen, Stanley
Cons: Parra 6
Pens: Parra 2
For Perpignan:
Tries: Piukala 2, Narraway, Mafi
Cons: Bosch 2, Mele
Pen: Bosch
Clermont:15 Lee Byrne, 14 Sitiveni Sivivatu , 13 Benson Stanley , 12 Wesley Fofana , 11 Naipolioni Nalaga , 10 Brock James , 9 Morgan Parra, 8 Damien Chouly, 7 Alexandre Lapandry, 6 Julien Bonnaire, 5 Nathan Hines, 4 Loic Jacquet, 3 Davit Zirakashvili, 2 Ti'i Paulo, 1 Vincent Debaty.
Replacements: 16 Benoit Cabello , 17 Thomas Domingo , 18 Julien Pierre, 19 Elvis Vermeulen, 20 Ludovic Radosavljevic, 21 Regan King, 22 Noa seru Nakaitaci, 23 Daniel Kotze,
Perpignan:15 Gavin Hume, 14 Farid Sid, 13 Lifeimi Mafi, 12 Sione Piukala, 11 Armand Batlle, 10 Gilles Bosch, 9 Florian Cazenave, 8 Luke Narraway, 7 Daniel Leo, 6 Jean pierre Perez, 5 Robins Tchale watchou, 4 Luke Charteris, 3 Nicolas Mas, 2 Guilhem Guirado, 1 Sona Taumalolo.
Replacements: 16 Romain Terrain, 17 Jerome Schuster, 18 Sebastien Vahaamahina, 19 Bertrand Guiry, 20 David Mele, 21 Richard Haughton, 22 Alasdair Strokosch, 23 Jeremy Castex,
---
Castres Olympique 31-10 Aviron Bayonnais
Stade Pierre Antoine, Castres
A dominant performance from Castres underlined their credentials as play-off contenders.
Jean Marmouyet's early score gave Bayonne a 7-0 lead but Castres soon took control of the match to record their second win.
Another excellent kicking display from Rory Kockott and two well-worked second half tries from wing Romain Martial and lock Rodrigo Capo Ortega ensured victory for CO.
The scorers:
For Castres:
Tries: Dulin, Martial, Capó Ortega
Cons: Kockott 2
Pens: Kockott 4
For Bayonne:
Try: Marmouyet
Con: Potgeiter
Pen: Garcia
Castres:15 Brice Dulin, 14 Romain Martial , 13 Romain Cabannes , 12 Daniel Kirkpatrick , 11 Marc Andreu , 10 Pierre Bernard , 9 Rory Kockott, 8 Iosefa Tekori, 7 Yannick Caballero, 6 Jan de bruin Bornman, 5 Rodrigo Capo ortega, 4 Matthias Rolland, 3 Karena Wihongi, 2 Brice Mach, 1 Saimone Taumoepeau,
Replacements: 16 Marc antoine Rallier , 17 Mihaita Lazar , 18 Christophe Samson, 19 Antonie Claassen, 20 Romain Teulet, 21 Seremaia Baikeinuku, 22 Maxwell Evans, 23 Michael Coetzee,
Bayonne:15 Cedric Heymans , 14 Bastien Fuster, 13 Thibault Lacroix, 12 Gabiriele Lovobalavu, 11 Joe Rokocoko, 10 Jacques louis Potgeiter, 9 Cedric Garcia, 8 Marc Baget, 7 Jean joseph Marmouyet, 6 Dwayne Haare, 5 Mark Chisholm, 4 Abdellatif Boutaty, 3 Renaud Boyoud, 2 Gregory Arganese, 1 Aretz Iguiniz.
Replacements: 16 David Roumieu, 17 Vitolio Manukula, 18 Robin Linde, 19 Julien Puricelli, 20 Mike Phillips, 21 Benjamin Boyet, 22 Lionel Mazars, 23 Nemiah Tialata.
---
Montpellier Hérault Rugby 32-15 SU Agen
Stade Yves Du Manoir, Montpellier
Montpellier backed-up their win over Clermont last week with a bonus-point victory at home.
The hosts led 10-3 at the break but Agen competed well and it was anyone's game at the hour mark.
However three tries in the last quarter ( Carraro, Nagusa, Tomas) ensured that Montpellier finished the weekend in the top half of the standings.
The scorers:
For Montpellier:
Tries: Jgenti, Carraro, Nagusa, Tomas
Cons: Paillaugue 2, Tomas
Pens: Paillaugue 2
For Agen:
Pens: Barnard 5
Yellow cards: Erbani (Agen - 26th min); Watremez (Montpellier - 78th min); Agula (Agen - 78th min)
Montpellier:15 Jean baptiste Peyras, 14 Timoci Nagusa, 13 Matthew Carraro, 12 Shontayne Hape, 11 Yohann Artru, 10 Francois Trinh duc, 9 Benoit Paillaugue, 8 Alex Tulou, 7 Remy Martin, 6 Fulgence Ouedraogo, 5 Mamuka Gorgodze, 4 Hendrikus Hancke, 3 Giorge Jgenti, 2 Michael Ladhuie, 1 Mikheil Nariashvili.
Replacements: 16 Erasmus Jansen van vuuren, 17 Yvan Watremez, 18 Thibaut Privat, 19 Alexandre Bias, 20 Julien Tomas, 21 Thomas Combezou, 22 Pierre Berard, 23 Vincent Pelo.
Agen:15 Silvere Tian, 14 Jean francois Coux, 13 Benjamin Petre, 12 Junior Pelesasa, 11 Romain Edmond Samuel, 10 Conrad Barnard, 9 Sylvain Dupuy, 8 Remi Vaquin, 7 Ueleni Fono, 6 Jean Monribot, 5 Ross Skeate, 4 Esteban Lozada, 3 Euan Murray, 2 Jalil Narjissi, 1 Bernard N nomo.
Replacements: 16 Semisi Telefoni, 17 John Schwalger, 18 William Demotte, 19 Antoine Erbani, 20 Mathieu Loree, 21 Raphael Lagarde, 22 Belisario Agulla, 23 Jonathan Garcia.
---
Racing-Métro 18-7 Union Bordeaux-Bègles
Stade Yves Du Manoir - Colombes (Paris)
It wasn't pretty but Racing were pateint enough to get the job done, thanks to the accurate goal-kicking of full-back Gaetan Germain, who landed all the hosts points from the tee.
UBB scored the only try of the game in the 78th minutes when lock Cameron Treloar finished off a 100m long counter attack, thanks to super work from centre Andrew Mailei.
The scorers:
For Racing-Métro:
Pens: Germain 6
For Bordeaux-Bègles:
Try: Treloar
Con:Treloar
Yellow cards: Battut (Racing- 49th min) ; Clarkin (UBB - 63rd min)
Racing-Métro:15 Gaetan Germain, 14 Virimi Vakatawa, 13 Henry Chavancy, 12 Fabrice Estebanez, 11 Julien Jane, 10 Benjamin Dambielle, 9 Maxime Machenaud, 8 Masinivanua Matadigo, 7 Bernard Le roux, 6 Antoine Battut, 5 Francois Van der merwe, 4 Karim Ghezal, 3 Luc Ducalcon, 2 Dimitri Szarzewski, 1 Julien Brugnaut.
Replacements: 16 Thomas Bianchin , 17 Eddy Ben arous , 18 Fabrice Metz, 19 Camille Gerondeau, 20 Mathieu Belie, 21 Jonathan Wisniewski, 22 Alexandre Dumoulin, 23 Salemane Sa.
Bordeaux-Bègles:15 Bruce Reihana, 14 Thierry Brana, 13 Felix Le bourhis, 12 Andrew Mailei, 11 Blair Connor, 10 Camille Lopez, 9 Heini Adams, 8 Matthew Clarkin, 7 Hugh Chalmers, 6 Gautier Gibouin, 5 Francois Tisseau, 4 Cameron Treloar, 3 Silviu Florea, 2 Fabien Rofes, 1 Jefferson Poirot.
Replacements: 16 Wayne Avei, 17 Laurent Delboulbes, 18 Adam Jaulhac, 19 Sisa Koyamaibole, 20 Emmanuel Saubusse, 21 Metuisela Talebulamaijaina, 22 Darly Domvo, 23 Albert Toetu.
---
Stade Montois 15-29 RC Toulon
Stade Guy Boniface, Mont-de-Marsan
Mont-de-Marsan enjoyed territorial dominance in the first half but Toulon led 14-12 at the break thanks to a try from Steffon Armitage.
Toulon looked in a spot of bother when Thibault Duvallet landed his fifth penalty to put the hosts in front on 65 minutes.
But two late tries courtesy of the Toulon back row bagged a bonus point and the joint championship lead for Bernard Laporte's army.
For Mont-de-Marsan:
Pens: Duvallet 5
For Toulon:
Tries: S.Armitage, Van Niekerk, Gunther
Cons: Wilkinson
Pens: Wilkinson 2
Yellow cards: Botha (Toulon - 80th min - high tackle)
Mont-de-Marsan:15 Yohann Durquet, 14 Martin Jagr, 13 Jean baptiste Dubie, 12 Baptiste Chedal, 11 Nicholas Price, 10 Thibault Duvallet , 9 Arnaud Pic, 8 Alexandre Ricaud, 7 Johannes Britz, 6 Julien Tastet, 5 Berend Botha, 4 Sebastian De chaves, 3 Sebastien Ormaechea, 2 Joan Caudullo, 1 Alexandre Menini.
Replacements: 16 Pieter Grobler, 17 Pierre Correia, 18 Philipus Liebenberg, 19 Haisini Taulanga, 20 Laurent Magnaval, 21 Julien Cabannes, 22 Bernard Arrayet, 23 Tevita Mailau.
Toulon:15 Delon Armitage, 14 Vincent Martin, 13 Mathieu Bastareaud, 12 Maxime Mermoz, 11 Benjamin Lapeyre, 10 Jonny Wilkinson, 9 Nicolas Durand, 8 Joe Van niekerk, 7 Steffon Armitage, 6 Pierrick Gunther, 5 Jocelino Suta, 4 Bakkies Botha, 3 Davit Kubriashvili, 2 Sebastien Bruno, 1 Andrew Sheridan.
Replacements: 16 Mickael Ivaldi, 17 Gethin Jenkins, 18 Simon Shaw, 19 Nicholas Kennedy, 20 Matthew Giteau, 21 Luke Rooney, 22 Frederic Michalak, 23 Carl Hayman.