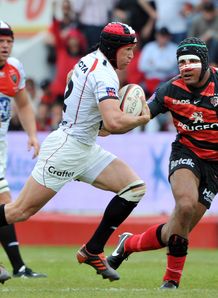 Related links
Also see
Toulon booked their place in the Top 14 play-offs with a narrow win at home to defending champions Toulouse on Saturday.
A losing bonus point was enough for Toulouse to retain the championship lead however as Clermont lost on the road to Castres.
Racing join Castres in the play-offs after eliminating Parisian rivals Stade Français from the race in a tight battle in the capital.
Brive are now favourites to be relegated with Lyon after losing heavily at home to Bordeaux-Bègles while Bayonne won with a bonus point against Agen.
Elsewhere, Perpignan ensured their survival with a bad-tempered win over Lyon.
On Friday, Biarritz also secured their place in the top division next season by getting a losing bonus point in Montpellier.
Results:
Montpellier 21-16 Biarritz
Toulon 25-22 Toulouse
Bayonne 31-10 Agen
Brive 9-23 Bordeaux-Bègles
Castres 30-19 Clermont
Perpignan 34-22 Lyon
Racing Métro 19-13 Stade Français
---
RC Toulon 25-22 Stade Toulousain
Stade Felix Mayol, Toulon
A huge result for Toulon who came from behind to beat a near-full-strength Toulouse side and virtually assure a home play-off in the process.
Toulouse have now lost six of their last nine games in all competitions despite having started the match in great style, taking a 16-8 lead into the half-time break thanks to a try from Vincent Clerc.
It seemed like Toulouse had got their mojo back as they were playing great rugby, but Toulon fought back in the second period with Steffon Armitage continuing his strong recent form with the winning try in the 65th minute.
Lionel Beauxis and Jonny Wilkinson traded early penalties in a pulsating match played in perfect conditions, the Toulouse man hitting a second before the home side hit back.
Toulon centre Matt Giteau made a scything break through a porous defence before sending out an inch-perfect pass to Alexis Palisson, the France winger crossing in the corner for a try Wilkinson failed to convert.
Clerc responded with a well-taken try after a similar miss-pass from Beauxis, who nailed the extras and a 33rd minute penalty for a 16-8 Toulouse lead.
Welsh prop Eifion Lewis-Roberts was bundled over for a timely converted try early in the second-half for the hosts before Beauxis and Wilkinson again traded penalties.
Armitage scored the decisive five-pointer, jinking through under the posts after a period of sustained pressure.
Wilkinson converted to make it 25-19 with 15 minutes to play, Beauxis hitting a penalty shortly after, but the home side held out for the victory.
The scorers:
For Toulon:
Tries: Palisson, Roberts, Armitage
Cons: Wilkinson 2
Pens: Wilkinson 2
For Toulouse:
Try: Clerc
Cons: Beauxis
Pens: Beauxis 5
Toulon: 15 Benjamin Lapeyre, 14 Alexis Palisson, 13 Geoffroy Messina, 12 Matt Giteau, 11 David Smith, 10 Jonny Wilkinson, 9 Sebastien Tillous-Borde, 8 Juan Martin Fernandez Lobbe, 7 Steffon Armitage, 6 Joe van Niekerk, 5 Christophe Samson, 4 Bakkies Botha, 3 Carl Hayman, 2 Sebastien Bruno, 1 Eifion Roberts.
Replacements: 16 Mickael Ivaldi, 17 Laurent Emmanuelli, 18 Jocelino Suta, 19 Pierrick Gunther, 20 Gaby Lovobalavu, 21 Luke Rooney, 22 Fabien Cibray, 23 Davit Kubriashvili.
Toulouse: 15 Clement Poitrenaud, 14 Vincent Clerc, 13 Florian Fritz, 12 Yannick Jauzion, 11 Yves Donguy, 10 Lionel Beauxis, 9 Luke Burgess, 8 Louis Picamoles, 7 Thierry Dusautoir, 6 Jean Bouilhou, 5 Patricio Albacete, 4 Yoann Maestri, 3 Cencus Johnston, 2 Christopher Tolofua, 1 Jean-Baptiste Poux.
Replacements: 16 Victor Paquet, 17 Daan Human, 18 Gregory Lamboley, 19 Yannick Nyanga, 20 Jean-Marc Doussain, 21 Yann David, 22 Gillian Galan, 23 Yohan Montes.
---
Aviron Bayonnais 31-10 SU Agen
Stade Jean Dauger, Bayonne
Bayonne's expensively assembled squad finally produced the goods, outscoring their visitors four tries to one to move within touching distance of safety.
Bayonne waited for the second last round of the championship to record their first bonus point win and climb out of the relegation zone, five points clear of Brive.
Brive's failure to get a bonus point means that Agen are also safe.
Agen led 10-7 thanks to a try from full-back Brice Dulin, who cancelled out Bayonne centre Sam Gerber's touchdown.
But the Bayonne pack dominated the second half, winning a penalty try and setting up two more.
The scorers:
For Bayonne:
Tries: Gerber, Roumieu, Penalty try, Boutaty
Cons: Potgieter 4
Pens: Potgieter
For Agen:
Try: Dulin,
Con: Barnard
Pens: Barnard
Yellow cards: Telefoni (Agen - 16th min), Fa'aoso (Agen - 50th min); Boyoud (Bayonne - 62nd min)
Bayonne: 15 Cedric Heymans, 14 Yoann Huget, 13 Sam Gerber, 12 Lionel Mazars, 11 Marvin O'Connor, 10 Jacques-Louis Potgieter, 9 Mike Phillips, 8 Dwayne Haare, 7 Jean Jo Marmouyet, 6 Guillaume Bernad, 5 Mark Chisholm, 4 Abdellatif Boutaty, 3 Neemia Tialata, 2 David Roumieu, 1 Aretz Iguiniz.
Replacements: 16 Francois Da Ros, 17 Renaud Boyoud, 18 Troy Flavell, 19 Julien Puricelli, 20 Cedric Garcia, 21 Benjamin Boyet, 22 Joe Rokocoko, 23 Victor Manukula.
Agen : 15 Brice Dulin, 14 Saimoni Vaka, 13 Junior Pelesasa, 12 Jamie Robinson, 11 Romain Edmond Samuel, 10 Conrad Barnard, 9 Maxime Machenaud, 8 Marc Giraud, 7 Adri Badenhorst, 6 Jean Monribot, 5 Lisiate Fa'aoso, 4 Dewald Senekal, 3 Gert Muller, 2 Jalil Narjissi, 1 Semisi Telefoni.
Replacements: 16 Julien Janaudy, 17 Arsene Nnomo, 18 Pat O'Connor, 19 Pierre Julien, 20 Alexis Bales, 21 Manu Ahotaeiloa, 22 Silvere Tian, 23 Beka Sheklashvili.
---
CA Brive Corrèze 9-23 Union Bordeaux-Bègles
Brive are almost certain to be relegated after failing to come up with the goods when it mattered most.
Now five points adrift of Bayonne, Brive now face the prospect of not only having to win with a bonus point in their final away game at heavyweights Clermont, but also need Bayonne to lose, without a defensive bonus point, away to Castres.
The scorers:
For Brive:
Pens: Swanepoel 3
For Bordeaux-Bègles:
Tries: Connor, le Bourhis
Cons: Lopez, Fraser
Pens: Lopez 3
Yellow cards: Mela (Brive - 62nd min); Bias (Brive - 75th min)
Brive: 15 Scott Spedding, 14 Jacques Boussuge, 13 Arnaud Mignardi, 12 Riaan Swanepoel, 11 Ronnie Cooke, 10 Shane Geraghty, 9 Jean-Baptiste Pejoine, 8 Antonie Claassen, 7 Alexandre Bias, 6 Thibault Dubarry, 5 Arnaud Mela, 4 Julien Ledevedec, 3 Vassil Kakovin, 2 Virgile Lacombe, 1 Pablo Henn.
Replacements: 16 Iuri Natriashvili, 17 Jefferson Poirot, 18 Retief Uys, 19 Poutasi Luafutu, 20 Simon Azoulai, 21 Mathieu Belie, 22 Jamie Noon, 23 Pablo Cardinali.
Bordeaux-Bègles: 15 Bruce Reihana, 14 Rafael Carballo, 13 Andrew Mailei, 12 Julien Rey, 11 Blair Connor, 10 Camille Lopez, 9 Heini Adams, 8 Matthew Clarkin, 7 Hugh Chalmers, 6 Justin Purll, 5 Adam Jaulhac, 4 Daniel Leo, 3 Patrick-Albert Toetu, 2 Ole Avei, 1 Hikairo Forbes.
Replacements: 16 Fabien Rofes, 17 Laurent DelBoulbes, 18 Cameron Treloar, 19 Charlie Ternisien, 20 Julien Seron, 21 Gerard Fraser, 22 Felix Le Bourhis, 23 Bees Roux.
---
Castres Olympique 30-19 ASM Clermont Auvergne
Stade Pierre Antoine, Castres
Castres booked their place in the play-offs by inflicting only Clermont fifth loss of the season.
One point behind Montpellier, CO will also fancy their chances of bagging a home play-off next week against Bayonne as Montpellier must visit Toulouse.
Castres full-back Romain Teulet become the first man in world rugby to score 3000 points for a single club with the game's opening penalty.
Clermont sent a second-string team but still managed to open the scoring via a try from lock Loic Jacquet.
But Castres were 17-7 ahead at half time tanks to tries from flank Ibrahim Diarra and centre Max Evans.
A second-half try from Romain Martial proved enough for victory.
The scorers:
For Castres:
Tries: Diarra, Evans, Martial
Cons: Teulet 3
Pens: Teulet 2, Barnard
For Clermont:
Tries: Jacquet, Sivivatu, Murimurivalu
Cons: Williams 2
Yellow card: Radosavljevic (Clermont - 37th min) Castres: 15 Romain Teulet, 14 Romain Martial, 13 Max Evans, 12 Seremaia Baikeinuku, 11 Marc Andreu, 10 Pierre Bernard, 9 Thierry Lacrampe, 8 Chris Masoe, 7 Yannick Caballero, 6 Ibrahim Diarra, 5 Joe Tekori, 4 Matthias Rolland, 3 Luc Ducalcon, 2 Mathieu Bonello, 1 Yannick Forestier.
Replacements: 16 Marc-Antoine Rallier, 17 Saimone Taumoepeau, 18 Kiril Kulemin, 19 Jannie Bornman, 20 Rory Kockott, 21 Romain Cabannes, 22 Steve Malonga, 23 Karena Wihongi.
Clermont: 15 Kini Murimurivalu, 14 Brent Russell, 13 Regan King, 12 Gavin Williams, 11 Seru Nakaitaci, 10 Ludovic Radosavljevic, 9 Kevin Senio, 8 Loan Goujon, 7 Alexandre Lapandry, 6 Viktor Kolelishvili, 5 Loic Jacquet, 4 Julien Pierre, 3 Daniel Kotze, 2 Ti'i Paulo, 1 Raphael Chaume.
Replacements: 16 Benjamin Kayser, 17 Lionel Faure, 18 Jason White, 19 Alexandre Audebert, 20 Morgan Parra, 21 Brock James, 22 Sitiveni Sivivatu, 23 David Zirakashvili.
---
USA Perpignan 34-22 Lyon Olympique
Stade Aimé Giral, Perpignan
Mission accomplished for USAP, who assured their place in the Top 14 next season, despite playing nearly an hour with a man down after hooker Guilhem Guirado was red carded for a tip tackle.
It was an emotional day for Perry Freshwater, Olivier Olibeau, Marius Tincu, Grégory Le Corvec, Rimas Alvarez-Kairelis, Damien Chouly and Gerrie Britz, who all played their last game at Stade Aimé Giral.
Two excellent tries from Adrien Planté and David Marty helped USAP a 23-12 lead at half time before Chouly sealed the win in the second period.
Mickael Forest's late consolation try for Lyon denied Perpignan a bonus point but the Catalans still climbed to eighth in the standings.
The scorers:
For Perpignan:
Tries: Plante, Marty, Chouly
Cons: Hook 2
Pens: Hook 5
For Lyon:
Try: Forest
Con: Tomamichel
Pens: Tomamichel 5
Yellow cards: Leguizamon (Lyon - 37th min); Tchale-Watchou (Perpignan - 53rd min)
Red card: Guirado (Perpignan - 22nd min)
Perpignan: 15 Joffrey Michel, 14 Adrien Plante, 13 David Marty, 12 Maxime Mermoz, 11 Julien Candelon, 10 James Hook, 9 Florian Cazenave, 8 Henry Tuilagi, 7 Bertrand Guiry, 6 Damien Chouly, 5 Robins Tchale-Watchou, 4 Olivier Olibeau, 3 Nicolas Mas, 2 Guilhem Guirado, 1 Perry Freshwater.
Replacements: 16 Marius Tincu, 17 Jerome Schuster, 18 Romain Taofifenua, 19 Gregory le Corvec, 20 Kevin Boulogne, 21 Gavin Hume, 22 Jean-Pierre Perez, 23 Kisi Pulu.
Lyon: 15 Eric Tomamichel 14 Mosese Ratuvou 13 Waisale Sukanaveita 12 Nicolas Raffault 11 Remy Grosso 10 Regis Lespinas 9 Ricky Januarie 8 Sisa Koyamaibole 7 Juan Manuel Leguizamon 6 Eugene N'Zi 5 Coenie Basson 4 Jean Sousa 3 Anthony Roux 2 Jody Jenneker 1 Bogdan Balan
Replacements: 16 Antonio Testa 17 Guram Kavtidze 18 Christian Short 19 Arnaud Dorier 20 Mickael Forest 21 Laurent Tranier 22 Franck Romanet 23 Tariel Ratianidze
---
Racing-Métro 19-13 Stade Français Paris
Stade de France, St. Denis (Paris)
In the season's second Paris derby, Racing took revenge for their heavily loss at the same venue in Round 12.
This time around Pierre Berbizier's men clinched a crucial victory that leaves Stade Français five points adrift of the play-off berths and needing a minor miracle to make the top six.
Stade Français took the early lead via a try from wing Julien Arias but Racing were 13-10 ahead at the break thanks to scrum-half Sebastien Descons's touchdown just before the break when Stade were a man down after Felipe Contepomi was sent to the bin for playing the ball on the ground.
Two second-half penalties from full-back Jonathan Wisniewski were enough to secure victory for Racing.
For Racing-Métro:
Try: Descons
Con: Wisniewski
Pens: Wisniewski 4
For Stade Français:
Try: Arias
Con: Dupuy
Pens: Dupuy 2
Yellow card: Contepomi (Stade Français - 33rd min)
Racing-Metro: 15 Jonathan Wisniewski 14 Sireli Bobo 13 Henry Chavancy 12 Fabrice Estebanez 11 Juan Imhoff 10 Juan Martin Hernandez 9 Sebastien Descons 8 Jacques Cronje 7 Antoine Battut 6 Johnny Leo'o 5 Francois Carl Van der Merwe 4 Lionel Nallet 3 Benjamin Salemane Sa 2 Benjamin Noirot 1 Eddy Ben Arous
Replacements: 16 Thomas Bianchin 17 Andrea Lo Cicero Vaina 18 Jone Qovu Nailiko 19 Bernard Le Roux 20 Mathieu Loree 21 Gaetan Germain 22 Virimi Vakatawa 23 Juan Pablo Orlandi
Stade Français: 15 Djibril Camara 14 Paul Sackey 13 Paul Williams 12 Martin Rodriguez Gurruchage 11 Julien Arias 10 Felipe Contepomi 9 Julien Dupuy 8 Sergio Parisse 7 David Lyons 6 George Smith 5 Pascal Pape 4 Anton van Zyl 3 David Attoub 2 Dimitri Szarzewski 1 Rodrigo Roncero
Replacements: 16 Aled de Malmanche 17 Rabah Slimani 18 Alexandre Flanquart 19 Antoine Burban 20 Jerome Fillol 21 Jules Plisson 22 Morgan Turinui 23 Olivier Milloud