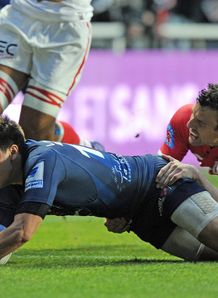 Related links
Also see
Montpellier virtually assured themselves of a place in the Top 14 play-offs with a 21-16 victory over Biarritz on Friday.
The result will suit both sides as a losing bonus point means Biarritz are now six points clear of the relegation zone.
Montpellier led from start to finish and never looked like losing.
The hosts led 14-3 at the interval before a Taku Ngwenya try in the 53rd minute handed Biarritz the bonus point that should secure them a place in the top flight next season.
Montpellier got off to the perfect start, scoring after just 30 seconds. The home forwards gathered François Trinh-Duc's kick-off and full-back Lucas Amorosino was at the end of an overlap to score.
With the Biarritz kickers not enjoying a good night off the kicking tee, the game looked settled in the 50th minute when centre Geoffrey Doumayrou used his pace to race clear for Montpellier's second try.
Biarritz didn't go down without a fight however and Ngwenya's try came at the end of a fantastic move that saw every player in the back-line touch the ball.
The scorers
For Montpellier:
Tries: Amorosino, Doumayrou
Con: Bustos Moyano
Pens: Bustos Moyano 3
For Biarritz:
Try: Ngwenya
Con: Barraque
Pens: Baby, Barraque 2
Yellow card: Doumayrou (Montpellier - 25th min)
Montpellier: 15 Lucas Amorosino, 14 Timoci Nagusa, 13 Geoffrey Doumayrou, 12 Santiago Fernandez, 11Martin Bustos Moyano, 10 Francois Trinh-Duc, 9 Julien Tomas, 8 Alex Tulou, 7 Mamuka Gorgodze, 6 Fulgence Ouedraogo, 5 Thibault Privat, 4 Drikus Hancke, 3 Giorgi Jgenti, 2 Agustin Creevy, 1 Juan Figallo.
Replacements: 16 Erasmus Van Vuuren, 17 Na'ama Leleimalefaga, 18 Mickael De Marco, 19 Remy Martin, 20Eric Escande, 21 Thomas Combezou, 22 Paul Bosch, 23 Maximiliano Bustos.
Biarritz: 15 Marcelo Bosch, 14 Taku Ngwenya, 13 Charles Gimenez, 12 Damien Traille, 11 Benoit Baby, 10 Julien Peyrelongue, 9 Yann Lesgourgues, 8 Raphael Lakafia, 7 Talalelei Gray, 6 Wenceslas Lauret, 5 Pelu Taele-Pavihi, 4 Jerome Thion, 3 Francisco Gomez Kodela, 2 Benoit August, 1 Fabien Barcella.
Replacements: 16 Arnaud Heguy, 17 Yvan Watremez 18 Erik Lund, 19 Benoit Guyot, 20 Jean Pascal Barraque, 21 Romain Terrain, 22 Seremaia Burotu, 23 Eugene van Staden.