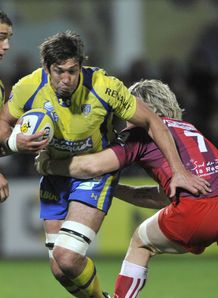 Related links
Also see
Clermont claimed a 22-9 Top 14 win over Montpellier at the Stade Marcel Michelin on Friday to go top of the tournament standings.
The hosts held a slender 6-3 lead at half-time courtesy of a penalty and drop-goal from Brock James, whilst Martin Bustos Moyano opened the scoring early on for Montpellier.
The visitors managed to level the scores after the break when James was yellow-carded, but two penalties from Clermont scrum-half Morgan Parra soon had Les Clermont back in front.
Santiago Fernandez kept his team in the hunt, but a converted try from replacement hooker Ti'i Paulo in the 69th minute sealed the deal for the home side.
The victory assures them a place in the semi-finals, and is a major boost ahead of their Heineken Cup semi-final showdown with Leinster next weekend.
The scorers:
For Clermont:
Try: Paulo
Con: Parra
Pens: Harris, Parra 3
Drop: James
For Montpellier:
Pens: Bustos Moyano, Fernandez 2
Clermont: 15 Lee Byrne, 14 Seru Nakaitaci, 13 Regan King, 12 Wesley Fofana, 11 Sitiveni Sivivatu, 10 Brock James, 9 Morgan Parra, 8 Elvis
Vermeulen, 7 Alexandre Lapandry, 6 Gerhard Vosloo, 5 Nathan Hines, 4 Julien Pierre, 3 David Zirakashvili, 2 Benjamin Kayser, 1 Lionel Faure.
Replacements: 16 Ti'i Paulo, 17 Vincent Debaty, 18 Loic Jacquet, 19 Julien Bardy, 20 Kevin Senio, 21 Julien Malzieu, 22 Brent Russell, 23 Daniel
Kotze.
Montpellier: 15 Lucas Gonzalez Amorosino, 14 Timoci Nagusa, 13 Geoffrey Doumayrou, 12 Thomas Combezou, 11 Martin Bustos Moyano, 10
Santiago Fernandez, 9 Julien Tomas, 8 Alex Tulou, 7 Remy Martin, 6 Fulgence Ouedraogo, 5 Thibault Privat, 4 Mickael De Marco, 3 Giorgi Jgenti, 2 Agustin Creevy, 1 Juan Figallo.
Replacements: 16 Erasmus Van Vuuren, 17 Na'ama Leleimalefaga, 18 Drikus Hancke, 19 Aliki Fakate, 20 Masi Matadigo, 21 Eric Escande, 22 Ilian Perraux, 23 Maximiliano Bustos.