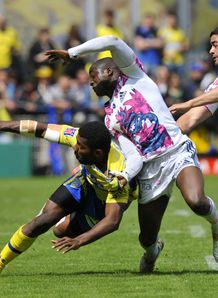 Related links
Also see
Bayonne kept their Top 14 survival hopes alive on Saturday with a 24-19 win over Biarritz in a fiercely contested Basque derby.
Clermont moved level with Toulouse at the summit of the standings with a convincing win at home to Stade Français.
The result also guarantees Clermont automatic qualification for the semi-finals.
Agen secured their spot in the top flight for another year with victory over Toulon while Racing Metro took a step towards the play-offs thanks to a bonus-point win over Brive.
Mamuka Gorgodze scored a hat-trick as Montpellier smashed Lyon, who are now almost sure to be relegated.
In the late game, Castres boosted their play-off hopes with a big win at home to Bordeaux-Bègles, who are now deep in the relegation quagmire.
Results:
Perpignan 25-10 Toulouse
Agen 22-13 Toulonnais
Clermont 25-9 Stade Français
Montpellier 43-12 Lyon
Racing Métro 40-19 Brive
Bayonne 24-19 Biarritz
Castres 44-20 Bordeaux-Bègles
---
ASM Clermont Auvergne 25-9 Stade Français Paris
Parc des Sports Marcel Michelin, Clermont Ferrand
Clermont confirmed their status as the team to beat in the Top 14 as they secured qualification for the semi-finals.
As was the case in last week's European quarter-final, Brock James was on song with the boot, landing 20 points including a drop goal.
For Stade Français, qualification for the play-off has now become complicated as they now trail Parisian rivals Racing by six points.
With a much-changed team, Clermont led 13-3 at the break, thanks to a try from hooker Benoit Cabello.
Dominant at scrum time, the Parisians took the game by the scruff of the neck in the second half as Julien Dupuy kicked them back into contention.
But the power of the hosts' bench proved too much for Stade Français as James kicked les Jaunards to victory in the final quarter.
The win was Clermont's 41st in succession at home.
"I am very happy with the spirit in our team," said Clermont coach Vern Cotter.
"The players don't want to disappoint the fans at Marcel-Michelin Stadium and these four points for victory are very important."
Stade's Australian coach Michael Cheika insisted his team can still make the end of season play-offs.
"I am not even thinking about not qualifying, there are still three matches to go, so we will see," he said.
The scorers:
For Clermont:
Try: Cabello
Con: James
Pens: James 5
Drop: James
For Stade Français:
Pens: Dupuy 3
Clermont:15 Jean-Marcel Buttin, 14 Brent Russell, 13 Seru Nakaitaci, 12 Gavin Williams, 11 Julien Malzieu, 10 Brock James, 9 Ludovic Radosavljevic, 8 Alexandre Audebert, 7 Julien Bardy, 6 Jason White, 5 Loic Jacquet, 4 Julien Pierre, 3 Daniel Kotze, 2 Benoit Cabello, 1 Vincent Debaty.
Replacements: 16 Ti'i Paulo, 17 Lionel Faure, 18 Elvis Vermeulen, 19 Julien Bonnaire, 20 Kevin Senio, 21 Aurelien Rougerie, 22 Lee Byrne, 23 David Zirakashvili.
Stade Français:15 Paul Williams, 14 Paul Sackey, 13 Morgan Turinui, 12 Martin Rodriguez , 11 Djibril Camara, 10 Felipe Contepomi, 9 Julien Dupuy, 8 Sergio Parisse, 7 David Lyons, 6 George Smith, 5 Pascal Pape, 4 Anton van Zyl, 3 Rabah Slimani, 2 Laurent Sempere, 1 Olivier Milloud.
Replacements: 16 Aled de Malmanche, 17 Rodrigo Roncero, 18 Tom Palmer, 19 Pierre Rabadan, 20 Antoine Burban, 21 Jerome Fillol, 22 Julien Arias, 23 Stanley Wright.
---
SU Agen 22-13 RC Toulon
Stade Armandie, Agen
A bad week for Toulon got even worse as the home play-off that looked so sure a few weeks ago is now under threat.
Manager Bernard Laporte has been summoned before the FFR and is set to see his 60-day ban for criticising the local refs extended.
The result means that Agen are safe from relegation as they climb into eighth.
Toulon took the early lead thanks to Gaby Lovobalavu's try and were ahead 10-9 at the break.
But Brice Dulin's second-half try for the home side plus 17 points from the boot of Conrad Barnard saw Agen bring their losing streak to an end and deny Toulon a losing bonus point.
The scorers:
For Agen:
Try: Dulin
Con: Barnard
Pens: Barnard 5
For Toulon:
Try: Lovobalavu
Con: Giteau
Pens: Giteau 2
Yellow card: Giraud (Agen - 22nd min)
Agen: 15 Brice Dulin, 14 Saimoni Vaka, 13 Junior Pelesasa, 12 Jamie Robinson, 11 Silvere Tian, 10 Conrad Barnard, 9 Maxime Machenaud, 8 Marc Giraud, 7 Adri Badenhorst, 6 Jean Monribot, 5 Pat O'Connor, 4 Dewald Senekal, 3 Gert Muller, 2 Jalil Narjissi, 1 Semisi Telefoni.
Replacements: 16 Julien Janaudy, 17 Laurent Cabarry, 18 Thibault Lassalle, 19 Antoine Erbani, 20 Alexis Bales, 21 Manu Ahotaeiloa, 22 Miguel Avramovic, 23 Beka Sheklashvili.
Toulon: 15 Luke Rooney, 14 Alexis Palisson, 13 Mathieu Bastareaud, 12 Gaby Lovobalavu, 11 Benjamin Lapeyre, 10 Matt Giteau, 9 Matt Henjak, 8 Joe van Niekerk, 7 Steffon Armitage, 6 Pierrick Gunther, 5 Simon Shaw, 4 Bakkies Botha, 3 Davit Kubriashvili, 2 Mickael Ivaldi, 1 Romain Frou.
Replacements: 16 Jean Charles Orioli, 17 Eifion Roberts, 18 Jocelino Suta, 19 Juan Martin Fernandez Lobbe, 20 Joe El Abd, 21 Geoffroy Messina, 22 Fabien Cibray, 23 Carl Hayman.
---
Montpellier HR 43-12 Lyon Olympique
Stade Yves Du Manoir, Montpellier
A great result for Montpellier as a full house of points brings them to just one point behind third-placed Toulon.
It was on-way traffic as Georgian loose forward Gorgodze bagged a hat-trick. Montpellier led 22-0 at the break and added three more tries after the break.
Fabien Galthie's are looking more and more like a side that could repeat their surprise appearance in last season's final.
For Lyon, the ProD2 beckons.
The scorers:
For Montpellier:
Tries: Nagusa, Gorgodze 3, Creevy, Fernandez
Cons: Trinh-Duc 5
Pen: Trinh-Duc
For Lyon:
Tries: Bontinck, Grosso
Cons: Thomas
Yellow cards: Sukanaveita (Lyon - 27th min); Fatafehi (Lyon - 68th min)
Montpellier:15 Lucas Gonzalez Amorosino, 14 Timoci Nagusa, 13 Geoffrey Doumayrou, 12 Santiago Fernandez, 11 Martin Bustos Moyano, 10 Francois Trinh-Duc, 9 Julien Tomas, 8 Alex Tulou, 7 Mamuka Gorgodze, 6 Fulgence Ouedraogo, 5 Thibault Privat, 4 Aliki Fakate, 3 Maximiliano Bustos, 2 Agustin Creevy, 1 Juan Figallo.
Replacements: 16 Erasmus Van Vuuren, 17 Na'ama Leleimalefaga, 18 Mickael De Marco, 19 Remy Martin, 20 Eric Escande, 21 Paul Bosch, 22 Thomas Combezou, 23 Giorgi Jgenti.
Lyon:15 Eric Tomamichel, 14 Franck Romanet, 13 Alipate Fatafehi, 12 Waisale Sukanaveita, 11 Remy Grosso, 10 Laurent Tranier, 9 Ricky Januarie, 8 Nicolas Bontinck, 7 Vincent Clement, 6 Eugene N'Zi, 5 Coenie Basson, 4 Arnaud Marchois, 3 Philemon Toleafoa, 2 Jody Jenneker, 1 Xavier Fiard.
Replacements: 16 Antonio Testa, 17 Bogdan Balan, 18 Christian Short, 19 Jean Sousa, 20 Mickael Forest, 21 Lee Thomas, 22 Regis Lespinas, 23 Anthony Roux.
---
Racing-Métro 40-19 CA Brive Corrèze
Stade Yves Du Manoir - Colombes (Paris)
Racing continue their spring revival with a bonus-point win - their fifth success in six games - that takes them closer to the play-offs.
Les Franciliens were full value for their five championship points and look to be hitting form at just the right time as they scored four excellent tries.
Racing led 16-9 at the end of a tightly-fought first half thanks to a try from centre Henry Chavancy.
But the Parisians cut loose in the second period with Fijian lock Jone Qovu bagging a double.
Brive's 70th-miunte try from Riaan Swanepoel proved too little too late and les Corréziens are still one win short of safety.
The scorers:
For Racing-Métro:
Tries: Chavancy, Qovu 2, Imhoff
Cons: Descons 3, Wisniewski
Pens: Descons 3, Steyn
For Brive:
Try: Swanepoel
Cons: Swanepoel
Pens: Belie 2, Swanepoel 2
Yellow cards: Kakovin (Brive - 40th min); Nallet (Racing - 80th min); Ribes (Brive - 80th min)
Racing-Métro:15 Francois Steyn, 14 Sireli Bobo, 13 Henry Chavancy, 12 Fabrice Estebanez, 11 Juan Imhoff, 10 Juan Martin Hernandez, 9 Sebastien Descons, 8 Jacques Cronje, 7 Antoine Battut, 6 Johnny Leo'o, 5 Francois Carl Van der Merwe, 4 Lionel Nallet, 3 Juan Pablo Orlandi, 2 Benjamin Noirot, 1 Andrea Lo Cicero Vaina.
Replacements: 16 Thomas Bianchin, 17 Eddy Ben Arous, 18 Jone Qovu Nailiko, 19 Bernard Le Roux, 20 Mathieu Loree, 21 Jonathan Wisniewski, 22 Mirco Bergamasco, 23 Benjamin Salemane Sa.
Brive:15 Scott Spedding, 14 Jacques Boussuge, 13 Arnaud Mignardi, 12 Riaan Swanepoel, 11 Ronnie Cooke, 10 Mathieu Belie, 9 Agustin Figuerola, 8 Antonie Claassen, 7 Alexandre Bias, 6 Simon Azoulai, 5 Arnaud Mela, 4 Retief Uys, 3 Pat Barnard, 2 Virgile Lacombe, 1 Vassil Kakovin.
Replacements: 16 Guillaume Ribes, 17 Jefferson Poirot, 18 Olivier Caisso, 19 Julien Ledevedec, 20 Poutasi Luafutu, 21 Jean-Baptiste Pejoine, 22 Shane Geraghty, 23 Alexandre Barozzi.
---
Aviron Bayonnais 24-19 Biarritz Olympique
Stade Jean Dauger, Bayonne
It wasn't pretty, but no one expected it would be. In the end, Bayonne can still believe they can save their Top 14 hides after a bruising encounter in the 101st Basque derby.
The result sees Bayonne move to within striking distance of Bordeaux-Bègles, whom they now trail by three points.
An ultra-motived home side gave it all in the contact areas and ruled at scrum time, setting up replacement pivot Cedric Garcia for a late, winning drop goal.
Former Cheetahs, Bulls and Sharks fly-half Jacques Louis Potgieter landed seven penalties for Bayonne while Biarritz wing Ilikena Bolakoro scored the only try of the game.
Bayonne led 18-12 at the break after a first period dominated by penalties. Potgieter landed 6 from 6 while Dimitri Yachvili slotted 4 from 4.
Potgieter extended the lead after the restart but Julien Peyrelongue combined with Bolakoro as BO crossed the whitewash to set up a grandstand finish.
But Garcia came off the bench and slotted the winning drop with his first touch of the ball in the 70th minute.
The scorers:
For Bayonne:
Pens: Potgieter 7
Drop: Garcia
For Biarritz:
Try: Bolakoro
Con: Yachvili
Pens: Yachvili 4
Bayonne:15 Cedric Heymans 14 Yoann Huget 13 Thibault Lacroix 12 Lionel Mazars 11 Marvin O'Connor 10 Jacques Louis Potgieter 9 Mike Phillips 8 Dwayne Haare 7 Jean Jo Marmouyet 6 Guillaume Bernad 5 Mark Chisholm 4 Abdellatif Boutaty 3 Renaud Boyoud 2 David Roumieu 1 Aretz Iguiniz
Replacements: 16 Francois Da Ros 17 Neemia Tialata 18 Troy Flavell 19 Julien Puricelli 20 Cedric Garcia 21 Clement Otazo 22 Joe Rokocoko 23 Victor Manukula
Biarritz:15 Iain Balshaw 14 Ilikena Bolakoro 13 Charles Gimenez 12 Dane Haylett-Petty 11 Benoit Baby 10 Julien Peyrelongue 9 Dimitri Yachvili 8 Raphael Lakafia 7 Imanol Harinordoquy 6 Benoit Guyot 5 Pelu Taele-Pavihi 4 Erik Lund 3 Eugene van Staden 2 Arnaud Heguy 1 Yvan Watremez
Replacements: 16 Romain Terrain 17 Francisco Gomez Kodela 18 Manuel Carizza 19 Talalelei Gray 20 Yann Lesgourgues 21 Jean Pascal Barraque 22 Seremaia Burotu 23 Sylvain Marconnet
---
Castres Olympique 44-20 Union Bordeaux-Bègles
Stade Pierre Antoine, Castres
Castres led from start to finish to consolidate their place in the top six.
Bordeaux-Bègles were their own worst enemies, making a plethora of errors. The result leaves them under serious threat of relegation as their remaining fixtures are not easy.
The game swung in Castres favour when UBB hooker Fabien Rofes was handed a dubious yellow card for a late tackle. From there the wheels came off the Bordeaux bus although Castres were unable to clinch the crucial bonus point.
The scorers:
For Castres:
Tries: Andreu 2, Martial, Bernard
Cons: Teulet 3
Pens: Teulet 6
For Bordeaux-Begles:
Tries: Treloar, Brana
Cons: Lopez, Fraser

Pens: Lopez 2
Yellow cards: Rofes (UBB - 30th min); Seron (UBB - 52nd min)
Castres:15 Romain Teulet 14 Romain Martial 13 Thomas Sanchou 12 Romain Cabannes 11 Marc Andreu 10 Pierre Bernard 9 Thierry Lacrampe 8 Chris Masoe 7 Yannick Caballero 6 Ibrahim Diarra 5 Joe Tekori 4 Rodrigo Capo Ortega 3 Karena Wihongi 2 Mathieu Bonello 1 Yannick Forestier
Replacements: 16 Marc-Antoine Rallier 17 Anton Peikrishvili 18 Kiril Kulemin 19 Steve Malonga 20 Rory Kockott 21 Seremaia Bai 22 Max Evans 23 Luc Ducalcon
Bordeaux-Begles:15 Bruce Reihana 14 Thierry Brana 13 Felix Le Bourhis 12 Andrew Mailei 11 Rafael Carballo 10 Camille Lopez 9 Julien Seron 8 Leroy Houston 7 Louis-Benoit Madaule 6 Justin Purll 5 Adam Jaulhac 4 Cameron Treloar 3 Silviu Florea 2 Fabien Rofes 1 Hikairo Forbes
Replacements: 16 Boris Bethery 17 Laurent DelBoulbes 18 Francois Tisseau 19 Charlie Ternisien 20 Manu Saubusse 21 Gerard Fraser 22 Vunga Lilo 23 Patrick-Albert Toetu