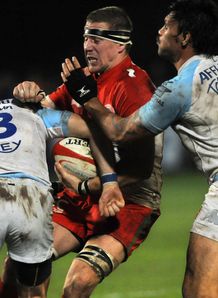 Related links
Also see
The 101st Basque Derby on Saturday promises to be the most dramatic in years as it is likely to decide the fate of hosts Bayonne.
Although separated by just 5km, Stade Jean-Dauger in Bayonne and Parc des Sports Aguiléra in Biarritz are world's apart. Few rivalries in world sport can compare and with so much on the line, few would be surprised if this weekend's battle saw a repeat of the mass punch-up that made headlines when these team last met.
The Basque rivals aren't the only ones fighting for survival though and Perpignan are under pressure to produce the goods against leaders Toulouse.
With four rounds left to play, Parisian rivals Racing-Metro and Stade Français remain locked in their battle for the sixth place that will ensure play-off rugby at the end of the regulation season. Racing host Brive while Stade travel to buoyant Clermont, who now harbour realistic dreams of the French-European double in their centenary season.
Elsewhere, Castres and Montpellier are chasing home play-offs when they host Lyon and Bordeaux-Bègles respectively.
Fixtures:
Friday, April 13
Perpignan v Toulouse
Saturday, April 14
Agen v Toulonnais
Clermont v Stade Français
Montpellier v Lyon
Racing Métro v Brive
Bayonne v Biarritz
Castres v Bordeaux-Bègles
Standings:
1 Toulouse 78
2 Clermont 74
3 Toulon 63
4 Montpellier 57
5 Castres 55
6 Racing Métro 54
7 Stade Français 53
8 Agen 44
9 Brive 42
10 Biarritz 42
11 Bordeaux-Bègles 41
12 Perpignan 40
13 Bayonne 34
14 Lyon 30
---
Previews:
USA Perpignan v Stade Toulousain
Stade Aimé Giral, Perpignan
Two clubs in very different situations face off on the Mediterranean coast to kick the weekend off.
Just six points clear of the relegation zone, Perpignan cannot afford defeat.
Toulouse meanwhile have already booked a place in the semi-finals will be tempted to put the machine into cruise control and keep their powder dry.
Guy Novès has nevertheless picked a very strong team, mixing the need to rest some of his internationals by leaving them on the bench with the need to line up a winning team. Luke Burgess starts as he continues his return from injury while Yannick Jauzion is back in midfield with Clement Poitrenaud at full-back. Pumas lock Patricio Albacete is also back in the starting XV.
Jean-Marc Doussain starts at fly-half while Aurélien Impérial makes his second appearance at professional level.
Perpignan - who have not lost at home since late November - have been able to select close to their strongest side with French international duo David Marty and Maxime Mermoz in midfield, Jame Hook at 10 and Nicolas Mas leading the pack.
Perpignan: Michel, Sid, Marty, Mermoz, Plante, Hook, Cazenave, Guiry, Chouly, Le Corvec, Taofifenua, Olibeau, Mas, Geli, Freshwater
Replacements: Guirado, Schuster, Britz, Tachale Watchou, Mele, Porical, Hume, Bourrust.
Toulouse: Poitrenaud, Impérial, David, Jauzion, Donguy, Doussain, Burgess, Nicolas, Galan, Nyanga, Albacete, Lamboley, Montès, Tolofua, Poux.
Replacements: Servat, Human, Maestri, Sowerby, Vergallo, Beauxis, Dusautoir, Johnston
Previous result Toulouse won 21-17 at home
Prediction: Toulouse have won just three times in 19 games in Perpignan in the post-war era. The hosts have much more to play for. Perpignan by six points
Kick-off: 20.45 (18.45 GMT)
Referee: Christophe Berdos
---
SU Agen v RC Toulon
Stade Armandie, Agen
After an exceptional start to their campaign, Agen have faded in the second half of the season, winning just three times in 11 games.
Saturday's hosts are coming off the back of a three-game losing streak but need just two points to ensure their place in the top flight.
But Toulon are within reach of securing a home play-off and the visitors and will travel with serious ambitions of securing their first win in Agen in 15 attempts.
Jonny Wilkinson picked up knock against Harlequins and will not travel west but les Toulonnais welcome back Argentine loose forward Juan-Martin Fernandez-Lobbe.
The Agen pack has been decimated by injury with four first-choice players (Nnomo, Fono, Fonua, Fa'aoso) all not available.
Previous result: Toulon won 34-12 at home
Prediction: Amlin Challenge Cup semi-finalists Toulon should be too strong. Toulon by eight points
Kick-off: 14.15 (12.15 GMT)
Referee: Neil Paterson (Scotland)
---
ASM Clermont Auvergne v Stade Français Paris
Parc des Sports Marcel Michelin, Clermont Ferrand
Stade Français produced one of the best performances of their season at home to Clermont back in November but they'll have to be even better to become the first team to win in the Auvergne in over two years.
Indeed, Clermont have lost just one game in all competitions since mid-December (in Biarritz) and the Heineken Cup semi-finals will be eyeing the championship lead.
Les Jaunards' victory over Saracens last week came at cost though as David Skrela has been ruled out while Jamie Cudmore and Wesley Fofana are doubtful starters. Morgan Parra is being rested.
For all their positive results in Paris, Stade Français have been terrible on the road - winning just once in ten games - so are unlikely to cause an upset at fortress Marcel Michelin.
Former Clermont hooker Mario Ledesma returns to Volcano Country in a pink tracksuit as Stade Français forwards coach. Fly-half Felipe Contepomi is doubtful after picking up a knock against Exeter. Internationals Pascal Papé, Dimitri Szarzewski and Sergio Parisse are being rested.
Previous result: Stade Français 37-16 at home
Prediction: Only a mad man would bet against Clermont at home. Clermont by twelve points
Kick-off: 14.15 (12.15 GMT)
Referee: Laurent Cardona
---
Montpellier HR v Lyon Olympique
Stade Yves Du Manoir, Montpellier
Montpellier are neck-and-neck with Castres in the race for a home play off. With tough fixtures against Clermont and Toulouse on the menu at the end of the season, Montpol will be aiming for a bonus point on home soil.
The home side were given a boost in morale on Tuesday when forwards coach Eric Béchu returned from sick leave, 40kg lighter (!) but smiling and motivated to help his team push for a place in the finals.
Lyon are still alive mathematically but few would bet on them avoiding the drop. That said, victory against Bordeaux last time out has reignited their hopes, so they won't be pushovers.
Previous result: Montpellier won 30-10 in Lyon
Prediction: The home side should be too strong. Montpellier by fifteen points
Kick-off: 14.15 (12.15 GMT)
Referee: Leighton Hodges (Wales)
---
Racing-Métro 92 v CA Brive Corrèze
Stade Yves Du Manoir - Colombes (Paris)
Racing climbed back into the play-off places last week with victory over Castres and will fancy opening the gap on rivals Stade Français on Saturday.
But it won't be easy against a Brive side boosted by their qualification for the Challenge Cup semi-finals and a solid win over high-flying Toulon.
Brive need a handful of points to secure their place in the top flight. But in six games, les Corréziens have yet to beat their hosts since Racing returned to the Top 14.
The Racing nurse's office is almost empty and Benjamin Fall is back after a long lay-off. French international centre Fabrice Estebanez will face his former team-mates in midfield,
The Parisians will be strengthened further by the returns of Andrea Lo Cicero, Remy Bianchin, Bernard Le Roux and Guillaume Bousses.
Previous result: Racing won 18-12 at home
Prediction: Les Franciliens are very tough to beat at home. Racing by ten points
Kick-off: 14.15 (12.15 GMT)
Referee: Jean-Luc Rebollal
---
Aviron Bayonnais v Biarritz Olympique
Stade Jean Dauger, Bayonne
This won't be a game. It'll be war! Biarritz have spent the week in isolation in a training camp to escape the tension that has engrossed the Pays Basque ahead of the biggest derby in living memory.
The hosts have it all to play for. Bayonne, relegated in 2010 but reinstated after Montauban's financial strife, lie 13th, six points off safety and Perpignan in 12th spot.
Biarritz have put together a five-game winning streak but are far from safe. President Serge Blanco played down the significance of the derby, saying that it was simply another game.
"All I see is that we're still in the danger zone," said the former France full-back.
"We're missing some victories to be saved. So I don't see if it's Bayonne, Racing, Montpellier or Stade Français against us. Bayonne just happens to be the 26th game of the season.
"If Bayonne go down it would be a shame," he said, adding that this season had been his "toughest" since taking over in the 1995/6 season on Biarritz's promotion to the top flight.
"The most problematic thing has been the World Cup and the absence of (eight) internationals, plus the injury list and the lack of a second kicker."
Under-pressure Bayonne president Alain Afflelou, who has overseen the investment of 11 million euros into the club since his involvement started in 2007, is facing a tough time in the run-in to season's end.
The businessman who made his money from his chain of optician shops has his opponents given his chequered history of administration of French football clubs such as Bordeaux, but is insistent he will remain at Bayonne in a bid to change the club.
After 2010, "we should have banged on the table", said Afflelo.
"We ought to have re-thought the fundamentals, the set-up, the organisation of the club.
"That will change progressively. My ambition is that in three years we no longer recognise the club in its current set-up," he said, adding that relegation to the ProD2 would not mean his departure.
"There's nothing that can make me leave - unless the God Lord takes me back to him."
Bayonne will be without skipper Marc Baget and fly-half Benjamin Boye while Sam Gerber is in doubt.
Previous result: Biarritz won 21-19 at home
Prediction: It's anyone's guess. We predict...a fight! We'll back the hosts. Bayonne by a whisker.
Kick-off: 16.15 (14.15 GMT)
Referee: Jérôme Garces
---
Castres Olympique v Union Bordeaux-Bègles
Stade Pierre Antoine, Castres
Plagued by inconsistency, Castres need to make sure of points at home as they chase a play-off spot and will look to grind out four points. Crucially, les Tarnais have three home fixtures in the run-in.
Bordeaux-Bègles are not yet safe from the threat of relegation with just a seven-point cushion on the drop zone as their slide down the standings continues. But UBB will take motivated from their convincing win over CO earlier this season.
Castres will be without Brice Mach, Rémy Talès, Rémy Lamerat and Matthias Rolland but can count on skipper Chris Masoe leading from the front.
Having lost to bottom club Lyon last time out, Bordeaux are likely to make a number of changes to their line-up - with Thierry Brana, Felix Le Bourhis, Julien Seron, Leroy Houston, Louis-Benoit Madaule, Silviu Florea, Fabien Rofes and Bruce Reihana likely to come into the side.
Michel Denetre and Nicolas Sanchez are definitely ruled out, while Matthew Clarkin broke his nose in the loss to Lyon.
Previous result: Bordeaux-Bègles won 24-9 at home
Prediction: Castres usually get the job done at home. Castres by nine points
Kick-off: 20.45 (18.45 GMT)
Referee: Franck Maciello