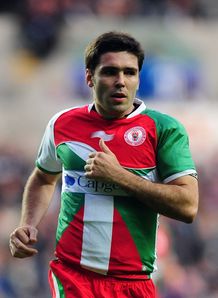 Related links
Also see
Biarritz took a massive step towards avoiding Top 14 relegation on Saturday with a crucial 15-14 victory over high-flying Clermont.
Toulouse maintained their lead in the standings with a narrow win over Stade Français in Paris.
Bayonne were the big losers of Round 22 as all of their rivals in the relegation battle claimed victory while they lost heavily in Perpignan.
Brive upset a star-studded Toulon side while Lyon kept their survival hopes alive with victory at home to Bordeaux-Bègles.
Elsewhere, Montpellier moved closer to a home play-off by dominating Agen.
Results
Racing Métro 27-16 Castres
Biarritz 15-14 Clermont
Brive 14-9 Toulon
Lyon 24-13 Bordeaux-Bègles
Montpellier 44-18 Agen
Perpignan 47-9 Bayonne
Stade Français 18-22 Toulouse
---
Biarritz Olympique 15-14 ASM Clermont Auvergne
Parc des Sports d'Aguilera, Biarritz
An enormous victory for Biarritz - their fourth on the trot - as the Basques leap up to tenth in the standings, eight points clear of the drop zone.
That man Dimitri Yachvili was once again the architect of victory for BO, kicking all of his team's points and generally running the show.
The hosts seldom threatened to cross the whitewash but instead looked to occupy territory via the boot.
Clermont led 14-6 at half thanks to tries from Alexandre Lapandry and Benjamin Kayser, but les Jaunards were unable to add to their score in a second period littered by mistakes from both sides.
The scorers:
For Biarritz :
Pens: Yachvili 5
For Clermont:
Tries: Lapandry, Kayser
Cons: James 2
Yellow cards: Buttin (Clermont - 55th min)
Biarritz: 15 Iain Balshaw, 14 Taku Ngwenya, 13 Charles Gimenez, 12 Dane Haylett-Petty, 11 Benoit Baby, 10 Julien Peyrelongue, 9 Dimitri Yachvili, 8 Imanol Harinordoquy, 7 Benoit Guyot, 6 Wenceslas Lauret, 5 Pelu Taele-Pavihi, 4 Jerome Thion, 3 Eugene van Staden, 2 Eusebio Guinazu, 1 Yvan Watremez.
Replacements: 16 Romain Terrain, 17 Sylvain Marconnet, 18 Erik Lund, 19 Jean-Baptiste Roidot, 20 Talalelei Gray, 21 Marcelo Bosch, 22 Jean Pascal Barraque, 23 Francisco Gomez Kodela.
Clermont: 15 Lee Byrne, 14 Jean-Marcel Buttin, 13 Aurelien Rougerie, 12 Wesley Fofana, 11 Julien Malzieu, 10 Brock James, 9 Morgan Parra, 8 Julien Bonnaire, 7 Alexandre Lapandry, 6 Julien Bardy, 5 Nathan Hines, 4 Julien Pierre, 3 Vincent Debaty, 2 Benjamin Kayser, 1 Raphael Chaume.
Replacements: 16 Ti'i Paulo, 17 Lionel Faure, 18 Jamie Cudmore, 19 Elvis Vermeulen, 20 Ludovic Radosavljevic, 21 David Skrela, 22 Seru Nakaitaci, 23 Adrien Oleon.
---
USA Perpignan 47-9 Aviron Bayonnais
Stade Aimé Giral, Perpignan
Perpignan's Welsh star James Hook masterminded a crucial 47-9 hammering of their relegation rivals Bayonne to give the 2009 champions some much-needed breathing space.
The 26-year-old was faultless with the boot, kicking four penalties and four conversions and adding a try for good measure for a haul of 25 points that saw the seven-time champions to victory.
Perpignan got off to the start they wanted, storming into a 10-0 lead after just 10 minutes of the game.
Hook contributed five of those points, a penalty and a conversion following the opening try by scrum-half Florian Cazenave, who picked the ball up 20 metres out and squeezed through a narrow gap to cross the line and touch down.
Hook was running the show and went close to scoring a try himself soon after. Having just pulled off a try-saving tackle on Bayonne's lively wing Marvin O'Connor, he chipped ahead and outstripped both compatriot Mike Phillips and former France international Cedric Heymans but the ball just eluded him and trickled over the dead-ball line.
The Welsh fly-half then added two more penalties - either side of a penalty by Bayonne's Jean-Jacques Potgieter - to put the hosts comfortably ahead against a side lacking several stars, including Australian lock Mark Chisholm.
Potgieter reduced the deficit to 16-6 near the half hour as he slotted over a penalty, which needed the aid of the post to go over, and added another shortly before the break to leave them only a converted try behind.
However, Hook made it five out of five successful kicks four minutes into the second half to make it 19-9.
The match swung inexorably Perpignan's way in the 54th minute when flanker Jean-Joseph Marmouyet was sin-binned and a minute later Damien Chouly burrowed over for their second try. Hook converted for 26-9.
Hook crowned a superlative performance by then going over himself and adding the conversion to boot for 33-9.
Perpignan did not let up and a minute after Marmouyet had returned to the action the hosts added another try as Bertrand Guiry touched down - Hook converting - and then South African wing Rudi Coetzee added their sixth try, which was converted by David Mele.
The scorers:
For Perpignan:
Tries: Cazenave, Chouly, Hook, Guiry, Coetzee
Cons: Hook 4, Coetzee
Pens: Hook 4
For Bayonne:
Pens: Potgieter 3
Yellow cards: Marmouyet (Bayonne)
Perpignan: 15 Joffrey Michel, 14 Rudi Coetzee 13 David Marty, 12 Maxime Mermoz, 11 Adrien Plante, 10 James Hook, 9 Florian Cazenave, 8 Damien Chouly, 7 Ovidiu Tonita, 6 Bertrand Guiry, 5 Romain Taofifenua, 4 Olivier Olibeau, 3 Nicolas Mas 2 Guilhem Guirado, 1 Kisi Pulu.
Replacements: 16 Charles Geli, 17 Perry Freshwater, 18 Robins Tchale Watchou, 19 Gerrie Britz, 20 David Mele, 21 Nicolas Laharrague, 22 Gregory le Corvec, 23 Benoit Bourrust,
Bayonne: 15 Cedric Heymans, 14 Yoann Huget, 13 Joe Rokocoko, 12 Lionel Mazars, 11 Marvin O'Connor, 10 Jacques Louis Potgieter, 9 Mike Phillips, 8 Marc Baget-Rabarou, 7 Julien Puricelli, 6 Jean Jo Marmouyet , 5 Abdellatif Boutaty, 4 Rob Linde, 3 Neemia Tialata, 2 Francois Da Ros, 1 Victor Manukula
Replacements: 16 David Roumieu, 17 Aretz Iguiniz, 18 Troy Flavell, 19 Guillaume Bernad, 20 Cedric Garcia, 21 Benjamin Boyet, 22 Thibault Lacroix, 23 Clément Baiocco.
---
CA Brive Corrèze 14-9 RC Toulon
Stade Amédée Domenech, Brive
Like Biarritz, victory for Brive could prove enough to retain their top-flight status.
Brive have built their season around their defence and once again kept a clean sheet.
South African number eight Antonie Claassen try at the end of the first quarter helped the home side to an 8-3 lead at the break.
Jonny Wilkinson's three penalties were the only reply from a lacklustre Toulon side as they searing heat took its toll.
The scorers:
For Brive:
Try: Claassen
Pens: Belie 3
For Toulon:
Pens: Wilkinson 3
Brive: 15 Scott Spedding, 14 Jacques Boussuge, 13 Arnaud Mignardi, 12 Jamie Noon, 11Ronnie Cooke, 10 Mathieu Belie, 9 Agustin Figuerola, 8 Antonie Claassen, 7 Alexandre Bias, 6 Simon Azoulai, 5 Arnaud Mela, 4 Thibault Dubarry, 3 Vassil Kakovin, 2 Guillaume Ribes, 1 David Khinchagashvili.
Replacements: 16 Virgile Lacombe, 17 Pablo Henn, 18 Retief Uys, 19 Poutasi Luafutu, 20 Vincent Forgues, 21 Jean-Baptiste Pejoine, 22 Riaan Swanepoel, 23Pat Barnard.
Toulon: 15 Luke Rooney, 14 Christian Loamanu, 13 Geoffroy Messina, 12 Gaby Lovobalavu, 11 David Smith, 10 Jonny Wilkinson, 9 Fabien Cibray, 8 Leonardo Senatore, 7 Joe El Abd, 6 Jocelino Suta, 5 Dean Schofield, 4 Bakkies Botha, 3 Davit Kubriashvili, 2 Jean Charles Orioli, 1 Romain Frou.
Replacements: 16 Sebastien Bruno, 17 Eifion Roberts, 18 Simon Shaw, 19 Olivier Missoup, 20 Alexis Palisson, 21 Matt Giteau, 22 Sebastien Tillous-Borde, 23 Carl Hayman.
---
Lyon Olympique 24-13 Union Bordeaux-Bègles
Stade Matmut, Lyon
Lyon still have reason to hope after dominating the battle of the newcomers.
Last season's ProD2 champions led from start to finish and held a 14-10 advantage at half time.
Despite the crucial win, LOU are still 10 point off safety with four games left to play.
The scorers:
For Lyon:
Tries: Grosso, Sukanaveita
Con: Tomamichel
Pens: Tranier, Tomamichel 3
For Bordeaux-Bègles:
Try: Forbes
Cons: Lopez
Pens: Lopez 2
Lyon: 15 Romain Loursac, 14 Franck Romanet, 13 Vinaya Wakanivuga, 12 Waisale Sukanaveita, 11 Remy Grosso, 10 Laurent Tranier, 9 Ricky Januarie, 8 Nicolas Bontinck, 7 Juan Manuel Leguizamon, 6 Luke Abraham, 5 Coenie Basson 4 Arnaud Dorier, 3 Antoine Guillamon, 2 Jody Jenneker, 1 Xavier Fiard.
Replacements: 16 Antonio Testa, 17 Bogdan Balan, 18 Sisa Koyamaibole, 19 Jean Sousa, 20 Mickael Forest, 21 Arnaud Marchois, 22 Eric Tomamichel, 23 Anthony Roux.
Bordeaux Begles: 15 Laurent Ferreres, 14 Rafael Carballo, 13 Andrew Mailei, 12 Julien Rey, 11 Blair Connor, 10 Camille Lopez, 9 Heini Adams, 8 Matthew Clarkin, 7 Hugh Chalmers, 6 Justin Purll, 5 Adam Jaulhac, 4 Daniel Leo, 3 Patrick Albert Toetu, 2 Ole Avei, 1 Hikairo Forbes.
Replacements: 16 Boris Bethery, 17 Laurent DelBoulbes, 18 Cameron Treloar, 19 Charlie Ternisien, 20 Julien Seron, 21 Gerard Fraser, 22 Thierry Brana, 23 Bees Roux.
---
Montpellier HR 44-18 SU Agen
Stade Yves Du Manoir, Montpellier
Montpellier moved two points ahead of Castres in their race for a home play-off and at the same time ended Agen's hopes of making the top six and claiming a place in the Heineken Cup.
The hosts led 16-10 at half time and 16-15 after 45 minutes before turning on the gas in last quarter as the ran in three unanswered tries.
The scorers:
For Montpellier:
Tries: Tulou, Gonzalez Amorosino, Nagusa, Trinh-Duc, Bustos Moyano
Cons: Bustos Moyano 5
Pens: Bustos Moyano 3
For Agen:
Tries: Edmond Samuel, Ahotaeiloa
Cons: Tian
Pens: Tian, Barnard
Montpellier: 15 Lucas Gonzalez Amorosino, 14 Timoci Nagusa, 13 Thomas Combezou, 12 Paul Bosch, 11 Martin Bustos Moyano, 10 Francois Trinh-Duc, 9 Julien Tomas, 8 Alex Tulou, 7 Mamuka Gorgodze, 6 Fulgence Ouedraogo, 5 Thibault Privat, 4 Aliki Fakate, 3 Giorgi Jgenti, 2 Agustin Creevy, 1 Na'ama Leleimalefaga.
Replacements: 16 Erasmus Van Vuuren, 17 Juan Figallo, 18 Drikus Hancke, 19 Remy Martin, 20 Benoit Paillaugue, 21 Santiago Fernandez, 22 Geoffrey Doumayrou, 23 Maximiliano Bustos.
Agen: 15 Silvere Tian, 14 Belisario Agulla, 13 Manu Ahotaeiloa, 12 Jamie Robinson, 11 Romain Edmond Samuel, 10 Junior Pelesasa, 9 Maxime Machenaud, 8 Ueleni Fono, 7 Adri Badenhorst, 6 Jean Monribot, 5 Lisiate Fa'aoso, 4 Dewald Senekal, 3 Beka Sheklashvili, 2 Jalil Narjissi, 1 Arsene Nnomo.
Replacements: 16 Semisi Telefoni, 17 Laurent Cabarry, 18 Opeti Fonua, 19 Marc Giraud, 20 Alexis Bales, 21 Conrad Barnard, 22 Saimoni Vaka, 23 Jonathan Garcia.
---
Stade Français 18-22 Stade Toulousain
Stade de France, St. Denis (Paris)
After being read the riot act mid-week by Guy Novès, Toulouse came good at the Stade de France to maintain their lead at the top of the standings.
The result is a big blow to Stade Français's play-off hopes as they drop out of the top six.
At the end of a closely-fought encounter, les Toulousains got back to winning ways by roughing up their Parisian hosts to gain some crucial confidence and momentum gaining ahead of next weekend's Heineken Cup clash with Edinburgh.
Toulouse played a game at break-neck speed and dominated at scrum time.
The only try of the game came via Toulouse centre Florian Fritz, who touched down at the end of the first quarter, to give the visitors a 13-9 lead at half time.
Stade Français looked to up their intensity after the break but were overzealous, falling foul of the referee and a very solid Toulouse defensive line.
The scorers:
For Stade Français:
Cons: Contepomi 4, Dupuy 2
For Toulouse:
Try: Fritz
Cons: Beauxis
Pens: Beauxis 5
Yellow cards: Pape (Stade - 69th min); Jauzion ( Toulouse - 69th min)
Stade Français: 15 Djibril Camara, 14 Paul Sackey, 13 Paul Williams, 12 Martin Rodriguez Gurruchage, 11 Julien Arias, 10 Felipe Contepomi, 9 Jerome Fillol, 8 Sergio Parisse, 7 David Lyons, 6 Antoine Burban, 5 Pascal Pape, 4 Anton van Zyl, 3 Stanley Wright, 2 Dimitri Szarzewski, 1 Rodrigo Roncero.
Replacements: 16 Aled de Malmanche, 17 Olivier Milloud, 18 Scott LaValla, 19 George Smith, 20 Julien Dupuy, 21 Morgan Turinui, 22 Paul Warwick, 23 Francisco Nahuel Tetaz.
Toulouse: 15 Yannick Jauzion, 14 Timoci Matanavou, 13 Florian Fritz, 12 Yann David, 11 Yves Donguy, 10 Lionel Beauxis, 9 Jean-Marc Doussain, 8 Gillian Galan, 7 Thierry Dusautoir, 6 Jean Bouilhou, 5 Yoann Maestri, 4 Romain Millo Chluski, 3 Yohan Montes, 2 Christopher Tolofua, 1 Jean-Baptiste Poux.
Replacements: 16 Victor Paquet, 17 Daan Human, 18 Gregory Lamboley, 19 Sylvain Nicolas, 20 Nicolas Vergallo, 21 Maxime Payen, 22 Shaun Sowerby, 23 Cencus Johnston.