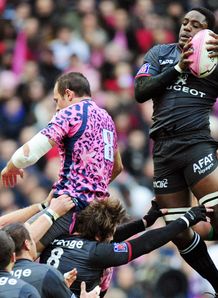 Related links
Also see
A weekend of massive fixtures awaits fans of French rugby as Toulouse visit Paris while Perpignan and Bayonne play for their Top 14 lives.
With just five rounds of the regular season left, no less than six clubs are still threatened by the prospect of relegation.
The headline act of the weekend will be at the Stade de France were 80 000 fans are expected for the annual gala game between Parisian giants Stade Français and the defending champions.
But the most important game of Round 22 is at the other end of the table as Perpignan and Bayonne - separated by a single point - do battle on the edge of the relegation zone.
Biarritz have managed to pull four points clear of the drop zone but are still far from safety as they clash with Clermont, who are gunning for the championship lead.
The action kicks off on Friday when Racing have a must-win game against fellow-play-off hopefuls Castres while Lyon have one last chance at clinging to survival hope at home to Bordeaux-Bègles.
Elsewhere, Montpellier are chasing a home play-off when they host Agen.
Fixtures:
Friday, March 30
Racing Métro v Castres
Saturday, March 31
Biarritz v Clermont
Brive v Toulon
Lyon v Bordeaux-Bègles
Montpellier v Agen
Perpignan v Bayonne
Stade Français v Toulouse
Standings:
1 Toulouse 74
2 Clermont 73
--------------------
3 Toulon 62
4 Castres 55
5 Montpellier 52
6 Stade Français 52
------------------------
7 Racing Métro 49
8 Agen 44
9 Bordeaux 41
10 Brive 38
11 Biarritz 38
12 Perpignan 35
----------------------
13 Bayonne 34
14 Lyon 26
---
Previews:
Racing-Métro 92 v Castres Olympique
Stade Yves Du Manoir - Colombes (Paris)
Racing have it all to play for on Saturday as they look to climb back into the top six. Last week's loss in Toulon brought an end to a three-game winning run for les Franciliens and saw them drop out of the play-off places.
Racing have blown hot and cold this season, as illustrated but their strong start last week before being swept aside in the second half by Toulon.
Pierre Berbizier's team have two consecutive home games and a golden chance to catch up with Parisian rivals Stade Français.
But Castres have been solid on the road this year, winning four games and claiming a draw. Last week's excellent win over Montpellier left them leading the race for a home play-off.
Racing start with Frans Steyn at full-back while Castre have been boosted by Luc Ducalcon's presence in the front row.
Racing Metro: F.Steyn, Bobo, Chavancy, Estebanez, Imhoff, Hernandez, Descons, Cronje (cap), Battut, Leo'o,Van der Merwe, Nallet, Orlandi, Noirot, Ben Arous
Replacements: Arganese, Brugnaut, Qovu, Galindo, Lorée, Wisniewski, Ma.Bergamasco, Sa
Castres: Teulet, Martial, Cabannes, Baikeinuku, Andreu, Bernard, Lacrampe, Masoe (cap), Caballero, Diarra, Tekori, Rolland, Ducalcon, Rallier, Forestier.
Replacements: Bonello, Peikrishvili, Kulemin, Malonga, Kockott, Sooialo, Evans, M.Coetzee
Previous result Racing won 23-19 in Castres
Prediction: Castres have not won in Colombes since Racing's return to the top division. Racing by five points
Kick-off: 20.45 (19.45 GMT)
Referee: Cédric Lafon
---
Biarritz Olympique v ASM Clermont Auvergne
Parc des Sports d'Aguilera, Biarritz
Biarritz's recent revival will face it's toughest test yet as they continue in their quest to avoid relegation. Despite three straight wins, the pressure is still firmly on the Basques with only a four-point gap on neighbours Bayonne and the relegation zone.
The return of French internationals Dimitri Yachvili and Imanol Harinordoquy has transformed BO but against a Clermont side hunting the championship lead, the task is a tough one.
Unbeaten since November 26, Clermont are the form side in France and will be looking to build some momentum ahead of next week's Heineken Cup quarter-final against Saracens.
Biarritz have a lengthy injury list including Damien Traille and Fabien Barcella but welcome back Erik Lund.
Clermont will travel to the Atlantic coast without injured former All Black Sitiveni Sivivatu.
Previous result: Clermont won 41-0 at home
Prediction: A tough one to call. It'll be close. The stats show that Clermont win in Biarritz every second year, and they lost there last year...Clermont to edge it
Kick-off: 14.05 (13.05 GMT)
Referee: Mathieu Raynal
---
USA Perpignan v Aviron Bayonnais
Stade Aimé Giral, Perpignan
Without doubt the most important game of the weekend as two giants of the game - separated by a single point - fight for survival.
Expect a Catalan-Basque war on the Mediterranean coast. The stakes couldn't be higher as defeat for the visitors will leave them behind the eight ball ahead of next week's Basque derby with Biarritz.
2009 champions Perpignan have had a shocking season but have showed signs of revival of late and will be encouraged by their losing bonus point last week when they outscored Clermont two tries to one.
Bayonne have not won at Stade Aimé Giral in 40 years but they too have found some form, winning four games since January while USAP have won just two.
Perpignan welcome no less than eight players from injury and rest, including influential figures like Nicolas Mas, Henry Tuilagi and Damien Chouly. Jean-Pierre Perez has, however, been suspended.
Bayonne are without Sam Gerber, Dwayne Haare and Mark Chisholm but welcome back Troy Flavell and Clément Baiocco.
Previous result: Bayonne won 18-16 at home
Prediction: It won't be one for the faint hearted. Expect emotions to boil over and a few cards but the Catalan crowd to see their team home. Perpignan by a whisker
Kick-off: 14.15 (13.15 GMT)
Referee: Franck Maciello
---
CA Brive Corrèze v RC Toulon
Stade Amédée Domenech, Brive
Brive came off second best in an almighty battle with Bayonne last week and as a result have slipped back into the relegation battle, just four points clear on the drop zone.
It's not the situation you want to be in against a Toulon side that has been in great form. To make matters worse, Brive still have games against Racing, Toulouse and Clermont left on the menu, meaning points at home this weekend are vital.
By Contrast, Toulon - undefeated since mid-January - hit the road aiming to secure a home play-off.
The hosts have one of the worst home records in the championship but boast a very solid defence having conceded the least amount of tries this season. But will that be enough to stop Jonny Wilkinson, who should start?
Jocelino Suta Leonardo Senatore are back for Toulon but the visitors have confirmed that French international Alexis Palisson will not start against his former club.
Previous result: Toulon won 18-3 at home
Prediction: Brive's home record is nothing to boast about. Toulon by less than seven points
Kick-off: 14.15 (13.15 GMT)
Referee: Laurent Cardona
---
Lyon Olympique v Union Bordeaux-Bègles
Stade Matmut, Lyon
Last chance saloon for Lyon, who have not won since January 28. LOU still have a mathematical chance of avoiding the drop, assuming they can win big against their former ProD2 rivals and then keep winning.
At the start of the season, most pundits would have predicted that the roles would be reversed but UBB's win over Toulouse last week confirmed that they deserve their place in the top division. Victory on Saturday should be enough to secure their survival.
Previous result: Bordeaux won 31-10 at home
Prediction: Considering recent form and the result in the first leg, UBB start as favourites. Bordeaux-Bègles by six points
Kick-off: 14.15 (13.15 GMT)
Referee: Jérôme Garces
---
Montpellier HR v SU Agen
Stade Yves Du Manoir, Montpellier
Narrowly beaten in Castres last week, Montpellier conceded fourth place in the standings, synonymous with a home play-off.
But Montpol could well have (perhaps should have) won last week after dominating territory and possession.
With a play-off on home soil still very much within reach, Fabien Galthié's team will expect to bounce back against an Agen side with little left to play for.
After being thumped by Stade Français last week, Agen have fallen off the pace in the play-offs race but have a ten-point cushion on the relegation zone.
Agen fly-half Conrad Barnard is the league's top marksman with 225 points this season and with no pressure on their shoulders, the visitors will be out to became the fifth team to win at Stade Yves Du Manoir this term.
Previous result: Agen won 18-12 at home
Prediction: Agen's record on the road is nothing worth writing home about. Montpellier by twelve points
Kick-off: 14.15 (13.15 GMT)
Referee: Sébastien Cloute
---
Stade Français v Stade Toulousain
Stade de France, St. Denis (Paris)
The annual gala game between France's two most famous clubs is always a spectacular occasion - even when the game isn't great.
Relocating to the Stade de France for the seventh time in the history of these two clubs, fans will be treated to Irish tap dancing, pom-pom girls, a Rolling Stones tribute band and a parade of people dressed in traditional Celtic costumes.
Having held the championship lead for most of the season, Toulouse have hit a bit of a speed wobble with two losses in their last three games.
Last week's loss in Bordeaux would have come as a shock to Guy Novès's side, who are already assured of a semi-final spot but will be looking to build momentum ahead of next weekend's Heineken Cup quarter-finals.
Currently in the last play-off berth, Stade Français have plenty to play for with Racing-Metro breathing down their necks. Felipe Contepomi was in sterling form last week as the Parisians tore Agen apart and will hope to build on that performance.
With one eye on next week's Euro showdown with Edinburgh, Toulouse are resting William Servat, Clément Poitrenaud, Gurthrö Steenkamp, Luke McAlister, Luke Burgess and Census Johnston but welcome back Yoann Maestri, Thierry Dusautoir and Jean-Baptiste Poux from a short holiday.
Stade Français have lost David Attoub to a hand injury while Byron Kelleher will not face his former team-mates due to a troublesome hamstring.
Stade Francais will be boosted by the presence in the back row of Australia's most capped player George Smith, who joins on a short-term contract fresh from having won the Japanese championship with Suntory Sungoliath.
"I'm in better condition than when I played at Toulon," Smith said of his one season with Stade's Top 14 rivals in southern France in 2010.
"I'm coming off the back of an excellent season in Japan, a championship where you play one of the fastest games. I'm ready to put together a string of games, no problem."
Toulouse second-row Maestri said the visitors would have their eyes firmly set on the game and not the distractions that come with playing at the Parisian stadium.
"We're completely focused on this match," said the France international.
"It'll be a tough match. We had a lot of trouble winning this season's home match against them (18-15).
"And Stade are in a very confident mood, something we saw on the weekend when they played a great game against Agen.
"When we play games like these, we are above all concentrated on what happens on the paddock, on the match itself. The rest we leave for the fans to enjoy. But in any case, to play a Top 14 match in such a stadium is a good thing for rugby."
Previous result: Toulouse won 18-15 at home
Prediction: Too close to call! Stade Français are unbeaten in Paris this term and Toulouse might have one eye on next week. Stade Français by a whisker.
Kick-off: 16.15 (15.15 GMT)
Referee: Romain Poite