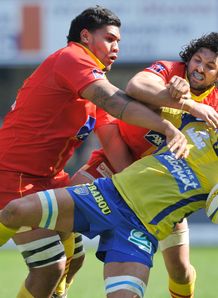 Related links
Also see
Biarritz took a step towards safety with victory in Lyon on Saturday while Perpignan slipped closer to the drop zone despite claiming a losing bonus-point in Clermont.
Toulon convincing beat Racing Metro to take a step closer to a home play-off.
Stade Français climbed back into the play-off positions (provisionally) with a bonus-point win over Agen.
Castres leapfrogged Montpellier into fourth spot in the standings with a crucial home win.
In Saturday's late game, Bayonne set up an almighty relegation showdown with Perpignan next week by grinding past 14-man Brive.
With Toulouse going down to a shock loss in Bordeaux on Friday, Clermont now trail the leaders by a single point.
Results
Bordeaux-Bègles 18-17 Toulouse
Castres 27-18 Montpellier
Clermont 29-23 Perpignan
Lyon 17-34 Biarritz
Stade Français 53-27 Agen
Toulon 32-20 Racing Métro
Bayonne 19-12 Brive
---
Castres Olympique 27-18 Montpellier HR
Stade Pierre Antoine, Castres
Castres led 14-5 at half time.
Castres ended a three-game winless streak thanks to a great defensive effort to regain fourth place (synonymous with a home play-off) from their visitors.
Montpellier did most of the playing but failed to turn their territorial domination into points at crucial times.
Castres led 14-5 at half time thanks to a Marc Andreu try from turnover ball. Lucas Amorosino replied almost immediately for Montpellier but Romain Teulet's boot ensured the hosts held the advantage at the break.
Romain Martial's touchdown early in the second period gave CO a healthy lead despite struggling at scrum time.
Alex Tulou's try proved too little, too late for Montpellier, who head home empty handed.
The scorers:
For Castres:
Tries: Andreu, Martial
Cons: Teulet
Pens: Teulet 5
For Montpellier:
Tries: Amorosino, Tulou
Cons: Bustos Moyano
Pens: Bustos Moyano 2
Castres: 15 Romain Teulet 14 Romain Martial, 13 James So'oialo, 12 Romain Cabannes, 11 Marc Andreu, 10 Pierre Bernard, 9 Thierry Lacrampe, 8 Chris Masoe, 7 Yannick Caballero, 6 Ibrahim Diarra, 5 Joe Tekori, 4 Matthias Rolland, 3 Luc Ducalcon, 2 Mathieu Bonello, 1 Yannick Forestier.
Replacements: 16 Marc-Antoine Rallier, 17 Michael Coetzee, 18 Jannie Bornman, 19 Steeve Malonga, 20 Rory Kockott, 21 Seremaia Bai, 22 Max Evans, 23 Karena Wihongi
Montpellier: 15 Lucas Amorosino, 14 Yoan Audrin, 13 Geoffrey Doumayrou, 12 Santiago Fernandez, 11 Martin Bustos Moyano, 10 François Trinh-Duc, 9 Julien Tomas, 8 Mamuke Gorgodze, 7 Alex Tulou, 6 Fulgence Ouedraogo (captain), 5 Thibaut Privat, 4 Drikus Hancke, 3 George Jgenti, 2 Agustin Creevy, 1 Na'ama Leleimalefaga
Replacements:16 Erasmus Jansen van Vuuren, 17 Juan Figallo, 18 Alikisio Fakate, 19 Vassili Bost, 20 Benoît Paillaugue, 21 Paul Bosch , 22 Timoci Nagusa, 23 Maximiliano Bustos
---
ASM Clermont Auvergne 29-23 USA Perpignan
Parc des Sports Marcel Michelin, Clermont Ferrand
USAP gave their hosts a real run for their money but ultimately paid for their indiscipline.
Clermont were made to work very hard to retain their unbeaten record at home (their 40th successive win at their fortress) against a combative Catalan side that are fighting for their Top 14 lives.
The result leaves Clermont one point short of the championship lead and USAP teetering on the edge of the relegation zone.
Perpignan were far cry from the side that has struggled all year and were rewarded with two tries for their aggression at the breakdown zone.
But in the end David Skrela's boot won the day for the hosts as he landed eight penalties.
Clermont took their opportunity despite a bruising start that saw their prop Lionel Faure and Perpignan hooker Charles Geli both yellow-carded for a second-minute punch-up.
Alexandre Lapandry scored early for Clermont but the hosts replied with a try from full-back Joffrey Michel to leave the scores at 17-13 to the home side.
Adrien Plante touched down to level matter early in the second half but Skrela kept the scoreboard ticking.
A late penalty from James Hook secured a vital losing bonus point for USAP, who face a relegation showdown with Bayonne next week.
"I am satisfied, especially by our tactics," said Clermont coach Vern Cotter.
"It was important to have that sort of commitment ahead of our European Cup quarter-final tie."
The scorers:
For Clermont:
Try: Lapandry
Pens: Skrela 8
For Perpignan:
Tries: Michel, Plante
Cons: Hook 2
Pens: Hook 3
Yellow cards: Faure (Clermont - 1st min); Geli (Perpignan - 1st min); Perez (Perpignan - 46th min)
Clermont: 15 Lee Byrne, 14 Sitiveni Sivivatu, 13 Noa Nakaitaci, 12 Regan King, 11 Jean-Marcellin Buttin, 10 David Skrela, 9 Morgan Parra, 8 Elvis Vermeulen (captain), 7 Alexandre Lapandry, 6 Julien Bardy, 5 Julien Pierre, 4 Jamie Cudmore, 3 Danie Kotze, 2 Tii Paulo, 1 Lionel Faure.
Replacements: 16 Benoît Cabello, 17 Vincent Debaty, 18 Loic Jacquet, 19 Jason White, 20 Ludovic Radosavljevic, 21 Brock James, 22 Brent Russell, 23 Davit Zirakashvili.
Perpignan: 15 Joffrey Michel, 14 Adrien Planté, 13 David Marty, 12 Maxime Mermoz, 11 Julien Candelon, 10 James Hook, 9 Florian Cazenave, 8 Ovidiu Tonita, 7 Jean-Pierre Perez, 6 Bertrand Guiry, 5 Romain Taofifenua, 4 Sebastien Vahaamahina, 3 Benoît Bourrust, 2 Charles Geli, 1 Kisi Pulu.
Replacements: 16 Guilhem Guirado, 17 Perry Freshwater, 18 Gerrie Britz, 19 Grégory Le Corvec, 20 David Mélé, 21 Nicolas Laharrague, 22 Jean-Philippe Grandclaude, 23 Romain Brison.
---
Lyon Olympique 17-34 Biarritz Olympique
Stade Matmut, Lyon
Biarritz will breathe a massive sigh of relief as the climb up to tenth in the standings with their third consecutive win.
Lyon on the other hand looked condemned to relegation.
The scores were locked at 10-all at half time and a repeat of the 15-all draw earlier in the season looked on the cards after LOU scrum-half Ricky Januarie score his first Top 14 try.
But in the second half the power of Biarritz's returning internationals came to the fore as skipper Imanol Harinordoquy and Dimitri Yachvili both scored.
The scorers:
For Lyon:
Tries: Januarie, Salobert
Cons: Loursac, Thomas
Pen: Loursac
For Biarritz:
Tries: Ngwenya, Harinordoquy, Haylett-Petty, Yachvili
Cons: Yachvili 4
Pens: Yachvili 2
Yellow cards: Januarie (Lyon - 53rd min)
Lyon: 15 Romain Loursac, 14 Franck Romanet, 13 Vinaya Wakanivuga, 12 Nicolas Raffault, 11 Rémy Grosso, 10 Laurent Tranier, 9 Ricky Januarie, 8Sisaro Koyamaibole , 7 Juan Leguizamón, 6 Eugene N Zi, 5 Coenie Basson, 4 Arnaud Marchois, 3 Antoine Guillamon, 2 Jody Jenneker, 1 Xavier Fiard.
Replacements: 16Antonio Testa, 17 Guram Kavtidze, 18 Arnaud Dorier, 19 Luke Abraham, 20 Brice Salobert, 21 Lee Thomas, 22 Régis Lespinas, 23 Anthony Roux
Biarritz: 15 Iain Balshaw, 14 Takudzwa Ngwenya, 13 Charles Gimenez, 12 Damien Traille, 11 Dane Haylett-Petty, 10 Julien Peyrelongue, 9 Dimitri Yachvili, 8 Imanol Harinordoquy, 7 Benoît Guyot, 6 Wenceslas Lauret, 5 Pelu Taele, 4 Jérôme Thion, 3 Francisco Gomez Kodela, 2 Romain Terrain, 1 Yvan Watremez.
Replacements: 16 Eusebio Guinazu, 17 Sylvain Marconnet , 18 Manuel Carizza, 19 Raphaël Lakafia, 20 Jean-Pascal Barraque, 21 Benoît Baby, 22 Ilikena Bolakoro, 23 Eugene van Staden
---
Stade Français Paris 53-27 SU Agen
MMArena, Le Mans
Stade Francais moved into the play-off places on Saturday with a bonus-point mauling of Agen, running in seven tries in the process.
Argentine star Felipe Contepomi grabbed a brace, with Italian national skipper Sergio Parisse, Australian forward David Lyons, Aussie centre Morgan Turinui, French winger Julian Arias and Kiwi forward Aled de Malmanche also scoring.
The win put Stade onto 52 points, the same as fifth-placed Montpellier, and three ahead of Parisian rivals Racing Metro.
Despite the win, Stade coach Michael Cheika refused to accept that a play-off spot was guaranteed, especially with a match against defending champions and league leaders Toulouse up next.
"A place in the play-offs? We'll talk about that after the match against Toulouse who are a class above us," said the Australian.
The scorers:
For Stade Français:
Tries: Parisse, Lyons, Contepomi 2, Turinui, Arias, de Malmanche
Cons: Contepomi 5, Rodriguez
Pens: Contepomi 2
For Agen:
Tries: Agulla, Tian
Cons: Barnard 2
Pens: Barnard 2
Yellow cards: Contepomi (Stade Fr. - 60th min); Tian (Agen - 12th min)
Stade Français: 15 Djibril Camara, 14 Paul Sackey, 13 Morgan Turinui, 12 Martin Rodriguez, 11 Julien Arias, 10 Felipe Contepomi, 9 Jérôme Fillol, 8 Sergio Parisse, 7 David Lyons, 6 Antoine Burban, 5 Pascal Papé, 4 Anton van Zyl, 3 David Attoub, 2 Dimitri Szarzewski, 1 Rodrigo Roncero.
Replacements: 16 Aled De Malmanche, 17 Rabah Slimani, 18 Scott Lavalla, 19 Pierre Rabadan, 20 Byron Kelleher, 21 Paul Warwick, 22 Hugo Bonneval, 23 Stanley Wright.
Agen: 15 Silvère Tian, 14 Saimoni Vaka, 13 Manu Ahotaeiloa, 12 Jamie Robinson, 11 Belisario Agulla, 10 Conrad Barnard, 9 Maxime Machenaud, 8 Opeti Fonua, 7 Adri Badenhorst, 6 Ueleni Fono, 5 Lisiate Fa'aoso, 4 Dewald Senekal, 3 Beka Sheklashvili, 2 Semisi Telefoni, 1 Bernard N'Nomo.
Replacements: 16 Jalil Narjissi, 17 Laurent Cabarry, 18 Patrick O'Connor, 19 Jean Monribot, 20 Sylvain Dupuy, 21 Junior Pelesasa, 22 Romain Samuel, 23 Jonathan Garcia
---
RC Toulon 32-20 Racing-Métro 92
Stade Felix Mayol, Toulon
Toulon look set to host a play-off after recovering from a slow start to consolidate their place in third spot.
Racing had led 20-19 at the interval but failed to add to their total as the home side stepped up the pace at once again impressed on defence.
French centre Henry Chavancy and Fiji winger Isireli Bobo scored tries for Racing in the space of seven first-half minutes with Australian full-back Luke Rooney crossing to keep Toulon in touch.
Jonny Wilkinson, who had converted Rooney's first half try, as well as kicking four penalties, was successful with two more penalties after the break as Toulon seized the lead.
Scrum-half Sebastien Tillous-Borde stretched the advantage on the hour mark with his team's second try. Wilkinson again added the extras as RCT took control of the game.
The scorers:
For Toulon:
Tries: Rooney, Tillous-Borde
Cons: Wilkinson 2
Pens: Wilkinson 6
For Racing Metro:
Tries: Chavancy, Bobo
Cons: Germain 2
Pens: Germain 2
Toulon: 15 Luke Rooney, 14 Alexis Palisson, 13 Mathieu Bastareaud, 12 Matt Giteau, 11 Alexis Palisson, 10 Jonny Wilkinson, 9 Sébastien Tillous-Borde, 8 Joe van Niekerk, 7 Steffon Armitage, 6Pierrick Gunther , 5 Bakkies Botha, 4 Christophe Samson, 3 Carl Hayman, 2 Sébastien Bruno, 1 Eifion Lewis-Roberts.
Replacements: 16 Mickael Ivaldi, 17 Laurent Emmanuelli, 18 Simon Shaw, 19 Olivier Missoup, 20 Gabiriele Lovobalavu, 21 Christian Loamanu, 22 Fabien Cibray, 23 Davit Kubriashvili
Racing-Métro: 15 Gaëtan Germain, 14 Sireli Bobo, 13 Henry Chavancy, 12 François Steyn, 11 Juan Imhoff, 10 Juan Martín Hernández, 9 Sébastien Descons, 8 Jacques Cronjé, 7 Bernard Le Roux, 6 John Leo'o, 5 François van der Merwe, 4 Santiago Dellapè, 3 Salemane Sa, 2 Benjamin Noirot, 1 Julien Brugnaut.
Replacements: 16 Thomas Bianchin, 17 Eddy Ben Arous, 18 Lionel Nallet, 19 Jone Qovu, 20 Mathieu Lorée, 21 Fabrice Estebanez, 22 Álvaro Galindo, 23 Juan Pablo Orlandi
---
Aviron Bayonnais 19-12 CA Brive Corrèze
Stade Jean Dauger, Bayonne
Bayonne are still alive! It wasn't pretty but at the end of a hard-fought 80 minutes the Basques are now just one point short of climbing out of the relegation zone.
Bayonne lie just behind Perpignan, whom they visit next week in what is set to be a massive clash.
A losing bonus point clinched in the dying minutes for Brive means they are four points clear of the drop zone.
The scores were locked at 6-6 at half time but the game was turned on it's head when Brive's Scott Spedding was sent off early in the second period. The visitors' full-back was given his marching orders following a second yellow card (for offside) after he had seen yellow for a dust up with Bayonne flank Guillaume Bernad in the first half.
But Bayonne weren't able to build a decent lead until centre Lionel Mazars scored in the 74th minutes after Marvin O'Connor had broken through.
The scorers:
For Bayonne:
Try: Mazars
Con: Boyet
Pens: Boyet 4
For Brive:
Pens: Belie 4
Yellow cards: Bernad (Bayonne - 24th min); Spedding (Brive - 24th min) Boutaty (Bayonne - 31st min)
Red card: Spedding (Brive - 45th min - second yellow card)
Bayonne: 15 Cedric Heymans, 14 Yoann Huget, 13 Thibault Lacroix, 12 Lionel Mazars, 11 Marvin O'Connor, 10 Benjamin Boyet, 9 Mike Phillips, 8 Marc Baget-Rabarou, 7 Dwayne Haare, 6 Guillaume Bernad, 5 Mark Chisholm, 4 Abdellatif Boutaty, 3 Renaud Boyoud, 2 David Roumieu, 1 Aretz Iguiniz.
Replacements: 16 Francois Da Ros, 17 Neemia Tialata, 18 Rob Linde, 19 Jean Jo Marmouyet, 20 Cedric Garcia, 21 Jacques-Louis Potgieter, 22 Joe Rokocoko, 23 Victor Manukula.
Brive: 15 Scott Spedding, 14 Julien Caminati, 13 Arnaud Mignardi, 12 Jamie Noon, 11 Ronnie Cooke, 10 Mathieu Belie, 9 Agustin Figuerola, 8 Antonie Claassen, 7 Poutasi Luafutu, 6 Thibault Dubarry, 5 Arnaud Mela, 4 Retief Uys, 3 Vassil Kakovin, 2 Guillaume Ribes, 1 Pablo Henn.
Replacements: 16 Virgile Lacombe, 17 David Khinchagashvili, 18 Olivier Caisso, 19 Alexandre Bias, 20 Simon Azoulai, 21 Jean-Baptiste Pejoine, 22 Riaan Swanepoel, 23 Pat Barnard.