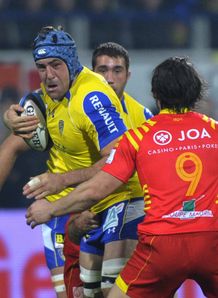 Related links
Also see
With just six rounds left of the Top 14 regular season, Perpignan face the threat of dropping into the relegation zone as they visit Clermont on Saturday.
The 2009 champions lie level with fellow giants Biarritz, just four points clear of the drop zone.
Indeed, with the top two places - synonymous with automatic semi-final qualification - all but wrapped up, the intrigue lies at the bottom of the table.
If Lyon fail to get the job done at home against Biarritz, they are almost certain to return to the ProD2.
Bayonne currently occupy the other relegation position but could take a giant step towards safety at home to Brive this weekend.
The battle for play-off places is hotter than ever with Stade Français looking to close the gap on the peleton. They've moved their clash with Agen to Le Mans - a risky move considering the Parisians' woeful record on the road.
The other play-off contenders go head to head this weekend as Castres host Montpellier and Racing visit Toulon in the weekend's biggest clash.
The action starts on Friday when Bordeaux host the leaders hoping for a miracle to avoid being dragged into the scrap for survival below them.
Fixtures:
Friday, March 23
Bordeaux-Bègles v Toulouse
Saturday, March 24
Castres v Montpellier
Clermont v Perpignan
Lyon v Biarritz
Stade Français v Agen
Toulon v Racing Métro
Bayonne v Brive
Standings:
1 Toulouse 73
2 Clermont 69
____________
3 Toulon 58
4 Montpellier 52
5 Castres 51
6 Racing Metro 49
________________
7 Stade Français 47
8 Agen 44
9 Bordeaux-Begles 37
10 Brive 37
11 Biarritz 34
12 Perpignan 34
_______________
13 Bayonne 30
14 Lyon 26
---
Previews:
Union Bordeaux-Bègles v Stade Toulousain
Stade Jacques Chaban-Delmas, Bordeaux
Two teams with very different ambitions kick-off the weekend's action as Toulouse look to consolidate their lead while UBB aim to secure their place in the top flight.
A loss for the hosts will drop them right into the relegation mire and considering that Toulouse won their previous meeting by 50 points, Bordeaux-Bègles face a tough task as they try to bring a four-game losing streak to an end.
Good news for UBB is that South African scrum-half Heini Adams has passed a late fitness test.
Toulouse have wasted no time in slotting a handful of their returning Six Nations players straight into the starting XV.
Toulouse XV: Jauzion, Matanavou, David, McAlister, Donguy, Beauxis, Doussain, Picamoles, Nyanga, Bouilhou (c), Albacete, Lamboley , Johnston, Servat, Steenkamp.
Replacements: Bregvadze, Human, Millo-Chluski, Galan, Vergallo, Poitrenaud, Fritz, Montès
Previous result Toulouse won 56-6 at home
Prediction: The previous meeting between these sides makes the visitors the overwhelming favourites. Toulouse by fifteen points
Kick-off: 20.45 (19.45 GMT)
Referee: Pascal Gauzere
---
Castres Olympique v Montpellier HR
Stade Pierre Antoine, Castres
Fifth plays fourth with a home play-off the potential prize for the winners.
How things have changed since Rory Kockott kicked all of Castres' points as they won in Montpellier in Round Eight. After a slow start to the season, Montpellier have lost just twice since late November to climb above their hosts this weekend.
Castres have not won in three games but bounced back from a draw with Lyon to almost upset Toulouse a fortnight ago. The next three weeks could make or break the Tarnais' season as they head to play-off rivals Racing and Toulon over the next two weekends.
In contrast to CO, Montpellier have been scoring a lot of tries but have also been conceding a lot of penalties, which is the last thing you want to do against Castres, who are masters of kicking their way to victory.
Previous result: Castres won 21-16 in Montpellier
Prediction: Castres have lost just once at home this season. Castres by six points
Kick-off: 14.15 (13.15 GMT)
Referee: Christophe Berdos
---
ASM Clermont Auvergne v USA Perpignan
Parc des Sports Marcel Michelin, Clermont Ferrand
Unbeaten at home for two season and unbeaten anywhere since late November, Clermont will look to book a spot in the semi-finals.
Only the very brave - or the crazy - would bet on relegation-threatened Perpignan to end that run after having won on the road just once this season (in Biarritz).
Indeed the Catalans have a very difficult run-in on their hands with home games against Bayonne and Toulouse up next, making even a losing point invaluable to their cause.
As an illustration of their differing fortunes, Clermont have scored 37 tries this season compared to USAP's 20.
Wesley Fofana, Aurélien Rougerie and Julien Bonnaire have been given the weekend off by the Clermont staff, as has USAP prop Nicolas Mas.
Previous result: Clermont 39 -3 in Perpignan
Prediction: We can't see an upset here. Clermont by twelve points
Kick-off: 14.15 (13.15 GMT)
Referee: Cédric Marchat
---
Lyon Olympique v Biarritz Olympique
Stade Matmut, Lyon
Eight points short of safety, Lyon still have a chance to save their Top 14 hides, but only if they can beat Biarritz on Saturday. With another win possible next week as Bordeaux are set to visit LOU, the hosts will treat this game like a final.
For Biarritz the situation is rather similar except the Basques are coming off the back of two consecutive wins while Lyon haven't tasted success since late December.
With their internationals back in the mix, BO will be looking to make it three wins in a row for the first time this season.
Previous result: 15-all draw in Biarritz
Prediction: Biarritz haven't been great on the road this season but the seem to have finally found some form. Biarritz by a whisker
Kick-off: 14.15 (13.15 GMT)
Referee: Romain Poite
---
Stade Français Paris v SU Agen
MMArena, Le Mans
Bolstered by the return of their internationals, Stade Français will look to build on the large win over Lyon a fortnight ago and climb back into the play-off places a week before hosting Toulouse in the annual gala in Paris.
The 25 000-seater MMArena in Le Mans is almost sold out as Michael Cheika's team take their 'home' clash out of the capital.
It promises to be a clash of different styles as Stade Français have scored 39 tries to Agen's 20 this season but the Parisians have conceded 43 compared to just 27 by Agen.
Les Agenais still have an outside chance of making the play-offs but with fixtures against Montpellier and Toulon on the horizon, SUA will be happy to do enough to ensure they keep their place in the top flight.
Bad news for Stade is that South African lock Gerhard Mostert's season is over due to a shoulder injury.
"It's a very important match for the team," said Stade skipper Sergio Parisse.
"It will count for a lot, against Agen, who are just behind us in the table.
"There's no choice: we have to take away the points. Unfortunately, we've lost a lot of points this season, above all playing away. We're not allowed to lose."
Previous result: Agen won 37-13 at home
Prediction: Do we count this as an 'away' game for Stade? If so, anything is possible. But they should have enough firepower to get the result. Stade Français by seven points
Kick-off: 14.15 (13.15 GMT)
Referee: Jérôme Garces
---
RC Toulon v Racing-Métro 92
Stade Felix Mayol, Toulon
It's the heavyweight clash of the weekend as third-placed Toulon host sixth-placed Racing-Métro.
Toulon - who will have to make do without suspended Director Bernard Laporte in the changing rooms - are unbeaten since visiting Clermont on January 8 with three wins and two draws in their last five games.
Racing have also found some form as they get past their off-field issues and have won three on the trot against Lyon, Bayonne and Bordeaux.
But a trip to the Var will be a whole different challenge though as Toulon have the best defence on home soil in the championship.
RCT will be looking to book a home play-off while Racing are battling to keep their place in the top six.
Racing face a tough task but former France assistant coach Didier Retiere is convinced the Parisian club were up to the task.
Retiere, recently installed as a consultant for Racing's forwards, said the side was in the process of putting a string of defeats behind it and were confident of finishing the season in style.
"It's true that there were a series of losses and that brought a bit of trouble in relations," said Retiere.
"Personally I've found a group of players who stick together and want to perform, and a staff who want to do the utmost no matter what.
"We know this championship is long and demanding, we see it with teams that are, between brackets, more modest who manage to upset bigger teams at home.
"Racing has been there but I think the team is in the process of rebuilding itself, coming together and reinvigorating itself.
"We can finish the season on a very interesting result."
Joe Van Niekerk will captain the home team, which includes Jonny Wilkinson and Matt Giteau but Benjamin Lapeyre and Alexis Palisson are doubtful starters.
Previous result: Toulon won 16-8 in Paris
Prediction: The hosts' record at Stade Mayol is impressive. Toulon by ten
Kick-off: 16.15 (15.15 GMT)
Referee: Jean-Luc Rebollal
---
Aviron Bayonnais v CA Brive Corrèze
Stade Jean Dauger, Bayonne
Another crunch tie in the relegation battle as 13th hosts 10th. Bayonne have their backs to the wall and another defeat this weekend could spell the end.
The Basques have not been playing badly but have just fallen short of a positive result on a number of occasions, notably away to Racing.
Brive have won three of their last five games and currently hold a seven-point gap on the relegation zone but with fixtures against Toulon, Racing, Toulouse and Clermont left to play this season, this will be one of their last chances to assure their survival
Bayonne welcome Mike Phillips back from Six Nations duty and Cédric Heymans from injury but will be without centre Sam Gerber .
Previous result: Brive won 30-10 at home
Prediction: It'll be a real battle but we'll back the hosts. Bayonne by three points
Kick-off: 20.45 (19.45 GMT)
Referee: Patrick Pechambert