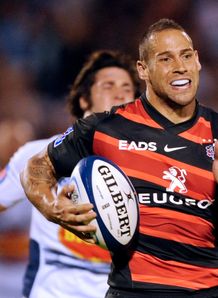 Related links
Also see
Toulouse overturned a 14-point deficit to beat Castres 34-27 in a seven-try Top 14 thriller on Saturday.
The defending champions came from behind twice to snatch victory with former All Black Luke McAlister in the thick of the action.
Clermont won away to Agen to stay in touch with Toulouse at the top of the standings while Biarritz did their hopes of survival the world of good with victory over Brive.
Bayonne, however, are in deep trouble after losing to Montpellier.
In the capital, Stade Français claimed a bonus-point win over bottom club Lyon to boost their play-off chances while Perpigan and Toulon played to a thrilling 22-22 draw.
Results
Racing Métro 22-13 Bordeaux-Bègles
Toulouse 34-27 Castres
Agen 20-29 Clermont
Biarritz 26-11 Brive
Montpellier 37-26 Bayonne
Stade Français 40-19 Lyon
Perpignan 22-22 Toulon
---
Stade Toulousain 34-27 Castres Olympique
Stade Ernest Wallon, Toulouse
Toulouse treated the Ernest Wallon crowd to a grandstand finished as they came back from 10 points down in the last quarter to claim a deserved win.
Castres hadn't scored a try since January but were first to cross the whitewash when Karena Wihongi profited from the carnage after Romain Teulet hit the post from a penalty to crash over.
Castres went 14-0 up when Romain Martial intercepted inside his own half and raced home.
Toulouse came back just before the break as Luke McAlister landed a penalty and Yves Donguy went over in the corner after Chris Masoe was sent to the sin bin.
The hosts went ahead for the first time early in the second half when prop Cencus Johnston powered over but Castres moved back in front when Yannick Caballero broke of the side of a scrum to score from 10m out.
Pierre Bernard added two penalties and the champions looked in a spot of bother. But Florian Fritz charged over from an excellent run, flattening two defenders on his way.
The home side sealed a remarkable win in the dying minutes when McAlister kicked cross-field and replacement prop Gillian Galan crashed over.
The scorers:
For Toulouse:
Tries: Donguy, Johnston, Fritz, Galan
Cons: McAlister 4
Pens: McAlister 2
For Castres:
Tries: Wihongi, Martial, Caballero
Cons: Teulet 3
Pens: Bernard 2
Yellow cards: Masoe (Castres - 38th min - repeated offside)
Toulouse: 15 Yannick Jauzion, 14 Timoci Matanavou, 13 Florian Fritz, 12 Yann David, 11 Yves Donguy, 10 Luke McAlister, 9 Luke Burgess, 8 Shaun Sowerby, 7 Yannick Nyanga, 6 Jean Bouilhou, 5 Patricio Albacete, 4 Romain Millo-Chluski, 3 Cencus Johnston, 2 Jaba Bregvadze, 1 Daan Human.
Replacements: 16 Jeremie Falip, 17 Gurthro Steenkamp, 18 Gregory Lamboley, 19 Sylvain Nicolas, 20 Jean-Marc Doussain, 21 Maxime Payen, 22 Gillian Galan, 23 Johnson Falefa.
Castres: 15 Romain Teulet, 14 Romain Martial, 13 James So'oialo, 12 Romain Cabannes, 11 Marc Andreu, 10 Pierre Bernard, 9 Thierry Lacrampe, 8 Chris Masoe, 7 Yannick Caballero, 6 Ibrahim Diarra, 5 Rodrigo Capo Ortega, 4 Matthias Rolland, 3 Karena Wihongi, 2 Marc-Antoine Rallier, 1 Yannick Forestier.
Replacements: 16 Mathieu Bonello, 17 Anton Peikrishvili, 18 Benjamin Desroches, 19 Jannie Bornman, 20 Rory Kockott, 21 Seremaia Baikeinuku, 22 Pierre-Gilles Lakafia, 23 Michael Coetzee.
---
SU Agen 20-29 ASM Clermont Auvergne
Stade Armandie, Agen
Clermont make it nine games without defeat and keep the pressure on Toulouse in the process while Agen slip off the pace in the play-offs race.
Agen took the early lead when Conrad Barnard chipped ahead for Junior Pelesasa, who needed the TMO to validated his score. But Brock James kicked Clermont into a 12-11 lead at half time after Opeti Fonua was given a yellow card for a dangerous tackle on Anthony Floch.
South African wing Brent Russell extended the visitors' lead in the second half before the Clermont pack secured victory with some impressive driving to put Benjamin Kayser over.
The scorers:
For Agen:
Try: Pelesasa 5
Pens: Barnard
Drops:
For Clermont:
Tries: Russell, Kayser
Cons: Jame, Skrela
Pens: James 5
Yellow card: Fonua (Agen - 29th min)
Agen:15 Silvere Tian, 14 Saimoni Vaka, 13 Miguel Avramovic, 12 Junior Pelesasa, 11 Romain Edmond Samuel, 10 Conrad Barnard, 9 Maxime Machenaud, 8 Opeti Fonua, 7 Ueleni Fono, 6 Jean Monribot, 5 Adri Badenhorst, 4 Dewald Senekal, 3 Gert Muller, 2 Jalil Narjissi, 1 Arsene Nnomo.
Replacements: 16 Julien Janaudy, 17 Semisi Telefoni, 18 Lisiate Fa'aoso, 19 Marc Giraud, 20 Alexis Bales, 21 Manu Ahotaeiloa, 22 Belisario Agulla, 23 Beka Sheklashvili.
Clermont: 15 Anthony Floch, 14 Brent Russell, 13 Seru Nakaitaci, 12 Regan King, 11 Jean-Marcel Buttin, 10 Brock James, 9 Ludovic Radosavljevic, 8 Elvis Vermeulen, 7 Alexandre Audebert, 6 Jason White, 5 Nathan Hines, 4 Loic Jacquet, 3 Daniel Kotze, 2 Benjamin Kayser, 1 Raphael Chaume.
Replacements: 16 Benoit Cabello, 17 Lionel Faure, 18 Julien Pierre, 19 Alexandre Lapandry, 20 Kevin Senio, 21 David Skrela, 22 Gavin Williams, 23 Adrien Oleon.
---
Biarritz Olympique 26-11 CA Brive Corrèze
Parc des Sports d'Aguilera, Biarritz
Biarritz claimed consecutive victories for only the second time this season to put some breathing room between themselves and the relegation zone.
Despite losing a number of balls at line-out time and failing to showing the positive intentions they did a week ago, Biarritz led 9-6 at the break thanks to the boot of - yes, you guessed it - Dimitri Yachvili.
The second half was a different story however as BO upped the tempo and were soon rewarded as Julien Peyrelongue set up a try for Dane Haylett-Petty.
The home pack plied the pressure to win a penalty try at scrum time in the 65th minute.
The Basques controlled the closing stages and a late try from Scott Spedding was not enough for Brive, who now lead Biarritz by just three points in the standings.
The scorers:
For Biarritz:
Tries: Haylett-Petty, Penalty try
Cons: Yachvili 2
Pens: Yachvili 4
For Brive:
Try: Speeding
Pens: Caminati 2
Yellow cards: Guyot (Biarritz); Boussuge; Khinchagashvili (Brive)
Biarritz: 15 Iain Balshaw, 14 Taku Ngwenya, 13 Marcelo Bosch, 12 Damien Traille, 11 Dane Haylett-Petty, 10 Julien Peyrelongue, 9 Dimitri Yachvili, 8 Talalelei Gray, 7 Benoit Guyot, 6 Wenceslas Lauret, 5 Manuel Carizza, 4 Jerome Thion, 3 Francisco Gomez Kodela, 2 Arnaud Heguy, 1 Sylvain Marconnet .
Replacements: 16 Benoit August, 17 Yvan Watremez ,18 Pelu Taele-Pavihi, 19 Raphael Lakafia, 20 Jean Pascal Barraque, 21 Benoit Baby, 22 Ilikena Bolakoro, 23 Eugene van Staden.
Brive: 15 Julien Caminati, 14 Jacques Boussuge, 13 Arnaud Mignardi, 12 Jamie Noon, 11 Guillaume Namy, 10 Scott Spedding, 9 Agustin Figuerola, 8 Julien Ledevedec, 7 Vincent Forgues, 6 Poutasi Luafutu, 5 Arnaud Mela, 4 Retief Uys, 3 Alexandre Barozzi, 2 Guillaume Ribes, 1 David Khinchagashvili.
Replacements: 16 Louis Acosta, 17 Mathieu Barres, 18 Olivier Caisso, 19 Simon Azoulai, 20 Jean-Baptiste Pejoine, 21 Mathieu Belie, 22 Sevenaia Galala, 23 Pat Barnard,
---
Montpellier HR 37-26 Aviron Bayonnais
Stade Yves Du Manoir, Montpellier
A great result for Montpellier, who climb to fourth in the standings while Bayonne sink deeper into the relegation quagmire.
An entertaining match between two teams with plenty of positive intentions saw five tries scored with Timoci Nagusa bagging a brace for the Montpellier.
The Fijian wing struck early on to help the hosts to a 19-9 lead at half time with Martin Bustos Moyano's boot doing the rest.
Remy Martin scored just before the hour mark to extended Montpellier's lead but Bayonne fought to the end, scoring two tries in the last quarter. But it proved too little too late and the Basques head home empty handed.
The scorers:
For Montpellier:
Tries: Nagusa 2, Martin
Cons: Bustos Moyano 2
Pens: Bustos Moyano 5
Drop: Fernandez
For Bayonne:
Tries: Boyet, Huget
Cons: Garcia 2
Pens: Boyet, Garcia 3
Yellow card: Baiocco (Bayonne)
Montpellier: 15 Lucas Gonzalez Amorosino, 14 Timoci Nagusa,13 Thomas Combezou, 12 Paul Bosch, 11 Martin Bustos Moyano ,10 Santiago Fernandez, 9 Julien Tomas, 8 Alex Tulou ,7 Remy Martin, 6 Fulgence Ouedraogo, 5 Thibault Privat, 4 Drikus Hancke, 3 Giorgi Jgenti, 2 Agustin Creevy, 1 Juan Figallo.
Replacements: 16 Erasmus Van Vuuren, 17 Na'ama Leleimalefaga, 18 Aliki Fakate, 19 Masi Matadigo, 20 Benoit Paillaugue, 21 Geoffrey Doumayrou, 22 Yoan Audrin, 23 Maximiliano Bustos
Bayonne: 15 Yoann Huget, 14 Marvin O'Connor, 13 Joe Rokocoko, 12 Lionel Mazars, 11 Sam Gerber, 10 Benjamin Boyet, 9 Cedric Garcia, 8 Marc Baget-Rabarou, 7 Dwayne Haare, 6 Guillaume Bernad, 5 Mark Chisholm, 4 Abdellatif Boutaty, 3 Renaud Boyoud, 2 David Roumieu, 1 Aretz Iguiniz.
Replacements: 16 Francois Da Ros, 17 Neemia Tialata, 18 Rob Linde, 19 Julien Puricelli, 20 Julien Audy ,21 Clement Otazo, 22 Thibault Lacroix, 23 Clément Baiocco.
---
Stade Français Paris 40-19 Lyon Olympique
Stade Charléty, Paris
Stade Français maintained their unbeaten home record with a bonus-point win that revives their play-off hopes - although they still trail Parisian rivals Racing, in the last qualify spot, by two points.
Djibril Camara scored tries on either side of half time as the hosts touched down five times to push Lyon closer to relegation.
Felipe Contepomi was in fine form, creating tries for Camara and Paul Sackey and finding the target eight times from the kicking tee.
LOU came back strongly in the second period after trailing 23-6 at the break but, for once, the Parisian defence stood up to the challenge.
The scorers:
For Stade Français:
Tries: Camara 2, Sackey, Rodriguez
Cons: Contepomi 4
Pens: Contepomi 4
For Lyon:
Try: Grosso
Con: Loursac
Pens: Loursac 4
Yellow cards: Wakanivuga (Lyon)
Stade Français: 15 Djibril Camara, 14 Paul Sackey, 13 Paul Williams, 12 Martin Rodriguez, 11 Julien Arias, 10 Felipe Contepomi, 9 Jerome Fillol, 8 David Lyons, 7 Pierre Rabadan, 6 Antoine Burban, 5 Gerhard Mostert, 4 Anton van Zyl, 3 Francisco Nahuel, Tetaz 2 Remy Bonfils,1 Rodrigo Roncero,
Replacements: 16 Aled de Malmanche, 17 Rabah Slimani, 18 Alexandre Flanquart, 19 Scott LaValla, 20 Byron Kelleher, 21 Paul Warwick, 22 Morgan Turinui, 23 Stanley Wright.
Lyon: 15 Romain Loursac, 14 Mosese Ratuvou, 13 Vinaya Wakanivuga, 12 Nicolas Raffault,11 Remy Grosso , 10 Laurent Tranier, 9 Ricky Januarie, 8 Nicolas Bontinck, 7 Juan Manuel Leguizamon, 6 Eugene N'Zi, 5 Arnaud Dorier, 4 Arnaud Marchois, 3 Antoine Guillamon, 2 Jody Jenneker, 1 Xavier Fiard.
Replacements: 16 Guram Kavtidze, 17 Anthony Roux, 18 Coenie Basson, 19 Gerald Gambetta, 20 Brice Salobert, 21 Luke Abraham, 22 Regis Lespinas, 23 Tariel Ratianidze
---
USA Perpignan 22-22 RC Toulon
Stade Aimé Giral, Perpignan
Perpignan replacement David Mele kicked a 78th-minute penalty to deny Toulon victory and salvage a 22-22 draw for his team.
Toulon looked to be cruising towards a win after leading by ten points (19-9) with just over a quarter of the match remaining.
However, Perpignan had other ideas and quickly worked their way back into the match with a Jerome Porical penalty and a try to centre Rudi Coetzee. Porical's conversion drew the scores level with 13 minutes remaining.
When former Wallabies star Mat Giteau landed his fifth successful penalty of the match four minutes from full-time, it looked like Toulon had pulled the game out of the fire.
But before they had a chance to celebrate, Mele stepped up to the plate and raised the flags for the last time in the match.
The scorers:
For Perpignan:
Try: Coetzee
Con: Porical
Pens: Porical 4, Mele
For Toulon:
Try: Tillous-Borde
Con: Giteau
Pens: Giteau 5
Perpignan: 15 Jerome Porical, 14 Farid Sid, 13 David Marty, 12 Rudi Coetzee,11 Adrien Plante, 10 Gavin Hume, 9 Kevin Boulogne, 8 HenryTuilagi, 7 Jean-Pierre Perez, 6 Gregory le Corvec, 5 Romain Taofifenua ,4 Olivier Olibeau, 3 Benoit Bourrust, 2 Guilhem Guirado, 1 Perry Freshwater.
Replacements: 16 Charles Geli ,17 Kisi Pulu,18 Gerrie Britz, 19 Ovidiu Tonita, 20 David Mele, 21 Joffrey Michel, 22 Damien Chouly, 23 Danie Thiart.
Toulon: 15 Luke Rooney. 14 Christian Loamanu, 13 Geoffroy Messina, 12 Gaby Lovobalavu, 11 Alexis Palisson, 10 Matt Giteau, 9 Sebastien Tillous-Borde, 8 Steffon Armitage, 7 Joe El Abd, 6 Olivier Missoup, 5 Dean Schofield, 4 Simon Shaw, 3 Carl Hayman, 2 Sebastien Bruno, 1 Laurent Emmanuelli,
Replacements: 16 Jean Charles Orioli, 17 Eifion Roberts, 18 Christophe Samson, 19 Pierrick Gunther, 20 Julien Dumora,21 Mathieu Bastareaud, 22 Fabien Cibray, 23 Levan Chilachava.
Referee: Patrick Pechambert