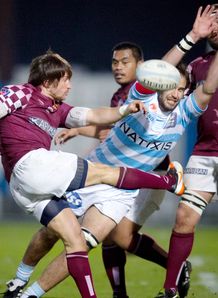 Racing Metro bagged a crucial 22-13 Top 14 win over Bordeaux on Friday, but had to rely on a late Karim Ghezal try to seal the deal in Paris.
The hosts were made to work for their win after trailing by four points at half-time (3-7) following a try from Bordeaux full-back Bruce Reihana, that was converted by pivot Camille Lopez.
Racing Metro managed to get on the scoresheet courtesy of a Gaetan Germain penalty on the stroke of half-time.
Germain added another three more penalties in the second half to give the hosts a five-point lead, but Lopez was on target with two penalties of his own to put the visitors in front by a solitary point with ten minutes remaining.
However, Bordeaux failed to close out the match as another Germain three-pointer and Ghezal's late touchdown was enough to deny the away side the all-important losing bonus point.
Racing-Métro: 15 Gaetan Germain, 14 Sireli Bobo, 13 Frans Steyn, 12 Fabrice Estebanez, 11 Juan Imhoff, 10 Juan Martin Hernandez, 9 Mathieu Loree, 8 Jacques Cronje, 7 Bernard Le Roux, 6 Johnny Leo'o, 5 Francois Carl Van der Merwe, 4 Santiago Dellape, 3 Benjamin Salemane Sa, 2 Thomas Bianchin, 1 Julien Brugnaut.
Replacements: 16 Benjamin Noirot, 17 Eddy Ben Arous, 18 Karim Ghezal, 19 Jone Qovu, 20 Sebastien Descons, 21Henry Chavancy, 22 Alvaro Galindo, 23 Juan Pablo Orlandi.
Bordeaux-Bègles: 15 Bruce Reihana, 14 Vunga Lilo, 13 Andrew Mailei, 12 Julien Rey, 11 Blair Connor, 10 Camille Lopez, 9 Heini Adams, 8 Matthew Clarkin, 7 Hugh Chalmers, 6 Justin Purll, 5 Adam Jaulhac, 4 Daniel Leo, 3 Bees Roux, 2 Ole Avei, 1 Hikairo Forbes.
Replacements: 16 Fabien Rofes, 17 Laurent DelBoulbes, 18 Cameron Treloar, 19 Louis-Benoit Madaule, 20 Julien Seron, 21 Gerard Fraser, 22 Rafael Carballo, 23 Patrick-Albert Toetu.