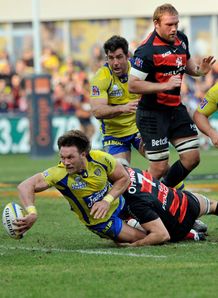 Related links
Also see
Clermont closed the gap on Top 14 leaders Toulouse on Saturday with a 35-5 home win over the below-strength defending champions.
Biarritz climbed out of the relegation zone thanks to a convincing win over Bordeaux-Bègles in Dax.
It proved to be a great day for Biarritz as they move above Basque rivals Bayonne, who were denied victory by a single point away to Racing Metro.
Brive also boosted their survival hopes with a solid win at home to Stade Français but Perpignan slipped closer to the drop zone after losing to Agen.
Results:
Toulon 19-6 Montpellier
Agen 22-7 Perpignan
Biarritz 38-13 Bordeaux-Bègles
Brive 25-9 Stade Français
Racing Métro 22-21 Bayonne
Clermont 35-5 Toulouse
Castres 6-6 Lyon
---
SU Agen 22-7 USA Perpignan
Stade Armandie, Agen
A great result for Agen, who climb to seventh in the standings, just one point short of the play-off places. Perpignan meanwhile are in trouble, just two points clear of the relegation zone.
Agen led 7-6 at half time courtesy of an early try from former Australia 'A' centre Junior Pelesasa.
Five second-half penalties from Conrad Barnard proved enough for victory.
Perpignan came back in the closing stages through a try from Damien Chouly with a late penalty from James Hook securing a losing bonus point for the Catalans.
The scorers:
For Agen:
Try: Pelesasa
Con: Barnard
Pens: Barnard 5
For Perpignan:
Try: Chouly
Pens: Hook 2
Drops: Hook, Mele
Agen:15 Silvere Tian, 14 Saimoni Vaka, 13 Miguel Avramovic, 12 Junior Pelesasa, 11 Brice Dulin, 10 Conrad Barnard, 9 MaximeMachenaud, 8 Opeti Fonua, 7 Ueleni Fono, 6 Jean Monribot, 5 Lisiate Fa'aoso, 4 Dewald Senekal, 3 Gert Muller, 2 Jalil Narjissi, 1 Arsene Nnomo.
Replacements: 16 Julien Janaudy, 17 Semisi Telefoni, 18 Adri Badenhorst, 19 Marc Giraud, 20 Sylvain Dupuy, 21 Manu Ahotaeiloa, 22 Romain Edmond Samuel, 23 Beka Sheklashvili.
Perpignan: 15 Joffrey Michel, 14 Adrien Plante, 13 David Marty, 12 Gavin Hume, 11 Julien Candelon, 10 James Hook, 9 Florian Cazenave,8 Henry Tuilagi, 7 Bertrand Guiry, 6 Damien Chouly, 5 Gerrie Britz, 4 Romain Taofifenua, 3 Danie Thiart, 2 Guilhem Guirado, 1 Jerome Schuster.
Replacements: 16 Charles Geli, 17 Kisi Pulu, 18 Olivier Olibeau, 19 Ovidiu Tonita, 20 David Mele, 21 Jerome Porical, 22 Jean-Pierre Perez, 23 Benoit Bourrust.
---
Biarritz Olympique 38-13 Union Bordeaux-Bègles
Stade Maurice Boyau, Dax
Dimitri Yachvili was the star of the show for Biarritz (as usual), scoring 25 points - including two tries - to guide the Basques to their first bonus-point win of the year.
BO had asked for this weekend's clash to be postponed due to the absence of their French internationals and were ignored but in a strange twist of fate a back injury saw Yachvili return to the club last week.
Biarritz led 17-3 at half-time thanks to tries from Yachvili and hooker Arnaud Heguy.
Taku Ngwenya added his name to the scoresheet after the break before Yachvili completed his brace to secure the bonus point that lifts BO out of the red zone despite replacement Louis-Benoit Madaule's late score for UBB.
The scorers:
For Biarritz:
Tries: Heguy, Yachvili 2, Ngwenya
Cons: Yachvili 3
Pens: Yachvili 3, Baby
For Bordeaux-Bègles:
Try: Madaule
Con: Lopez
Pens: Lopez 2
Biarritz: 15 Iain Balshaw, 14 Taku Ngwenya, 13 Marcelo Bosch, 12 Damien Traille, 11 Dane Haylett-Petty, 10 Julien Peyrelongue, 9 Dimitri Yachvili, 8 Talalelei Gray, 7 Benoit Guyot, 6 Wenceslas Lauret, 5 Pelu Taele-Pavihi, 4 Jerome Thion, 3 Francisco Gomez Kodela, 2 Arnaud Heguy, 1 Yvan Watremez.
Replacements: 16 Benoit August, 17 Fabien Barcella, 18 Manuel Carizza, 19 Florian Faure, 20 Jean Pascal Barraque, 21 Benoit Baby, 22 Ilikena Bolakoro, 23 Eugene van Staden.
Bordeaux-Bègles: 15 Bruce Reihana, 14 Blair Connor, 13 Julien Rey, 12 Felix Le Bourhis, 11 Rafael Carballo, 10 Camille Lopez, 9 Heini Adams, 8 Matthew Clarkin, 7 Hugh Chalmers, 6 Justin Purll, 5 Adam Jaulhac, 4 Cameron Treloar, 3 Bees Roux, 2 Ole Avei, 1 Laurent DelBoulbes.
Replacements: 16 Fabien Rofes, 17 Hikairo Forbes, 18 Daniel Leo, 19 Louis-Benoit Madaule, 20 Julien Seron, 21 Gerard Fraser, 22 Vunga Lilo, 23 Patrick-Albert Toetu.
---
CA Brive Corrèze 25-9 Stade Français Paris
Stade Amédée Domenech, Brive
Stade Français lose on the road, again, and drop from sixth to eighth in the process. Brive meanwhile took a step closer to safety with their second win in as many weeks.
Felipe Contepomi kicked Stade Français into an early lead but Brive were ahead 11-9 at half-time thanks to a try from flank Thibault Dubarry, who touched down after sterling work from the home pack.
Error-prone Stade Français were kept scoreless in the second period.
Replacement hooker Iuri Natriashvili crashed over for Brive in the dying moments.
The scorers:
For Brive:
Tries: Dubarry, Natriashvili
Pens: Caminati 3, Belie 2
For Stade Français:
Pens: Contepomi 3
Brive: 15 Scott Spedding, 14 Julien Caminati, 13 Arnaud Mignardi, 12 Jamie Noon, 11 Guillaume Namy, 10 Shane Geraghty, 9 Mathieu Belie, 8 Antonie Claassen, 7 Simon Azoulai, 6 Thibault Dubarry, 5 Arnaud Mela, 4 Retief Uys, 3 Alexandre Barozzi, 2 Guillaume Ribes, 1 Vassil Kakovin.
Replacements: 16 Iuri Natriashvili, 17 David Khinchagashvili, 18 Olivier Caisso, 19 Poutasi Luafutu, 20 Vincent Forgues, 21 Agustin Figuerola, 22 Jacques Boussuge, 23 Pat Barnard.
Stade Français: 15 Paul Williams, 14 Paul Sackey, 13 Morgan Turinui, 12 Martin Rodriguez, 11 Julien Arias, 10 Felipe Contepomi, 9 Byron Kelleher, 8 David Lyons, 7 Pierre Rabadan, 6 Arthur Chollon, 5 Tom Palmer, 4 Gerhard Mostert, 3 Francisco Nahuel Tetaz, 2 Aled de Malmanche, 1 Rodrigo Roncero.
Replacements: 16 Laurent Sempere, 17 Rabah Slimani, 18 Scott LaValla, 19 Anton van Zyl, 20 Jerome Fillol, 21 Jonathan Danty, 22 Paul Warwick, 23 Stanley Wright.
---
Racing-Métro 22-21 Aviron Bayonnais
Stade Yves Du Manoir - Colombes (Paris)
There was late drama in Paris as a try in the 70th minute from Sireli Bobo saw Racing claim victory to climb above Stade Français in the standings and send Bayonne back into the relegation zone in one foul swoop.
Bayonne led 12-9 at half-time thanks to four penalties from South African fly-half Jacques-Louis Potgieter.
Racing full-back Gaetan Germain kicked his third penalty soon after the break to level matters.
The kicking duel continued until Fijian international Bobo's fantastic solo effort, which saw him beat two defenders before turning on the afterburners, handed les Franciliens victory.
Bayonne head home with a losing bonus but reassured of their ability to fight for survival after a strong performance.
The scorers:
For Racing-Métro:
Try: Bobo
Con: Bergamasco
Pens: Germain 3, Bergamasco
Drop: Hernandez
For Bayonne:
Pens: Potgieter 6, Garcia
Racing Metro: 15 Gaetan Germain, 14 Sireli Bobo, 13 Henry Chavancy, 12 Fabrice Estebanez, 11 Mirco Bergamasco, 10 Juan Martin Hernandez, 9 Sebastien Descons, 8 Jacques Cronje, 7 Antoine Battut, 6 Johnny Leo'o, 5 Francois Van der Merwe, 4 Santiago Dellape, 3 Mikaele Tuugahala, 2 Thomas Bianchin, 1 Julien Brugnaut.
Replacements: 16 Benjamin Noirot, 17 Andrea Lo Cicero , 18 Karim Ghezal, 19 Alvaro Galindo, 20 Mathieu Loree, 21 Juan Imhoff, 22 Frans Steyn, 23 Benjamin Salemane Sa.
Bayonne: 15 Yoann Huget, 14 Marvin O'Connor, 13 Joe Rokocoko, 12 Lionel Mazars, 11 Sam Gerber, 10 Jacques-Louis Potgieter, 9 Mike Phillips, 8 Dwayne Haare, 7 Julien Puricelli, 6 Guillaume Bernad, 5 Mark Chisholm, 4 Abdellatif Boutaty, 3 Renaud Boyoud, 2 David Roumieu, 1 Aretz Iguiniz.
Replacements: 16 Francois Da Ros, 17 Neemia Tialata, 18 Troy Flavell, 19 Rob Linde, 20 Cedric Garcia, 21 Clement Otazo, 22 Thibault Lacroix, 23 Victor Manukula.
---
ASM Clermont Auvergne 35-5 Stade Toulousain
Parc des Sports Marcel Michelin, Clermont Ferrand
The clash of the giants proved to be a lopsided affair as Clermont maintain their impressive record at home.
Toulouse nevertheless retain the championship lead by four points (with seven matches of the league season remaining) as this is their first loss since October.
Clermont ruled from start to finish against a disappointing and indisciplined Toulouse side.
The visitors made life easy for les Jaunards with a plethora of mistakes and fly-half David Skrela could punish his former side from the kicking tee to give Clermont a 9-0 lead.
Yves Donguy intercepted to set up Toulouse academy product Aurélien Impérial for Toulouse's only try in 23 minutes.
Skrela found the target again to give the hosts a 12-5 leads at the break before Gonzalo Canale score to put Clermont well clear.
An intercept try from Brent Russell in the 80th minute rubbed salt into Toulouse's wounds.
The scorers:
For Clermont:
Tries: Canale, Russell
Cons: Skrela, James
Pens: Skrela 7
For Toulouse:
Try:Imperial
Clermont: 15 Lee Byrne, 14 Seru Nakaitaci, 13 Regan King, 12 Gonzalo Canale, 11 Jean-Marcel Buttin 10 David Skrela, 9 Ludovic Radosavljevic, 8 Elvis Vermeulen, 7 Alexandre Lapandry, 6 Gerhard Vosloo, 5 Julien Pierre, 4 Jamie Cudmore, 3 Clement Ric, 2 Ti'i Paulo, 1 Lionel Faure,
Replacements: 16 Benjamin Kayser, 17 Raphael Chaume, 18 Nathan Hines, 19 Julien Bardy, 20 Kevin Senio, 21 Brock James, 22 Brent Russell, 23 Daniel Kotze.
Toulouse: 15 Nicolas Bezy, 14 Aurélien Impérial, 13 Florian Fritz, 12 Yannick Jauzion, 11 Yves Donguy, 10 Jean-Marc Doussain, 9 Nicolas Vergallo, 8 Gillian Galan, 7 Sylvain Nicolas, 6 Jean Bouilhou, 5 Romain Millo-Chluski, 4 Gregory Lamboley, 3 Johnson Falefa, 2 Christopher Tolofua, 1 Daan Human.
Replacements: 16 Jaba Bregvadze, 17 Yassine Boutemane, 18 Patricio Albacete, 19 Yannick Nyanga, 20 Luke McAlister, 21 Shaun Sowerby, 22 Yann David, 23 Cencus Johnston.
---
Castres Olympique 6-6 Lyon Olympique
Stade Pierre Antoine, Castres
It was a low-scoring affair in the late Top 14 game as Castres and Lyon played out a draw.
Romain Teulet kicked two penalties for the hosts while Regis Lespinas replied for Lyon, who are bottom of the standings and four points off their drop rivals Bayonne and Biarritz.
The scorers:
For Castres:
Pen: Teulet 2
For Lyon:
Pen: Lespinas 2
Castres: 15 Romain Teulet, 14 Romain Martial, 13 Paul Bonnefond, 12 Romain Cabannes, 11 Marc Andreu, 10 Seremaia Baikeinuku, 9 Rory Kockott, 8 Joe Tekori, 7 Yannick Caballero, 6 Chris Masoe, 5 Rodrigo Capo Ortega, 4 Matthias Rolland, 3 Karena Wihongi, 2 Mathieu Bonello, 1 Yannick Forestier.
Replacements: 16 Brice Mach, 17 Saimone Taumoepeau, 18 Scott Murray, 19 Ibrahim Diarra, 20 Jannie Bornman, 21 Thomas Sanchou, 22 Pierre Bernard, 23 Michael Coetzee.
Lyon: 15 Regis Lespinas, 14 Franck Romanet, 13 Vinaya Wakanivuga, 12 Nicolas Raffault, 11 Mosese Ratuvou, 10 Laurent Tranier, 9 Ricky Januarie, 8 Nicolas Bontinck, 7 Vincent Clement, 6 Eugene N'Zi, 5 Coenie Basson, 4 Arnaud Marchois, 3 Anthony Roux, 2 Jody Jenneker, 1 Xavier Fiard.
Replacements: 16 Sébastien Petit, 17 Guram Kavtidze, 18 Arnaud Dorier, 19 Luke Abraham, 20 Brice Salobert, 21 Thibault Suchier, 22 Remy Grosso, 23 Antoine Guillamon.
Referee: Patrick Pechambert