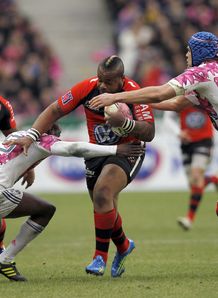 Related links
Also see
Matt Giteau landed a touchline conversion after the full-time hooter as Toulon snatched a 19-all draw with Stade Français at the Stade de France on Saturday.
Bayonne clinched two invaluable points in their quest to avoid relegation from the Top 14 by also holding high-flying Clermont to a draw.
It was a good day for travelling teams as Montpellier won on the road to Bordeaux-Bègles, Racing revived their ailing fortunes in Lyon and Castres got out of jail in Brive.
Toulouse were easy winners at home to Agen meaning they extend their lead at the top of the standings to eight points over Clermont.
Results:
Bayonne 22-22 Clermont
Bordeaux-Bègles 26-30 Montpellier
Lyon 22-33 Racing Métro
Toulouse v Agen
Brive 13-15 Castres
Stade Français 19-19 Toulon
---
Aviron Bayonnais 22-22 ASM Clermont Auvergne
Stade Jean Dauger, Bayonne
This is a huge result for Bayonne as it allows them to move four points clear of Basque rivals Biarritz and the relegation zone. Clermont meanwhile extend their unbeaten run to seven games.
Clermont looked to have had the game wrapped up when Anthony Floch landed a late drop goal, but Bayonne replacement back Sam Gerber touched down in the 78th minute before Benjamin Boyet slotted the touch-line conversion to send the local fans wild.
Clermont's immovable defensive wall and an early try from David Skrela had given the visitors a 16-9 lead at half time and they will harbour a number of regrets after controlling the game but seeing Morgan Parra suffer a rare off-day with the boot.
The scorers:
For Bayonne:
Try: Gerber
Con: Boyet
Pens: Garcia 3, Heymans
Drop: Potgieter
For Clermont:
Try: Skrela
Con: Parra
Pens: Skrela 3, James
Drop: Floch
Bayonne: 15 Cedric Heymans, 14 Yoann Huget, 13 Thibault Lacroix, 12 Lionel Mazars, 11 Joe Rokocoko, 10 Jacques-Louis Potgieter, 9 Cedric Garcia, 8 Marc Baget-Rabarou, 7 Dwayne Haare, 6 Guillaume Bernad, 5 Mark Chisholm, 4 Abdellatif Boutaty, 3 Renaud Boyoud, 2 David Roumieu, 1 Aretz Iguiniz.
Replacements: 16 Francois Da Ros, 17 Clément Baiocco, 18 Troy Flavell,19 Julien Puricelli, 20 Mike Phillips, 21 Benjamin Boyet, 22 Sam Gerber, 23 Victor Manukula.
Clermont: 15 Jean-Marcel Buttin, 14 Brent Russell, 13 Regan King, 12 Seru Nakaitaci, 11 Sitiveni Sivivatu, 10 David Skrela, 9 Morgan Parra, 8 Elvis Vermeulen, 7 Alexandre Lapandry, 6 Gerhard Vosloo, 5 Julien Pierre, 4 Jamie Cudmore, 3 Daniel Kotze, 2 Benjamin, Kayser, 1 Vincent Debaty.
Replacements: 16 Benoit Cabello, 17 Lionel Faure, 18 Loic Jacquet, 19 Jason White, 20 Ludovic Radosavljevic, 21 Brock James, 22 Anthony Floch, 23 Clement Ric.
---
Union Bordeaux-Bègles 26-30 Montpellier HR
Stade André Moga, Bègles
Montpellier grabbed victory in the dying moments with push-over try in the 76th minute of an exciting match.
A losing bonus point is enough to see UBB climb a spot to eighth in the standings though they will be bitterly disappointed not to have claimed the scalp of last year's finalists after Blair Connor bagged a brace.
Montpellier recovered from a slow start to hold a slender 13-10 lead at the break in a ding-dong battle.
The result leaves Montpellier in fifth place in the standings and looking good for a play-off spot.
The scorers:
For Bordeaux-Bègles:
Tries: Connor 2
Cons: Lopez 2
Pens: Lopez 4
For Montpellier:
Tries: Amorosino, Nagusa, Tulou
Cons: Paillaugue 2, Bustos Moyano
Pens: Paillaugue 3
Yellow card: Bosch (Montpellier - 20th min - high tackle)
Bordeaux Begles: 15 Bruce Reihana, 14 Blair Connor, 13 Julien Rey, 12 Andrew Mailei, 11 Rafael Carballo, 10 Camille Lopez, 9 Heini Adams, 8 Matthew Clarkin, 7 Hugh Chalmers, 6 Justin Purll, 5 Adam Jaulhac, 4 Cameron Treloar, 3 Bees Roux, 2 Ole Avei, 1 Hikairo Forbes.
Replacements: 16 Fabien Rofes, 17 Laurent DelBoulbes, 18 Francois Tisseau, 19 Leroy Houston, 20 Julien Seron, 21 Gerard Fraser, 22 Felix Le Bourhis, 23 Patrick-Albert Toetu.
Montpellier:15 Lucas Gonzalez Amorosino, 14 Timoci Nagusa, 13 Paul Bosch, 12 Santiago Fernandez, 11 Yoan Audrin, 10 Francois Trinh-Duc, 9 Benoit Paillaugue, 8 Alex Tulou, 7 Remy Martin, 6 Fulgence Ouedraogo, 5 Thibault Privat, 4 Drikus Hancke, 3 Giorgi Jgenti, 2 Agustin Creevy, 1 Juan Figallo.
Replacements: 16 Erasmus Van Vuuren, 17 Na'ama Leleimalefaga, 18 Aliki Fakate, 19 Mamuka Gorgodze, 20 Julien Tomas, 21 Thomas Combezou, 22 Martin Bustos Moyano, 23 Maximiliano Bustos
---
CA Brive Corrèze 13-15 Castres Olympique
Stade Amédée Domenech, Brive
Brive are becoming experts at being their own worst enemy while Castres continue their trend for squeezing results out of any situation.
Outscored two tries to none and on the receiving end of three yellow cards, les Castrais still managed to claim victory as they punished the hosts' numerous errors.
The result sees Brive gain an incredible eleventh bonus point this season. An illustration of their knack for losing close games is their points difference, which is just -5, but they sit in eleventh place!
Brive led at 8-3 at half-time but fell victim to the metronomic boots of the CO goal kickers, who had the visitors up 15-8 by the 65th minute.
A 79th minute try from replacement Olivier Caisso proved too little too late for Brive.
The scorers:
For Brive:
Tries: Luafutu, Caisso
Pen: Caminati
For Castres:
Pens: Teulet 2, Bernard
Drops: Bernard 2
Yellow card: Kockott; Capo Ortega, Diarra,
Brive:15 Scott Spedding, 14 Ronnie Cooke, 13 Julien Caminati, 12 Arnaud Mignardi, 11 Guillaume Namy, 10 Shane Geraghty, 9 Agustin Figuerola, 8 Julien Ledevedec, 7 Thibault Dubarry, 6 Poutasi Luafutu, 5 Arnaud Mela, 4 Retief Uys, 3 Vassil Kakovin, 2 Virgile Lacombe, 1 David Khinchagashvili.
Replacements: 16 Iuri Natriashvili, 17 Pablo Henn, 18 Olivier Caisso, 19 Antonie Claassen, 20 Vincent Forgues, 21 Mathieu Belie, 22 Jamie Noon, 23 Pablo Cardinali.
Castres : 15 Romain Teulet, 14 Romain Martial, 13 Paul Bonnefond, 12 Seremaia Baikeinuku, 11 Marc Andreu, 10 Pierre Bernard, 9 Rory Kockott, 8 Chris Masoe, 7 Yannick Caballero, 6 Ibrahim Diarra, 5 Rodrigo Capo Ortega, 4 Matthias Rolland, 3 Karena Wihongi, 2 Mathieu Bonello, 1 Yannick Forestier,
Replacements: 16 Marc-Antoine Rallier, 17 Michael Coetzee, 18 Scott Murray, 19 Jannie Bornman, 20 Thierry Lacrampe, 21 Pierre-Manuel Garcia, 22 Pierre-Gilles Lakafia, 23 Luc Ducalcon,
---
Lyon Olympique 22-33 Racing-Métro 92
Stade Matmut, Lyon
Racing-Métro claim their first win of 2012 but came very close to throwing this one away after leading 21-3 at half-time only to see their lead cut to just four points going into the last ten minutes at 26-22!
Despite their heroic comeback, another defeat for Lyon means they are now clear favourites to get relegated.
Racing got off to a bright start running in two tries in the opening quarter.
Veteran Fijian back Bobo grabbed the first, benefiting from a favourable rebound to get the better of former Wasps star Mark van Gisbergen to touch down and Argentinian maestro Juan Martin Hernandez converted to give them a 10-0 lead as he had opened the scoring with a penalty.
Racing's South African loose forward Jacques Cronje ran in a second try 10 minutes later and Hernandez - who had slotted over another penalty in between - failed to convert to leave it 18-0 to the visitors.
The hosts finally got on the scoreboard in the 22nd minute as Regis Lespinas converted a penalty from in front of the posts, though, Hernandez added a penalty of his own as the half drew to a close to make it 21-3 at the break.
The second period didn't start too well for Lyon as they were reduced to 14 men when Sisaro Koyamaibole was yellow-carded in the 44th minute for deliberate offside in breaking up a promising Racing break.
However, Hernandez made a mess of the penalty and the sides were evened up four minutes later as veteran Racing lock Lionel Nallet was also sin-binned for a late tackle.
Lyon took advantage of that immediately as they scored a try through a brilliant piece of individual play by Enrico Januarie, who squirmed through three opposing players to touch down but the subsequent conversion went astray.
Hernandez and France centre Fabrice Estebanez then combined brilliantly for the Argentinian to collect his own kick ahead and touch down for the visitors third try but he spoiled the moment when he slipped over in the process of taking the conversion to leave the score 26-8 to Racing.
The visitors then did their best to throw away the victory as they were reduced to 13 men by the 66th minute as first Argentinian back row forward Alvaro Galindo and then his compatriot Juan Pablo Orlandi were yellow-carded.
Lyon again profited from this by scoring two tries through Vinaya Wakanivuga and Franck Romanet with the latter's try a superb effort - both were converted by Lespinas to put them just four points in arrears with seven minutes remaining.
However, it was the visitors who were to have the last laugh as Bobo touched down from an intercept in his own 22 in the final move of the game - Hernandez converted to give them a much-needed victory as much for their morale as for their chase of a play-off position.
The scorers:
For Lyon:
Tries: Januarie, Wakanivuga, Romanet
Cons: Lespinas 2
Pen: Lespinas
For Racing:
Tries: Bobo 2, Cronje, Hernandez
Cons: Hernandez 2
Pens: Hernandez 3
Yellow cards: Koyamaibole (Lyon -43rd min); Nallet (Racing - 47th min); Galindo (Racing - 62nd min) ; Orlandi (Racing - 65th min)
Lyon : 15 Mark van Gisbergen, 14 Franck Romanet, 13 Vinaya Wakanivuga, 12 Nicolas Raffault, 11 Remy Grosso, 10 Regis Lespinas, 9 Ricky Januarie, 8 Sisa Koyamaibole, 7 Juan Manuel Leguizamon, 6 Eugene N'Zi, 5 Coenie Basson, 4 Arnaud Marchois, 3 Philemon Toleafoa, 2 Vincent Colliat, 1 Xavier Fiard,
Replacements: 16 Antonio Testa, 17 Anthony Roux, 18 Arnaud Dorier, 19 Vincent Clement, 20 Brice Salobert, 21 Alipate Fatafehi, 22 Laurent Tranier, 23 Sébastien Petit.
Racing Metro: 15 Juan Imhoff, 14 Sireli Bobo, 13 Henry Chavancy, 12 Fabrice Estebanez, 11 Mirco Bergamasco, 10 Juan Martin Hernandez, 9 Sebastien Descons, 8 Jacques Cronje, 7 Bernard Le Roux, 6 Johnny Leo'o, 5 Lionel Nallet, 4 Francois Van der Merwe, 3 Mikaele Tuugahala, 2 Thomas Bianchin, 1 Julien Brugnaut,
Replacements: 16 Benjamin Noirot, 17 Andrea Lo Cicero, 18 Jone Qovu , 19 Alvaro Galindo, 20 Mathieu Loree, 21 Gaetan Germain, 22 Virimi Vakatawa, 23 Juan Pablo Orlandi.
---
Stade Toulousain 21-10 SU Agen
Stade Ernest Wallon, Toulouse
No surprises then as the defending champions continue their unbeaten run at home (which stretches back to February 2010) and extend their lead at the top of the standings.
Agen came out firing early on and scored the game's opening try, but Junior Pelesasa's 12th-minute score would be the last time they troubled the scorers.
Luke McAlister created the first of Yves Donguy's two tries just before the break to give Toulouse a 13-10 lead at half time.
McAlister and Donguy were again at the origin of the hosts' second touch-down as Guy Novès's team extended the unbeaten run this season to eleven games.
The result is Agen's fifth defeat in six matches.
The scorers:
For Toulouse:
Tries: Donguy 2
Cons: Beauxis
Pens: Beauxis 3
For Agen:
Try: Pelesasa
Cons: Machenaud
Pens: Machenaud
Yellow cards: Johnston (Toulouse 45th min); Sheklashvili (Agen - 61st min)
Toulouse: 15 Clement Poitrenaud, 14 Timoci Matanavou, 13 Yann David, 12 Luke McAlister, 11 Yves Donguy, 10 Lionel Beauxis, 9 Luke Burgess, 8 Shaun Sowerby, 7 Sylvain Nicolas, 6 Yannick Nyanga, 5 Patricio Albacete, 4 Romain Millo Chluski, 3 Cencus Johnston , 2 William Servat, 1 Daan Human,
Replacements: 16 Jaba Bregvadze, 17 Jean-Baptiste Poux, 18 Yoann Maestri, 19 Gillian Galan, 20 Jean-Marc Doussain, 21 Vincent Clerc, 22 Florian Fritz, 23 Yohan Montes.
Agen: 15 Brice Dulin, 14 Saimoni Vaka, 13 Manu Ahotaeiloa, 12 Miguel Avramovic, 11 Romain Edmond Samuel, 10 Junior Pelesasa, 9 Maxime Machenaud, 8 Opeti Fonua, 7 Marc Giraud, 6 Jean Monribot, 5 Pat O'Connor, 4 Dewald Senekal, 3 Gert Muller, 2 Semisi Telefoni, 1 John Schwalger.
Replacements: 16 Julien Janaudy, 17 Laurent Cabarry, 18 Andrew Springgay, 19 Adri Badenhorst, 20 Sylvain Dupuy, 21 Mathieu Lamoulie, 22 Belisario Agulla, 23 Beka Sheklashvili.
---
Stade Français Paris 19-19 RC Toulon
Stade de France, St. Denis (Paris)
Matt Giteau converted Steffon Armitage's 80th-minute try after the full-time hooter as Toulon snatched an exciting draw in the capital.
Bad news for Toulon however is a serious-looking knee injury to fly-half Jonny Wilkinson.
The result leaves Toulon lying third in the standings, a massive 17 points behind Toulouse while Stade Français hang on to sixth place, a single point clear of Parisian rivals Racing.
Wilkinson left the field after 23 minutes after kicking the visitors into a 6-0 lead. Two penalties from scrum-half Julien Dupuy drew the hosts level but Giteau landed a three pointer on the stroke of half-time to put Toulon 9-6 up at the break.
France lock Pascal Papé put the Parisians in pole position when he charged over at the end of an overlap soon after the restart.
Dupuy and Benjamin Lapeyre exchanged place kicks before Armitage dived into the corner after long build-up from Toulon to put everyone at the Stade de France on the edge of their seats.
Giteau had to wait for a mass dust-up to calm down and the rubber stamp from the TMO before keeping his nerve to split the uprights from out wide.
The scorers:
For Stade Français:
Try: Papé
Con: Dupuy
Pens: Dupuy 3
For Toulon:
Try: Armitage
Con: Giteau
Pens: Wilkinson 2, Giteau, Lapeyre
Stade Français: 15 Djibril Camara, 14 Paul Sackey, 13 Morgan Turinui 12 Martin Rodriguez, 11 Julien Arias, 10 Paul Warwick, 9 Julien Dupuy, 8 Sergio Parisse, 7 Pierre Rabadan, 6 David Lyons, 5 Pascal Pape, 4 Tom Palmer, 3 David Attoub, 2 Dimitri Szarzewski, 1 Rodrigo Roncero.
Replacements: 16 Aled de Malmanche, 17 Francisco Nahuel Tetaz, 18 Gerhard Mostert, 19 Scott LaValla, 20 Byron Kelleher, 21 Felipe Contepomi, 22 Jules Plisson, 23 Stanley Wright.
Toulon: 15 Benjamin Lapeyre, 14 Alexis Palisson, 13 Mathieu Bastareaud, 12 Matt Giteau, 11 David Smith, 10 Jonny Wilkinson, 9 Sebastien Tillous-Borde, 8 Joe van Niekerk, 7 Steffon Armitage, 6 Olivier Missoup, 5 Bakkies Botha, 4 Christophe Samson, 3 Carl Hayman, 2 Sebastien Bruno, 1 Laurent Emmanuelli.
Replacements: 16 Jean Charles Orioli, 17 Eifion Roberts,18 Simon Shaw, 19 Joe El Abd, 20 Geoffroy Messina, 21 Luke Rooney, 22 Fabien Cibray, 23 Davit Kubriashvili.