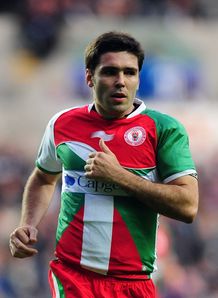 Related links
Also see
Biarritz climbed off the bottom of the Top 14 standings on Friday witha crucial 15-6 victory on the road to Agen.
The Basques claimed just their fourth win in fifteen games to provisionally climb out of the relegation zone. The result also sees the Basque club take consecutive wins for the first time this season following last week's convincing win over Toulon.
Agen by contrast fall to their third loss in four games and risk dropping out of the top half of the standings by the end of the weekend.
It wasn't pretty by any means as the visitors did not try to play adventurous rugby at all but instead looked to occupy territory, shut Agen down with solid defence and then rely on the boot of Dimitri Yachvili to keep the scoreboard ticking.
Biarritz led 6-3 at half time thanks to a drop from Marcelo Bosch and a Yachvili penalty while Conrad Barnard kicked a single penalty for the hosts.
The pattern continued in the second half as Biarritz claimed a crucial victory in their bid to avoid relegation.
The scorers:
For Agen:
Pens: Barnard 2
For Biarritz:
Pens: Yachvili 4
Drop: Bosch
Yellow cards: Lagrange (Agen - 61st min); Lauret (Biarritz - 61st min)
Agen: 15 Silvère Tian, 14 Saimoni Vaka, 13 Manu Ahotaeiloa, 12 Jamie Robinson, 11 Brice Dulin, 10 Conrad Barnard, 9 Maxime Machenaud, 8 Ueleni Fono, 7 Adri Badenhorst, 6 Jean Monribot, 5 Lisiate Fa'aoso, 4 Dewald Senekal, 3 Martin Scelzo, 2 Jalil Narjissi, 1 John Schwalger
Replacements: 16 Semisi Telefoni, 17 Laurent Cabarry, 18 Damien Lagrange, 19 Marc Giraud, 20 Sylvain Dupuy, 21 Junior Palesasa, 22 Miguel Avramovic, 23 Gert Muller
Biarritz: 15 Iain Balshaw, 14 Takudzwa Ngwenya, 13 Charles Gimenez, 12 Damien Traille, 11 Ilikena Bolakoro, 10 Marcelo Bosch, 9 Dimitri Yachvili, 8 Florian Faure, 7 Benoît Guyot, 6 Wenceslas Lauret, 5 Pelu Taele, 4 Jerome Thion, 3 Francisco Gomez Kodela, 2 Arnaud Heguy, 1 Sylvain Marconnet.
Replacements: 16 Romain Terrain, 17 Fabien Barcella, 18 Manuel Carizza, 19 Raphaël Lakafia, 20 Julien Peyrelongue, 21 Benoît Baby, 22 Dane Haylett Petty, 23 Thomas Lebrequier