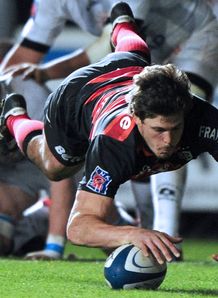 Toulouse completely outclassed Montpellier in a rematch of last season's final to consolidate their place at the summit of the Top 14 table on Friday.
Biarritz sank further into the relegation quagmire after losing to Stade Français while Toulon struggled past Lyon.
Perpignan finally got back to winning ways with a home victory over Bordeaux while Clermont bashed and crashed their way to four points in Brive.
Elsewhere, Castres picked on a draw on the road to Bayonne while Racing Metro leapfrogged Agen in the standings thanks to a convincing win in Paris.
Results:
Brive 6-9 Clermont
Bayonne 16-16 Castres
Stade Français 23-10 Biarritz
Perpignan 38-13 Bordeaux-Bègles
Toulon 20-15 Lyon
Racing Métro 26-8 Agen
Montpellier 25-45 Toulouse
---
Montpellier HR 25-45 Stade Toulousain
Stade Yves Du Manoir, Montpellier
The defending champions remain perched at the top of the standings after a dominant display over last year's finalists.
Toulouse didn't waste any time in getting the scoreboard ticking as Maxime Medard crossed after just six minutes, running onto Lionel Beauxis's deft chip over the top.
Martin Bustos Moyano kick two first-half penalties for the hosts but Beauxis landed two drop-goals and another penalty before Luke Burgess dived over on the half-hour mark to give Toulouse a 20-point lead at the break.
Mamuka Gorgodze and Vincent Clerc were both sent in the bin for fisticuffs and Montpellier were reduced to 14 men for a second time when lock Thibault Privat saw yellow on 25 minutes, opening the way for Burgess's try.
Beauxis started the second period with his third drop goal but Montpellier bounced back as replacement hooker Erasmus Van Vuuren scored twice.
But Toulouse were in unstoppable form and a Louis Picamoles try secured victory.
Montpellier saved some face with a last-minute try to Yoan Audrin but were thoroughly beaten on the night.
Montpellier: 15 Lucas Amorosino, 14 Timoci Nagusa, 13 Geoffrey Doumayrou, 12 Santiago Fernandez, 11 Martin Bustos Moyano, 10 François Trinh-Duc (captain), 9 Benoît Paillaugue, 8 Masi Matadigo, 7 Mamuka Gorgodze, 6 Rémy Martin, 5 Thibaut Privat, 4 Mickaël De Marco, 3 Maximiliano Bustos, 2 Agustin Creevy, 1 Na'ama Leleimalefaga
Replacements: 16 Rassie Jansen van Vuuren, 17 Mikheil Natriashvili, 18 Drikus Hancke, 19 Vassili Bost, 20 Julien Tomas, 21 Paul Bosch, 22 Yoan Audrin, 23 George Jgenti
Toulouse: 15 Maxime Médard, 14 Vincent Clerc, 13 Florian Fritz, 12 Yannick Jauzion, 11 Yves Donguy, 10 Lionel Beauxis, 9 Luke Burgess, 8 Louis Picamoles, 7 Sylvain Nicolas, 6 Yannick Nyanga, 5 Romain Millo Chlusky, 4 Gregory Lamboley, 3 Yohan Montes, 2 Gary Botha, 1 Daan Human
Replacements: 16 William Servat, 17 Yassin Boutemane, 18 Yoann Maestri, 19 Thierry Dusautoir, 20 Jean Marc Doussain, 21 Luke McAlister, 22 Jean Bouilhou, 23 Census Johnston
---
CA Brive Corrèze 6-9 ASM Clermont Auvergne
Stade Amédée Domenech, Brive
Australian fly-half Brock James kicked all of Clermont's points as the 2010 champions kept the pressure on Toulouse at the top of the table.
James gave Clermont a 6-0 lead inside the first 13 minutes before Mahtieu Belie, who had missed two attempts, finally found the target in the 19th minute.
In a scrappy affair, made harder by wet conditions underfoot, James extended Clermont's lead in the 53rd minute.
Brive coach Ugo Mola was furious when his South African skipper Petrus Hauman opted to give replacement fly-half Julien Caminati a kick at the posts instead of a touch-finder in the last five minutes which could have set up a victory drive.
Caminati was successful in cutting the deficit to 9-6, but Clermont held on to take victory.
Brive: 15 Scott Spedding, 14 Jacques Boussuge, 13 Arnaud Mignardi, 12 Jamie Noon, 11 Ronnie Cooke, 10 Riaan Swanepoel, 9 Mathieu Belie, 8 Antonie Claassen, 7 Alexandre Bias, 6 Petrus Hauman, 5 Arnaud Méla, 4 Thibault Dubarry, 3 Patrick Barnard, 2 Iuri Natriashvili, 1 Vasil Kakovin
Replacements:16 Virgile Lacombe, 17 Davit Kinchagishvili, 18 Retief Uys, 19 Julien Ledevedec, 20 Simon Azoulai, 21 Jean Baptiste Pejoine, 22 Julien Caminati, 23 Pablo Cardinali
Clermont: 15 Lee Byrne, 14 Noa Nakaitaci, 13 Aurélien Rougerie, 12 Regan King, 11 Julien Malzieu, 10 Brock James, 9 Kevin Senio, 8 Elvis Vermeulen, 7 Alexandre Audebert, 6 Alexandre Lapandry, 5 Loïc Jacquet, 4 Julien Pierre, 3 Clément Ric, 2 Benoît Cabello, 1 Lionel Faure.
Replacements:16 Benjamin Kayser, 17 Vincent Debaty, 18 Jamie Cudmore, 19 Julien Bardy, 20 Morgan Parra, 21 Williams, 22 Jean-Marcellin Buttin, 23 Daniel Kotze.
---
Stade Français Paris 23-10 Biarritz Olympique
Stade Charléty, Paris
Stade Français continued their steady climb up the standings as they break into the top five thanks to their eighth consecutive win in all competitions.
For Biarritz, the crisis deepens as they lost more ground in the relegation battle after Lyon claimed a bonus point in Toulon.
The home side led 16-0 at half time thanks to two early penalties from Julien Dupuy and a try from lock Pascal Pape, who crashed over at the end of the first quarter before Dupuy added a third penalty.
A Julien Peyrelongue penalty got the Basques onto the scoreboard soon after the restart and the visitors were right back in the game when replacement prop Eugene van Staden cross just before the hour mark while Stade were a man down after Sergio Parisse was sin-binned.
But once the home skipper was back on the park, Biarritz never looked like stealing victory and head home empty-handed...again.
Stade Français: 15 Paul Warwick, 14 Paul Sackey, 13 Morgan Turinui, 12 Martin Rodriguez, 11 Julien Arias, 10 Felipe Contepomi, 9 Julien Dupuy, 8 Sergio Parisse, 7 Pierre Rabadan, 6 David Lyons, 5 Pascal Papé, 4 Gerhard Mostert, 3 David Attoub, 2 Aled De Malmanche, 1 Rodrigo Roncero
Replacements:16 Laurent Sempéré, 17 Rabah Slimani, 18 Tom Palmer, 19 Antoine Burban, 20 Jérôme Fillol, 21 Jules Plisson, 22 Francis Fainifo, 23 Stanley Wright
Biarritz: 15 Dane Haylett-Petty , 14 Takudzwa Ngwenya, 13 Marcelo Bosch, 12 Damien Traille, 11 Iain Balshaw, 10 Julien Peyrelongue, 9 Luix Roussarie, 8 Raphaël Lakafia, 7 Pelu Taele, 6 Wenceslas Lauret, 5 Manuel Carizza, 4 Jerome Thion, 3 Francisco Gomez Kodela, 2 Benoît August, 1 Sylvain Marconnet.
Replacements: 16 Arnaud Heguy, 17 Eugene van Staden, 18 Florian Faure, 19 Benoît Guyot, 20 Dimitri Yachvili, 21 Benoît Baby, 22 Charles Gimenez, 23 Thomas Lebrequier
---
RC Toulonnais 20-15 Lyon Olympique
Stade Felix Mayol, Toulon
Toulon climb held onto third position in the standings but were made to work very hard by Lyon.
The unfancied visitors go home with a losing bonus point but will harbour a few regrets after playing for half-an-hour with fourteen men after receiving three yellow cards.
Jonny Wilkinson kicked five penalties and winger Alexis Palisson score the only try early in the second half.
Toulon led 9-6 at the break with Wilko's penalties answered by two from Lyon full-back Romain Loursac.
Loursac drew LOU level immediately after the restart but Palisson cruised over shortly after Lyon's Alipate Fatafehi saw yellow for offside.
Wilkinson and Loursac traded penalties until the end as Toulon got the job done.
Toulon: 15 Luke Rooney, 14 Alexis Palisson, 13 Mathieu Bastareaud, 12 Matthew Giteau, 11 David Smith, 10 Jonathan Wilkinson, 9 Mathew Henjak, 8 Leonardo Senatore, 7 Steffon Armitage, 6 Pierrick Gunther, 5 Dean Schofield, 4 Simon Shaw, 3 Carl Hayman, 2 Sébastien Bruno, 1 Laurent Emmanuelli
Replacements: 16 Jean-Charles Orioli, 17 Eifion Lewis-Roberts, 18 Kristian Chesney, 19 Joe van Niekerk, 20 Gabriele Lovobalavu, 21 Benjamin Lapeyre, 22 Laurent Magnaval, 23 Davit Kubriashvili
Lyon: 15 Romain Loursac, 14 Franck Romanet, 13 Latu Fatafehi, 12 Waisale Seru Sukanaveita, 11 Mosese Ratuvou, 10 Régis Lespinas, 9 Enrico Januarie, 8 Sisaro Koyamaibole, 7 Juan Leguizamón, 6 Eugene N Zi , 5 Coenie Basson, 4 Arnaud Marchois, 3 Philemon Toleafoa, 2 Jean-Philippe Bonrepaux, 1 Xavier Fiard,
Replacements:16 Antonio Testa , 17 Guram Kavtidze, 18 Arnaud Dorier, 19 Nicolas Bontinck, 20 Tewis de Bruyn, 21 Lee Thomas, 22 Xavier Sadourny, 23 Anthony Roux
---
Aviron Bayonnais 16-16 Castres Olympique
Stade Jean Dauger, Bayonne
Neither side will be happy with this result as Castres lose ground on the leaders while Bayonne are unable to pull clear of the relegation battle.
Castres took the early lead thanks to a Romain Teulet penalty and a try from wing Romain Martial.
Benjamin Boyet kicked two penalties for Bayonne but Teulet landed his third on the stroke of half-time to send the visitors to the changing rooms 13-6 up at the break.
The Basques bounced back in the second half however when lock Abedellatif Boutaty charged over a Boyet converted.
Boyet put the hosts in front on the hour mark but Teulet kicked a late penalty to leave matters all-square.
Bayonne: 15 Cédric Heymans, 14 Marvin O'Connor, 13 Thibault Lacroix, 12 Sam Gerber, 11 Joe Rokocoko, 10 Benjamin Boyet, 9 Mike Phillips, 8 Sione Lauaki, 7 Julien Puricelli, 6 Jean Joseph Marmouyet, 5 Abdellatif Boutaty, 4 Rob Linde (captain), 3 Neemia Tialata, 2 David Roumieu, 1 Aretz Iguiniz
Replacements:16 François Da Ros, 17 Vitolio Manukula, 18 Troy Flavell, 19 Marc Baget, 20 Cédric Garcia, 21 Lionel Mazars, 22 Clément Otazo, 23 Renaud Boyoud
Castres: 15 Romain Teulet 14 Romain Martial, 13 Thomas Sanchou, 12 Romain Cabannes, 11 Maxwell Evans, 10 Seremaia Bai, 9 Rory Kockott , 8 Chris Masoe, 7 Yannick Caballero, 6 Ibrahim Diarra, 5 Rodrigo Capo Ortega, 4 Matthias Rolland, 3 Karena Wihongi, 2 Mathieu Bonello, 1 Anton Peikrishvili.
Replacements: 16 Marc Rallier, 17 Michael Coetzee, 18 Scott Murray, 19 Steve Malonga, 20 Thierry Lacrampe, 21 Pierre Bernard, 22 Paul Bonnefond, 23 Luc Ducalcon
---
USA Perpignan 38-10 Union Bordeaux-Bègles
Stade Aimé Giral, Perpignan
A bonus-point win is just what the doctor ordered for Perpignan as they leap up to ninth in the standings and end a miserable losing streak.
It was the visitors who held a 13-6 lead at half-time however despite full-back Bruce Reihana and winger Blair Connor receiving yellow cards.
Gerard Fraser and USAP pivot James Hook traded penalties until former Bulls scrum-half Heini Adams shocked the hosts with a try just before the interval.
But it was one-way traffic in the second period as David Marty, Rudi Coetzee and Joffrey Michel all score to give the Catalans a healthy lead.
Perpignan then secured a bonus point through centre Maxime Mermoz, who crossed with just seven minutes remaining.
Hook's conversion and a further penalty gave him a personal haul of 18 points.
Perpignan: 15 Joffrey Michel , 14 Farid Sid, 13 David Marty, 12 Maxime Mermoz, 11 Rudi Coetzee , 10 James Hook, 9 Kevin Boulogne, 8 Henri Tuilagi, 7 Damien Chouly, 6 Gregory Le Corvec, 5 Robins Tchale Watchou, 4 Olivier Olibeau, 3 Nicolas Mas, 2 Marius Tincu, 1 Kisi Pulu
Replacements:16 Guilhem Guirado, 17 Jérôme Schuster, 18 Ovidiu Tonita , 19 Romain Taofifenua, 20 Bertrand Guiry, 21 Florian Cazenave, 22 Gavin Hume, 23 Benoît Bourrust
Bordeaux-Bègles: 15 Bruce Reihana, 14 Vungakoto Lilo, 13 Andrew Mailei, 12 Julien Rey, 11 Blair Connor, 10 Gerard Fraser, 9 Heini Adams, 8 Matthew Clarkin, 7 Daniel Leo'o, 6 Justin Purll, 5 Adam Jaulhac, 4 Cameron Treloar, 3 Silviu Florea, 2 Wayne Avei, 1 Laurent Delboulbes
Replacements: 16 Fabien Rofes, 17 Hikairo Forbes, 18 François Tisseau, 19 Leroy Houston, 20 Julien Seron, 21 Camille Lopez, 22 Felix Le Bourhis, 23 Albert Toetu
---
Racing-Métro 26-8 SU Agen
Stade Yves Du Manoir - Colombes (Paris)
Racing remain on course for a play-off spot thanks to a workmanlike win over their nearest rivals in the standings.
Jonathan Wisniewski put Racing ahead with three penalties and drop goal early on. Lock Lionel Nallet got the first try just before the half-hour mark to give the hosts a comfortable lead.
Racing replacement prop Andrea Lo Circero wriggled over to put the result beyond doubt in the final quarter before Agen bagged a last-minute consolation try through wing Belisario Agulla
Racing-Métro: 15 Juan Martín Hernández, 14 Sireli Bobo, 13 Virimi Vakatawa, 12 Joshua Matavesi, 11 Juan José Imhoff, 10 Jonathan Wisniewski, 9 Nicolas Durand, 8 Sébastien Chabal, 7 Álvaro Galindo, 6 Rémi Vaquin, 5 Lionel Nallet (captain), 4 Santiago Dellapè, 3 Juan Pablo Orlandi, 2 Benjamin Noirot, 1 Julien Brugnaut.
Replacements:16 Thomas Bianchin, 17 Andrea Lo Cicero, 18 Jone Qovu, 19 Jacques Cronjé, 20 Mathieu Lorée, 21 Gaëtan Germain, 22 Antoine Battut, 23 Mikaele Tu'ugahala
Agen: 15 Brice Dulin, 14 Saimoni Vaka, 13 Junior Palesasa, 12 Jamie Robinson, 11 Belisario Agulla , 10 Valentin Courrent, 9 Sylvain Dupuy, 8 Ueleni Fono, 7 Adri Badenhorst, 6 Antoine Erbani , 5 Patrick O'Connor, 4 Dewald Senekal, 3 Gert Muller, 2 ,Julien Janaudy 1 John Schwalger
Replacements:16 Jalil Narjissi, 17 Semisi Telefoni, 18 Damien Lagrange, 19 Pierre Julien, 20 Maxime Machenaud, 21 Conrad Barnard, 22 Miguel Avramovic, 23 Beka Sheklashvili