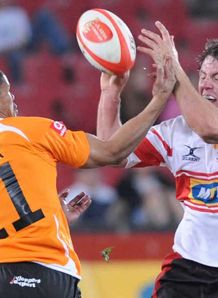 Related links
Also see
This weekend's action could play a defining role in the race for the play-off positions as there are several interesting battles taking place.
On Saturday, the table-topping Golden Lions face the Free State Cheetahs, who are on a high after beating Western Province 34-20 in Cape Town last week.
The Cheetahs have home ground advantage making this a tricky assignment for the Lions who suffered only their second defeat of the campaign to the Blue Bulls in Johannesburg last weekend.
Back in August, Elton Jantjies was the Lions' hero when he contributed 12 points via four penalties in their 17-10 win over the Cheetahs.
In another big clash, defending champions the Sharks host last year's runners-up Western Province in Durban.
The Sharks are trying to haul in the Lions while WP must win this encounter if they want to stay in contention for a home semi-final.
They lost their place amongst the frontrunners after their humiliating defeat to the Cheetahs.
Sharks and WP matches are usually close affairs and earlier in the season the Sharks triumphed 21-19 in wet conditions in Cape Town.
The Blue Bulls are making a late surge up the table and get the weekend's proceedings underway when they host the Pumas in Pretoria on Friday.
The only other match of the weekend takes place in Potchefstroom on Saturday when the Leopards face Griquas.
Fixtures:
Friday, 30 September
Blue Bulls v Pumas
Saturday, 1 October
Free State Cheetahs v Golden Lions, Leopards v Griquas, Sharks v Western Province
Standings:
1. Golden Lions 43
2. Sharks 37
3. Cheetahs 35
4. Western Province 32
5. Blue Bulls 28
6. Griquas 25
7. Pumas 14
8. Leopards 5
---
Previews:
Blue Bulls v Pumas
Loftus Versfeld Stadium, Pretoria
The Blue Bulls are on a high after their 21-18 win over the table-topping Lions last week and will be keen to continue where they left off against the Pumas.
Earlier this season the Bulls struggled to assert themselves when they faced the Pumas in Nelspruit and they were lucky to win 16-12 as the Pumas dominated large periods of that match.
After a slow start, which saw them losing their first nine matches, the Pumas have come alive in recent weeks and are brimming with confidence after beating Griquas and the Leopards in successive weeks.
However, the Bulls have slowly but surely worked their way up the table thanks to some good form of their own in recent weeks.
Apart from that win over the Lions, they also beat WP and drew with the Cheetahs.
Blue Bulls coach Pine Pienaar has retained the same starting XV but expects another tough battle against the Pumas.
"We had a huge fright against them in Nelspruit earlier in the season and only won 16-12. They are a tough nut to crack as they have showed by beating Griquas in Kimberley," said Pienaar.
"We cannot look past this match. We need to run our own race and play our own game if we want to get there and we know there is no such thing as an easy Absa Currie Cup game this season," he added.
Prediction:The Blue Bulls seem to be striking form at just the right time and should prove too strong for their visitors. Bulls by 10.
The teams:
Blue Bulls: 15 Zane Kirchner, 14 Bjorn Basson, 13 Wynand Olivier, 12 Francois Venter, 11 Gerhard van den Heever, 10 Louis Fouché, 9 Jano Vermaak, 8 CJ Stander, 7 Jacques Potgieter, 6 Warwick Tecklenburg, 5 Juandré Kruger, 4 Flip van der Merwe, 3 Werner Kruger, 2 Gary Botha (c), 1 Dean Greyling.
Replacements: 16 Willie Wepener, 17 Rossouw de Klerk, 18 Gerrit-Jan van Velze, 19 Arno Botha, 20 Dustin Jinka, 21 Francois Brummer, 22 Jurgen Visser.
Pumas: 15 MJ Mentz, 14 Wilhelm Loock, 13 JW Jonker, 12 Siviwe Magaba, 11 Johan Jackson, 10 Coenie van Wyk, 9 Shaun Venter, 8 Christo le Roux, 7 Jaco Bouwer, 6 Corné Steenkamp (c), 5 Marius Coetzer, 4 Willem Serfontein, 3 Ashley Buys, 2 Marthinus van der Westhuizen, 1 Dawie Steyn.
Replacements: 16 Torsten van Jaarsveld, 17 Brett Nel, 18 Eduan van der Walt, 19 JP Mostert, 20 Hendrik van der Nest, 21 Dewald Pretorius, 22 Carl Bezuidenhout.
Kick-off:19:10 (17:10 GMT)
Referee: Sindile Mayende
---
Free State Cheetahs v Golden Lions
Free State Stadium, Bloemfontein
The Lions will have to be at their best if they want to beat the Cheetahs, who have beaten WP and the Sharks in their two previous encounters.
The Johannesburg-based team have struggled to beat the Cheetahs in their backyard and their last win in Bloemfontein came in 2005, when they beat the eventual champions 31-20.
Lions coach John Mitchell expects a tough assignment but said his side will stick to what has worked for them this season.
"Nothing really changes as we always work hard on our defence. We work a lot on organisation and look at trends of the opposition, but you also have to allow for the element of surprise," said Mitchell.
"Having said that, the Cheetahs are pretty predictable and we know what to expect. We are just going to have to lift our intensity and we have to become more accurate. I'd like to think that we got a good education from the defeat to the Blue Bulls (last weekend) and that we've learnt from that."
The Cheetahs showed in their triumphs over the Sharks and WP that they are a well balanced outfit who have the ability to strike from anywhere on the park.
Prediction:This match is a potential banana skin for the Lions who were shaky against the Bulls last week. The Cheetahs are the form team in the competition and should win a close battle. Cheetahs by five!
The teams:
Free State Cheetahs: 15 Hennie Daniller, 14 Ryno Benjamin, 13 Robert Ebersohn, 12 Philip Snyman, 11 Cameron Jacobs, 10 Johan Goosen, 9 Piet van Zyl, 8 Ashley Johnson, 7 Philip van der Walt, 6 Pieter Labuschagne, 5 Izak van der Westhuizen, 4 Francois Uys, 3 Coenie Oosthuizen, 2 Adriaan Strauss (c), 1 Marcel van der Merwe.
Replacements: 16 Hercu Liebenberg, 17 Trevor Nyakane, 18 Wilhelm Steenkamp, 19 Boom Prinsloo, 20 Tewis de Bruyn, 21 Sias Ebersohn, 22 Andries Strauss.
Golden Lions: 15 Jaco Taute, 14 Deon van Rensburg, 13 Doppies la Grange, 12 Alwyn Hollenbach, 11 Michael Killian, 10 Elton Jantjies, 9 Michael Bondesio, 8 Joshua Strauss (c), 7 Derick Minnie, 6 Cobus Grobbelaar, 5 Franco van der Merwe, 4 Michael Rhodes, 3 Patric Cilliers, 2 Bandise Maku, 1 JC Janse van Rensburg.
Replacements: 16 Martin Bezuidenhout, 17 Jacobie Adriaanse, 18 David Bulbring, 19 Warren Whiteley, 20 Burton Francis, 21 James Kamana, 22 Dylan des Fountain.
Kick-off:15:00 (13:00 GMT)
Referee: Marius Jonker
---
Leopards v Griquas
Olën Park, Potchefstroom
Griquas have gone off the boil in recent weeks and will look to return to winning ways against the struggling Leopards.
It will not be easy though as they have struggled away from home.
Despite playing an attractive brand of rugby, Griquas have lost their last four matches and although the Leopards have been the whipping boys of the competition and are certain of relegation, they will put up a fight on their home turf.
Expect the Kimberley-based side take the ball out wide to stretch the Leopards' big set of forwards.
Griquas' regular full-back Riaan Viljoen has been picked at fly-half for this encounter and he will have to be at his best to bring his outside backs into the game.
His battle with his opposite number Wesley Dunlop could determine the outcome of this match. Despite the Leopards' poor run of results, Dunlop has battled bravely throughout their campaign and been a consistent presence in their starting line-up.
Prediction: After their poor recent form Griquas should return to the victory trail this weekend. The Leopards will not make it easy though.Griquas by six.
The teams:
Leopards: 15 Hofmann Maritz, 14 Jovan Bowles, 13 Charl Weideman, 12 Joubert Engelbrecht (c), 11 Vainon Willis, 10 Wesley Dunlop, 9 Johan Laker, 8 Robert Kruger, 7 MB Lusaseni, 6 Philip de Wet, 5 Brad Mockford,4 Brendon Snyman, 3 Dewald Coetzee, 2 Gavin Williamson, 1 Jean-Jacques Rossouw.
Replacements: 16 Marius Fourie, 17 Alfred Wauts, 18 Christo van Niekerk, 19 Siya Mdaka, 20 Spanner Pretorius, 21 Liam Slatem, 22 Clayton Durand.
Griquas: 15 Rudi Vogt, 14 Dusty Noble, 13 Wilmaure Louw, 12 Matthew Rosslee, 11 Rocco Jansen, 10 Riaan Viljoen, 9 Marnus Hugo, 8 Jonathan Mokuena (c), 7 Justin Downey, 6 Marnus Schoeman, 5 Jaco Nepgen, 4 Hendrik Roodt, 3 Lourens Adriaanse, 2 Ryno Barnes, 1 Ivann Espag.
Replacements: 16 Simon Westraadt, 17 Steph Roberts, 18 Edwin Hewitt, 19 Leon Karemaker, 20 Sarel Pretorius, 21 Hanno Coetzee, 22 Monty Dumond.
Kick-off:16:00 (14:00 GMT)
Referee: Lesego Legoete
---
Sharks v Western Province
Kings Park Stadium, Durban
The Sharks know that by winning this clash they will make significant inroads in to the Lions' lead at the top of the table if the Johannesburg-based side lose to the Cheetahs in Bloemfontein.
WP will look to bounce back after their defeat to the Cheetahs but they face a difficult task as their squad has been decimated through injuries.
Their forwards coach Matthew Proudfoot knows that they face a daunting task against their hosts and cannot afford a repeat of their performance against the Cheetahs.
"They are the Currie Cup champions, so we know it is going to be a tough game," he said.
"The aim for us is that we make sure we start better. We can't afford to give so many turnovers in the first 20 minutes and we must assert ourselves more on the game from the get-go," added Proudfoot.
Although the Sharks beat Griquas 29-18 in their previous match, coach John Plumtree expects an improved performance from his charges.
"The players have trained hard this week, we had a pretty tough day on Monday. The standards and expectations of playing for The Sharks are pretty high and we're not at that required level," he said.
"When you're in a competition like the Absa Currie Cup and it's coming to the business end, and you see how tough that competition is, you can't put your head in the sand when it comes to performance because you know what's required and at the moment, we're not there yet. Whether we can get there is up to us to prove, that's been the message."
Prediction: The Sharks should have too much ammunition for this inexperienced WP team.Sharks by eight!
The teams:
Sharks: 15 Stefan Terblanche, 14 Sibusiso Sithole, 13 Marius Joubert, 12 Meyer Bosman, 11 Lwazi Mvovo, 10 Frederic Michalak, 9 Charl McLeod, 8 Keegan Daniel (c), 7 Jean Deysel, 6 Jacques Botes, 5 Ross Skeate, 4 Anton Bresler, 3 Eugene van Staden, 2 Kyle Cooper, 1 Dale Chadwick.
Replacements: 16 Monde Hadebe, 17 Wiehahn Herbst, 18 Jan Andre Marais, 19 Marcell Coetzee, 20 Conrad Hoffmann, 21 Jacques-Louis Potgieter, 22 Adrian Jacobs.
Western Province: 15 Heinrich Steyl, 14 Danie Poolman, 13 Berton Klaasen, 12 Marcel Brache, 11 JJ Engelbrecht, 10 Lionel Cronje, 9 Dewaldt Duvenage, 8 Nizaam Carr, 7 Siya Kolisi, 6 Nick Fenton-Wells, 5 De Kock Steenkamp, 4 Adriaan Fondse, 3 Brok Harris, 2 Tiaan Liebenberg (c), 1 JC Kritzinger.
Replacements: 16 Deon Fourie, 17 Frans Malherbe, 18 Tertius Daniller, 19 Nick Koster /Pieter Louw, 20 Louis Schreuder, 21 Johann Sadie, 22 Conrad Jantjes.
Kick-off:17:05 (15:05 GMT)
Referee: Mark Lawrence