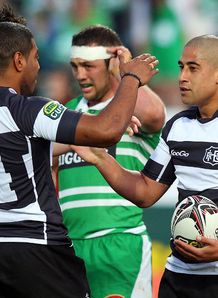 Related links
Also see
Hawke's Bay beat Manawatu 35-30 at FMG Stadium in Palmerston North on Sunday to book themselves a place in the ITM Cup Premiership division next year.
The home side outscored the Turbos four tries to three for the ITM Cup Championship trophy, in what was a well-deserved victory.
It was not the result the home side wanted for departing coach Dave Rennie - and it also ended their perfect run at FMG Stadium this season.
But Hawke's Bay were well worth the win as they scored some excellent tries and scrambled desperately in the final few minutes to hang on for the win.
The scorers:
For Manawatu:
Tries: Tietjens, Bryant, Fitzgerald
Cons: Cruden 3
Pens: Cruden 3
For Hawke's Bay:
Tries: Saseve, Buckman, Nemani, Sinoti
Cons: Horrell 3
Pens: Horrell 3