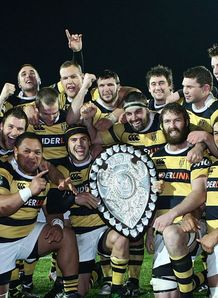 Related links
Also see
Taranaki captured the Ranfurly Shield as they wrestled it from the grasp of Southland thanks to a tense 15-12 ITM Cup victory in Invercargill on Wednesday.
It's the first time in fifteen years (since 1996) that the Log o' Wood was won by Taranaki.
In a try-less match, it went down to the battle of the boot which ultimately was won by 'Naki pivot Beauden Barrett who kicked five penalties for the Amber and Blacks while opposite number James Wilson could only manage four.
A brilliant 80th minute Taranaki scrum ended Southland's hopes of snatching a late draw through a drop goal. The result also left Southland rooted to the bottom of the Premiership table and in major danger of automatic relegation.
Going into the last round, when they play Bay of Plenty in Invercargill, the Stags are one point adrift of Wellington in a two-team duel to stay in the top division of the ITM Cup next year.
The scorers:
For Southland:
Pens: Wilson 4
For Taranaki:
Pens: Barrett 5
Southland: 15 Robbie Robinson, 14 Kade Poki, 13 Kendrick Lynn, 12 Matt Saunders, 11 Glen Horton, 10 James Wilson, 9 Scott Cowan, 8 Elliot Dixon, 7 Tim Boys, 6 John Hardie, 5 Ben Nally, 4 Josh Bekhuis, 3 Chris King, 2 David Hall, 1 Jamie Mackintosh (c).
Replacements: 16 Jason Rutledge, 17 Nic Barrett, 18 Michael Fatialofa, 19 Tom Chamberlain, 20 Sonny Rangitoheriri, 21 Scott Eade, 22 Tony Koonwaiyou, 23 Michael Peterson.
Taranaki: 15 Andre Taylor, 14 Jackson Ormond, 13 Willie Rickards, 12 Jayden Hayward, 11 Frazier Climo, 10 Beauden Barrett, 9 Tyson Keats, 8 Ben Souness, 7 Scott Waldrom, 6 Chris Walker, 5 Craig Clarke (c), 4 Jason Eaton, 3 Shane Cleaver, 2 Laurence Corlett, 1 Michael Bent.
Replacements: 16 Timo Tutavaha, 17 Carl Carmichael, 18 James Broadhurst, 19 Samuela Vunisa, 20 Brett Goodin, 21 Jack Cameron, 22 Kurt Baker, 23 Willie Ioane.